Where, When and More to Find an Apples in Georgia
Note: This page is NOT the Pick-Your-Own apple orchards page (although a couple on this page do PYO). These are roadside stands and orchard markets. The PYO pages are here: North Georgia, Atlanta area and surrounding counties, Macon / Columbus area, Augusta area, Coastal Georgia area, Southern Georgia area
NEW! Please write me, if you know of any to add or have photos to share!
Also, see our pages on tips for picking apples at a farm, easy illustrated directions to make applesauce, apple butter, apple jelly and apple pie; and our guide to apple varieties!
---
Map to the Apple Orchards in Ellijay, GA
Click here to return to the Main page for apple orchards in Ellijay.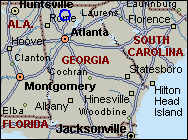 Most of the orchards and their roadside shops are very close together on Hwy 52 on the east side of Route 5/Rt 76 in East Ellijay. The order below corresponds to the order in which you will encounter the orchards when driving from east to the west. Click on the name (link) to get more information, photos, a review and more about the orchard.
Directions from Atlanta
Depending upon where you live in Atlanta, you will (generally) come up either
I-75 to I-675 to Route 5 to Route 52
or
I-400 to Route 53 to Route 186 to Route 52
From Cumming, GA:
Note: the yellow number 2 on the map above is the location
of the Outlet Mall at Dawsonville. It's right on your way (you
turn left onto Route 53 at the north end of the mall, then a few
miles west of Dawsonville look for Route 136, then Route 183 to Route 52.)
You will also pass by Burt's Pumpkin Farm on your left on Route 136,
just before you intersect with Route 52.
Click here to return to the Main page for apple orchards in Ellijay.



Home Canning Kits

This is the same type of standard canner that my grandmother used to make everything from applesauce to jams and jellies to tomato and spaghetti sauce. This complete kit includes everything you need and lasts for years: the canner, jar rack, jar grabber tongs, lid lifting wand, a plastic funnel, labels, bubble freer, and the bible of canning, the Ball Blue Book. It's much cheaper than buying the items separately. You'll never need anything else except jars & lids (and the jars are reusable)! There is also a simple kit with just the canner and rack, and a pressure canner, if you want to do vegetables (other than tomatoes). To see more canners, of different styles, makes and prices, click here!


Lids, Rings, Jars, mixes, pectin, etc.

Need lids, rings and replacement jars? Or pectin to make jam, spaghetti sauce or salsa mix or pickle mixes? Get them all here, and usually at lower prices than your local store!

Get them all here at the best prices on the internet! Just click below on the mix that interests you!

---