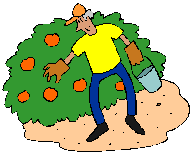 Looking for a local, pick-your-own farm in Augusta area of Georgia? Scroll down this page and you will see the U-Pick farms in Augusta area of Georgia, sorted by county. Those that offer organic or sustainably grown produce are identified by the words "organic" and/or "sustainable" in Green, next to their name (see "What does Organic mean?"). The U-pick crops they offer follow the name of the farm. To search the page for a specific crop, use Ctrl-F (or on an ipad or Mac, use their "search on this page" function) If they have a website, the name will be in blue and underlined; click on it and it will open their website. If you find anything outdated or inaccurate, see the customer and farmer menus (as appropriate) at the top menu bar to submit updates and corrections and help me keep each current!
New! As inflation remains high, see this page for cost-saving measures for getting fruit and vegetables and home canning.
If you are having a hard time finding canning lids, I've used these, and they're a great price & ship in 2 days.
New! Road tripping and camping is a great way to have a fun, safe and inexpensive family trip. The national and state parks and monuments are open, and campgrounds usually cost between $10 and $40 per night. September to November is the best camping weather. See our new website Road Tripping and Camping.com for tips, tricks, guides, checklists and info about parks, monuments and other places to visit.
Note: Beware the copycat websites like the one that stole our name and uses .farm extension: they copied my work and do NOT even update the info! I make updates EVERY day. They use tech tricks to get higher rankings, but have many more inaccuracies and out-dated info. Obviously, I cannot check every farm every day, but I do check as many as I can every day, and respond to all requests. They don't. Don't support the scammers!
Remember to always check with the farm's own website or Facebook page before you go - or call or email them if they don't have a website or Facebook page. Conditions at the farms and crops can change literally overnight, so if you want to avoid a wasted trip out there - check with the farm directly before you go! And if you know of any farms I missed and want to add a farm, please let me know! I'm making updates for this year as fast as I can - if you find anything out-of-date, wrong or not working - please let me know! This website is supported by purchases you make through the links to products on Amazon. As an Amazon Associate I earn from qualifying purchases. This allows me to continue to maintain the website and make improvements!
What's in season in September 2023, and other timely information:
Notes for September 2023: Summer is almost over and that means apples are here (see this new page for Apple Orchards in your area!), and except in northern areas, peaches and blueberries are finished. Some crops continue until frost, like raspberries, blackberries, figs, corn and tomatoes. Check your area's specific crop calendar (see this page) and call your local farms for seasonal updates.
See these pages to find a local Apple festival, and other festivals. We have a extensive guide to apple varieties and a guide to peach varieties. Also recipes, canning and freezing directions for apples, tomatoes, corn blueberries, peaches, etc.
And don't forget CORN MAZES are open now - find a local maze here.
See our comprehensive list of easy home canning, jam and jelly making, preserving, drying and freezing directions. You can access recipes and other resources from the drop down menus at the top of the page or the site search. If you have any questions or suggestions, feel free to write me! It is easy to make your own ice cream, even gelato, or low fat or low sugar ice cream - see this page. Also note, there are many copycat website listing U-pick farms now. The worst is the one that stole our name but ends with .farm. (Yes, I've got lawyers on it) They have all copied their information from here and usually do not ever update. Since 2002, I've been updating the information every day but Christmas; so if you see anything wrong or outdated, please write me!
Children's Consignment Sales are a great way to save money on clothes, toys, books, etc, They occur in both the Spring and Fall See our companion website to find a local community or church kid's consignment sale!
Augusta area of Georgia U-Pick Farms and Orchards in 2023, by county
Click on the resources drop-down above, if you need a county map. New: If you are looking for wineries in Georgia for a tour or tasting, see this page.
Burke County
Byne Blueberry Farms -

Certified Organic

, blueberries
537 Jones Ave, Waynesboro, GA 30830. Phone: (706) 554-6244. Email: dick.byne@gmail.com. Open: see their Facebook page. Byne Blueberry Farms is a grower of organic blueberries. We also have a special blueberry product line using our delicious blueberries. Byne Blueberry Farms facebook page. (ADDED: June 14, 2022, JBS)
Columbia County
Glascock County
Hancock County
Jefferson County
Johnson County
Phillips Produce Farms - strawberries,
847 Calvary Church Road, Wrightsville, GA 31096. Phone: 478-697-6758. Email: tphillips775@gmail.com. Open: Pick your own strawberries Mid - April - late May Tuesdays and Thursdays 12 pm to 7 Saturdays 8 am to 7 Sundays 2 pm to 7 Call to be sure berries are not picked out especially on holidays and busy Saturdays. Directions: Click here for a map and directions. Strawberries: April 18 to late May. Payment: Cash, Check. (ADDED: April 14, 2015)
Lincoln County
Double Branches Farm and Produce Market - Strawberries, Blackberries, Blueberries
4995 Double Branches Road, Lincolnton, GA 30817. Phone: (229) 392-1069. Email: visit@doublebranchesfarm.com. Open: The spring pick your own season for berries runs early April to early July, Be sure to see their OPEN HOURS page for more information. The farm features pick your own Strawberries, Blackberries, Blueberries and in season vegetables: yellow squash, zucchini squash, beans, sweet corn, peppers and tomatoes. Payment: cash and credit cards. In 2021, We are now taking visits to our farm by appointment only. To schedule your appointment to visit our farm -- use this link: https://squ.re/3uiy7px. We will be open daily to visits by appt only Monday - Saturday, 11 AM - 6 PM. We accept cash, credit or debit cards and checks. In the fall, we have fall vegetables and a variety of pumpkins! We have clean restrooms, a picnic area, and a small wagon available for hayrides and tours around the farm. Come see us March - July, and then in the fall in September and October. (UPDATED: June 14, 2022, JBS)
McDuffie County
Richmond County
Taliaferro County
Margaret's Grove Vineyard - permanently closed
2232 Jordan Place Road, Crawfordville, GA 30631.

UPDATE: August 13, 2021: The owner tells me they are now permanently closed
Warren County
Washington County
Manley Farms - blackberries, pears, pecans, Muscadines, grapes, farm animals
1047 Jordan Mill Road, Sandersville, GA 31082. Phone: 478-552-7020. Email: myramwatkins@gmail.com. Open: UPDATE for 2021, Call before you go, I see NOTHING on their Facebook page or website about anything to pick at any time of the year. If you have any information to the contrary, please write me. Saturdays 9 am to 6 pm, Sundays 2 pm to 6 pm (appointment only). Payment: Cash, only. Muscadines available in late August and September. Directions: From Court House in Sandersville, drive towards Sparta GA highway 15. Turn right at red light onto by-pass. Drive about a mile. Turn right onto Jordan Mill Road When you pass an older home on right, turn into next drive way. Brick house in a pecan orchard. And for a map to our farm, click here. Crops are usually available in January, June, July, August, September, October, November, December. Here at Manley Farms we raise the Myotonic (fainting) goats, chickens, Great Pyrenees and horses. The farm began in 2004 with Boer goats and has grown to what it is today. From time to time, we have some of our animals and fresh farm eggs to sell. Our goats are CAE, Johnnes and CL tested and have consistently tested negative. Most of our breeding stock are registered with the Myotonic Goat Registry. For more information, contact us or come by for a visit. Click here for a link to our Facebook page.
Wilkes County
Post Oak Farms - blueberries,
5924 Lexington Road, Rayle, GA 30660. Phone: 706-274-3458. Fax: 706-274-3463. Email: postoak@postoakfarms.com. Directions: Retail site is on 5924 Lexington Road, Rayle, GA. Our U-pick blueberries are at Lexington Road (Highway 78) and Columbus Granade Road. Click here for a map and directions. Crops are usually available in July. Open: You pick from 7 am to 12 noon; We-pick berries are also available from 8 am to 5 pm. Payment: Cash, Check, Visa, MasterCard. (UPDATED: March 24, 2010, GAMB)
---
---