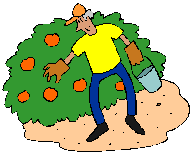 Looking for a local, pick-your-own farm in Coastal Georgia, including the Savannah area? Scroll down this page and you will see the U-Pick farms in Coastal Georgia, including the Savannah area, sorted by county. Those that offer organic or sustainably grown produce are identified by the words "organic" and/or "sustainable" in Green, next to their name (see "What does Organic mean?"). The U-pick crops they offer follow the name of the farm. To search the page for a specific crop, use Ctrl-F (or on an ipad or Mac, use their "search on this page" function) If they have a website, the name will be in blue and underlined; click on it and it will open their website. If you find anything outdated or inaccurate, see the customer and farmer menus (as appropriate) at the top menu bar to submit updates and corrections and help me keep each current!
New! As inflation remains high, see this page for cost-saving measures for getting fruit and vegetables and home canning.
If you are having a hard time finding canning lids, I've used these, and they're a great price & ship in 2 days.
New! Road tripping and camping is a great way to have a fun, safe and inexpensive family trip. The national and state parks and monuments are open, and campgrounds usually cost between $10 and $40 per night. September to November is the best camping weather. See our new website Road Tripping and Camping.com for tips, tricks, guides, checklists and info about parks, monuments and other places to visit.
Note: Beware the copycat websites like the one that stole our name and uses .farm extension: they copied my work and do NOT even update the info! I make updates EVERY day. They use tech tricks to get higher rankings, but have many more inaccuracies and out-dated info. Obviously, I cannot check every farm every day, but I do check as many as I can every day, and respond to all requests. They don't. Don't support the scammers!
Remember to always check with the farm's own website or Facebook page before you go - or call or email them if they don't have a website or Facebook page. Conditions at the farms and crops can change literally overnight, so if you want to avoid a wasted trip out there - check with the farm directly before you go! And if you know of any farms I missed and want to add a farm, please let me know! I'm making updates for this year as fast as I can - if you find anything out-of-date, wrong or not working - please let me know! This website is supported by purchases you make through the links to products on Amazon. As an Amazon Associate I earn from qualifying purchases. This allows me to continue to maintain the website and make improvements!
What's in season in September 2023, and other timely information:
Notes for September 2023: Summer is almost over and that means apples are here (see this new page for Apple Orchards in your area!), and except in northern areas, peaches and blueberries are finished. Some crops continue until frost, like raspberries, blackberries, figs, corn and tomatoes. Check your area's specific crop calendar (see this page) and call your local farms for seasonal updates.
See these pages to find a local Apple festival, and other festivals. We have a extensive guide to apple varieties and a guide to peach varieties. Also recipes, canning and freezing directions for apples, tomatoes, corn blueberries, peaches, etc.
And don't forget CORN MAZES are open now - find a local maze here.
See our comprehensive list of easy home canning, jam and jelly making, preserving, drying and freezing directions. You can access recipes and other resources from the drop down menus at the top of the page or the site search. If you have any questions or suggestions, feel free to write me! It is easy to make your own ice cream, even gelato, or low fat or low sugar ice cream - see this page. Also note, there are many copycat website listing U-pick farms now. The worst is the one that stole our name but ends with .farm. (Yes, I've got lawyers on it) They have all copied their information from here and usually do not ever update. Since 2002, I've been updating the information every day but Christmas; so if you see anything wrong or outdated, please write me!
Children's Consignment Sales are a great way to save money on clothes, toys, books, etc, They occur in both the Spring and Fall See our companion website to find a local community or church kid's consignment sale!
Coastal Georgia, including the Savannah area U-Pick Farms and Orchards in 2023, by county
Click on the resources drop-down above, if you need a county map. New: If you are looking for wineries in Georgia for a tour or tasting, see this page.
Appling County
Louanna Grimes - Strawberries
190 Joe Smith Road, Baxley, GA 31513. Open: Call before you go!.
Mathews Farms - Strawberries
3804 County Farm Road, Baxley, GA 31513. Phone 912-367-2363. Alternate Phone: (912) 278-7798. Open: From April to early June they have strawberries, then in June, they have already picked blueberries and tomatoes. See their Facebook page or call before you go. Click here for a link to our Facebook page. We-pick or u-pick! (UPDATED: September 26, 2019, JBS)
Bacon County
Ramshackle Hollow Farm - blueberries, OTHER fruit or veg
157 Paper Trace Lane, Nicholls, GA 31554. Phone: 912-632-4816 Click here for a map to our farm. We are open May, June, July. Our hours are: By appointment only. Our farm is CERTIFIED ORGANIC. Ramshackle Hollow Farm specializes in organic blueberries, garlic with grits and corn meal available in limited quantities as well as blueberry jam. Everything we do is certified organic! We expect for you to take advantage of this by sampling plenty of berries as you pick. Because they have never been sprayed, you can enjoy them right off of the bush! We are told by everyone that these are the sweetest berries in the south. So bring your appetite and your buckets! You wont leave with an empty tummy!
The Blueberry Barn - blueberries, blackberries
108 W. 12th Street, Alma, GA 31510. Phone: (912)632-2583. Email: awildes2012@gmail.com. Open: Tuesday-Friday, 10 am to 6 pm & Saturday, 9 am to 2 pm. The Blueberry Barn is a small, unique, retail store that specializes in all things blueberry. It is full of jams/jellies/syrups/ice cream/bread/candies/snacks/handmade home items/juice/sodas/etc. Alma, GA, is the Blueberry Capital of Georgia and The Blueberry Barn supports and promotes blueberries. During our fresh pick season (late April-June) we offer fresh blueberries straight from the farm to the store. We also host a U-Pick during the first weeks of April. Call for more information about the U-Pick.
Price update for 2022: Blackberries $4 a pound if they pick, $3 a pound if you pick. Call 912-288-0705 to schedule an appointment. (ADDED: June 14, 2022, JBS)
Brantley County
Bryan County
Bulloch County
Camden County
Candler County
Berry Good Farms - blackberries, pumpkins, strawberries
RR 3 Box 215 Excelsior, Metter, GA 30439. Phone: 912-685-9869. Fax: 912-685-6417. Email: deloach@gnet.net . Directions: Exit 111 off of I-16, 2 miles to Excelsior, right at 4 way stop, farm is .75 miles on left. Click here for a map to our farm. We are open April, May, June, July, September, October. Our hours are: Tuesday to Saturday, 8 am to 6pm, Sunday, 1 pm to 6pm Farm is available for tours and field trips. We also grow about 600 acres of flue-cured tobacco with 67 curing barns on site. Also on premises is an old Commissary building which has been refurbished. It is excellent to rent for parties, meetings, or receptions. We use it as a Haunted House during Halloween.
Carpenter's Farm - Strawberries
RR 1 Box 76-A, Metter, GA 30439. Phone: 912-685-3812. Open: No idea, apparently they publish zilch online, you we must all call them (yes, that does seem crazy to us, too.
Charlton County
Leitch Farms - Coming in 2023: Muscadines, grapes, blackberries
1606 John Burch Road, Folkston, GA 31537. Phone: (912) 276-4001. Email: info@blackwater-vineyard.com. Open: By appointment only . Blackwater Vineyard is a small muscadine grape vineyard and blackberry farm located at Leitch Farms LLC in the historic Trader's Hill community in Charlton County, Georgia. Approximately four and a half miles south of Folkston, Georgia, Blackwater Vineyard is a u-pick vineyard containing different varieties of muscadine grapes and blackberries best for fresh fruit, jellies, juices, and wine making. In 2022, their Facebook page says Blackberries and muscadines won't be available for U-pick or purchase until 2023.
(ADDED: June 14, 2022, JBS)

Rockingchair Farms

- blueberries, U-pick and already picked
29314 Highway 121, Folkston, GA 31537. Phone: 912-276-0069. Alternate Phone: 912-276-0068. Email: jmurp003@gmail.com. Open: Monday through Sunday from 9 am to 7 pm for the month of May. Directions: Take 121 from Folkston toward Street George. We are seven miles out of town on the left side of the road near Okefenokee Swamp entrance. Click here for a map and directions. Blueberries are highbush, very sweet and last from the last week in April until the last week of May each year; Pick your own for $2.00 a pound minumum of six pounds or we will pick for you; Prices vary per amount. Payment: Cash, only. (ADDED: May 08, 2015)
Chatham County
Bamboo Farm and Coastal Georgia Botanical Gardens - UPDATE for 2019, The owner tells me they no longer have Pick-Your-Own,
University of Georgia, College of Agricultural & Environmental Sciences, 2 Canebrake Road, Savannah, GA 31419. Phone: 912-921-5460. Open:

UPDATE: March 27, 2019: The owner tells me they are now permanently closed

Gratitude Gardens

- UPDATE for 2020, A visitor tells me they are permanently closed.
Savannah, GA 31419. Click here for our Facebook page.


A visitor writes on June 27, 2020:

"after much searching for numbers and information....finally found out that nit is permanently closed june 2020"

Ottawa Farms - blackberries, blueberries, Muscadines, grapes, strawberries, Honey from hives on the farm, porta-potties are available, school tours
702 Bloomingdale Road, Bloomingdale, GA 31302. Phone: 912-748-3035. Fax: 912 748 3035. Email: ottawafarms@gmail.com. Open: Mid March thru August Tuesday thru Saturday 8 am until 6 pm; Sunday 1 pm until 6 pm, closed on Monday. Directions: Exit 152 from I-16, go north on Bloomingdale Road, go approximately 2 miles, farm is on the right. Hwy 80 turn onto Cherry Street, cross railroad track, farm is on the left. Motor homes and buses, please use service entrance beside railroad track. Click here for a map and directions. Strawberries: Mid March thru April Blackberries: May Blueberries: June Muscadine grapes: September. Payment: Cash, Check. We will hold our annual Strawberry Festival April 14 & 15, 2012 Entertainment, craft & food vendors, children's activities, fun for the entire family. Saturday 9:00 until 6:00 Sunday 1:00 until 6:00 Admission $5.00 ages 6 and older, children under 6 are admitted free. Our Corn Maze and Pumpkins will be in October, please call for dates and hours of operation. Ottawa Farms is a third generation family owned farm. U-pick Strawberries, Blackberries and Blueberries. Hormone and Antibiotic free Black Angus beef. Vegetables and melons available spring and summer. Clover honey from our farm. Beginning mid March when the strawberry crop is ready.

Hormone and Antibiotic free

Black Angus beefWe also have sausage, bacon and pork chops for sale, PLUS our Ottawa Farms Beef (no growth hormones or antibiotics).
No PETS please, no wagons, strollers, backpacks, in the field. We provide picking containers. In 2021, Berries are $3.00 per pound U PICK, if we pick they are $4.00 per pound.
Comments from a visitor on April 09, 2011: "I always use this site to verify what is in season around me. Today, we went to Ottawa Farms in Chatham County to pick strawberries. I found the link on your site and it lead me to the flyer and today happened to be Strawberry Festival day. It was a couple of hours away from our home, but we spent the day there playing and picking strawberries, which are delicious! Thank you so much for the information and for taking the time to inform the public about all of these great places. "
Effingham County
John Martin - Strawberries
533 Exley Loop, Rincon, GA 31326. Anyone have a phone number or any information about this one? If you go there, please use the feedback form to tell me about them!
Hodges Farms - strawberries, blackberries, peaches
8705 Hwy 21, North Newington, GA 30446. Phone: 912-754-7257. Email: hodgesfarm@yahoo.com. Open: Strawberry and Blackberry season which usually starts in March thru JuneMay and early June, Monday to Saturday from 8 am to 5 pm and Sunday from 1 pm to 5 pm. Hodges Farms facebook page. (UPDATED: February 26, 2021 JBS)


A visitor writes on June 27, 2020:

"this farm is still active...we were 1 week too late, their blueberry season ended on June 21...will reopen again in march 2021"


(UPDATED: March 24, 2010, GAMB)
L & R Farms - CLOSED
Roy Wendelken, 1748 Pleasant Acres Road, Guyton, GA 31312. . UPDATE for 2020, A visitor tells me they are permanently closed.


A visitor writes on June 27, 2020:

"went to this address, has new owner and has no strawberry fields any longer june 2020"

Morgan Farm

- Permanently closed
2282 Midland Rd, Guyton, GA 31312. Open: UPDATE for 2021, A visitor tells me they are permanently closed. - .(UPDATED: July 24, 2021)


A visitor writes on July 24, 2021:

".

This was an older family has had a lot of medical problems and I do not think they will be reopening."


A visitor writes on June 27, 2020:

".we went, saw no blueberries, no one at the house , no buckets or place to leave money as listed june 2020"
Emanuel County
Evans County
Glynn County
Blu-Witt Farm - UPDATE for 2021, Google says they are permanently closed.
365 Pyles Marsh Rd, Brunswick, GA 31525. Phone: 912-222-3757. Email: bluwitt.farm@gmail.com.
Oglesby Family Farm - Blueberries,
410 Myers Hill Rd, Brunswick, GA 31523. Phone: (912) 230-6190. Open: See their website for for hours and availability. Directions: See their website for directions. Click here for a map and directions. Payment: Cash, only.. Click here for our Facebook page. pick your own crops, . (ADDED: April 06, 2023, Suggested by a visitor)
Jeff Davis County
Jenkins County
Liberty County
Brewer's Christmas Tree-Blueberry Farm - blueberries, Muscadines, grapes, persimmons, Christmas trees-you choose and you cut, Christmas trees- you choose and we cut, Christmas wreaths and boughs, Santa appearances, saws provided, trees tied, gift shop, snacks and refreshment stand, restrooms, tractor-pulled hay rides, petting zoo
1067 Robert Hill Road, Midway, GA 31320. Phone: 912-884-5292. Open: Blueberries Monday to Saturday from 7 AM to 7 PM; Sunday from 1 PM to 7 PM; Persimmons Monday to Saturday, by appointment Christmas Trees Monday to Friday. 12 Pm to Dark Saturday and Sunday Daylight-Dark Blueberries U-pick June 20 to July 20, Daylight hours $1.50 Per quart, picking buckets provided. Directions: From Midway traffic light: 2miles west on US 84 Turn left on Lewis Frasier Road, go 2 miles, right on Dave Williams Road, go 0.2 mile, right on Robert Hill Road to end Click here for a map to our farm. Crops are usually available in June, July, September, November, December. Persimmons (Fuyu) September to October 50 cents each Christmas Trees Friday after Thanksgiving till Christmas Payment: Cash, Check. 2003 grower of GRAND CHAMPION CHRISTMAS TREE, Georgia State Fair in Perry, Georgia. Click here for a link to our Facebook page. (UPDATED: November 10, 2022, JBS)
Comments from a visitor on June 26, 2009: "

Today (June 26), I made my yearly trip up the coast to pick blueberries at Brewer's. I've been to a few different farms - some a lot closer - but theirs is the best and they are the nicest people, too. They make you feel like you're a friend, not just a customer. In all my 7 years of picking there, I have never seen such huge berries on their bushes!!! They are so full with big, fat, juicy and sweet berries that the limbs are bending down. It took me three hours, but I was able to pick and choose the most perfect fruits. The prices are so reasonable - $7.50 for five quarts. Already I've eaten so many that my tongue is purple/black like a Chow! **I do want to mention for people that haven't been there that the left turn you take to get on Lewis Fraser from Hwy 84 pops up on you very quickly. The road is even kind of angled away from the main road and not marked very well. If you set your odometer from the I-95 underpass, it's approximately 8.6 miles.


Comments from a visitor on June 3, 2008: "They are still selling blueberries at $1.00 a quart from mid June to mid-July. The man I talked to was exceptionally nice, gave me better directions for driving from my area to his, and called me back to tell me about other U-pick farms that I might want to verify out if we come up there. (It will be a 70 mile drive to their farm.) When I told him I'd be coming with my children, he told me to make sure that they got a chance to feed the sheep and bunnies before they left. Just a very nice man!"
Comments from a visitor on June 16, 2008: "Mr and Mrs Brewer are just the nicest people! Even though we no longer live in Liberty County, we still make the 3 hour trip each year for our blueberries and Christmas trees. They encourage you to eat as much as you want while picking and will even give you a lesson on the finer points of berry "tickling!" At Christmas time they even have hay rides and visits from Santa for the kids. Their prices are very reasonable and they're always very helpful."
s
159 Roy Smith Road SE, Ludowici, GA. Phone: (912) 271-2541. Open: May 25th to June 30th; cal first for availability. (UPDATED: June 03, 2021)
McIntosh County
Georgia Peach World Farm - flowers, pumpkins, Fresh eggs, gift shop, concessions or refreshment stand, porta-potties, restrooms, picnic area, petting zoo, farm animals, birthday parties, weddings and wedding parties, school tours, group reservations
2113 Ga highway 57, Townsend, GA 31331. Phone: (912) 832-6883. Email: GeorgiaPeachworldfarmmanager@gmail.com. Open: Monday to Thursday from 10 am to 5 Fri - Sunday from 10 am to 7 pm.Open: Click here for current open hours, days and dates. Directions: exit 58 on interstate 95. Payment: Cash, Debit cards, Visa, MasterCard, Discover, AmEx. Click here for our Facebook page. (ADDED: October 08, 2021)
Montgomery County
Pierce County
Davis farm

- beans, corn (sweet), cucumbers, melons, peas, peppers, summer squash, tomatoes, other vegetables,
6138 Ayrin Brooke Ln, Blackshear, GA 31516. Phone: 912-449-2425. Email: gajokerfloyd@yahoo.com. Open: Monday through Sunday, from 7 am to 8 pm; June 1 to October 30. Directions: highway 84 east out of Blackshear, Georgia turn left at ace pole plant then another left on dean still road go about a mile turn left on Ayrin brook lane its the first dirt road on your left it the second double wide on you right fenced yard. Click here for a map and directions. Payment: Cash, only. There will be okra, straight neck squash ,zucchini squash, Irish potatoes, cucumbers, tomatoes ,cherry tomatoes, sweet corn ,jalapeno peppers, sweet bell peppers, mild banana peppers, spaghetti squash ,watermelons, black-eye peas ,green snap-beans in the fall white turnip, purple top, and mustard greens. Please check the south Georgia produce harvest page on this web site.

Out Back Farms

- beets, collards, turnips, radishes,
66204 Cross Swamp Road, Patterson, GA 31557. Email: yeomans@atc.cc. Directions: e-mail for directions. And for a map to our farm, click here. Crops are usually available in November, December. Open: We minimize use of pesticides and other chemicals.. Payment: Cash, only. mustard collards turnip radishes planting this month not quite sure when they will be in. You can e-mail. place an order for us to hold. Things goes fast so place order soon!
Spellman Farms - blueberries, snacks and refreshment stand, school tours
Peacock Dairy Road, Blackshear, GA 31516. Phone: 912-590-7620. Alternate Phone: 904-825-0191. Email: Spellmanfarms@hotmail.com. Open: Please contact us by phone 904-825-0191 to set up a time and day to pick blueberries. Directions: Located in beautiful Blackshear, Ga. 21 minutes from Waycross, GA. Click here for a map and directions. Blueberries now in season starting June through late July. Payment: Cash, only. Pick your own blueberries in Blackshear, Ga. Blueberries are .75 cents a pound. Kids of all ages welcome! Refreshments are available. Please e-mail Spellmanfarms@hotmail.com for more information. UPDATE for 2021, Their Facebook page is gone; There's nothing else about them on the internet, so I assume they have closed. If you have any information to the contrary, please write me.
Screven County
Adcote Acres

- UPDATE for 2021, Google says they are permanently closed. blueberries, pecans , Fresh eggs, restrooms, farm animals, school tours
284 Dover Road, Sylvania, GA 30467. Phone: 912-863-6436. Email: adcoteacres@gmail.com. Open: Blueberries: June 1 to July 15, Pastured Eggs: Year - Round, come and pick your own dozen! Pastured Broilers: See website for more information. Directions: Click here for a map and directions. We use natural practices, but are not seeking organic certification. Payment: Cash, Check.
Hodges Farm - Strawberries, blackberries
8705 Highway 21 North, Newington, GA 30446. Phone: 912-754-7257. Phone: (912) 687-6448. Open: Strawberries can start as early as late February, but March and April are the typical harvest months. We are a local family owned "Pick Your Own" or "We Pick" farm of Strawberries and Thornless Blackberries. Please stop in to get some fresh berries , jams, jellies or local Honey or just to sit and catch up with owners Eddie & Christy Hodges. We are located on the Effingham/Screven County border just 20 minutes from Statesboro and 50 minutes from Downtown Savannah.
Jacobs Produce - Strawberries, blueberries, blackberries
22695 Scarboro Highway, Rocky Ford, GA 30455. Phone: 912-863-7522. Email: jacobsproduce@yahoo.com. Open: Monday to Saturday from 7:30 am to 6 pm; Sunday from 2 pm to 5 pm. a family owned and operated business started in 1993 with our first strawberry patch. Today, we have farm fresh fruits, vegetables, and more available seasonally.Jacobs' Produce is a locally owned business and specializes in fresh produce beginning in April that continues through early September each year. A variety of vegetables are available throughout the produce season, and we plan to update our customers with the available ones as they become ready. If you cannot make it out to our store during the week, check us out at the Farmers Market in Statesboro on Saturday's from 9 am- 12:30 pm. We are also now offering home delivery in designated areas with Farm Fresh Express. Go to our website to learn more. Don't hesitate to call us with questions about where we are located, when certain vegetables will be available, etc. We look forward to seeing you! Jacobs Produce Facebook page. Our location is about 15 miles outside of Statesboro into Screven County. Directions: on Hwy 17..
Wade Plantation - blackberries, strawberries, and prepicked produce, snacks and refreshment stand, restrooms
752 Oglethorpe Trail Highway 301 North, Sylvania, GA 30467. Phone: 912-829-3391. Fax: 912-829-3599. Open: Call BEFORE you got; I haven't found an update in YEARS - Monday thru Saturday 9 am to 6 pm. Sunday 1 pm to 6 pm. Directions: From Sylvania take Highway 301 North approximately 18 miles. Turn left at the Wade Plantation sign. Immediately begin looking for signs on the left. Follow signs. Crops are usually available in April, May, June, July. Strawberries available April & May. Blackberries available June & July. Payment: Cash, Check.
Tattnall County
Roger Dasher Farms - Strawberries
Roger Dasher, Route 5 Box 290 Highway 144 East, Glennville, GA 30427. Phone: 912-654-4931. It looks like they must be closed. According to the news story, the owner was murdered. (UPDATED: May 24, 2016, JBS)
Durrence Farms - U-pick strawberries, blackberries and prepicked vegetables
14381 Hwy 301(5 miles north of Glenville), Glenville, GA. Phone: 912 654 4367. Email: danny@jdbeef.com. Open: Daylight, March for strawberries, onions, May for blackberries, squash, cucumbers, June for tomatoes, cantaloupes, July for watermelons, peppers etc, Fall for greens. If attendant is not available you can pay in the honor box. Bring small bills to verify yourself out. Greens, turnips, mustard, etc in cold weather; Strawberries March to May; Blackberries in May-June; Tomatoes June; Squash May-June & later; Cucumbers Bell peppers, others. DC Durrence Farm knows a thing or two about home-grown. A fourth generation family owned and operated farm, Durrence Farm has four poultry houses, a farm-fresh road side market, and JD Beef cattle operation. The farm grows strawberries, tomatoes, sweet corn, and a variety of fresh garden vegetables and fruits. When owners Danny and Sandra Durrence are not busy managing the farm they can be found making trips to supply the Daniel Reed restaurants with seasonal produce and beef. Farm Fresh U-Pick, Angus Cattle, USDA Certified.
A visitor writes on May 6, 2020: "II go there several times a year and was just there last week to get strawberries. There is a review on your web site that leads people to think it is closed. Please know that it is NOT closed but actually doing better than ever. They seem to have had a better farm the last few years - more organized and a wider variety of crops. I always do the U-Pick strawberries and blackberries. It is a wonderful roadside farm with very friendly owners. If the owners aren't there, they have an honor box which is great if I can only get their in early evening or Sundays...
Comments from a visitor on June 08, 2010: "Mr & Mrs Durrence are friendly and provide high quality produce at a reasonable price."
Oliver Farms - peaches, nectarines, pecans
Sharpe St, off hwy 23/57 3/4mi south of Riedsville, Riedsville, GA 30453. Phone: 912-557-3439. Open: 7:30 am to 7:30 pm on Monday, Tuesday, Thursday, Friday and Saturday; CLOSED on Wednesday and Sunday. Blackberries -May-June Nectarines- May-June Peaches Late May, June, July. Most crops are u-pick but a small quantity is available already picked for customers who are unable to pick.


A visitor writes on August 21, 2020:

"I went to the location the farm is still open, they have pecans and peaches. The owner is getting older and the peaches season hasn't been great. So it is still in operation but is limited."


Ben P. Williams

- Muscadines, grapes,
7906 Lynntown Road, Collins, GA. Phone: 912-693-6542. Open: 8:30 am to 7 pm; 7 days a week during grape/muscadine season (late summer). Directions: Call for directions. Payment: Cash, Check. Both blonde/white and black muscadines
Comments from a visitor on August 29, 2010: "Today was the first I've been to pick at Williams vineyard--but the muscadines are huge. He sells them for $12 a bucket--like the 5 qt ice cream pails. It is a pick your own "farm". He has blonde/white muscadines but also has black and they are so delicious and look like small plums..Mr Williams says these are the best for jams, jellies and canning. The vines are raised up almost to shoulder level and easy to pick. The ground around the vines is really clean and not weedy. Very easily accessible to pick. If you have younger children--they can be helpful as they can go under and pick from the underside of the vines where a grown-up can't bend down too well...say elementary aged children. Mr Williams was so very helpful and wanted to add him to the list as I didn't see it listed and he ran an ad in the local paper, that's how I found him. "
Sweet Georgia Fuyu Persimmons, Georgia Farm Products -

No pesticides are used

, persimmons, porta-potties, picnic area, picnic area you may bring your own food, farm animals
1615 Lilly Lane, Glennville, GA 30427. Phone: (912) 559-1088. Alternate Phone: (912) 441-7840. Email: Sweetgeorgiafuyu@gmail.com. Open: re open for U - pick Monday through Saturday from 9 am to 4during our season October to 2nd week of November; Please call ahead as hours May vary due to rain or crop availability. Directions: We are two miles south of downtown Glennville on Highway 301. You can turn onto Lilly Lane spur right after Greater Zachariah Church Road or onto Lilly Lane closer to neighboring Folsom Farms Kitchen. Persimmons are available from the first week of October to the second week of November;. We do not use pesticides on the crops. Payment: Cash, Debit cards, Visa, MasterCard, Discover, AmEx, Venmo. Click here for our Facebook page.
Click here for our Instagram page. (UPDATED: October 14, 2022)
Telfair County
Toombs County
Ohoopee Farm Services, LLC - peppers, tomatoes,
Intersection of Highway 292 and Highway 86, Lyons, GA 30436. Phone: 912-293-9529. Email: mail@ohoopee.com. Open: June to November, CALL before you come out. Directions: From Lyons go EAST 5 miles on 292 to 292|86 Intersection. Call or Text the number above. Click here for a map and directions. Payment: Cash, Check, Visa, MasterCard, Discover, AmEx. Ohoopee Farm Services facebook page.
Pricing update for 2022: Upick tomatoes. $10/bucket $20 25LB box..
(UPDATED: June 14, 2022, JBS)(ADDED: April 08, 2016)
Treutlen County
Treutlen Farms - UPDATE for 2021, Their website or Facebook page says they no longer offer Pick-your-own
14640 Georgia Highway 86, Soperton, GA 30457. Phone: 912 429 1036. Alternate Phone: 912 529 2028. Fax: 912 748 6084. Email: travis@travisbarlow.biz. Open: Sadly, we are no longer offering farm products. Getting old and health problems. Still enjoying the farm....just not farming. Come visit us, please. Still have Jack the donkey.
Ware County
Wayne County
Wheeler County
---
---
Other areas of Georgia: