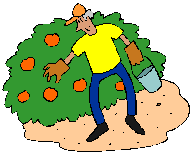 Looking for Jobs on Farms and Seasonal Farm Workers - Around the World in 2023? Scroll down this page and follow the links. And if you bring home some fruit or vegetables and want to can, freeze, make jam, salsa or pickles, see this page for simple, reliable, illustrated canning, freezing or preserving directions. There are plenty of other related resources, click on the resources dropdown above. If you are having a hard time finding canning lids, I've used these, and they're a great price & ship in 2 days.
If you have questions or feedback, please let me know! There are affiliate links on this page. Read our disclosure policy to learn more.
Jobs on Farms and Seasonal Farm Workers - Around the World
Jobs on Farms
Are you a farmer looking for season workers? (Farms: add your job needs here) Or a student looking for a summer farm job? PickYourOwn.org would like to help match both of you! While pick-your-own farms obviously employ fewer staff than regular farms, they still need some help.
Here are some good resources for both farmers looking for staff and workers looking for employment. There are also agricultural jobs available to working travellers; doing planting, peeling, packing and picking fruit and vegetables. Keep in mind that many small scale farmers advertise their job openings in local newspapers or by word of mouth, so you might have more success asking around in Pubs and farm associations in the farm's local area.
Wages vary, but are generally the lowest of any job in any country. The hours can be long and often necessary to work overtime and everyday to get the crops picked when it is ripe, so even though wages are often low, the hours can make up for it. Some farmers pay by the hour but others pay by the amount you pick (also called piece work). In any case, you obviously need to be reasonably fit and hard working to make it pay. Accommodation is often provided, although it is pretty basic and Spartan. If you desire work in agriculture and on farms, understand that picking is the absolute bottom rung on the ladder. If you have any education and/or a functioning brain; you might want to try something further up the food chain; such as a manager, sales clerk, tending to animals, etc.
PLEASE READ THIS: You must contact these farms and companies directly yourself. PickYourOwn.org has NO affiliation with them, and we have NO jobs to offer. I just put this page together to help contact the agencies and farms listed below!
I would recommend you start with this website: PickingJobs.com They specialize in jobs on farms picking fruit and vegetables and cover many countries.
Global, Anywhere - these websites list jobs on farms in many countries
AgCareers - This website is like Monster.com for agricultural careers. Not really aimed at the seasonal field worker, this is more for people pursuing a career in agriculture. This is the link to their apprenticeship page: Agriculture Jobs at Farms.com AgCareers - AgCareers provides agriculture job listings and career resources to assist in developing your AgCareer. Job seekers can post their resumes and farms can post openings.
AgHires.com - About themselves, AgHires.com says "the official site for jobs in agriculture. We're dedicated to connecting top talent with the top employers in and around the agriculture industry. We understand what it takes to find the right people and we're determined to help you succeed. We grew up in the ag industry, we're beyond passionate for agriculture and are working hard to promote its culture and showcasing what the industry has to offer."
Agri-support Online.com - Farm and agriculture jobs. US, Australian and other international farm job listings.
AgriSeek - Agricultural Jobs - Agricultural Jobs, . All products, auctions, jobs, careers, Agricultural Jobs, farms for sale, machinery, animal, are brought by farmers, dealers.
AnyworkAnywhere - Farm, Fruit Picking & Packing Jobs. They also have jobs guides to help explain what the job conditions are like.
Australia - Queensland has a diverse range of seasonal jobs available throughout the year. You can start here to plan your #pickqld adventure by month and harvest location, then

visit our find-a-farm-job page

to connect with job providers and find out about the financial incentives available to help you on your way.
Heifer International helps families move toward self-reliance in 125 countries with sustainable solutions to hunger and poverty. Heifer works to end world hunger and poverty in a way that cares for the Earth by providing sustainable gifts of livestock and agricultural training to people struggling daily for food and income. In the U.S., they operate three interactive Learning Centers located in Arkansas, California and Massachusetts. Volunteers hold major responsibilities and perform duties such as facilitating team building activities, assisting with global village programming, leading tours, hosting the visitor's center, caring for livestock, tending the gardens, maintaining the facilities and providing operations support. Residential volunteers must be at least 18, live on-site and dedicate at least a month and up to a year, to full-time volunteering. Residential volunteers receive housing, as well as a stipend if you volunteer for a minimum of one month. The online application will allow you to create a profile that enables you to view listings of all available positions at each learning center.
PickingJobs.com - is the place to find unusual seasonal jobs abroad. Jobs involving picking fruit formed the basis of the website, but there are also jobs in the fields of organic farming, nature conservation, the environment and green and sustainable energy. There is a variety from grape-picking in France, strawberry picking in the UK to picking up on the harvest trail in Australia, there is always fruit to be picked somewhere. You will also find other seasonal jobs on farms around the world.
Willing Workers on Organic Farms" (WWOOF) - the basis of which is you work in exchange for your keep and you can do so in the U.S. and all over the world. Check out their links around the globe:
America / United States
BackdoorJobs in Farming - This website is virtually about jobs in "the simple life and living more sustainably (and organically!)". It's for those who want to transform their world into something completely different ; learning to become more self-reliant, connecting with the earth, integrating skills from the "good old days" that many of us take for granted, and leading a more balanced and harmonious lifestyle.
Beginning Farmers.com - lists internships and some job openings.
California State University Agricultural Jobs Listings - These are generally for college educated, degreed or intern positions in agriculture.
Emandal Farm - 16500 Hearst Post Office Road, Willits, California 95490. Hosting environmental education school groups in the spring and family and private guests in the fall affords a variety of employment opportunities that are great for transitioning between jobs, investigating a new career path, or serving as a jumping off point for future exploration. Applications are available online and accepted on a rolling basis. Explore current job openings or email employment@emandal.com for more information.
Farm and Wilderness (F&W) - Vermont - Each year, nearly 300 staff members are hired for seasonal work (250 of them in the summer). Positions include camp counselors, senior support staff, activity heads, carpenters, cooks & kitchen staff, drivers, farmers, gardeners, maintenance workers, nurses, outdoor educators, special event coordinators and trip leaders. Work can seem like play in the camps because a cooperative group spirit enriches all the experiences of swimming and hiking, building and farming, dancing and music, crafts and cooking, and sharing thoughts and emotions. F&W also employs seasonal crew and interns throughout the year in the areas of organic farming, maintenance, carpentry and retreat coordination. Compensation includes a modest salary, housing and meals (mostly from fresh organic produce grown onsite!). Applications are reviewed on a rolling basis until all positions are filled.
Jackson Citrus is a farm labor contractor that works with the U.S. Department of Labor's H2A: Temporary Agricultural Employment of Foreign Workers program. Since 1973, we have been providing reliable labor services to farms in the southeast United States. Agricultural workers are typically in high demand yet there is a short supply of American workers willing and/or able to fill these jobs. Jackson Citrus helps farmers and greenhouse growers get the help they need by recruiting nonimmigrant laborers (H2A workers) to perform agricultural labor services of a temporary or seasonal nature. Currently we provide migrant labor to growers in: Florida, Michigan, Illinois, The NE, and SE United States. If your organization needs help harvesting fruits, vegetables, botanicals, or other crops we would appreciate the opportunity to serve you.

Gould Farm - Massachusetts - 600-acre farm. Volunteers generally work in one specific area of the farm, such as gardening, farming, forestry, dairy management, crafts, cooking, childcare, administration or clinical work. Boston area program interns live in a smaller community and provide support, guidance, and advocacy for clients who are well on their way to leading more independent lives. A minimum commitment of 12 months is necessary, with opportunities available throughout the year. Benefits include a monthly stipend, housing in privates rooms, wholesome meals and full medical coverage. Mature, well-rounded and people-oriented individuals who are interested in learning and living in a therapeutic community are encouraged to apply.
Hawthorne Valley Farm Visiting Students Program and Summer Camp - Ghent, NY 12075 - The internship program operates through the school year for the fall and spring semesters. The Fall Internship begins the last week of August until the 3rd week in November. There are three positions available. The interviewing process begins in January and continues until all positions are filled. The Spring Internship work dates are from the second week of January until the first week in June. The interviewing process begins in September and continues until positions are filled. There are four positions available. Compensation includes room and board (organic vegetarian meals) plus $400 per month stipend. Our program by using hands-on teaching methods creates a true learning experience for both the staff and the children. If you are at least 21 years of age, enjoy working with children, have a love of the outdoors, animals and farm life, come join us. Complete our application and return it to us with a copy of your resume and the names and phone numbers of three working references, preferably employers who have seen you working with children, and a cover letter describing your interest in this position. Once we have received your application, we will contact you for an interview. We look forward to hearing from you.
NationsJobs - Agricultural jobs.
Pacific Quest Hawaii - a typical day consists of working the land while learning about permaculture, sustainability, basic living skills and Hawaiian life, with outings twice a week. The treatment team consists of four to five field staff: 1-2 Leads, a Health & Safety Instructor, a Support Instructor and an Apprentice. Each staff member will work eight-days on, six-days off from Thursday to Thursday. Benefits include a salary as well as room and board during the working period (on your week off, accommodations are not provided). At minimum, applicants must have a bachelor's degree in psychology, farming or outdoor education. If you can make a one-year commitment and have experience and enthusiasm for working with teens in an outdoor therapeutic setting, email your cover letter and resume to Human Resources
Australia
HELP Exchange - Free info exchange for people who want to work for free accommodation and meals in Australia and New Zealand. It has about 150 addresses in Australia and 200 in New Zealand.
Northern Victoria Fruitgrowers' Association - PO Box 612, Mooroopna, Victoria 3629, Australia; 011-61-3-5821 5825 3700, administrator@nvfa.com.au. Actively recruits fruit pickers from January to March for about 200 growers. Also see the Victorian Peach and Apricot Growers' Assn., 30A Bank Street, (P.O. Box 39), Cobram, Victoria 3644, Australia (011-61-3-5872 1729, vpaga@cnl.com.au ).
National Harvest Labour Information Service - (NHLIS), helps growers in Australia and jobseekers find each other at peak harvest times. Here's how to contact them:

Phone: 1800 062 332
The website provides comprehensive information about harvest labour opportunities in all States of Australia
Iceland
Ireland
New Zealand
Farm Helpers in New Zealand, 41 South st, Palmerston North, 4410 New Zealand. Phone/fax:ax 011-64-6 354 1104. Email: info@fhinz.co.nz, NZ$25 ($17) membership includes booklet listing over 300 farmers looking for helpers in exchange for room and board.

HELP Exchange - Free info exchange for people who want to work for free accommodation and meals in Australia and New Zealand. It has about 150 addresses in Australia and 200 in New Zealand.
Seasonal Work NZ, PO Box 2075, Rotorua, New Zealand, 011-64-7-349 2865; janine@seasonalwork.co.nz. Publicizes short-term vacancies mainly in the fields of fruit harvesting and processing.
South Africa
Spain
EcoForest, Apdo Correos 29, 29100 Coin, Malaga, Spain; 011-34-661-079 950; info@ecoforest.org Small fruit farm in southern Spain that offers a place to live at low cost while changing to a healthy, sustainable way of life. They have a working visitor program, where work contributed subsidizes your keep. It is a vegan diet, all raw food. I guess that's "roughaging it"! :)
UK, England, Scotland Wales
The Farmhands UK service s targeted for Britain's crop growers, farmers, factory or packhouse operators with seasonal labour needs of minimum 10 people for periods of 2 to 10 months. The businesses should have accommodation available for the farm workers in the form of caravans, cottages, mobile homes, dormitories with amenities and kitchens available. The Farmhands UK is a service of Aston Ltd., which is a Slovak employment agency established in 1997. It is offering multiple student summer work abroad programs and personnel leasing to Slovak based manufacturing companies. We are a dynamically growing company concentrated on clients needs. For information about our programs and services, please visit our company web site at www.astonltd.sk.
Fruitfuljobs.com was founded as a seasonal labour, web-based introductory agency by AMS in 2001 and has since introduced workers to employers from all areas of the land-based industry all over the UK. It is now used industry-wide to search for resources, jobs and candidates from graduate to board level as well as fulfilling short-term employment needs. Fruitfuljobs.com averages almost 400,000 hits a month and has strategic alliances to numerous industry organisations, higher education establishments, trade media and backpacker outlets. Due to our ongoing direct involvement with the sectors we recruit for, as well as an inherent understanding of the urgency job seekers and employers in our field often face, we can solve your recruitment, career and working holiday requirements.
Seasonal Agricultural Workers Scheme (SAWS) - A organisation managed by the British government which allows up to 16,500 full-time students from outside the European Union to do harvesting and other manual work for participating farmers. Applicants must contact one or more of the nine participating agencies directly.
Canning Books, Supplies and Accessories
These are my favorite essential canning tools, books and supplies. I've been using many of these for over 50 years of canning! The ones below on this page are just the sampling of. my preferred tools. but you can find much more detailed and extensive selections on the pages that are linked below.
The All New Ball Book Of Canning And Preserving: Over 350 of the Best Canned, Jammed, Pickled, and Preserved Recipes Paperback
This is THE book on canning! My grandmother used this book when I was a child.; It tells you in simple instructions how to can almost anything; complete with recipes for jam, jellies, pickles, sauces, canning vegetables, meats, etc.
If it can be canned, this book likely tells you how! Click on the link below for more information and / or to buy (no obligation to buy)The New Ball Blue Book of Canning and Preserving
Canning and Preserving for Dummies by Karen Ward
This is another popular canning book. Click here for more information, reviews, prices for Canning and Preserving For Dummies
Of course, you do not need to buy ANY canning book as I have about 500 canning, freezing, dehydrating and more recipes all online for free, just see Easy Home Canning Directions.
Home Canning Kits
I have several canners, and my favorite is the stainless steel one at right. It is easy to clean and seems like it will last forever. Mine is 10 years old and looks like new.
The black ones are the same type of standard canner that my grandmother used to make everything from applesauce to jams and jellies to tomato and spaghetti sauce.
This complete kit includes everything you need and lasts for years: the canner, jar rack, Jar grabber tongs, lid lifting wand, a plastic funnel, labels, bubble freer, It's much cheaper than buying the items separately. It's only missing the bible of canning, the Ball Blue Book.
You will never need anything else except jars & lids (and the jars are reusable)!
The complete list of canners is on these pages:
Pressure Canners
If you plan on canning non-acidic foods and low acid foods that are not pickled - this means: meats, seafood, soups, green beans corn, most vegetables, etc., then you ABSOLUTELY must use a Pressure Canner.
Of course, you can use a pressure canner as a water bath canner as well - just don't seal it up, so it does not pressurize. This means a Pressure Canner is a 2-in-1 device. With it, you can can almost ANYTHING.
There are also other supplies, accessories, tools and more canners, of different styles, makes and prices, click here!

Basic Canning Accessories
From left to right:
Jar lifting tongs to pick up hot jars
Lid lifter - to remove lids from the pot of boiling water (sterilizing )
Lids- disposable - you may only use them once
Ring - holds the lids on the jar until after the jars cool - then you remove them, save them and reuse them
Canning Jar funnel - to fill the jars
FREE Illustrated Canning, Freezing, Jam Instructions and Recipes