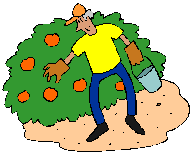 What's in season in January 2020, and other timely information:
Notes for January 2020: Summer is here and that means blueberries, peaches, raspberries, blackberries, figs, corn and tomatoes are here. Check your area's specific crop calendar (see this page) and call your local farms for seasonal updates. Strawberries and cherries are finishing up in the north, long done in the South.
See these pages to find a local Peach festival, Blueberry festival and other festivals. We have a guide to peach varieties here. Also recipes, canning and freezing directions for strawberries, blueberries, peaches, tomatoes, corn etc.
See our comprehensive list of easy home canning, jam and jelly making, preserving, drying and freezing directions. You can access recipes and other resources from the drop down menus at the top of the page or the site search. If you have any questions or suggestions, feel free to write me! It is easy to make your own ice cream, even gelato, or low fat or low sugar ice cream - see this page. Also note, there are many copycat website listing U-pick farms now. They have all copied their information from here and usually do not ever update. Since 2002, I've been updating the information every day but Christmas; so if you see anything wrong or outdated, please write me!
Children's Consignment Sales occur in both the Spring and Fall See our companion website to find a local community or church kid's consignment sale!
Local Weather Forecast
Please wait while the weather loads. Then enter your location (city and state, zip, city and country, etc.) in the box below: