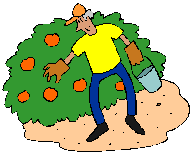 Looking for Comprehensive Canning Resources in 2023? Scroll down this page and follow the links. And if you bring home some fruit or vegetables and want to can, freeze, make jam, salsa or pickles, see this page for simple, reliable, illustrated canning, freezing or preserving directions. There are plenty of other related resources, click on the resources dropdown above. If you are having a hard time finding canning lids, I've used these, and they're a great price & ship in 2 days.
If you have questions or feedback, please let me know! There are affiliate links on this page. Read our disclosure policy to learn more.
Comprehensive Canning Resources
Comprehensive Canning Resources
Everything You Need to Know About Home Canning, Freezing and Making Jams and Jellies From The Fruits and Vegetables You Picked!
Photo source: University of Missouri Cooperative Extension System. http://muextension.missouri.edu/xplor/hesguide/foodnut/gh1461.htm

You think making and canning your own applesauce or jam is difficult? Not at all!

The links below take you to a US government web site that is a treasure trove of useful information and how-to's!
[Recommended books about home canning, jam making, drying and preserving!]
Blake's Easy and Illustrated Canning, Freezing and Jam Directions

Apples
Beans
Berries

How to freeze berries (blueberries, blackberries, raspberries, gooseberries, tayberries, loganberries, strawberries, saskatoons, cranberries, marionberries, boysenberries, etc.)
How to make berry jam (strawberry, raspberry, blackberry, etc.)

Citrus
Corn
Herbs
Other fruit jams
Peaches, Plums, Nectarines, other stone fruit
Pickles
Pumpkins
Tomatoes
Coming in Spring 2006

How to can figs
Canning your own cherries
Canning, Freezing and Drying Equipment and Supplies
Canning Information from Various Government and University Sources
More Canning recipes
Making Jams and Jellies
General Information
Other Recipes (these directions usually aren't illustrated like mine are!)
Reduced Sugar Recipes
Additional Resources
Freezing
Drying foods
Tomatoes!