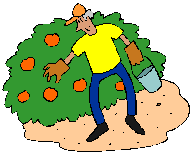 Looking for History of the Home Canning Jar and Collecting Antique Mason, Ball and Kerr Jars in 2023? Scroll down this page and follow the links. And if you bring home some fruit or vegetables and want to can, freeze, make jam, salsa or pickles, see this page for simple, reliable, illustrated canning, freezing or preserving directions. There are plenty of other related resources, click on the resources dropdown above. If you are having a hard time finding canning lids, I've used these, and they're a great price & ship in 2 days.
If you have questions or feedback, please let me know! There are affiliate links on this page. Read our disclosure policy to learn more.
History of the Home Canning Jar and Collecting Antique Mason, Ball and Kerr Jars
A Brief History of Common Home Canning Jars
What are Ball Jars, Kerr Jars, Mason Jars?
Primitive Canning
Napoleon is often credited with the invention of modern canning: in 1795 the French military offered a cash prize of 12,000 francs for a new method to preserve food. Nicolas Appert suggested canning and the process was first proven in 1806. Until 1858, canning jars used a glass jar, a tin flat lid, and sealing wax, which was not reusable and messy!
Mason Jars
But in 1858, an inventor and tin smith from New York City, John L. Mason, invented the mason jar. He invented a machine that could cut threads into lids, which made it practical to manufacture a jar with a reusable, screw-on, lid. This was the difference between his design and predecessors, the sealing mechanism: a glass container with a thread molded into its top and a zinc lid with a rubber ring. The rubber created the seal, and the threaded lid maintained it. The jar included his patent: "Mason's Patent November 30th. 1858."

The ease of use and affordability of Mason jars helped home canning spread across the nation, not only among farmers, homesteaders and settlers, but also urban families, who began family traditions of canning sauces, pickles, relishes, fruit and tomatoes. Sadly, Mason sold off his rights to the jar to several different people and died a relatively poor man around 1900.
Clamped Glass-Lid Jars (Lightning Jars)
In 1882, Henry William Putnam of Bennington, Vermont, invented a fruit jar that used a glass lid and a metal clamp to hold the lid in place. These "Lightning jars" became popular because no metal (which could rust, breaking the seal or contaminating the food) contacted the food and the metal clamps made the lids themselves easier to seal and remove (hence the "Lightning" name) . There were many similar glass lid and wire-clamp jars produced for home canning all the way into the 1960s. Many can still be seen in garage sales, flea markets and on specialty food jars today.
Atlas Jars
The Atlas E-Z Seal is a type the Lightning jar. The difference is a raised lip to help keep the jar from cracking. This was called the "Strong Shoulder" and was similar to the mason jar. The cracking was a common problem with shoulder seal jars. Hazel-Atlas Glass Company were in business from the late 1800s until 1964.
Ball Jars
Meanwhile, in Buffalo, NY, William Charles Ball and his brothers (Lucius, Lorenzo, Frank C., Edmund Burke, and George Alexander) were in the business of manufacturing wood-jacketed tin cans for the storage of oil, lard and paints. In 1883, the Ball's changed from tin to glass containers in 1884 as The Ball Brothers Glass Manufacturing Company. Then, in 1886, they began making glass fruit jars. They moved their operations to Muncie, Indiana, after a fire at their Buffalo factory. Muncie (where a supply of natural gas had been discovered) was chosen because the city was offering free gas and land to rebuild the factory. began manufacturing fruit jars in 1884 in Buffalo, New York.
The Balls began acquiring smaller companies, and mass producing and distributing jars across the country. They quickly became the leaders in the industry. The photo shows the Ball Brothers (from left to right: William Charles Ball (1852-1921), Frank Clayton Ball (1857-1943), Lucius Lorenzo Ball (seated) (1850-1932), Edmund Burke Ball (1855-1925), George Alexander Ball (1862-1955))
There is a student-produced video, titled, "A Legacy Etched in Glass: The Ball Brothers in Muncie." about the lives of the five Ball brothers.
If you are ever in Delaware County, Indiana, there are some Ball and glassworks-related attractions to see:
Kerr Jars
Alexander H. Kerr founded the Hermetic Fruit Jar Company in 1903 and among the first commercial; products were the Economy and Self Sealing jars. The Economy jars were among the first wide-mouth jars, and thus, were easy to fill. They also incorporated aspects from two 1903 patents held by another inventor, Julius Landsberger: a metal lid with a permanently attached gasket. This made the lids easy to use and inexpensive.
Mr. Kerr later (1915) invented a smaller, flat metal disk with the same permanent composition gasket. The lid sealed on the top of a mason jar; a threaded metal ring held the lid down during the hot water processing. This allowed re-use of old canning jars together with inexpensive and easy to use disposable lids. The jar we know today was born! This two-part lid system transformed home canning safety and is still in use today.
Kerr also made the first wide-mouth jars, which Ball was quick to duplicate.
Today
The Ball Corporation owned and operated many other plants located in other cities including El Monte, California, Mundelein, Illinois, Asheville, North Carolina. Ball Corporation no longer sells home canning products. Ball spun off that part of their business in 1993 as Alltrista Corporation (which is now Jarden Corp.). Since 1993. the Alltrista Corporation has been manufacturing the Ball glass canning jars. They also make Kerr, Bernardin and Golden Harvest canning jars. And later the Jarden brand, which was then acquired by Newell. Jarden / Alltrista's home canning product information are now on the Newell Corp website.
And for easy, step-by-step illustrated canning directions, from applesauce to pickles to jams, click here!
If you are looking for Replacement parts (rubber rings and wires) for old Canning Jars, click here!
Jar sizes
Canning jars are available from 4 oz jars to 1/2 gallon jars. You can find jars, lids and other supplies on the following pages:
Dating Old Ball Canning Jars
There are no dates of manufacture on canning jars, any dates on them refer to patents which are unrelated. But, you can check the logo, which changed fairly frequently until 1962.
Click for guidance on how to determine the date of your jars!
Collecting Old Canning and Fruit Jars
There was a man, Jeff Harper, in Houston, TX, who unfortunately died in 2012, who had a massive 3,000 jar collection of Ball jars, with no two are alike. The collection was said to be the largest anywhere.
You can find additional information about jar collecting from these sources:


Alice M. eswick. The Fruit Jar Works. Volumes I and II. D.M. Leybourne, publisher. Reprint of 1987 original edition. Not a price guide. Write to: P.O. Box 5417, North Muskegon, MI 49445.
D.M. Leybourne.
The Collector's Guide to Old Fruit
Jars
. Also called Redbook #9. Copyright 1993. A 300-page price guide. Write to: P.O. Box 5417, North Muskegon, MI 49445.


Schroeder: One Thousand Fruit Jars (1752) (Paperback
This book is probably the best selling jar and bottle book ever published. It shows an illustration of each embossing on the front of the jar. Each jar has such information as size, color, closure and value. 2010 values.


Julian Harrison Toulouse: Fruit Jars: A Collectors' Manual [Paperback] First published in 1969, reprinted in 2005, it is available for a new generation of bottle collectors. Fruit Jars details the types of containers used for canning fruit, lists jars alphabetically with markings found on the jars and denotes embossing, color, shape, closure and base markings. It also includes a listing of fruit jar manufacturers as well as a chronological listing of dated jars, line drawings, and makers' marks.


Michael Polak: Warman's Bottles Field Guide: Values and Identification (Warman's Field Guides Bottles: Values & Identification) [Paperback]
- 1,000 listings with prices for well over 100 years of collectible bottles
- 300 brilliant color photos
- Convenient portable size
Does Ball still make rubber seals for the older zinc caps?
No. Ball doesn't, but some others now do. However, home canning experts do not recommend that you use them. The modern flat lid and metal ring is superior in reliability and safety. If you insist in using the rubber ring system, do not use old rubber rings: they have aged and will probably not seal effectively, especially on an older jar. You can get new rubber canning rings quite inexpensively here:
Valuing Antique and Collectable Canning Jars
Look for:
Age - Generally the older the jar is, the greater is value. Look for signs of older age, such as: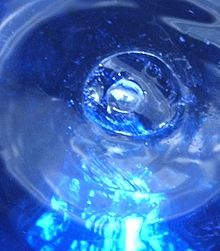 Pontil marks (a lump of glass - see photo at right, where the glass blower attached to the molten glass) and indented rings found in the bottom of the jar. These are usually be found on jars made before 1858.
Seams along the entire side , from bottom to top, mean the jar was made by a machine, probably after 1915.
Condition - Chips and cracks reduce the value significantly. A jar in pristine confition that still has its original lid will be worth much more.
Embossing - Many canning jars were embossed with the Mason patent date, November 30, 1858. Unusuall embossing designs and misspellings add to the value.
Closures - The common ring and lid used today wasn't always the standard. Rubber rings and wire clamps were once common. If the original closure ispresent, it will add to the value. Some other types of closures are: Putnam's Trademark Lightening; Peerless; A. & D.H. Chambers Pittsburgh, Pa; Stark lid and jar.
Color - Clear is most common, but other colors, which usually add value are: Aqua, Amber, Dark Amber, Emerald, Milk Glass, Cobalt, Black. See the Hoosier Jar Color Page. This can help you identify the jar you have more accurately.
Size - Most are quart or smaller, but larger canning jars can fetch higher prices at auctions and can be used in making light fixtures and art pieces.
Designs /shapes - Square jars are less common.
How to Determine the Date a Ball Jar
First, look at the logo.
Ball oldest jarshad a logo that had the letters BBGMC which stood for Ball Brothers Glass Manufacturing Company, all intertwined together. This was used on jars made in Buffalo, New York in 1884 until about 1868. Buffalo jars are pretty rare.
Ball changed the logos fairly frequently until about 1962.. That allows us to more precisely date the jars based on the logo design.
Note that the jars may be embossed with a patent date of 1858., which refers not to the date the jar was mande, but to the date when John Mason received his patent for the threaded screw-type closure. That date appears on many different brands of jars.and has no other significance.
Compare he logos on your jars with logos below. Keep in mind, even the best authorities tells us that we can only deteremine a date range, not one specific year..
More tips
Ignore the big Mold Number on the bottom of many jars. That number was used by the quality control staff. It only identifies the position that the mold in which the jar was made held on the glassmaking machine. Most machines would have from eight to ten molds, all making the same type of jar. .
Online ResourcesYou may also check out the Minnetrista Heritage Collection

website and use their search to look for

"Ball jar." then match your jar to one of those listed and check the dates.
The Midwest Antique Fruit Jar and Bottle Club website has another resource. Look for "When was my Ball jar made?" and follow the instructions.
The Midwest Antique Fruit Jar and Bottle Club my be anther useful resource. They have jar collecting information, hold club meetings
Typical values:
The value of antique Ball, Mason and Kerr canning jars varies greatly. Typical prics range from $8 to $25 a jar.
Look at the books listed above on this page for more details about how to value a jar.
How to Sell Your Jars
Ebay is one of the most common ways to sell jars for their value. Of course many people look at yard sales, garage sales, "car boot sales", flea markets and the like to find good values on cllectable jars, but those are poor places to sell your jars for their potential value. It will take patience and work to sell the jars for their best value; this is a niche market.
New Jars for Canning
If you need new canning jars delivered to your doorstep, see below for any size you need. Click on the links below
For more information, and NO obligation to buy, just click on the links in the boxes on the left!
For inquiries specifically related to old or antique Ball jars, you can try emailing dbarts@minnetrista.net or write to:
Minnetrista,
1200 North Minnetrista Pkwy.,
Muncie, IN 47303.
They may be able to address questions you may have about old home canning jars (but not home canning). But maybe not! Minnetrista's web site used to have has some information about the Ball family there. Unfortunately they've removed it and there's nothing about canning there, their website now just says "Minnetrista is your year-round gathering place. Built on the unique legacy of the Ball family and company, Minnetrista works to nurture a thriving community that takes pride in its accomplishments and strives for a brighter future.".
I cannot understand why they have taken down the pages about canning jars when those are central to their history! In the past, they had the jar collection on-line and had about 1,000 records concerning the Ball family and Ball products. But that, too, seems to have been removed.