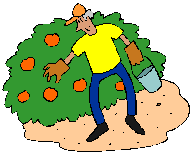 Looking for a local, pick-your-own farm in Atlanta's NW burbs: North Fulton, Cobb, Forsyth area in Georgia? Scroll down this page and you will see the U-Pick farms in Atlanta's NW burbs: North Fulton, Cobb, Forsyth area in Georgia, sorted by county. Those that offer organic or sustainably grown produce are identified by the words "organic" and/or "sustainable" in Green, next to their name (see "What does Organic mean?"). The U-pick crops they offer follow the name of the farm. To search the page for a specific crop, use Ctrl-F (or on an ipad or Mac, use their "search on this page" function) If they have a website, the name will be in blue and underlined; click on it and it will open their website. If you find anything outdated or inaccurate, see the customer and farmer menus (as appropriate) at the top menu bar to submit updates and corrections and help me keep each current!
New! As inflation remains high, see this page for cost-saving measures for getting fruit and vegetables and home canning.
If you are having a hard time finding canning lids, I've used these, and they're a great price & ship in 2 days.
New! Road tripping and camping is a great way to have a fun, safe and inexpensive family trip. The national and state parks and monuments are open, and campgrounds usually cost between $10 and $40 per night. September to November is the best camping weather. See our new website Road Tripping and Camping.com for tips, tricks, guides, checklists and info about parks, monuments and other places to visit.
New! We just went live with our latest website, FunFactoryTours.com - As they name implies, you can find a fun factory tour, including chocolate, automobiles, historical forts and sites, famous buildings, Active Federal facilities even fun geology: like fossils and volcanic areas
Note: Beware the copycat websites like the one that stole our name and uses .farm extension: they copied my work and do NOT even update the info! I make updates EVERY day. They use tech tricks to get higher rankings, but have many more inaccuracies and out-dated info. Obviously, I cannot check every farm every day, but I do check as many as I can every day, and respond to all requests. They don't. Don't support the scammers!
Remember to always check with the farm's own website or Facebook page before you go - or call or email them if they don't have a website or Facebook page. Conditions at the farms and crops can change literally overnight, so if you want to avoid a wasted trip out there - check with the farm directly before you go! And if you know of any farms I missed and want to add a farm, please let me know! I'm making updates for this year as fast as I can - if you find anything out-of-date, wrong or not working - please let me know! This website is supported by purchases you make through the links to products on Amazon. As an Amazon Associate I earn from qualifying purchases. This allows me to continue to maintain the website and make improvements!
What's in season in November 2023, and other timely information:
Notes for November 2023: Summer is almost over and that means apples are here (see this new page for Apple Orchards in your area!), and except in northern areas, peaches and blueberries are finished. Some crops continue until frost, like raspberries, blackberries, figs, corn and tomatoes. Check your area's specific crop calendar (see this page) and call your local farms for seasonal updates.
See these pages to find a local Apple festival, and other festivals. We have a extensive guide to apple varieties and a guide to peach varieties. Also recipes, canning and freezing directions for apples, tomatoes, corn blueberries, peaches, etc.
And don't forget CORN MAZES are open now - find a local maze here.
See our comprehensive list of easy home canning, jam and jelly making, preserving, drying and freezing directions. You can access recipes and other resources from the drop down menus at the top of the page or the site search. If you have any questions or suggestions, feel free to write me! It is easy to make your own ice cream, even gelato, or low fat or low sugar ice cream - see this page. Also note, there are many copycat website listing U-pick farms now. The worst is the one that stole our name but ends with .farm. (Yes, I've got lawyers on it) They have all copied their information from here and usually do not ever update. Since 2002, I've been updating the information every day but Christmas; so if you see anything wrong or outdated, please write me!
Children's Consignment Sales are a great way to save money on clothes, toys, books, etc, They occur in both the Spring and Fall See our companion website to find a local community or church kid's consignment sale!
Atlanta's NW burbs: North Fulton, Cobb, Forsyth area in Georgia U-Pick Farms and Orchards in 2023, by county
Click on the resources drop-down above, if you need a county map. New: If you are looking for wineries in Georgia for a tour or tasting, see this page.
Bartow County
Cherokee County
Berry Barn

- permanently closed
1310 N. Lake Dr., Canton, GA 30115. Open: UPDATE for 2021, A visitor tells me they are permanently closed.
Berry Patch Farms - Blueberries, pumpkins and Christmas Trees,

No pesticides are used


786 Arnold Mill Road, Woodstock, GA. Phone: 770-926-0561. Click here for a map. Open: early July through early August from 8 am to 9 pm on Tuesday thru Sunday, Closed on Mondays. Provides a pick-your-own blueberries, pumpkins and Christmas Tree experience. Blueberry season: Opens . Our blueberries are never sprayed with pesticides. They are totally pesticide-free, so feel free to eat them right off the bushes! 2009 prices were $1.69/lb. Payment: cash or check. Containers are provided. Call for picking conditions. Please, no dogs allowed... our dogs are jealous! Berry Patch Farms has blueberries! Grab a bucket and fill it with the best blueberries in Georgia! Our blueberries are never sprayed with pesticides. So feel free to eat them right off the bushes! Blueberries can be frozen for your blueberry muffins, pancakes and desserts all year long. Click on our recipe section for some ideas. (UPDATED: May 23, 2018, JBS)
Comments from a visitor on June 15, 2012: "(Their) Website says that this years berry crops was killed by april frost so they wont be open this season"
Click here to see comments from visitors.

Blueberry Hill

- blueberries, but effectively closed, unless you are a prior customer
Street withheld, Canton, GA 30115. The farm asked to be removed, saying "The farm is more than 20 years old and it cannot support the additional pickers who find us here (on the internet). ".
Odom Farm - Blueberries
4516 Waters Road, Woodstock, GA. Phone: 770-926-5420. Open: The berries are usually ready to pick shortly after July 4th - always call before you come. Directions: Call for availability and directions. (UPDATED: June 27, 2009, by phone)
Pleasant Union Farm -

No pesticides are used

blueberries, restrooms, farm animals, weddings and wedding parties
1500 Pleasant Union Road, Canton, GA 30114. Phone: 470-448-8078. Email: Pleasantunionfarm@outlook.com. Open: Saturday and Sunday, 8:30am to 8 pm. Directions: Click here for a map and directions. Blueberries in July. Payment: Cash, only. Family run farm. All natural with no pesticides or chemical fertilizers. Click here for a link to our Facebook page. . Visit our Facebook page for U-Pick dates. We offer a fully conditioned barn venue for weddings and events. The barn includes tables and chairs for 120 guests, 2 dressing rooms and ADA accessible restrooms. Create your dream wedding from scratch or choose one of our complete packages that offer catering, floral, DJ, and more. Weddings and events are available year round. (UPDATED: May 20, 2022, JBS) (UPDATED: June 12, 2016) (ADDED: May 23, 2015)
Cobb County
Blue Moon Berries -

No pesticides are used

, blueberries,
5552 Moon Rd, Powder Springs, GA 30127. Email: Visitbluemoonberries@gmail.com. Open: during Blueberry Season 7 days a week: from sunrise to sunset; Please visit our Facebook page for harvest season updates. Directions: Click here for a map and directions. We do not use pesticides on the crops. Payment: Cash, only. Park on the road. (ADDED: March 11, 2018)
Mabry Farm - Muscadines, grapes, scuppernongs, summer apples, blackberries, figs, honey from hives on the farm
4480 Sandy Plains Road, Marietta, GA 30066. Phone: (770) 993-4997. Email: jim@mabryfarm.com. Open: The muscadines, apples and blackberries are on the honor system, there's a lock box bolted to a post and next to it, an old market scale for weighing what you picked. The owner of the home next to the orchard will come out and check on you. Directions: See their website for directions. Click here for a map and directions. Payment: Cash, only.. I believe it's pesticide-free. The products that are available are posted on a sign for the farm, the crop is removed once it's out of season. Muscadines and scuppernogs, summer apples, blackberries. . (ADDED: October 16, 2020, Suggested by a visitor)
A visitor writes on October 16, 2020: "It was great - I just wish I like muscadines! Too foxy for me, gave to a friend. but the experience of picking with my 8 yr old was great, next year we will definitely watch for the blackberry and apple signs to go up because my kids could live on applesauce and toddler is obsessed with black-bellies. Love the history, fact that it's 2 miles from us, and that it's just a little u-pick operation off a gravel road and not a production.They list honey for sale but I didn't see where that was sold. Farm is over 100 yrs old, still family owned though they've sold off much of the land, including some to the city to make an awesome park and playground around the corner. pick your own crops, honey,"
DeKalb County
Ecosystem Farm -

No pesticides are used

strawberries, Fresh eggs, farm market
1088 Bouldercrest Dr Se, Atlanta, GA 30316. Phone: (404) 919-4422. Email: ecosystemfarm@gmail.com. Open: u-pick on Sundays from 12 pm to 4 pm and Mondays from 12 pm to 6 pm;. Bring your own bucket and prepare for the best strawberries you've ever tasted; $7 per lb in 2020; If there's a huge demand or if the weather isn't cooperating, we will post here and on our Facebook page, but feel free to call to check before you come over. Directions: Click here for a map and directions. . We do not use pesticides on the crops. Payment: Cash, Check, Debit cards, Visa, MasterCard, Discover, AmEx. Click here for our Facebook page. We run a farm stand on Sundays from 12 pm to 4pm 4. (UPDATED: March 24, 2020, JBS) (ADDED: April 24, 2018)
Forsyth County
North Fulton County
C.O. Adams - muscadines
112 Spring Drive, Roswell, GA. Phone: 770-998-4606. Open: August-September, call for availability and hours. Directions: Call for directions. Bring your own small containers.
Haralson County
Paulding County
Polk County
Bo & Lisa's Lil Patch

- UPDATE for 2020; Their Facebook page is gone; There's nothing else about them on the internet, so I assume they have closed. If you have any information to the contrary, please write me.
Yarbrough Road, Across the street from house number 324, Aragon, GA 30104.
Other information:
We also have our own free and simple, step-by-step, illustrated instructions on canning, freezing and drying many fruits and vegetables, such as how to make jam, apple butter, applesauce, spaghetti sauce, salsa, pickles, ketchup or freezing corn . If you are looking for Canners, mixes, jars, pectin and other canning supplies at the best prices anywhere!
---