Eggs Substitutes: How to make your own eggs substitutes, for those allergic, vegan or wanting to reduce fat and cholesterol!
This month's notes: December 2023: Stored US apples are still available. See your state's crop availability calendar for more specific dates of upcoming crops.
Valentine's Day - February 14 - See this website for Valentines Day history, facts and top picks for fast, easy, inexpensive gifts for the man, woman or children in your life!
Easter will be April 16, 2017 - if you want to take your children to a free Easter egg hunt - see our companion website to find a local Easter Egg hunt!
And we have home canning, preserving, drying and freezing directions. You can access recipes and other resources from the drop down menus at the top of the page or the site search. If you have any questions or suggestions, feel free to write me! Also make your own ice cream; see How to make ice cream and ice cream making equipment and manuals. Have fun, eat healthier and better tasting, and save money by picking your own locally grown fruit and vegetables, and then using our easy directions
Please tell the farms you found them here - and ask them to update their information! As an Amazon Associate I earn from qualifying purchases.
Subscribe to our:
Email alerts
;
Follow us on Twitter
Add this page to your favorites!
-
Email this page to a friend, or to yourself
---
Eggs are a great food, but some people needs substitute due to an allergy, being vegan or just wanting to reduce fat or cholesterol. This page explains how to make and use your own egg substitutes, as well as the commercial alternatives available.
---
What are good homemade substitutes for eggs?
While nothing is exactly the same as an egg, any of these will work. Where one substitute is better at a specific use, it is mentioned:
2 tablespoons of either cornstarch, arrowroot flour or potato starch = 1 egg
1 heaping tablespoon of soy powder plus 2 tablespoons water = 1 egg
1 tablespoon of soy milk powder plus 1 tablespoon cornstarch + 2 tablespoons water = 1 egg.
1 banana = 1 egg in cakes.
1 tablespoon milled flax seed and 3 tablespoons water = 1 egg (also good in cakes)
A homemade egg substitute recipe
For those not allergic to eggs, or vegan this homemade egg substitute is less expensive and works just as well as commercial egg substitutes like "Egg Beaters". This also reduces cholesterol and has few calories:
1 tablespoon of nonfat dry milk powder
2 egg whites from large eggs
4 drops of yellow food color
Sprinkle the powdered milk over egg whites, then beat them with fork until smooth. Add the food color, and beat until blended. This makes 1/4 cup, which is equal to 1 large egg. If you use this homemade substitute for scrambled eggs, cook it in vegetable oil or margarine so the eggs won't be too dry.
Commercial Egg Substitutes
Of course there are egg whites and the package versions like "Egg Beaters". But those contain egg whites, which doesn't work for Vegans and those allergic to eggs. For those, a product called Ener-G, may work, but I haven't tried it. I know it is available in most health food stores and larger grocery stores. Some people report that you may want to add a bit more moisture when replacing eggs using Ener-G, such as an extra tablespoon of water or soy milk, or it will be too dry.
---
Picking Tips
[General picking tips and a guide to each fruit and vegetable] [How much do I need to pick? (Yields - how much raw makes how much cooked or frozen)] [Selecting the right varieties to pick] [All about apple varieties - which to pick and why!] [Picking tips for Vegetables] [ Strawberry picking tips] [ Blueberries picking tips]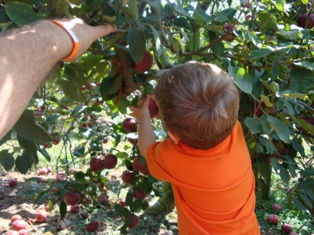 Illustrated Canning, Freezing, Jam Instructions and Recipes
[ Easy Home Canning Directions] [FAQs - Answers to common questions and problems] [Recommended books about home canning, jam making, drying and preserving!] [Free canning publications to download and print]