Oregon Cherry Festivals in 2021
Update for 2021 and Coronavirus:
It looks like many festivals are returning for 2021, with the possible exception of some in states like California, Michigan, New York. Even so, many festivals will not finalize or announce their plans until the last minute, so when we have not seen an update, we've left last year's data below and suggest you see the festivals website or call the festival as the date gets close to see if they will hold it this year.
Looking for a Cherry blossom festival or cherry fruit festival in Oregon in June 2021? There is no other listing as complete and current as this list, just updated! Cherry All the Cherry festivals we can find in Oregon are listed on this page! If you love Cherries, look for a festival near you below! And I'm looking for more Cherry festivals! Please write me, if you know of any to add! I update the dates as soon as the festivals publish their information, but you can always click on the links (usually the name of the festival) to see the current information on the festival's own website.
Especially this year, due to Coronavirus, be sure to click on the links (the blue, underlined name of the each festival) to confirm this year's dates on the website for each festival. If they don't have a website, call the phone number provided, but ALWAYS CONFIRM THIS YEAR'S DATES AND TIMES BY EITHER VIEWING THEIR WEBSITE OR CALLING.
Click here for the form to add a festival and have detailed information; or click here if you have general information and are not connected with the event!
Cherry Festivals in 2021: Find a Festival Near You!
Oregon
June and July are the big months for harvesting cherries. Cherries typically ripen from late May (in the South) through June and July in the upper Midwest and New England. There are two main types of cherries; sweet cherries and sour cherries (also called pie cherries). Sweet cherries obviously taste sweet and are good for eating fresh. Sour cherries are much more tart and are usually used in making cherry pies. Sweet cherries also require more cold weather to set fruit, so they are rarely groiwn successfully in warm climates like the Deep South.
There are two general types of cherry festivals 1) community festivals, usually organized by a church, school, local Chamber of commerce or a town and 2). Cherry festival held at and by a orchard. They are different in what they offer, and c community festivals tend to be less expensive so they are grouped separately. (of course not all states and areas have both.)
Following the festival listings are links to our easy to follow directions about making cherry jam, freezing cherries, cherry pies and much more.
Community Cherry Festivals
Cove Oregon Cherry Fair - usually held in mid-August
Cove, Oregon. Phone: 541-805-8563.. Loads of cherry foods and activities: High Spirit Balloon Adventures, Bouncy House, Ducky/Hog Wild Train, Artsy, craftsy, home, and kids food, Contests and Games, Live Music, Beer Garden.
The Dalles Annual Northwest Cherry Festival - 3 days in late April, Friday through Sunday
Ddowntown, The Dalles, OR. A longtime favorite among locals and visitors alike, the festival is set in the spectacular Columbia River Gorge and showcases The Dalles' deep agricultural heritage and Western roots. The Cherry Festival is now three days of family-friendly activities and events, and this year is going to be even better! The Northwest Cherry Festival takes place in downtown The Dalles and ncludes the Gorge's largest parade, classic car show, a 10k race, and lots of great local music and bands. There's also cherry sampling with the Oregon Cherry Growers, craft vendors, agriculture job fair, Cherry Idol, and Carnival. You don't want to miss the crowning of Cherry Festival Royalty at Mid-Columbia Senior Center's Breakfast Saturday Morning before the parade! The Dalles has much more to offer though the festival alone could keep you busy. "The Northwest Cherry Festival is like nothing else in the Gorge, and is such a fun way to celebrate our authentic agricultural roots," said Lisa Farquharson, President/CEO of The Dalles Area Chamber of Commerce. "We also invite attendees to explore springtime in The Dalles and the eastern end of the Columbia River Gorge Scenic Area have to offer, from scenic cycling, incredible wildflower hikes, and fishing, to exploring the area's rich cultural and natural histories." The Dalles is just 75-minutes from Portland and Yakima, 2.5 hours' drive from Bend and the Tri Cities.
General Festival Hours:
Friday: 5-9 pm
Saturday, 11 am-9 pm
Sunday, 11 am-4 pm
Special Events Schedule
Friday, 6:30 to 9 pm: Family Pit Party (family dance party)
Saturday, 7:30-10 am: Cherry Festival Breakfast/Crowning of Cherry Festival Royalty (Mid-Columbia Senior Center, 1112 W. Ninth Street)
Saturday, 10 am: Northwest Cherry Festival Parade (starts at Sixth and Webber Streets and ends at First Street)
Friday-Sunday: Davis Street Carnival
Friday: 2-9 pm
Saturday, 11 am-9 pm
Sunday, 11 am-4 pm.
Hood River Cherry Celebration - mid-July, Saturday and Sunday, from 10 am to 5 pm
Held at many individual farms, see this page for the farms and what they offer. Phone: 541-490-7713. Email:

[email protected]

. The cherry celebration is an adventure with activities for the entire family. Farms offer many varieties of fresh-picked and u-pick cherries, wines, lavender, jams and other cherry treats. Many farms feature picnic areas. In addition to the orchard-fresh fruit available all along the Loop, some Fruit Loop farms serve up special activities or attractions for Cherry Days. Admission to most Fruit Loop farms and attractions is free, and most are open from at least 10 a.m. to 5 p.m. (some have shorter or longer hours). There is free parking, too.

Farm Cherry Festivals
In addition to community and church festivals, some private farms have their own cherry festivals. See each farm for this year's dates (they often do not announce them until the end of May). Also, scroll down to see the links to recipes, freezing, canning and jam making directions at the bottom of the page.
Related Cherry Information: Freezing, Making Jam, Jelly, Canning, Cherry Pies, Recipes and More
Also, see our pages on easy illustrated cherry directions:
For other fruit and vegetable festivals, see this page!
Also, see our pages on easy illustrated directions about
Colorado
This page was updated on
---

Don't forget the Ball Blue Book!

Home Canning Kits

This is the same type of standard canner that my grandmother used to make everything from applesauce to jams and jellies to tomato and spaghetti sauce. This complete kit includes everything you need and lasts for years: the canner, jar rack, jar grabber tongs, lid lifting wand, a plastic funnel, labels, bubble freer. It's much cheaper than buying the items separately. You'll never need anything else except jars & lids (and the jars are reusable)! There is also a simple kit with just the canner and rack, and a pressure canner, if you want to do vegetables (other than tomatoes). To see more canners, of different styles, makes and prices, click here!

---
Picking Tips
[General picking tips and a guide to each fruit and vegetable] [How much do I need to pick? (Yields - how much raw makes how much cooked or frozen)] [Selecting the right varieties to pick] [All about apple varieties - which to pick and why!] [Picking tips for Vegetables] [ Strawberry picking tips] [ Blueberries picking tips]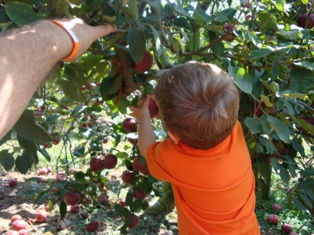 Illustrated Canning, Freezing, Jam Instructions and Recipes
[ All About Home Canning, Freezing and Making Jams, Pickles, Sauces, etc. ] [FAQs - Answers to common questions and problems] [Recommended books about home canning, jam making, drying and preserving!] [Free canning publications to download and print]]<]