Comments and Feedback About the Columbus, Ohio area Pick-Your-Own Farms!
This month's notes: November 2023: Stored US apples are still available. See your state's crop availability calendar for more specific dates of upcoming crops.
Valentine's Day - February 14 - See this website for Valentines Day history, facts and top picks for fast, easy, inexpensive gifts for the man, woman or children in your life!
Easter will be April 16, 2017 - if you want to take your children to a free Easter egg hunt - see our companion website to find a local Easter Egg hunt!
And we have home canning, preserving, drying and freezing directions. You can access recipes and other resources from the drop down menus at the top of the page or the site search. If you have any questions or suggestions, feel free to write me! Also make your own ice cream; see How to make ice cream and ice cream making equipment and manuals. Have fun, eat healthier and better tasting, and save money by picking your own locally grown fruit and vegetables, and then using our easy directions
Please tell the farms you found them here - and ask them to update their information! As an Amazon Associate I earn from qualifying purchases.
Subscribe to our:
Email alerts
;
Follow us on Twitter
Add this page to your favorites!
-
Email this page to a friend, or to yourself
---
This page provides a detailed comments submitted by visitors to pick- your- own (PYO, U-pick, pick-it-yourself) farms in the Columbus, Ohio area
In reading comments, whether they are positive or negative, bear in mind that everyone's experience varies. We try to weed out emails which are clearly fakes or so extreme as to be implausible. When we get negative feedback about a farm or orchard, we contact the farm, and provide them the comments (without any reference to the person who submitted them) to allow them to respond. We then publish both the visitor's comments and the farm's response.
Don't pay too much to a single negative comment; rather, look for patterns.
In the past several years, we can happily say that negative comments are generally rare. The vast majority of people find the the trip to be immensely rewarding!
---
Lynd Fruit Farm - 9090 Morse Road SW, Pataskala, OH 43062.
Comments from a visitor on September 25, 2011: (positive) "This farm has the best of everything... the best corn maze (we go every year), the best pumpkins, apples, etc. We go every year at least once, usually more than that. Love it!"
Comments from a visitor on August 24, 2011: (positive) "Our family has been going to Lynd's for almost 5 years now. I'm really surprised by the negative reviews. We have always had a pleasant experience. The customer service has always been great and the employees are always really nice. They have told us to get more apples at times, even when we thought our bags were very full. There are fallen apples and there are bees but it's a farm! My husband is on the email list and we get alerted to specials all the time. The pricing I think is fair and the specials are very good. We recently got large green peppers at 7 for a $1...who sells at that price anymore? We have never been yelled at or anything and I would hope that experience would never happen. It was such a positive experience to find Lynd's because I am from Michigan and despirately miss Blake's Apple Orchard in Armada, MI (which also, curiously, gets bad reviews). I highly recommend Lynd's. "
Comments from a visitor on October 16, 2010: (positive) "I went to an apple orchard for the first time in my life last weekend, October 9. Because I am a Seventh-day Adventist, I do not buy/sell on Saturdays. My friend and I simply walked around the orchard for at least two hours. It is a huge place. It was neat seeing the families walking around picking apples. I liked that we could "taste-test" an apple. They had Sun Crisp, Romeo, and Melrose varieties. I tried a Sun Crisp, which was OUTSTANDING. I think it is THE best apple I've ever eaten in my life. When the time came for us to leave, I'm sure it was perplexing to the ladies in the check-out line that we did not purchase any apples. We offered to open our trunk so they could be sure we did not steal any. She smiled and shook her head. It was a very pleasant experience overall. I would definitely recommend this place, although I've only been there one time."
Comments from a visitor on August 25, 2010: (negative) "Last October (2009) my children and I visited Lynd's Fruit Farm on Morse Road. We've been there many times before, but the experience we had will certainly make it our last. We picked pears and as we were checking out a man named Mitch, who turns out to be the owner, yelled at my children and called one of my children an idiot, accusing them of stealing a chestnut. (my child was holding a chestnut while I paid). I quickly put the nut away and Mitch yelled at me to get out of here, not once but several times. "Get off my property. Get out of here lady" I apologized for the misunderstanding, but he continued to yell in front of my children and other customers. I left. At this point my children were in tears. And, I was glad that my husband wasn't there to witness this!!! My children still talk about going to the fruit farm and seeing that mean man Mitch. I will never take them back there nor will I allow them to go there on school field trips (I notified our elementary school and preschool about the experience. In fact the preschool director told me that she had another complaint about Lynd's that this same guy nearly ran down a family in his truck while they were apple picking!)
Comments from a visitor on September 14, 2009: (positive) "In answer to the negitive feedback. My family and I have been picking here for over 30 years, started with my children and now take the grandchildren. Yes there are rotten apples and bees.(how could they,but then this is nature)But, I have never had any one be rude to me or my family,in fact they usually go out of their way to be nice and helpful.They have even carried my apples when I misplaced my car! The price, I will not complain. The apples are fresh and several varities to choose on any given day.My children and now grandchildren look forward to visiting the orchard.We have never done the corn maze or any of the other events for the kids. We make it an outing in the orchard. I know that my children and many around us in the picking area are munching away on an apple as they pick and the employees see them and have never said a word. I am sorry that she seems to have had a bad day but, I hope she will try again. It really is suppose to be fun and exciting.And,for my family always has been. "
Comments from a visitor on September 07, 2009 (negative): "In regard to the picking of apples. I had a very bad experience as have several people I know have had the same. I used to pick apples with my parents when I was a kid so I wanted my kids to experience that also. We went to Lynds and we went to put the apples in the trunk and there was a little more room at the top (the price of a basket was atronomical and you had to trudge over millions of rotten apples and bees everywhere). There was some more room in the basket, it was heavy so I put it down in the car and went to get some more apples. The owner came out on a golf cart yelling that I was stealing apples (in front of my kids) and told me to get off the property never to come back. It was not the experience I wanted for my kids and it made me very upset. He wouldnt even listen to reason I had to put the basket down to help my kids navigate over the many rotten apples and bees grab some more apples and then we were done. The basket wasn't overflowing or anything. I will never go back there again even though it is so close to home. VERY OVERPRICED ALSO!!!!!!"
Comments from a visitor on August 20, 2009 (positive): "Fortunately, we live only about 5 min. from this wonderful place. All of the employees are very friendly and helpful. The prices are very good, and the products are fresh and delicious. We always look forward to picking our own apples. You drive into the orchards and they just hand you a bag. You pay when you leave. They totally trust your honesty. The pumpkin patch is huge. When their tent is up, fresh produce is available. I go frequently. Have also bought lots of day lilies there. Can't say enough nice things about this family operation."
Comments from a visitor on July 02, 2009 (positive): "I cannot say enough about this farm. We have been going there for four years and have never had a negative experience. I recommend it to everyone I know who's interested in a pick-your-own place or farm market. The kids love going there. However, farming is directly related to the weather and bad weather can have undesirable consequences. Check the website before you visit to see what activities and products are available! All the information you need is right there and there's a phone number too if you need to talk to someone. Don't blame the farm for unintended consequences due to uncontrollable weather conditions! The information about not having the corn maze was announced (via website and newsletter) with apologies well before the fall season, so anyone that just did some double checking would have known that last season's fall activities were going to be less than what is normally offered."
Comments from a visitor on June 24, 2009 (positive): "My family has went here to years in a row to pick apples and pumpkins. We love it here. Have not met a bad worker yet. My children are 3 and 4 y/o and look forwards to coming here every year. We receive their very helpful e-newsletter. It lets us know if the Lynd's have something special going on or not. I highly suggest this family ran farm."
Comments from a visitor on October 08, 2008 (positive): "I would also like to comment on the person who had the negative experience. We checked their website and their phone line before going and learned in advance they weren't able to (have) many of their activities this year due to weather. Poor planning on a visitors part should not be the fault of the business. We had a wonderful experience and my sons loved that they could eat the apples right off the trees. We also went on a tractor ride and the gentleman was just lovely and really good with the kids. "
Comments from a visitor on October 01, 2008 (positive): "I am writing in response to a comment (an unnecessarily negative comment, in my opinion) about Lynd Fruit Farm - Lynd cancelled the corn maze because of all the rain early in the season - the corn was not growing well enough for a maze. I don't think it's fair to leave a negative comment about a farm that was forced to cancel an activity due to weather, and because some people can't plan ahead, managing to arrive during operating hours."
Comments from a visitor on September 21, 2008 (negative): "I would like to offer a review of Lynd's Fruit Farm, in Pataskala Ohio in Licking County. Unfortunately, it's a bad one. They are not doing the corn maze this year and they have cancelled all their children's activities like the straw tunnels, the sliding boards, the corn pit, and the games. You should mention that on your site. Also, their customer service is deplorable. We went there on a Friday night to pick apples and arrived close to closing time. The employees were very nice and let us go in to pick apples, but 20 minutes later the owner came"

Does anyone else have a comment, positive or negative, about this farm? If so, please write me!
---
Picking Tips
[General picking tips and a guide to each fruit and vegetable] [How much do I need to pick? (Yields - how much raw makes how much cooked or frozen)] [Selecting the right varieties to pick] [All about apple varieties - which to pick and why!] [Picking tips for Vegetables] [ Strawberry picking tips] [ Blueberries picking tips]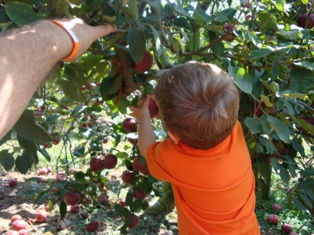 Illustrated Canning, Freezing, Jam Instructions and Recipes
[ Easy Home Canning Directions] [FAQs - Answers to common questions and problems] [Recommended books about home canning, jam making, drying and preserving!] [Free canning publications to download and print]