Comments and Feedback About the Chicago area of Illinois Pick-Your-Own Farms!
This month's notes: March 2023: Stored US apples are still available. See your state's crop availability calendar for more specific dates of upcoming crops.
Valentine's Day - February 14 - See this website for Valentines Day history, facts and top picks for fast, easy, inexpensive gifts for the man, woman or children in your life!
Easter will be April 16, 2017 - if you want to take your children to a free Easter egg hunt - see our companion website to find a local Easter Egg hunt!
And we have home canning, preserving, drying and freezing directions. You can access recipes and other resources from the drop down menus at the top of the page or the site search. If you have any questions or suggestions, feel free to write me! Also make your own ice cream; see How to make ice cream and ice cream making equipment and manuals. Have fun, eat healthier and better tasting, and save money by picking your own locally grown fruit and vegetables, and then using our easy directions
Please tell the farms you found them here - and ask them to update their information! As an Amazon Associate I earn from qualifying purchases.
Subscribe to our:
Email alerts
;
Follow us on Twitter
Add this page to your favorites!
-
Email this page to a friend, or to yourself
---
This page provides a detailed comments submitted by visitors to pick- your- own (PYO, U-pick, pick-it-yourself) farms in the Chicago area of Illinois
In reading comments, whether they are positive or negative, bear in mind that everyone's experience varies. We try to weed out emails which are clearly fakes or so extreme as to be implausible. When we get negative feedback about a farm or orchard, we contact the farm, and provide them the comments (without any reference to the person who submitted them) to allow them to respond. We then publish both the visitor's comments and the farm's response.
Don't pay too much to a single negative comment; rather, look for patterns. And keep in mind upset people tend to write in more often than happy customers.
In the past several years, we can happily say that negative comments are generally rare. The vast majority of people find the the trip to be immensely rewarding!
---
14510 Route 176. Woodstock, IL 60098.
13341 West 151 St, Lockport, IL. Phone: 708-301-3276.
Comments from a visitor on October 06, 2009: negative - "I live behind this farm - it has changed alot in the last 10 years - it is now very commercial and expensive. They haven't had a u-pick section in years, they no longer grow their own pumpkins at all, they are shipped in. The "hay-rides" don't have any hay-its just a tractor pulled people-mover.
24936 S. 80th. Avenue, Monee, IL 60449. Phone: 708-534-- 8801.
Comments from a visitor on October 16, 2010: positive - "Our family has visited Butterprint farm for many years. We have enjoyed the less commerical and less busy farm to visit. It is much slower pace and if you relax and take your time and listen the family that runs the farm it can be enriching. They have live music on certain days. We love the duck races. They have ducks that you can play with that float on a gutter with a water pump at one end. My family played with that for an hour with other people. The kids loved it. No crowds. Go on a dry day cause it can get muddy and your going to a farm, it's going to be dirty. No frills here and that is very refreshing."
7601 Centerville Road, Poplar Grove, IL 61065.
Comments from a visitor on July 21, 2008: positive - "They have you-pick apples, pumpkins, tractor rides, bakery, historic barn museum(?), hay maze, hay loft, kids play area, petting zoo, gift shop, concessions, entertainment, pony rides, etc. I cannot say enough about this farm. They had a devastating tornado strike in January of this year, but it looks as though the rebuilding will be completed in time for a late-August re-opening."
Comments from a visitor on October 12, 2008: positive - "My extended family and I were at Edwards on Oct. 5, 2008 and they were in full swing, having recovered from last January's terrible and devastating tornado. The trees were full for pick your own apples and there was an abundance of pumpkins. They did a wonderful job of staying true to the original historic barn while making appropriate space adjustments to better accommodate the crowds. The Edwards family is always visible - greeting customers and working behind the counters alongside other employees. Insurance only covered 1/8 of the cost of reconstruction, so hopefully people will continue to support the farm - especially with this great fall weather. The best orchard we've been to - and we've been going yearly since it opened decades ago!"
14154 W. 159th Street, Homer Glen, IL 60491.
A visitor writes on September 10, 2013: "My daughters, brother and sister-in-law and myself went to Garden Patch Farms on Sept. 7, 2013. Granted it was a drive, but so worth it! Everyone there was so nice...the girl at the register took her time to explain the u-pick policy and process to us. Once out in the field I saw two or three employees out and about on the golf carts, asking visitors if they needed help. Lots of apples, good selection of veggies, both in the field and inside the store. I would definitely be sure to go back again. Thinking of checking out pumpkins come October!!!"
Comments from a visitor on July 11, 2011: positive - "My family and some friends went there yesterday because it was among the closest to where we live (~1 hour) and we all had a Great experience. We picked raspberries, carrots, onions, green beans, snap peas and beets and all 4 adults and 5 kids had a great time. The staff was very friendly and even though we came between peak seasons for a number of the crops, there was enough for the kids to enjoy and to make it worth our while. We will certainly be going back in August when the peaches and corn come in."
Comments from a visitor on August 31, 2010: negative "Visitors beware...Don't think we will visit this farm ever again !!! We visited this farm on 29/08/2010. The fee is $5 per person. We were 6 of us including kids... $30. No tomatoes. No beans. No cauliflowers. No cabbage. Apple season has not started, so the only apples left were rotten. We picked a few pears that we thought were good. Of the 6 pears, 3 had wiggling worms inside. Hardly any berries left. Sour grapes. Almost everything there was dried out with barely anything left for picking. The corn we brought was so dry and hard, it all has to be thrown out. We purchased 3-4 fruits and 3-4 veges...totalled to $26!!! So we spent $56 in smoldering heat and almost everything we picked turned out bad or rotten. The staff was nice...but oh well !!!"
Comments from a visitor on June 07, 2010: positive - "I found the staff friendly, particularly the older gentleman. The staff in the farm stand could be more knowledgeable. I asked what varieties of cherries they grew and no one knew. The $5 field fee made this more expensive than other U-picks I've been to, but it is also closer to my house than any other. The strawberries were ripe a week before any other farm and were quite flavorful although very small. If I can spare a larger chunk of time in the future, I'll try somewhere else. "
Comments from a visitor on September 03, 2009: positive - "looks good; wished we found it sooner for u-pick"
Comments from a visitor on September 21, 2008: negative - "I went there this weekend and honestly it had a great variety of products, yet the people who worked there were so rude it made it difficult to enjoy. It really bothered me and ruined my weekend. The rudest of them all was an older women at the register. I truly hope she isn't the owner because that is terrible for business. She rolled her eyes and yelled at me. She seemed to not be enjoying what she is doing. If it wasn't for the staff I would have liked to return. It isn't a cheap place so I would rather take my business else where were I can be treated like a human being."
Comments from a visitor on October 06, 2008: positive - "I have no idea why the previous posting was so negative but our afternoon at the farm was wonderful. Granted the cost per person is $5.00 and you pay 1.99/lb for most fruit and 1.25/lb for apples picked but you are paying for the farm experience. If you want to waive the 'pick-your-own' fee then their stall pricing is pretty competitive. The staff were very helpful if a little burned out but it is the end of the season after all. Most of the fruit was picked through but there is still a good selection of apples left on the trees. We're definitely going back!"
Does anyone else have a comment (positive or negative?) Write me!
S. White Rock Road, Rochelle, IL 61068.
Comments from a visitor on September 08, 2009: positive - "We saw this farm on your site, and went there 9/7/09. The owner is a delightful woman and has a just the right size blueberry & raspberry patch. She has a little building off her back porch and has free samples of a tasty raspberry dessert, water with cups, wipes. The berries were ripening late this year, but we will be back when there are more. She's a bit off the highway, but on a nice country road and so worth the visit. A charming spot to pick berries!"
1050 Crest Road (corner of Crest & Atkinson), Green Oaks, IL 60048.
Comments from a visitor on September 11, 2009: positive - "I took my wife and two year old daughter last fall. It was a good time- Very easy to get around..and many families there. I am a not one to spend tons of dough on apples- so I can tell you- it was very affordable. Can't wait to go again"
Comments from a visitor on September 21, 2008: positive - "We have been apple picking many times, this was a great experience. It is a wonderful place to take kids. The orchard is small, but the apples were plentiful and the staff very kid friendly. We will definetly go back."
Comments from a visitor on October 09, 2008: positive - "Hello and thanks for your web-site. i really found it the most useful of all the ones i looked at for picking apples. We went to Heinz Orchard in Lake County Illinois. The owner, farmer, was extraordinarily nice and gave us lots of tips on picking. The apples are delicious! We had a wonderful time in the quiet place that is not so far to drive to as the other farms. i would go back next year."
Comments from a visitor on October 14, 2008: positive - "Great experience. Just apple picking - which is exactly what we wanted. Plus Andy(?) the farmer was a wealth of information. It was great to actually get to speak to a real farmer - something that is harder and harder to do these days. Each kid got a 1/2 peck bag (and we ate a bunch more!). "
11802 Charles Road, Woodstock, IL 60098.
A visitor writes on October 19, 2013: positive - "I would like to leave some feedback for the great orchard we just visited. I was looking for just an orchard with apples. Homestead Orchard was perfect. They have lots of trees loaded with apples. I liked that many of the apples were low enough for our 6 and 4 year old to pick by themselves. They also have a great variety of apples. The owners were very friendly and happy to answer all the kids questions. We will definitely be back next year."
A visitor writes on September 26, 2013: positive - "We visited Homestead Orchard in Woodstock, IL on September 21st. There were 3 children in our party: 2 years old, 8 years old, and 10 years old. We had a great time. There were wonderful apples to pick and plenty of room for the kids. The apples are delicious! We purchased a few items in their store and are pleased with their honey and apple butter. The heirloom apples are also delicious. It did not take us long to fill 2 large bags, so it is not an all day outing. If you are looking for more of a traditional orchard experience with delicious apples, this is the spot. We will return."
Comments from a visitor on September 08, 2008: positive - "Wanted to let you know about our experience at Homestead Orchard. We were glad to find out that this place was open early - Sept 6/7. We went with our family of four and two neighbor girls. When we arrived we went into the little barn and were greeted by the owners, Barb & Don. They went over everything we needed to know like which trees were ready to pick, which weren't, gave us the pricing ($1.25 per/lb for apples and no minimum or surcharge) told us about the you pick raspberries and pears and then gave us all bags equal to a peck. The youngest got a smaller, 1/2 peck paper bag. Another guy showed us to the trees and suggested we walk further down the aisles to get the less picked over varieties. We spent about 45 minutes getting some wonderful macintosh and jonathons. Then we got a few pears. After collecting all that (about 30 lbs total) we headed for the berry patch. There are still plenty of berries left if you want to head out there. It looks like they will still be ripening for a couple weeks yet. While picking berries I met a lady who also found the farm from pickyourown.org, so this site definitely works! When we checked out Don was very nice, warm and friendly. We didn't get charged for the small paper bag which still probably had about 5 lbs in it, so that was nice. All in all it was really nice experience. There are no frills at homestead - its just a you pick operation so don't expect hayrides, entertainment etc. We didnt need it this day - the kids had a blast without it. Thanks Blake for your great site!"
Comments from a visitor on October 10, 2008: positive - "I took my 5 and 7 year old here today and it was a wonderful experience. The orchard is just the right size and the owner is very friendly and helpful. There were plenty of apples in the children's reach. There is no minimum purchase but we almost filled one bag. We will be going back next year. We got some delicious Jonagolds and Blushing Goldens and they are being devoured as I write this! "
Comments from a visitor on October 13, 2008: "positive - This is about Homestead Orchard at 11802 Charles Road, Woodstock, IL 60098. We went there this past Saturday, 10/11/08. It was nice- just what we were looking for. A no-frills, low-key day picking apples on a farm. There were lots of varieties to choose from, too. And the apples are crisp and delicious- not like the ones you get in the store at all! We're very happy that we chose Homestead. There's room for perhaps a dozen cars in the lot, so it's not crowded. And finally, if you're going there off of route 47, start looking for it on your left after you've gone 1/2 mile. It's 3/4 mile from route 47- not 1 mile as Google maps will tell you."
15211 Saint Patrick Road, Woodstock, IL 60098.
Comments from a visitor on September 11, 2011: "Very nice family owned place. They have apples for picking up, and tomatoes, beens, melons, sweet corn at the farm stand. You can use little trolley for picking up. The current price is $1.40 for pound of apples, no entrance/parking fees or anything like that."
Comments from a visitor on September 05, 2011: "Knoll's was a beautiful, uncrowded apple orchard owned by a nice couple. When we first arrived they politely greeted us and told us all of our information and helped us get ready to pick. Once we finished picking, they gave us a very reasonable price, just a dollar per pound. They also gave us many nice gifts, including a GINORMOUS onion. This was a great place and good for families with children because it is not crowded and the apples are easy to reach"
Comments from a visitor on October 13, 2009: positive - "Even on Columbus Day when schools were out, Knoll's was uncrowded, unhurried and friendly. The owners greeted us, gave us bags and a hand drawn map of the orchard, and we were off! The school aged kids (and short adults!) had no problem filling their bags with yummy delicious apples. No minimum so you only paid for what you picked. Also bought some homegrown carrots that had been picked that morning! If you want your kids to be able to pick apples at reasonable prices without the headaches and "hayrides", visit this gem of a farm. "
Comments from a visitor on October 03, 2008: positive - "Loved the farm. Small, quiet just apples and their own produce. Nice owners who greet you when you pull up. If you want to pick apple without all the hooppla this the place!"
Comments from a visitor on October 17, 2008: positive - "We just found this wonderful "mom & pop" type orchard, which was like a breath of fresh air after seeing some of the huge orchard extravaganzas. They have about 10 varieties of apple trees. When all of the other orchards were picked clean (10/12/08), there were still LOADS of apples on this orchard's trees. It's pretty much undiscovered. If you want to pick apples ... without the corn maze, hay ride and haunted house .... I definitely recommend Knoll's. "
Comments from a visitor on October 22, 2008: positive - "The woman who owns the farm is such a wonderful and sweet person. I have four small children, ages 6,4,2,1 years old who are so fully of energy it's hard to contain. When we arrived, she waited patiently for us to get out of the van and then met us halfway on the path, greeted us and told us what to do with the bags. When we asked if we could try the apples, she said, "Sure, that way you know which apples you like best". She told us the types of apples they had according to ribbon color. The best part was that there were so few people there. It was a beautiful day to get out of the city and enjoy this small and cute apple orchard. She did get busy a bit as people were paying for their apples and vegetables, but she was ever so nice and thanked each person individually for coming and asked them to come and visit again. Coincidentally, almost all of us found her farm from this web site. I read a review here the morning of Oct 18, and we went out there that afternoon. I highly recommend this farm for anyone who wants to get out of the city and take a drive and enjoy some friendly people, beautiful scenery and wonderful smells of the country. They have wonderfully delicious apples on the trees. Short trees that the children are able to reach. They have restrooms that are clean and supplied with toilet paper, hand soap and paper towel. They do not take credit cards, cash only"
13550 Townhouse Road, Newark, IL 60541.
As of March, 2018, they are permanently closed

A visitor writes on June 21, 2014: negative "I visited this farm a few days after strawberry season started and was extremely disappointed by the selection. They had 4 short rows of plants that weren't weeded at all. They had a few rows of taller hydropononic plants, but very few berries. All in all, they had very few ripe berries and what they had were extremely small (size of a quarter). I won't go back."
A visitor writes on July 21, 2013: "Please remove the statement in your summary of Knutson's Country Harvest in Newark, IL that they use Natural Growing Practices (but do not seek organic certification). I could not find it anywhere on their website. When I asked a worker in person on Saturday about herbicides and pesticides, she indicated that they use Seven on the blueberries and blackberries. I chose their farm because of the "natural" statement on your website. If I had wanted pesticides, I would have gone to Dominick's. I do greatly appreciate your website. Thank you!"
Comments from a visitor on August 25, 2011: negative "I was rather disappointed by this farm, I called in the morning and was told fruit was available. After driving there, I found that everything I was told was available had been picked out or was never available at all. I also had to pay an "entrance fee" for everyone in my group, even though we were only able to pick about 4 tomatoes."
Comments from a visitor on July 02, 2009: negative - "7/2/09: We went to this farm today hoping to pick strawberries from their hydroponic gardens. An interest in hydroponics actually led us there. The website led us to believe this was a big farm. Not so. The best crop was weeds. Found maybe 12 strawberries in the whole crop. Blueberry bushes barely rose above weeds that could have been mowed down. Drove over an hour for a great disappointment."
Comments from a visitor on June 18, 2009: "positive - I visited this farm yesterday for the first time with my parents who are in their late 50's, my grandmother who is in her late 70's and my three children ages 10,6 and 4. I have a brain and spine condition that makes it extremely painful to bend, two of my children have special needs, my father and grandmother have trouble walking and my mom has a very bad back. We all had a wonderful time! The farm is easily accessible to handicapped individuals. It isn't a huge area to walk (or roll!) so it's comfortable for those of us who have physical problems. This is a family run business and the family is delightful. When we arrived, the "lady of the farm" was baking in their huge commercial kitchen. She came out and greeted us and explained the prices, how many pounds their buckets hold, etc. She then took us out to the stacks of strawberries. She explained their hydroponic system and took special care to include my children in the conversation. She left us to pick and we had the place to ourselves. It felt like a private family tour! There are 15,000 plants with berries at different stages of ripeness. There were SO MANY ripe berries that we only got through about a half of one row before we had all filled our buckets. The activity kept my Autistic children occupied and happy finding only the "reddest berries". When we were done, the family went out of their way to help us in their country store and explain every item we asked about. They have plants for sale, homemade pies, jellies, jams, fruit from their farm, all the way up to the stacker system! We asked about purchasing a stacker and the "man of the farm" came out to explain those to us. The stackers are reasonably priced and would be great to have at home. I would encourage anyone to visit this farm! As a child my mom and grandma took me berry picking and it was so nice to be able to take them with my kids. All four living generations out picking strawberries! That would not have been possible at a traditional farm with all of our physical handicaps. It meant so much to me that there was a place for us and this will continue to be a family tradition. I absolutely loved this farm and the fact that they are open for picking long past the regular strawberry season means I will be back this season and many more to come! "
Comments from a visitor on August 30, 2008: Neutral - "This place had a very limited amount of strawberry plants to pick from. In fact, we found 4 ripe berries from all of the plants--all the plants had been picked clean. Another visitor told us that it's almost impossible to find enough to fill a basket because the plants are striped so often. The two rows of raspberry bushes looked un-kept and weedy. Owners are nice and cordial, but there didn't seem to bee much of quality picking. They do sell "hydro-stacker" systems if you want to grow your own."
Comments from a visitor on December 08, 2008: positive - "This is a wonderful place. I have come here several years now, and their hydroponic strawberries were a huge hit with my kids. They have tons of raspberries and blueberries, too. For an outing with your kids, it's a great, out of the way place, that is never too crowded. They family that runs this farm is extremely friendly and helpful, and they have our business for many years to come, so we highly recommend them. Their pie and their jam were delicious. "
1n318 Watson Road, Maple Park, IL 60151.
Comments from a visitor on September 18, 2010: "My boyfriend and I decided to go out to this farm last year to get a pumpkin and do some apple picking. We drove from downtown and had a blast, even though its geared more towards families with children (and we don't have any). We will definitely be going back this year..... maybe for a tree as well!" Comments from a visitor on September 08, 2008: negative - "Very, very expensive for such a small amount of apples for apple picking. Long lines, help is either over worked or just put out by the masssive amount of people paying big bucks to the farm. Not very organized for the amount of visitors they get in a season. A smile would not hurt the help and again I stress - you will spend BIG BUCKS!"
Comments from a visitor on October 05, 2008: positive - "My In-Laws have been going there for a couple years and that is all they can talk about for weeks. This years I brought my Family there and we had a blast ! ! ! ! I can't wait until next year ! ! ! ! My 3 year old Daughter loved it and my 22 year old Brother loved it too ! ! ! ! My Mother can't wait until next year also ! ! ! ! "
Comments from a visitor on October 06, 2008: positive - "We went to the farm this weekend, and although it started to rain while we were there, we still had a great time (my husband, me and our 5-year-old). This is a very big farm with something for everyone, literally, and plenty of low-hanging apples for kids to pick. We chose this farm over others on your excellent website because of the variety of apples they offer--we wanted some for eating, some for pies, and some to make applesauce, and we need different types for that (pie apples need to be firm). There are dozens of varieties of apples, inclduing some we weren't familiar with (Gold Rush, Ida Red), though not all areas are open for picking each day--depends on ripeness, etc. The admission charge is kind of expensive, but at the same time the apple prices were comparable to what I pay in my local grocery store (it was $14.00 for 10 pounds, so $1.40 a pound--less than at my local Jewel and certainly less than Whole Foods, though these apples are not organic as far as I know). They also have a cool 5-acre corn maze, and a whole farm of attractions across the street, includng pumpkin patch and pony rides and petting zoo, which we skipped this time due to the rain getting heavier. They also have a bakery and an outdoor food tent which had something for each of us (braturst, cheeseburgers, hot dog and very, very good apple cider donuts, which I don't usually like, but these were lighter and more flavorful than most). We also bought their cider which we thought was very good quality. Every sngle person was friendly despite the bad weather and crowds, and they have a lot of helpers everywhere you go. Our final verdict is that we will definitely go back! If you do not like a big farm with lots going on, I would choose a smaller place that just has apples, and perhaps it will be cheaper. You will end up spending more money here because there is a lot to do and to buy, but we kind of knew going into it that we'd spend some money on this once-a-year outing, so we didn't mind. Out of 5 stars, we'd give it 5!"
Comments from a visitor on December 08, 2008: positive - "I LOVE THIS PLACE! We have been coming for three years now, and absolute fell in love with their Amaizing Corn Maize, and also with their kiddie section, that is actually not just for kids. The second corn maize that you can ring their bell once you find it is fun for all ages as is their new shed with hay bale. My kids had a blast this fall, and we easily spent the day there. Too much to do, and they slept like babies afterwards! The apples were delicious, and again, this was a fun outing for my kids. This is a clean, friendly, clever place. The Amaizing Corn Maize is just so fun, with Victory Lane, tall flag banners, and very clever puns throughout. Kuiper's is the best; just wish they were closer to my home, but it was still worth the drive, and we will come back every year. Keep up the great work! It gets better and bigger every year, and that's wonderful."
18110 Kishwaukee Valley Road, Woodstock, IL 60098 , IL 60098.
Comments from a visitor on August 17, 2009: positive - "Just a quick review of McCanns: My 4 year old daughter and I went for the first time on 8/15 for blueberry picking. The bushes are well-kept, easy to get to, and were full of ripe blueberries! The owners were very gracious and helpful, and the price was right. It was a nice change from some of the more-family centered U-picks with petting zoos, rides, etc. Just fresh air and lots of blueberries, my daughter had a ball. Would definitely recommend!"
Comments from a visitor on June 15, 2009: positive - "Visited on June 13, 2009. I called in the morning for weather update, since it was raining in Chicago. By the time I got there, it was sunny and very warm. Very nice and helpful people. Will come back for more berries. Fruits were big and sweet. Thank you guys."
41W651 Powers Road, Huntley, IL.
Comments from a visitor on September 16, 2009: positive - "We have gone every year with our son for over 7 years now. I couldn't imagine going anywhere else. They have a BEAUTIFUL apple orchard and pine trees as far as the eye can see! They do not take credit cards, but they always have a beautiful, clean orchard and their prices cannot be beat. "
50w737 Plank Rd, Sycamore, IL 60178.
Comments from a visitor on September 22, 2009: positive - "Very relaxing. No frills. Nothing to distract the kids from picking the apples & having simple family fun. They have a port-a-potty for customer use. The owners are very friendly & the orchard provides a great atmosphere. This is a no-frills apple orchard where you can just focus on apple picking. First peck is $12, every peck after that is $8. "
19183 Plow Creek Road, Tiskilwa, IL 61368
Comments from a visitor on August 16, 2009: positive - "We picked blueberries at Plow Creek in July, and it was a fantastic experience. It's no-frills picking and the young workers were extremely helpful and friendly. The blueberry field was in a beautiful, quiet country location and the blueberries were the best I've ever tasted. Picking was easy - in two hours, we each had 10 pounds of gorgeous plump berries. This was our first time picking blueberries; I bet an experienced picker would fill up their bucket(s) in no time. We will definitely visit Plow Creek for blueberries next year. It was over two hours' drive from where we live in Chicago, but it was well worth the trip and we made a whole day of it and explored some area wineries and a state park. By the way, your website has been a fabulous resource for me this summer. We've picked raspberries and green beans this year (apples are next), all at farms I found through your site. I've started home canning (never did it until this summer) and your site has helped me immensely with both canning recipes/advice AND freezing tips. I will think of you fondly this winter as I eat all the delicious fruits and vegetables I preserved over the summer. THANK YOU THANK YOU THANK YOU!!! "
A visitor writes: positive - "We went blueberry picking at Plow Creek Farm last year and we had a wonderful time. The blueberries were the best I've ever had! I have been looking forward to going back ever since, it's almost time!"
- apples, blackberries, pumpkins, raspberries, Honey from hives on the farm, Cider mill (fresh apple cider made on the premises), prepicked produce, gift shop, snacks and refreshment stand, restrooms, face painting, petting zoo, farm animals, birthday parties, weddings and wedding parties, school tours
15908 Hebron Road, Harvard, IL 60033.
Comments from a visitor on October 10, 2010: negative - "We go to Royal Oaks Apple Orchard in Harvard, IL and have been going there for the last 6 years. This year we went there like every other and were EXTREMELY disappointed with the lack of apples they had and he quality of the ones that were still left. We decided to ask for our money back and just purchase the apples we knew were good in their store but were given a VERY hard time. After we were given our $ back we were approached by the Quality Control Man and he had a TON of excuses and never apologized. Instead he told us we were entitled to our opinion. He knew he was flagging apples that weren't ripe yet just to continue to make money off of customers instead of telling people they're sold out like they should have. We didn't find anything to our liking in the field so we decided, again, to go and purchase them in the store. When we were walking to the store we noticed an unmarked bin full of apples and saw similar bins in the field and assumed they were for picking. So my three small children and my husband and I all tried these new apples and liked them. Suddenly we were approached by the boy that gave us our money back and he was yelling at us and pointing his finger at us yelling "Who do you think you are returning your bags and now you're taking apples from us! We were in shock and tried to explain that we were not aware that they weren't for trying and he continued to badger us and basically calling us thieves. My daughter started to cry and I was so upset I was nearly speechless! The other man came over and told us we had been nothing but trouble and we needed to leave! Apparently if you voice your dissatisfaction with their product this is how you are treated there! They obviously got too big and let greed take the place of what really matters and that is supposed to be their customers who made them what they are today. We were sent away in tears with no apology but instead just more ridicule! I will NEVER set foot in that place again!"
Comments from a visitor on September 23, 2009: positive - "I've also been to Royal Oaks Farms near Hebron, IL. The kids love the free playground and petting zoo, restaurant has good food, the donuts are excellent. I liked it and usually only went off season. There is a fee for the carosel, & train ride $2.50 ea. I felt the fee was to steep for a 2 minute ride. Once last year, during peak season, they charged us a parking fee of $3.00. That was the first time I was ever charged for parking at any of the u-pick farms. Flush bathrooms and porta-lets available. Never had problems with the staff regarding wheelchairs or race. If you do everything and have more than 1 kid, it can get expensive. "
Comments from a visitor on December 21, 2008: positive - "Wonderful, friendly place to bring your kids for a few hours! Not only was the apple picking plentiful and fun and delicious, but for my 11 year old and my 4 year old, there was plenty to do besides. There is a small barn with some cute goats and other animals - bring your quarters to feed them! And there is also a pasture like area where there are some adorable llamas that my 11 year old loved. There are also some play houses, lots of playground areas and child-sized houses to go in, a carousel, and more. Very fun, so we spent a few hours here on a weekday, just enjoying the lack of crowds and the beautiful weather. I highly recommend this place if you're looking to take your kids apple picking somewhere nice and friendly."
- Minimizes chemical and pesticide use, pumpkins, strawberries, gift shop, snacks and refreshment stand, restrooms, Bouncy castle or moon bounce, pony rides, petting zoo
3709 West Miller Road, McHenry, IL 60051.
Comments from a visitor on September 23, 2009: "positive - Stades Farms near Chain of Lakes State Park, is also a great place for kids and the farm is big. (watch 2 locations one farm the other is the store) we went to the farm site. The kids liked the hay ride thru the pumpkin patch. and the a corn box (like a sand box but full of dry corn kernels.) They had a band and an antique car show the weekend we went. The pumpkin canon was a big hit. The store is full of produce, if you don't want to pick. Lots of parking. Bathrooms available. There are food vendors, if you don't want to fill up on what you've picked. There are fees for the kids rides and games. Was very crowed when we went, but still the staff was friendly. Prices for product reasonable. No problems with wheelchair, or race. Seemed eaiser to push the chair here. Ground more level. "
- Uses natural growing practices, eggplant, herbs or spices, peas, peppers, pumpkins, raspberries (red), winter squash, strawberries, tomatoes, other vegetables, restrooms, picnic area, farm animals
10258 US Highway 20, Garden Prairie, IL 61038.
Comments from a visitor on May 19, 2010: positive - "I've been a customer of Susie's Garden Patch for 20+ years -- watched her little girls grow up! The family is always friendly and eager to provide service, the fruit and veggies are fresh and delicious. If you have a special request, Susie is always accommodating. Prices are reasonable and selection is always good. This isn't "agritourism" - it's a nice, family owned farm with good value and people with good hearts!"
Comments from a visitor on September 23, 2009: positive - "Suzie's Garden Patch Garden Prairie IL I went there last year for strawberries. Great place. Very friendly. the help bent over backwards to make it fun for the kids. Kids liked the Tree swing made of leather, look like a horses head. One outhouse, very clean One or two steps up to get in, so if your in a wheelchair very difficult in public. The kids thought it was funny that they decorated the out house with curtains, linens and pictures. Oh.. city folk, you know. I'm sorry I missed this year, but will be back next year for strawberries and asparagus "
Comments from a visitor on July 08, 2009: positive - "My children and I visited this farm last week with some friends and we all had a wonderful time. The owners were very friendly and helpful, there were still plenty of strawberries to pick, even being the end of the season and the kids all had fun even while we waited in the check out line with ringing the bell and playing in the little playground they have. Also love that they use organic practices. We will definitely keep this farm on file for next year! "
37131 Essex Road, Wilmington, IL 60481
Comments from a visitor on June 26, 2010: positive - "Great bushes with lots of blueberries. However, picking at this farm is poorly organized/supervised. Pickers are managed by local teenagers, who are not well suited to the task. They hold pickers hostage to the shuttle trucks, which are usually poorly placed, timed, and organized. It's also difficult to fend-off Southeast European women who invade your personal space and disregard all instructions from the teenagers. (These women pick only the easiest fruit, leaving the rest for everyone else.) It's too bad, because these factors end up ruining what could otherwise be a very enjoyable and rewarding experience."
Comments from a visitor on July 31, 2009: positive - "This was a very large farm and well organized. When I called to get more info before heading out the message said that they were on the 2nd picking and the berries were smaller and in less quantity than the 1st picking. Upon arrival we found the berries to be very good in taste, decent in size, and plenty for the picking. We brought home about 10 lbs. As a note, the entrance to the farm is directly on Essex. No need to turn onto Cooper. This was our first time picking in IL and we will definitely go back again. In the past we have always picked in Indiana at Zylstra's. They are good too, but not as organized or as popular as Tammen Treeberry. There were a lot of people picking and still plenty of berries to go around."
Comments from a visitor on July 28, 2009: positive - "We have been coming to this farm for years, and have always had a great experience picking blueberries. The staff has always been friendly and helpful. It is a popular place and they sometimes shut down for a few days to allow the blueberry bushes time to catch up, so make sure to call the farm on the day you are planning to go there. There is a nice playground and picnic area, so don't forget to pack a picnic for your trip. "
911 East State Street, Cherry Valley, IL 61016.
Comments from a visitor on October 21, 2010: "FYI, from a very unsatisfied consumer. We drove over 70 miles to pick apples at Valley Orchard since they were the only orchard with apples available. Their store was beautiful but the orchards were a mess with rotting apples all over the ground, swarming with bees and flies. I had 3 small children with me and their employees were not paying attention while driving motorized vehicles right through the area where several families with small children were standing. The prices were ridiculous (more than twice what I would pay in the stores in Chicago) when I commented, the lady at the register said I was paying for the "Privilege" of picking my own fruit. I also purchased several bags of donuts priced at 3.95 per 1/2 dozen. When I went to school a half dozen meant 6 apparently they think it's O.K. to cheat their customers by only placing 5 donuts into a bag and then sealing the bag so you can't check. I spoke with several people who have had similar experiences at Valley Orchard and I would recommend that no one go there until they can straighten up their act. I have reported them to the Better Business Bureau and hope that you post this review on your website. Your website, I found to be very helpful and I will continue to use it, hopefully with better results. Thank you "
- raspberries, apples
17015 Garden Valley Road, Woodstock, IL 60098.
Comments from a visitor on September 08, 2009: positive - "We visited this farm over the labor weekend (Sept 05), and found it very good and very courteous. This is a nice farm with good apple crop (had raspberries too), with clearly marked rows and clean paths. We enjoyed the no-fuss pick-your-own fruit policy. This farm does NOT force every person should have a bag, so big families can select few bags, so we don't have to carry 40 lbs of apples. Very good farm, we recommended to our friends, we surely look forward to visit it again."
Comments from a visitor on September 23, 2009: positive - "Zarnsdorf Farm Not a u-pick but a great place. If you go west from Oriole Springs to Zarnsdorf RD then south about 1/2 mile the Zarnsdorf farm (the ranch house, garage) sells farm fresh eggs all sizes and sometimes double yokes. At times they have Stewers and corn. Not a u-pick, but we have visited the chickens and fresh eggs are great.(not sure of the spelling of Zarnsdorf)If your in the area for apples, stop and get a dozen eggs. The owner is wonderful and very chatty. All of this is near Richmond, IL so you have many options for lunch. "
Add your comments
If anyone else (including the farm) has a comment, positive or negative, please write me - I aim to present a fair, accurate information!
---
Picking Tips
[General picking tips and a guide to each fruit and vegetable] [How much do I need to pick? (Yields - how much raw makes how much cooked or frozen)] [Selecting the right varieties to pick] [All about apple varieties - which to pick and why!] [Picking tips for Vegetables] [ Strawberry picking tips] [ Blueberries picking tips]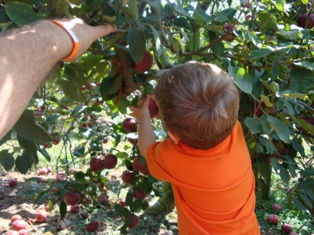 Illustrated Canning, Freezing, Jam Instructions and Recipes
[ Easy Home Canning Directions] [FAQs - Answers to common questions and problems] [Recommended books about home canning, jam making, drying and preserving!] [Free canning publications to download and print]