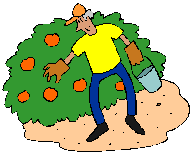 Looking for Mayhaws: What they are, Where and when to Find them in 2021? Scroll down this page and follow the links. And if you bring home some fruit or vegetables and want to can, freeze, make jam, salsa or pickles, see this page for simple, reliable, illustrated canning, freezing or preserving directions. There are plenty of other related resources, click on the resources dropdown above.
If you have questions or feedback, please let me know! There are affiliate links on this page. Read our disclosure policy to learn more.
Mayhaws: What they are, Where and when to Find them
Mayhaws
What are Mayhaws?
Mayhaws are a small (1/2 to 3/4 inch in diameter) crabapple-like fruit that grows on a type of thorny hawthorne tree. The strained fruit is most often used for making jelly, syrup and wine. The pulp is sometimes made into jams, butters and pies. Few people eat the fruit raw. You can shake the tree and gather the fruit from a bed sheet or piece of plastic spread under the tree.
When are Mayhaws ripe?
It ripens from mid-April to early May, from which the name, Mayhaw, originated.
Where do you find them or buy them?
The Mayhaw is a wild native fruit tree found along river bottoms and swamps from east Texas, east to Georgia and Florida, and especially throughout Louisiana. It does well in swamps or drier, better-drained land and best in full sunlight.
There are some farms that sell them in :
Mayhaw festivals
Starks Mayhaw Festival - Saturday in May
105 Hwy 109 North, Starks, Louisiana. Email:

[email protected]

. Our festival celebrates the best tasting jelly around. Be sure to stop by and buy some Mayhaw jelly. Our vendors also create numerous other berry jellies. The Little Mayhaw Festival pageant will be April 21, 2018 at Starks High School. The Jr. Miss and Miss Mayhaw Pageant will be at the Starks Mayhaw Festival. The entry fee for all divisions is $50. Payment must accompany entry form. Payment should be in the form of a check or money order, made payable to Starks Business and Civic Association. Credit/Debit card is accepted for an extra fee. Arrangements must be made to pay with a credit/debit card by emailing Chel Pinder . To receive an entry form by email, send your request to

[email protected]

or download here. For more information, contact Evelyn White at 743-6297.
Mayhaw recipes and directions