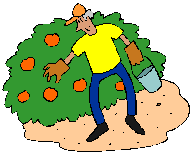 Looking for a local, pick-your-own farm in Eastern Florida Panhandle: Jefferson, Madison and Taylor County? Scroll down this page and you will see the U-Pick farms in Eastern Florida Panhandle: Jefferson, Madison and Taylor County, sorted by county. Those that offer organic or sustainably grown produce are identified by the words "organic" and/or "sustainable" in Green, next to their name (see "What does Organic mean?"). The U-pick crops they offer follow the name of the farm. To search the page for a specific crop, use Ctrl-F (or on an ipad or Mac, use their "search on this page" function) If they have a website, the name will be in blue and underlined; click on it and it will open their website. If you find anything outdated or inaccurate, see the customer and farmer menus (as appropriate) at the top menu bar to submit updates and corrections and help me keep each current!
New! As inflation remains high, see this page for cost-saving measures for getting fruit and vegetables and home canning.
If you are having a hard time finding canning lids, I've used these, and they're a great price & ship in 2 days.
New! Road tripping and camping is a great way to have a fun, safe and inexpensive family trip. The national and state parks and monuments are open, and campgrounds usually cost between $10 and $40 per night. September to November is the best camping weather. See our new website Road Tripping and Camping.com for tips, tricks, guides, checklists and info about parks, monuments and other places to visit.
Note: Beware the copycat websites like the one that stole our name and uses .farm extension: they copied my work and do NOT even update the info! I make updates EVERY day. They use tech tricks to get higher rankings, but have many more inaccuracies and out-dated info. Obviously, I cannot check every farm every day, but I do check as many as I can every day, and respond to all requests. They don't. Don't support the scammers!
Remember to always check with the farm's own website or Facebook page before you go - or call or email them if they don't have a website or Facebook page. Conditions at the farms and crops can change literally overnight, so if you want to avoid a wasted trip out there - check with the farm directly before you go! And if you know of any farms I missed and want to add a farm, please let me know! I'm making updates for this year as fast as I can - if you find anything out-of-date, wrong or not working - please let me know! This website is supported by purchases you make through the links to products on Amazon. As an Amazon Associate I earn from qualifying purchases. This allows me to continue to maintain the website and make improvements!
What's in season in September 2023, and other timely information:
Notes for September 2023: Summer is almost over and that means apples are here (see this new page for Apple Orchards in your area!), and except in northern areas, peaches and blueberries are finished. Some crops continue until frost, like raspberries, blackberries, figs, corn and tomatoes. Check your area's specific crop calendar (see this page) and call your local farms for seasonal updates.
See these pages to find a local Apple festival, and other festivals. We have a extensive guide to apple varieties and a guide to peach varieties. Also recipes, canning and freezing directions for apples, tomatoes, corn blueberries, peaches, etc.
And don't forget CORN MAZES are open now - find a local maze here.
See our comprehensive list of easy home canning, jam and jelly making, preserving, drying and freezing directions. You can access recipes and other resources from the drop down menus at the top of the page or the site search. If you have any questions or suggestions, feel free to write me! It is easy to make your own ice cream, even gelato, or low fat or low sugar ice cream - see this page. Also note, there are many copycat website listing U-pick farms now. The worst is the one that stole our name but ends with .farm. (Yes, I've got lawyers on it) They have all copied their information from here and usually do not ever update. Since 2002, I've been updating the information every day but Christmas; so if you see anything wrong or outdated, please write me!
Children's Consignment Sales are a great way to save money on clothes, toys, books, etc, They occur in both the Spring and Fall See our companion website to find a local community or church kid's consignment sale!
Eastern Florida Panhandle: Jefferson, Madison and Taylor County U-Pick Farms and Orchards in 2023, by county
Click on the resources drop-down above, if you need a county map
Jefferson County
A&B Produce - corn (sweet), cucumbers, eggplant, summer squash, Other fruit or veg,
1959 Freeman Road, Monticello, FL 32344. Phone: 850-997-0119. Alternate Phone: 850-519-0092. Email: baaschdee@aol.com. Open: Saturday 8:00 to 6 pm. Directions: Approximately 2 miles south of I 10 highway on the Georgia Florida parkway. Turn right on Freeman Road go almost 2 miles till; turn left into the driveway, follow the fence, turn left into our farm, then honk or come to the door. Click here for a map and directions. Payment: Cash, only. We grow vegetables for all seasons. you might want to call to make sure we have what you would like.
Comments from a visitor on January 14, 2012: "I visited A & B Produce today. The owners were very friendly and helpful and provided great information on when various vegetables I was interested in would be ready. It was very easy to find. I will definitely visit them again. "
Blue Sky Berry Farm, LLC -

Uses natural growing practices

, blueberries,
1180 Ashville highway, Monticello, FL 32344. Phone: (850) 545-6128. Email: blueskyfarmllc@gmail.com. Open: We will be open starting June 2020 when the berries are ripe; Please check the site for updates and hours; bskyfarm;com. Click here for current open hours, days and dates. Directions: Minutes from the courthouse in Monticello. About 45 minutes from Tallahassee. We use natural organic practices, and are subject to the NOP small quantity exemption. We use only organic practices and have a variety of blueberry typesBlue Sky Farm grows the following Rabbiteye blueberry varieties: Brightwell, TifBlue, Bluebell, Windsor, Climax, True Blue, Titan, Ochelochnee. Each variety produces its own uniquely delicious blueberry.. You can come tour our farm when we are open and you will see some of the best views in the area as we are located on a scenic hilltop! Our berries are all organically grown. Remember to bring sunscreen, water and wear clothes toed shoes. Payment: Cash, Visa, MasterCard, AmEx. Click here for our Facebook page. 100% organic U-pick blueberries. 7 different varieties from small and sweet to big and juicy. (UPDATED: April 24, 2020) (ADDED: May 11, 2015)
Blueberry Springs -

No pesticides are used

, blackberries, blueberries, U-pick and already picked, porta-potties are available
383 Wacissa Springs Road, Wacissa, FL 32361. Phone: 850-997-1238. Email: BlueberrySprings@aol.com. Open: starting May 30, 2019, Tuesday through Sunday, from 7 am to 12 pm and 5 pm to 7 pm; Closed Mondays; We will be open through middle of July, 2019; Call first for availability . Directions: from Tallahassee take either I-10 E, SR 90 E, or SR 27 S to SR 59 S; take SR 59 S to Wacissa; from the blinking light in Wacissa, go straight for 1 mile to dead end signs; farm is on the left before the dead end at the head of the Wacissa River. Click here for a map and directions. We do not use pesticides on the crops. Payment: Cash, Check. Blueberry Springs has some plants and produce available. We recommend swimming, canoeing/kayaking and picnic lunch at the Wacissa River located 300 feet from the farm after picking. Call for more information. (UPDATED: April 26, 2019)
Golden Acres Farm - Mayhaws
704 Barnes Road, Monticello, FL. Phone: 850-997-6599. Open: from May 1-May 20. Our 9th Annual Mayhaw Berry Festival will be Saturday, May 9, 2015, 10 Am to 4 Pm, Sunday, May 10, 2015, 10 Am to 4 Pm. In late April, the pond is full and the trees are covered with leaves. The weather has been great with no late season freezes so we are expecting a nice crop again this year. Click here for a link to our Facebook page.
Green Meadows Farm -

Certified Organic

, blueberries, gift shop, concessions or refreshment stand, restrooms, picnic area you may bring your own food
177 East Bluebird Road, Monticello, FL 32344. Phone: 850-997-4886. Email: annadgreen@gmail.com. Open: Closed for the 2016 blueberry season, but will reopen June, 2017 for next year's crop., when our hours should be Fridays and Saturdays ONLY (we are closed Sunday through Thursday), from 7:30 am to 12 noon and 5 pm to sunset; During the month of June or until all berries are picked!. Directions: We are located two blocks off U.S. Highway 90 in Jefferson County, Florida. From Monticello Courthouse to West toward Tallahassee. Turn left on Main Avenue (about three miles), go two blocks and turn left onto East Bluebird Road. Farm sign and driveway will be on your left. Be careful, Bluebird Road is a one lane country canopy road. Follow signs to parking and picking areas. Watch for signs on U.S. Highway 90 to help you find the turn off. (UPDATED: July 07, 2016)
Comments from a visitor on June 04, 2011: "Nice, small. Yummy blueberry ice cream."

Marvelous Muscadines Vineyard

- grapes,
5552 Street Augustine Road, Monticello, FL 32344. Phone: 850-597-1148. Email: marvelousmuscadines@gmail.com. Open: Daily, from 8 am to 5:30 pm. Directions: Go out Apalachee Parkway, 4.5 miles past Chaires Crossroads, right on Street Augustine Road. Vineyard is 1/4 mile on the left. Usually open the last Saturday in August and remain open until they are gone, typically three to four weeks. Payment: Cash, only. We have two varieties of grapes: Fry and Cowart. Plentiful and delicious. Come and get 'em. (ADDED: September 04, 2016)
Myrtle Creek Farm - blackberries, blueberries, restrooms, picnic area, picnic area you may bring your own food
2184 Tram Rd, Monticello, FL 32344. Phone: 850-997-0533. Email: myrtlecreekfarm@gmail.com. Open: UPDATE for 2021, Their website and Facebook pages are gone or outdated - I presume they have closed. Does anyone have current information, are they still offering pick your own or are even open? If so, please write me; Monday to Sunday, from 8 am to 12 pm, 5 pm to 7:30 pm; May to July. Directions: Click here for a map and directions. Payment: Cash, only. We use natural practices for growing our berries. Click here for our Facebook page. (ADDED: June 12, 2016)
Perfect Persimmons U-Pick Orchard - persimmons
Corner of Hwy 90 and Old Lloyd Road, Monticello, FL 32344. Phone: (850) 251-5074. Email: perfectpersimmon@yahoo.com. Open: typically mid October through November on Saturday 8:30 am to 5 pm, Sunday 8:30 am to 5 pm and Monday 9 am to 4 pm but be sure to check their Facebook page as hours change. We are a U-Pick Persimmon orchard located in Monticello, FL. Opened seasonally. Our Pick-Your-Own (PYO) Persimmon Orchard is located in beautiful Monticello, FL and is opened seasonally when the fruit becomes ripe and ready for picking. Payment: Cash or Check only. (ADDED: December 18, 2020, JBS)
Wash Gallon - Peas, Okra, Tomatoes, Snap Beans, Watermelon, Collard Greens, Squash, Sweet Corn
1171 Barnes Road, Monticello, FL 32344. Phone: 850-997-2153. Alternate phone: 850-997-0488. Open: Call before coming to the farm!
Madison County
Hilda's Blueberries U-Pick - Blueberries
332 N.E. Chamomile Way, Madison, FL. Phone: (850) 973-8592. Open: May through August.
Jimmy Dixon - Blueberries
Route 2, Box 571, Madison, FL 32340. Phone: 850-973-8592. Open: May-July, Monday to Saturday, 8-6pm, Directions: Off CR 254 and Route 145 N of Madison.

Priscillas Produce

- blueberries, peas
607 SW Debary Way, Greenville, FL 32331. Phone: 850-948-4816. Email: priscillasproduce@gardener.com. Open: Call for for hours and availability. Directions: Call for directions. Payment: Cash, only. May also be spelled: "

Prisilla's Produce".


Comments from a visitor on June 17, 2010: "Very nice and people were friendly. This used to be part of Tuten's U-Pick in Madison also. Right down the road from them. They have blueberries and zipper peas to be picked right now. She also has onions and peaches you can buy from her stand. Mrs Priscilla told me that in late October she will have crops that will consist of Kale, Spinach, Carrots, Tomatoes and more., "
Terry Farms U-Pick - TBD
423 SE Gunpowder Ave, Madison, FL 32340. Open: TBD. We are bringing the U-Pick back to Terry Farms. (April 2021). We are open to suggestions for produce to grow so feel free to post. As of now we have planted corn, okra, variety of peas, variety of beans, squash, cantaloupe, cucumbers, watermelons and variety of peppers.


Tuten Farms

- beans, corn (sweet), cucumbers, eggplant, melons, onions, peas, summer squash, tomatoes, other vegetables,
2370 S W Moseley Hall Road, Madison, FL 32340. Phone: 850-973-8286. Email: tutenfarming@yahoo.com. Open: Summer Monday to Saturday from 7:30am to 6:30pm; Fall: Monday to Saturday from 7:30am to 6:30pm, Closed on Sundays. Directions: I10 to 221S exit (Greenville) turn right go down 7miles to SW Moseley Hall Road will be on Left. Follow signs for Tuten's u-pick. Summer June-August Fall October-November. Payment: Cash, Check. (UPDATED: June 10, 2014, by a visitor)
Comments from a visitor on June 17, 2010: "My daughters and a few friends and I just went to this one today. It is just over our county line in Madison County. People were very friendly and they have reasonable prices. We picked tomatoes to our hearts content. Only $7 for a 5 gallon bucket full! Great place to go!"
Tanya's U-Pick - Strawberries, Sweet Corn, Onions, Tomatoes, Squash, Melon, Peppers
Route 1, Box 2294, Madison, FL 32340. Phone: 850-971-5362. Open: Jan.- Nov., open everyday. Directions: On S Hwy 53
Taylor County
No PYO farms or orchards in this county.
For availability of other crops (berries, vegetables, etc.) in the Panhandle of Florida, click here!
---
---