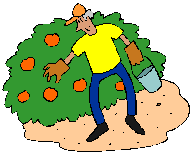 Looking for Hawaii local county extension offices in 2023? Scroll down this page and follow the links. And if you bring home some fruit or vegetables and want to can, freeze, make jam, salsa or pickles, see this page for simple, reliable, illustrated canning, freezing or preserving directions. There are plenty of other related resources, click on the resources dropdown above. If you are having a hard time finding canning lids, I've used these, and they're a great price & ship in 2 days.
If you have questions or feedback, please let me know! There are affiliate links on this page. Read our disclosure policy to learn more.
Hawaii local county extension offices
Your local Hawaii county extension agent from the Cooperative Extension office can help answer your garden and farming questions and they're free! Just click on the area below closest to you! The Cooperative Extension System is a nationwide, non-credit educational network. These offices are staffed by one or more experts who provide useful, practical, and research-based information to agricultural producers, small business owners, youth, consumers, and others in rural areas and communities of all sizes.
Hawaii County
HILO-Komohana Research and Extension Center Location of KREC
Phone:(808)969-8201
Fax: (808)981-5211
E-mail (Extension):

[email protected]

.
E-mail(Research):

[email protected]

.
Interim County Administrator: Susan Miyasaka
Mailing address:
875 Komohana Street
Hilo, HI, 96720
KAMUELA-Kamuela Extension Office Location of Kamuela Office
Phone: (808)887-6183
Fax: (808)887-6182
E-mail:

[email protected]

.
Mailing address:
67-5189 Kamamalu Road
Kamuela, HI, 96743
KONA-Kona Extension Office Location of Kona Office
Phone(Extension):(808)322-4892 (Research):(808)3224896
Fax: (808)322-4895
Extension:

[email protected]

.
Mailing address:
79-7381 Mamalahoa Highway
Kealakekua, HI, 96750
Maui County
MAUI-Kahului Extension Office Kahului Office
Phone: (808)244-3242 x222
Fax: (808)244-7089
E-mail:

[email protected]

.
County Administrator: Cynthia Reeves
Mailing address:
310 Kaahumanu Ave., Bldg. 214
Kahului, HI, 96732
MAUI-KULA Kula Station
Phone (808)878-1213
Fax: (808)878-6804
E-mail:

[email protected]

.
424 Mauna Place
Mailing Address:
P.O. Box 269
Kula, HI 96790
MOLOKAI-Molokai Extension Office Molokai Extension Office
Phone: (808)567-6929
Fax: (808)567-6933
E-mail:

[email protected]

.
526 Huaai Rd, Hoolehua
Mailing address:
P.O. Box 394
Hoolehua, HI, 96729
Oahu County
HONOLULU- Extension Office CE Honolulu Office
Phone: (808)956-7290
Fax: (808)956-9082
Mailing address:
1955 East-West Rd. Ag Sci III Room 217
Honolulu, HI, 96822
PEARL CITY-Urban Garden CenterLocation of PCUGC
Phone: (808)453-6050
Fax: (808)453-6052
E-mail:

[email protected]

.
Mailing address:
955 Kamehameha Highway
Pearl City, HI, 96782-3344.
WAHIAWA- Extension Office Wahiawa Office location
Phone: (808)622-4185
Fax: (808)621-0928
E-mail:

[email protected]

.
Mailing address:
910 California Ave.
Wahiawa, HI, 96786-2124.
Kauai County
KAUAI- Extension OfficeLihue Office location
Phone: (808)274-3471
Fax: (808)274-3474
E-mail:

[email protected]

.
CCounty Administrator: Russell H Messing
Mailing address:
State Office Building, 3060 iwa Street, Room 210
Lihue, HI, 96766
Topics of Interest
Alerts