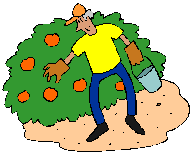 Looking for How to make the world's best apple apple crisp with oats and little or no added sugar! EASY and illustrated instructions in 2022? Scroll down this page and follow the links. And if you bring home some fruit or vegetables and want to can, freeze, make jam, salsa or pickles, see this page for simple, reliable, illustrated canning, freezing or preserving directions. There are plenty of other related resources, click on the resources dropdown above. If you are having a hard time finding canning lids, I've used these, and they're a great price & ship in 2 days.
If you have questions or feedback, please let me know! There are affiliate links on this page. Read our disclosure policy to learn more.
How to make the world's best apple apple crisp with oats and little or no added sugar! EASY and illustrated instructions
Ingredients and Equipment

(per 8" by 11" pan)
Apples - about 12 medium or 10 large apples of fresh, sweet varieties: Red Delicious, Gala, Fuji, Jonagold, Jonathon. If you can't get any of these, then try McIntosh, Winesap, Honeycrisp, etc. You will need 4 cups of apple slices, after peeling and coring.

3 Tbsp sugar or Stevia (in a prepared form like Truvia, it measures same as sugar; if you use another form, you will need do your own conversion) - or Splenda, if you prefer,
3/4 cup oatmeal
1/4 cup flour

Seasonings:
1/4 tsp nutmeg 1/4 teaspoon ginger 1/4 teaspoon cinnamon
1/4 cup butter
1/2 cup chopped pecans, walnuts or hazelnuts
Step 1- Wash the apples
Just wash them in cold water, no soap. We're going to remove the skins anyway, so don't spend too much time on it. You can remove any stickers that the grocery store put on the apples, though. Peelers often get suck on those.
Step 2 - Peel the apples
The fastest way to peel the apples is one of these peelers! With firm apples, it takes about 20 seconds per apple. These apple peelers don't work well on soft, mushy apples or apples with soft spots on them. In that case your stuck with a hand peeler!
Once they're peeled, remove any remaining brown spots (see the photo at left - before removing the blemishes.)
Step 3 - Core and slice the apples
You can use a knife, but the $5 corer/slicer you see in the photo is available at any kitchen store (Bed, Bath and beyond, local "big box" stores, etc.), and is the fastest, easiest way. But any slices that are between ¼-inch and 1/2 inch thick will do.

Remove seeds, stems, any hard parts near the seeds and brown or soft spots.

Here are the apple slices, ready for the crisp!
Step 4 - mix the sugar and seasonings.
Combine the sugar, flour and spices in a bowl.

And mix them well!
Step 5 - Add the butter
Cut the butter into the dry ingredients to create a crumb texture.
Step 6 - Put the spices on the apples
Place the apple slices in an 8" x 11" baking dish and cover with the crumb mixture.
Step 7 - Put the pan in the oven!
Bake at 375 degrees for 30 minutes. Serve warm or cold.