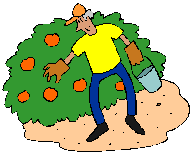 Apple U-Pick Orchards in Central New Jersey in 2023, by county
Below are the U-Pick orchards and farms for apples that we know of in this area. Not all areas of any state, nor even every state, have apples orchards that are open to the public. If you know of any others, please tell us using the add a farm form!
Remember to always check with the farm's own website or Facebook page before you go - or call or email them if they don't have a website or Facebook page. Conditions at the farms and crops can change literally overnight, so if you want to avoid a wasted trip out there - check with the farm directly before you go! If I cannot reach them, I DON'T GO!
PLEASE report closed farms, broken links and incorrect info using the "Report Corrections" form below.
Mercer County
Lee Turkey Farm - Pick Your Own: Apples, cherries, nectarines, peaches, beans, peas, squash, sweet corn, tomatoes, strawberries, raspberries, blackberries, eggplant, peppers, broccoli, pumpkins, other vegetables, flowers, hayrides, corn maze
201 Hickory Corner Road, East Windsor, NJ . Phone: (609) 448-0629. Open: May - December, 9 am till 6 pm Monday through Saturday and on Sundays from 2 pm till 6 pm; Please keep in mind that if you are coming to pick you must be at the farm no later than 5:15pm to enter the fields and orchards. Directions: On Hickory Corner Road, 1 mile W of Route 130. We also have a roadside market / farm stand with Apples, cucumbers, cabbage, fruits, vegetables. Our apple varieties are Cortland, Empire, Fuji, Gala, Golden Delicious, Jonagold, Red Delicious, Red Delicious, Red Delicious, Stayma/Winesap. We also have Hay rides; walking tours; corn maze; oven-ready turkeys. We also have Hay rides; walking tours; corn maze; oven-ready turkeys. Strawberries are usually available from mid May through mid June. . Click here for a map and directions.
Lee Turkey Farm Facebook page. . Facebook page. Pick Your Own Club/Picking Card: Before entering our fields and orchards, you must be a member of the Pick Your Own Club. The "Club" is nothing new. We have been doing this since 1972. The purpose of our Pick Your Own Club is to ensure that all of our customers understand the rules of our farm. We realize that no one particularly likes to follow rules, but ours are pretty easy to follow. After the form is filled out, there is a $2 charge for membership, and you will receive a picking card that acts as your pass for the entire season and shows that you filled out the liability form. Just $2 for the entire family for the entire year. Bring your picking pass with you whenever you come to pick, or you will be required to fill out the form again and purchase a new one. A visitor writes on September 06, 2014: "The blackberries that I got form the farm, worth $5, were a waste of money. It had plenty of worms..oh god! thrown them all.. please never bring berries from this farm. Also, last time I bought Nectarines from market, they were super sour. If you need Nectarines, pick by yourself (they are good), but the one in the market are not ripened.Peaches are good; apples are not so sweet.(while some are super sour, taste and then pick). EGG PLANTS ARE TOO GOOD. Please, never pick blackberries, they are just so suspicious to eat..eaweeeee. I have been to this farm twice,in future will go only for necters and peaches. good luck for your next pick up."
Comments from a visitor on September 19, 2009: "My fiancee and I love to pick your own fruit. I was searching your website for a place that was close to home and we found . It's a GREAT place. It has a mom and pop feel. The staff is very friendly and are always willing to help you. The fruit was delicious and very plentiful. We went peach picking in September and there were so very many trees that still had so much fruit on them. I enjoyed the low prices on the pick your own. This is a GREAT find. People should check this place out!!"
Terhune Orchards - apples, blackberries, blueberries, cherries, flowers, pumpkins, raspberries (red), raspberries (Autumn, red), strawberries, Cider mill fresh apple cider made on the premises, farm animals, birthday parties, school tours
330 Cold Soil Road, Princeton, NJ 08540. Phone: 609-924-2310. Email: info@terhuneorchards.com. Open: May through October, Daily from 9 am to 5 pm (No PYO Blueberries on Mondays throughout the season) Please see our Pick Your Own Schedule, visit our Facebook page, or call us at 609-924-2310 for current conditions before planning your visit. Directions: . Click here for a map and directions. Payment: Cash, Check, Debit cards, Visa, MasterCard, Discover, WIC Vouchers, SFMNP Vouchers.
Terhune Orchards Facebook page. . . October weekends from 10 am to 5 pm; check website for availability of crops. Picking updates: Click here for picking updates. Apple picking, pumpkin picking, cider, pies, farm animals, pick your own, field trips, farm market and more can be found at the Family's 200 fruit and vegetable-producing acres noted for quality products and country-style service. Terhunerchards Farm Store attracts local people doing their daily shopping as well as visitors on their way through the Princeton area. The Farm Store and Farm Yard are open every day all year.Starting the 3rd weekend in September, visit our: corn stalk maze, theme story barn, wagon rides on Saturday and Sunday; Pumpkin Patch. What better way to celebrate fall than with Pick-Your-Own Apples and Pumpkins! Enjoy pony rides, wagon rides, visit the Corn Stalk Maze, Hay Bale Maze and our barnyard of farm animals. Children can enjoy face painting and pumpkin painting. Don't worry about lunch, there's lots of food available - soup, chili, hot dogs, pies, apple cider donuts, apple cider, and more! features live music played by some of our best local talent, (between noon and 4pm). No admission fee to farm store, winery or pick-your-own apples. Parking is at the farm.Typical harvest dates: CROP AVAILABILITYAsparagus Late April ; Strawberries Late May-Early June -Cherries Sweet: June Tart: June Blueberries Late June to late July Blackberries July-AugustFlowers Late June-October- Now pickingGourds (at Cold Soil Road) September to OctoberPumpkins (at Cold Soil Rd) September to OctoberApples (at the Van Kirk Road Orchard):Stayman Winesap OctoberGala SeptemberCameo OctoberJonathan SeptemberGranny Smith OctoberPink Lady OctoberEmpire SeptemberLiberty September Golden Delicious SeptemberRed Delicious SeptemberJonagold September Fuji OctoberMacoun October
Middlesex County
Monmouth County
Battleview Orchards - Pick Your Own: Strawberries, sour cherries, peaches, nectarines, apples, pumpkins
91 Wemrock Road, Freehold, NJ . Phone: (732) 462-0756. Open: see their website for current hours. Directions: Route 9 to Route 33 W, 1 mile , at 2nd light, make a right on to Wemrock Road, Battleview Orchards is 1500 feet on right, or NJTPK Exit 8, 10 miles E on Route 33, overpass on right, follow Freehold Business District signs, 1 mile left at traffic light. Our apple varieties are Cortland, Empire, Fuji, Gala, Granny Smith, Golden Delicious, Jonagold, Jonathan, Macoun, McIntosh, Red Delicious, Stayman/Winesap. Battleview Orchards, a family owned and operated farm, located in Freehold, New Jersey, harvests locally grown fruits and invites the public to "Pick Your Own" New Jersey Strawberries, Sour Cherries, New Jersey Peaches, Nectarines, New Jersey Apples, and Pumpkins. Check our calendar for "Pick Your Own" dates and times. Become a Fan on Facebook to stay informed of picking dates & upcoming Seasonal Events.We also have a roadside market / farm stand with Apples: all varieties, fruits, vegetables. We also have Jersey Fresh Cooks cookbook, pies, donuts, cider, bakery, hay rides, fall school & group tours. . Click here for a map and directions.
Battleview Orchards Facebook page. NJ only - 1-800-662-3075.
Eastmont Orchards - Pick-Your-Own: Apples, peaches, pumpkins
Route 537, 1 mile E of Route 34, Colts Neck, NJ . Phone: (732) 542-5404. Email: comment@eastmontorchards.com. Open: end of July to October, Monday to Friday 9 am to 5 pm; Weekend 9 am to 6 pm; call first for availability and updates. Directions: Route 34 to Route 537 E; 1 mile east of Route 34. Our apple varieties are Arkansas Black, Braeburn, Empire, Fuji, Golden Delicious, Ida Red, Jonathan, McIntosh, Red Delicious, Rome, Stayman/Winesap. The orchard is . Click here for a map and directions.
Eastmont Orchards Facebook page. . . open to pick-your-own customers beginning around mid-July and usually ending with the completion of October. Our hours are highly dependent upon weather and supply conditions. The standard hours for the orchard are 9 AM to 5 PM on weekdays and 9 AM to 6 PM on Saturday & Sunday. For a more specific schedule of the individual picking seasons, check out the sections for peaches, apples, corn, and pumpkins. Under some circumstances, we may be forced to open late or close early. Remember, ALWAYS CALL JUST PRIOR TO LEAVING or check our Facebook page.
Comments from a visitor on August 11, 2009: "I love it and so did my kids"
Apple Picking Tips, Recipes and Information
Apples ripen from the outside of the tree towards the center, so the apples out the outside of the tree will ripen first. Once they are picked, they stop ripening. Picking apples directly from a tree is easy. Roll the apple upwards off the branch and give a little twist; don't pull straight away from the tree. If two apples are joined together at the top, both will come away at the same time. Don't shake the trees or branches. If the apple you are trying to pick drops, (or others on the tree) go ahead and pick it up. They're perfectly fine! But do wash them before you eat them! More info: How to tell when apples are ripe
Once picked, don't throw the apples into the baskets, place them in gently, or they will bruise and go bad more quickly.
Don't wash apples until just before using to prevent spoilage.
For an explanation of why apple slices turn brown and how to stop it, see this page!
Keep apples cool after picking to increase shelf life. A cool basement is ideal, but the fruit/vegetable drawer of a refrigerator will work, too. A refrigerator is fine for small quantities of apples. Boxed apples need to be kept in a cool, dark spot where they won't freeze. Freezing ruptures all of an apple's cells, turning it into one large bruise overnight. The usual solution is to store apples in a root cellar. But root cellars often have potatoes in them: apples and potatoes should never be stored in the same room because, as they age, potatoes release an otherwise ethylene gas, which makes apples spoil faster. If you can keep the gas away from your apples, they will keep just fine. Just don't store them right next to potatoes.
Prevent contact between apples stored for the winter by wrapping them individually in sheets of newspaper. The easiest way to do this is to unfold a section of newspaper all the way and tear it into quarters. Then stack the wrapped apples . See more here: How to store apples at home
Apples don't improve or "ripen" after being picked - this is an urban myth - see this page for the truth - with references!
Which apple variety is best?
There are tens of thousands of varieties of apples, developed over centuries. They vary in sugar, acoidity, flavors, storing, crispness and many other attributes. See our guides to apple varieties:
Canning apples - fully illustrated, with step-by-step instructions
Recipes, illustrated with step by step instructions
Using fresh apples and miscellaneous