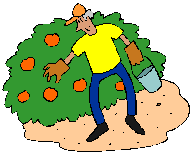 What's in season in November 2023, and other timely information:
New Jersey Crop Harvest Calendar - Ripening Dates for Fruits and Vegetables
Please note that actual dates may vary by as much as two weeks due to weather conditions, geographical location of the farm, and other factors. It is always advisable to call a farm earlier than the expected beginning of a season to verify on the status of the product you are interested in. The state of NJ put together a visual crop calendar (15 years after I did :) and you can download it as a PDF here.
Harvest dates listed may vary depending upon weather conditions and geographic location of the farm. Call ahead to avoid disappointment!
Fruits & Berries
Early
Most Active
Late
Apples
July 15
September 1 - October 25
October 31
Blackberries
July 10
July 15 - July 30
August 10
Blueberries
June 20
July 5 - August 10
August 15
Cherries
June 10
June 10 - June 25
June 25
Grapes
August 25
September 10 - September 20
September 30
Peaches, Nectarines
July 5
July 20 - September 1
September 15
Pears
August 1
August 10. - August 31
September 10
Plums
July 1
July 15 - August 15
September 1
Raspberries
Traditional
July 1
July 5 - July 21
August 1
Fall Bearing**
August 15
September 1 - September 20
October 15
Strawberries
May 20
June 1 - June 10
June 25
Vegetables
Early
Most Active
Late
Asparagus
Apr. 23
May 1 - May 30
June 25
Beets
June 1
July 1 - October 31
November 30
Broccoli
May 20
June 10 - October 31
November 1
Cabbage
June 1
June 10 - October 31
November 15
Cauliflower
September 1
Oct. 5 - November 20
December . 5
Collards
May 15
August 20 - October 31
November 20
Cucumbers
June 25
July 5 - August 15
September 15
Eggplant**
July 10
July 20 - September 30
October 15
Lettuce
Late Spring
May 15
May 20 - July 15
August 31
Early Fall
September 1
September 15. - November 15
November 30
Lima Beans
July 10
July 15 - August 31
October 31
Okra**
July 15
August 15 - September 15
October 15
Onions
June 25
June 25 - July 31
September 30
Peas
May 20
June 15 - June 25
July 5
Peppers
July 5
July 15 - October 31
Nov. 5
Potatoes
July 10
July 20 - September 30
October 15
Pumpkins
September 15
October 1 - October 15
October 31
Snap Beans
June 10
June 20 - July 20
August 31
Squash
June 15
June 25 - September 1
September 30
Spinach
April 15
May 5 - June 25
June 30
Sweet Corn
July 1
July 5 - August 31
September 25
Tomatoes**
July 5
July 10 - September 15
October 15
Other
Early
Most Active
Late
Everlastings, Flowers, Herbs
July 1
July 15 - September 15
October 1
** Late date is October 15 or killing frost
Here is a visual version of the New Jersey Crop Harvest Calendar
| | | | | | | | | | | | | |
| --- | --- | --- | --- | --- | --- | --- | --- | --- | --- | --- | --- | --- |
| Fruit/Veg | Jan | Feb | March | April | May | June | July | August | Sept | Oct | Nov | December |
| apples (apple harvest dates by variety) | | | | | | | | X | X | X | | |
| Asian pears | | | | | | | | X | X | X | | |
| asparagus | | | | X | X | | | | | | | |
| beans | | | | | | X | X | X | X | X | | |
| blackberries | | | | | | X | X | | | | | |
| blueberries | | | | | | | X | X | | | | |
| broccoli | | | X | X | | | | | X | X | X | |
| cabbage | | | X | X | | | | | X | X | X | |
| cantaloupes | | | | | | | X | X | X | | | |
| cherries | | | | | | X | X | | | | | |
| cucumbers | | | | | X | X | X | X | | | | |
| eggplant | | | | | | | X | X | X | | | |
| greens | | | X | X | X | | | | X | X | | |
| herbs | | | | X | X | X | X | X | X | X | | |
| nectarines | | | | | | | X | X | | | | |
| peaches | | | | | | X | X | X | X | | | |
| peas | | | | | X | | | | | | | |
| peppers | | | | | | | X | X | X | | | |
| potatoes | | | | | X | X | X | | | | | |
| raspberries | | | | | | | X | X | X | | | |
| rhubarb | | | | | X | X | | | | | | |
| pumpkins | | | | | | | | | X | X | | |
| squash | | | | | | X | X | X | X | X | | |
| strawberries | | | | | mid may | | | | | | | |
| sweet corn | | | | | | | | X | X | | | |
| sweet potatoes | | | | | | | | | X | X | | |
| tomatoes | | | | | | | X | X | X | X | | |
| watermelons | | | | | | | | X | X | X | | |
Approximate picking dates of major summer and Fall crops by month
May
Asparagus, strawberries start late in the month
June:
Strawberries, Cherries Snow Peas, Sugar Snap Peas, Shelling Peas, Lettuce, Spinach, Broccoli, Cabbage ​
July:
blueberries, Sour Green Summer Apples, Peaches, Watermelon, Cantaloupe, Sweet Corn, Cucumbers, Zucchini, Green Beans, Flat Beans, Broccoli, Cabbage ​
August:
Peaches, Apples, Nectarines, Pears, Cantaloupe, Watermelon, Blackberries Sweet Corn, Cucumbers, Zucchini, Green Beans, Flat Beans, Tomatoes, Eggplant, Sweet Peppers, Hot Peppers, Broccoli, Cabbage
September/October:
Apples, Pears Pumpkins, Winter Squash, Sweet Corn, Cucumbers, Zucchini, Green Beans, Flat Beans, Tomatoes, Eggplant, Sweet Peppers, Hot Peppers, Broccoli, Cabbage, Lettuce, Spinach