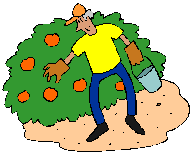 Reviews about Charlton Orchards in Massachusetts
Charlton Orchards - Blackberries, blueberries, strawberries, peaches, apples, pears and raspberries.
44 Old Worcester Road, Box 339, Charlton, MA. Phone: 508- 248-7820. Email info@charltonorchard.com.
Charlton Orchards facebook page.
Note: these comments are at least 6 years old, so things may have changed! Give the farm a chance. Does anyone have recent experience; positive or negative about this farm? Write me!
Comments:
A visitor writes on October 13, 2017: (negative) "Drove half an hour to get there and found the farm to be overgrown, looking very neglected. Picked half a bushel of red delicious apples anyway and about 90% of them were brown inside. Only saw two people working -- the person behind the register and a man just sitting in the store. The horses were friendlier than the people. They advertised a CSA on their website, which is why I went in the first place. But the prices they charge are expensive and given the shoddy look of the farm and the poor quality of the apples we picked, I won't sign up for the CSA and won't go back at all."
A visitor writes on June 23, 2016: (negative) "My experience ended at the website. Their pick your own strawberries are 3.50 a pound with a $3.00 per person charge as a minimum non refundable, so if you go with two kids or three kids, pay $9-$12 dollars and pick only two pounds, they are mighty expensive berries. Since the pick your own experience is unpredictable with children, this is ridiculous. We chose instead a more local farm in West Brookfield who charges a flat $4.00 a quart and had pleasant friendly people running the place. We bought some extra stuff in the stand and I ended up spending $23 dollars, not a huge amount but enough for a first visit. That's $23 dollars and future business Charlton won't get by trying to ensure minimum sales. Ridiculous business practice. "
A visitor writes on October 07, 2014: (negative) "I live in Connecticut and this farm is in Mass. Its about 15 minutes from my home. I went to this farm on Sunday, October 5th, 2014. I went with my Husband and 2.5 year old son. I have been to other Orchards that are family/child friendly and where there are fun things to do in addition to picking apples but this one is very close to where we live so I thought I'd give it a try. Activities: Nothing. You drive in, walk in to the little store (I guess that's something, right?) to pay for your bag and then walk to the orchard. It looks like there once was a play area for kids (I'll cover that in 'appearance'), and there is a winery (not kid friendly). Appearance: I suppose it is functional, but it does not look overly inviting. The little store is decent. There are a few animals as you drive up but you need to look for them in order to know they are there. Once you find them you may not want to approach their pens, as they are dirty, overgrown and dilapidated looking. (I even read a review afterward that stated that the fences were unmarked and electric, resulting in a trip to the ER.) There looks like there was once a play yard for children but it has been forgotten for years. The fence is falling in and there are so many overgrown weeds as tall and the play equipment that you couldn't walk in to the area. As you walk to the actual orchard there are piles of scrap and debris on either side. Once you get to the trees it is fine as apple trees go. Attitude: Nobody was very friendly when we got there. They weren't rude, they just weren't cheerful. They didn't say hello when we walked in. They only responded to questions. Now once we got the apples home events started that will make me never even think about going back and I will tell everyone I know not to even bother. The apples were brown once I cut in to them. They had holes going through some of them. I called and the woman (owner) got very defensive saying that there weren't bugs, that they had a calcium deficiency but I could bring them back and she'd make it right. I went in the next day and introduced myself as the person who had called the day before. Without a single word she walked up to me and flipped open a knife (very close to me) and started cutting open apples. She held one up and asked if this was the 'brown' I was talking about. She told me with a nasty attitude that her trees had a calcium deficiency and that it was upsetting that I would imply that her apples had bugs. I explained that whatever the reason for the coloring, it isn't appetizing to bite in to a brown apple. I also offered her pictures on my phone of the tunnels I had seen, which she was not interested in looking at. At this point who I assume to be her husband had joined us. I asked if she thought it might be a good idea to tell customers that her trees had a problem and the apples would be brown. She started yelling 'How the 'H' am I supposed to know what trees you pick the apples off of?'. The husband said 'What the 'H' do you want lady? We're giving you your 'GD' money back!' She and her husband continued to reprimand me and swear at me until I asked for my money and started to leave. I then told her that she should try to be more polite to her paying customers and reminded her that there were several negative reviews on-line, some specifically about her attitude. She informed me that she didn't care about those reviews because they are only sites who wanted money out of her to hide the negative reviews and if she didn't pay they would showcase them. I said that while I didn't know if that was true, I was a live paying person that was right there giving her negative feedback because I was very dis-satisfied with the product and the way I was being treated and that I wouldn't be back again. They started yelling at me again to get out and as I walked to my car the man followed me outside yelling that I ought to grow my own 'GD' orchard if I didn't like theirs and see how my 'GD' apples turn out. I will never go back there as long as I live. "
(

Footnote from Blake

: I have never been in contact with Charlton Orchards, and certainly never asked for any money from them. There are few, if any, farms in America about which I receive so many negative comments.

Comments from a visitor on September 04, 2012: (negative) "This farm is not particularly well run and has a number of safety hazards if you are bringing children. The biggest safety hazard is their UN-LABELLED (i.e. NO signs anywhere) electric fence that resulted in a trip to the emergency room. The cows were the big draw that brought us to the farm, the unmarked electric fence will stop us from ever returning."
Comments from a visitor on August 08, 2012: (positive) "Had a great time. They just need to be a little clearer on how much each of their blueberry buckets weigh. Somehow there was a miscommunication. We thought 1 1/2 buckets was equal to 2 lbs., when they were weighed, we had 7.25 lbs! Not that I minded, just means a couple extra pies to hand out :) Also, the woman who tallies up your produce was a bit impatient with children in the store. Not that I blame her. When you have 4 little sets of hands rummaging through your baskets, fruit bruises easily. We plan on going back to Charlton Orchards for apples, raspberries and pears. They have a great place and great prices!"
Comments from a visitor on July 11, 2012: (positive) "I go to this farm every year blueberries and have always been very satisfied. The berries are always large and plentiful and in excellent condition. I buy 12 quarts at a time and go home and freeze them for the winter. Yes, the staff are no nonsense people, but they are farming people and expect customers to follow their rules, for safety and to protect their property. I am sure they have had too many people come to their farm and cause lots of damage because their children are bored with picking after 10 minutes. I have seen these poor children running through the bushes/trees, playing hide and seek, anything to amuse themselves all because their parents thought it would be"fun" to go pick fruit. This is not a place for young children or children who are not mature enough to pick berries/fruit for extended periods of time. If you want to amuse your children, go to one of the farms that are more like amusement parks. If you want to show your children what a REAL farm is like, go to Charlton Orchards and keep your children under control. Yes, I am from an extended line of farmers!"
Comments from a visitor on September 19, 2011: (negative) "We drove 100 miles last Friday, 9/16/2011 based on information listed at Charlton Farm website for PYO peaches [website says they were currently PYO peaches, so did voice message when telephoned]. When we finally got there, we found a dump of a place. Run-down buildings, [PICK YOUR OWN PEACH SEASON WAS OVER] but displayed in boxes at farmstand were rotting under-sized peaches at exhorbitant prices and a horrible road to even get to the place. The website is a FRAUD! Everyone should know this......do not go there....you will be EXTREMELY DISAPPOINTED!! Carol "
Comments from a visitor on September 04, 2011: (negative) "I looked up the orchards and was excited to try it. Thankfully I called to confirm what was available for picking today and was told everyone was welcome to pick apples but only adults were allowed in the blackberry and rasberry fields. Since we as a family wanted to get berries, we're going to Harvard to another orchard. I did comment on that not being a family friendly policy and was told quite snippily that they *are* family friendly but its quite an expensive crop and children aren't respectful so therefore can't pick. They can unload their expensive crop elsewhere as far as I am concerned!"
Comments from a visitor on July 07, 2011: (negative) "I live in Charlton. Two of my three children worked at this farm as young teens. The woman who owns and operates this farm is anything but pleasant. She provides a place for these tweens to find summer employment, yet expects them to have the work ethic of a thirty year old with a mortgage and a family. While I agree with the argument that kids today don't understand a hard days work earns a days pay - this woman is just out of control. Has been for years. The farm is not cared for at all, and the farm stand and winery are dirty. Fruit flies everywhere, etc. And her yelling at her help and her customers. The sad part is, there are so many people today trying to support the family owned business. Charlton Orchard is in a great location, and apparently does an Ok business, even with all the bad public relations. Imagine how well they could do!! Imagine how many people with the right demeanor and work ethic would give anything for the opportunity to have this piece of property and this farm. Shame on her."
Comments from a visitor on June 19, 2011: (positive) "Just got back from picking at Charlton Orchards with my wife and 4 year old daughter. We had a great time good strawberries and the people there were friendly to all of us. This is a working family farm, and not one of the u-pick entertainment desinations we've been to closer to Boston. (I personally don't like the idea of paying 5$ to step on the property, and then for what you pick on top of that.) That expection of an entertainment destination vs. a u-pick farm seems to be at the core of most of the negative reviews. We had a great time and I expect we will be back many times.""
Comments from a visitor on September 27, 2010: (negative) "I felt vindicated and validated reading all the negative reviews of this orchard because I have avoided going there for the past 5 years, ever since my 3 y/o was treated VERY BADLY by an older lady there who owns the orchard. He had picked-up a small, half-rotten apple off the ground and turned to give it to a goat (there were no signs posted not to feed the animals!), when she came up and started screaming at him, "Give that to me! Who the hell do you think you are!?" She then began ranting about "Damn people think they can do whatever they want..." I interrupted her to say excuse me, if there was a rule about not feeding the animals we're sorry but you don't need to speak to my toddler like that. She then started berating me and I have to say, at the time, I was going through chemo and visibly ill! She was heartless and rude and nasty. I would NEVER return to this orchard. There may be older folks who don't like having kids around (nice review about the snot-covered apples that lady posted. Wow.) but these business thrive on families' business. This place could care less if you spend your money there."
Comments from a visitor on September 04, 2010: (negative) "Proud father of 2 boys, 5 and 3. Living in Sturbrige I pass this orchard often. For some reason we usually end up stopping there and I never have a good experience. The counter help always make you feel like you are bothering them. We went looking to fill in about an hour of our day. We walked around and did not bother to play on the 1980's plastic toys, and then decided to go buy an apple or two. Well of course we "had" to buy a bag of apples. Why can't we buy 2? Save your time and look at other farms. "
Comments from a visitor on August 25, 2010: (positive) "I find it unbelievable how many negative comments this poor farm has!! I have been coming to this farm for years(with my kids!) and we have never had a bad experience. I'll admit, I have seen the owner upset at families, yet it is always because the group clearly cannot follow directions! The only rules on this farm are that you watch where you step in there fields, keep an eye on your kids, and pick in designated areas only. That doesn't sound so hard to me, but the amount of people who can screw that up is surprising. In regards to the woman who commented on the raspberries..get over it! I grow some bushes in my backyard and you'd be surprised how much money it costs to tend to them and how gentle you have to be around the bushes. Perhaps your kids are well behaved, but would you take the financial risk of allowing immature children to rip up fragile plants? No. Charlton Orchards is 100% child friendly and the only people who have something bad to say clearly cant follow instructions! If you want to go to a farm that allows you to roam freely, don't come here! This is a genuin working farm with tractors that run out in some parts of the orchard. The staff asks you to pick in certain areas for your safety. Don't count this farm out..it is beautiful and a great experience awaits you. "
Comments from a visitor on August 22, 2010: (negative) "I have to comment on the emails and reviews. Its funny but I happened to be in the shop at the moment this poor woman came in with her infant and toddler. I was also shocked they didn't offer to call it a wash. She had what amounted to a handful of berries and crying babies. The girl at the counter wasn't rude but she should certainly have gotten someone over her to help her. She was a young girl and following the picking rules. That said, CUSTOMER SERVICE is not within this farms abilities. The patch itself was in horrible conditions, the orchard run down. The girl in the mini store was not well trained. (I'd say she was polite but not knowledgeable. IF a farm wants to make a profit in this day and age EDUCATE Your Staff you need the community to want to come to you first.) I also thought at that time, why would a mom of an infant and a very small toddler think this was going to be a good idea? I'm a very experienced mom and to be fair, it wasn't a great choice and you most likely learned a Mom lesson. Hot days and infants aren't good for picking any fruits alone. Going alone without a spouse or friend might have been a second thought. I really felt for the mom and staff but had this been my employee I would have been sadden to know she didn't try to solve this issue by going to her supervisor. Point for customer here."
Comments from a visitor on June 24, 2010: (negative) "I had a really negative pick-your-own experience at Charlton Orchards this morning. I arrived alone with my 2 kids, age 1.5 and 3 months. I told the clerk we wanted to pick our own strawberries, she gave us a box, and we went to town. As you can imagine, picking fruit off the ground with a 3 month old baby strapped to your chest is somewhat challenging. My 1.5 year old was too young to help, and just toddled around saying Sabees! Sabees! But she was having a good time, which was really the whole point. After about 30 minutes or so my daughter was hot and cranky, so we gave up and went back to pay for our admittedly meager harvest. When we got back to the store, the clerk told us we hadn't picked the minimum amount, and she would have to charge us $5 for our three handfuls of fruit. I was completely taken aback, as she made no mention of a minimum required purchase when we first spoke with her, despite the fact that I mentioned to her that we probably weren't going to be able to pick all that much but we wanted to go out and try. There was a sign out in front of the store stating there was a minimum $5 purchase for groups of 4 adults, but I was one adult with two babies, one of which was strapped to me. I asked her if she could give me a break and she said no, "those are the rules and I don't make the rules." If I were alone I probably would have left emptyhanded, but since my toddler was so excited about her "Sabees" I ended up paying $5 for a pitifully small amount of fruit. I'm all for supporting local independent business and everything, but seriously, it was such a truly crappy customer service experience that I doubt I will ever go back. It truly is a shame because as a family we go out of our way to spend money at local businesses and eat as much local produce as possible. Oh well. We will still be doing that, just not at Charlton Orchards. "
Comments from a visitor on June 14, 2010: (negative) "I would like to comment to the fellow who thought that the gentleman at Charlton Orchard's was so rude. I have found this also to be my experience there. Also, they were very unwilling to support the local high school in a fundraising project. And so, even though I am a resident of Charlton and would like to support local business, I choose to go elsewhere for pick your own and to buy produce. And, by the way, I found a business in Sturbridge that was willing to help with the fundraiser. Shame on Charlton Orchards for not supporting your local kids. So why should I support you? Enough said."
Comments from a visitor on July 06, 2009: (negative) "the non gentleman that answered the telephone was soooo rude. i decided immediately to NEVER go this farm no matter how bad I want strawberries. Also stated $2.75 lb!!!! What!!!! incredibly expensive!!!!"
Comments from a visitor on July 04, 2009: (positive) "I've been going to Charlton Orchards for the past 10 years or so for blueberry and strawberry picking. I *like* that they are limiting on the children and rowdy school agers in the patches. The one thing I hate about some of the other farms, are all the toddlers and young children romping around, crushing berries, getting snot and spit covered hands on the berries, while the mothers (usually) are chatting with the other playgroup moms and not being right there with their kids. In general, Charlton Orchards doesn't have an issue with kids if there is 1 adult per child accompanying, and that the whole family (as a unit) looks and is acting responsible. Charlton is not a "playground farm" for sure -- lots of grown-up/older folk picking, and you can just enjoy the peace of the farm, and not have to listen to rowdy kids or crying cranky babies. That's honestly, quite nice and very welcome."
Comments from a visitor on July 01, 2009: (negative) "Hello, I definately agree with the other writers that this is NOT a child friendly orchard. The staff are borderline rude and obviously not very fond of children. We would not recommend this orchard, and we certainly would NEVER go there again. I have been to many other local orchards where the staff is warm and inviting, and talk kindly to our little ones."
Comments from a visitor on May 30, 2009: (positive) "My sons and I went blueberry picking last year at this farm and it was a pleasant experience. When we were leaving i commented on when raspberry picking would be coming. The woman at the farm had said soon. So, i turned to my boys that were 9 and 8 yrs old and said, "oh good we will have to come back at that time to go raspberry picking". The woman immmediately said "Oh no we dont allow children in the raspberry area to pick". So i asked why and she said that the bushes are very delicate and in the past children have crushed the bushes and stuff. It's not like my boys were babies - they are old enough to know the difference of what to do and not. But one family basically ruined it for the rest of us. since we have so many farms in our area..it wasnt a concern."
Comments from a visitor on October 12, 2008: (positive) "I visit Charlton Orchards often, and find it a pleasant, old-fashioned family-run place. Indeed it is not the playground/amusement type of farm... it's real a working farm and as such does not deserve a warning on your site."
Comments from a visitor on September 10, 2008: (negative) "This is in response to the request for information about Charlton Orchards not being child friendly. I have taken my three year old daughter to Charlton Orchards several times and she has loved it. They have a few farm animals that are interesting to her. There is a small play area that is not well maintained (it is filled with the small plastic play-sets meant for children under 6 some of which are falling apart), but it is not dangerous. The staff are not as friendly as the ones at other orchards, such as Honey Pot Hill, but they were not mean to my daughter."
---
Illustrated Canning, Freezing, Jam Instructions and Recipes
[ Easy Home Canning Directions] [FAQs - Answers to common questions and problems] [Recommended books about home canning, jam making, drying and preserving!] [Free canning publications to download and print]