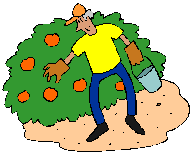 Looking for a local, pick-your-own farm in Augusta area of Georgia? Farms are open and safe! Scroll down this page and you will see the U-Pick farms in Augusta area of Georgia, sorted by county. Those that offer organic or sustainably grown produce are identified by the words "organic" and/or "sustainable" in Green, next to their name (see "What does Organic mean?"). The U-pick crops they offer follow the name of the farm. To search the page for a specific crop, use Ctrl-F (or on an ipad or Mac, use their "search on this page" function) If they have a website, the name will be in blue and underlined; click on it and it will open their website. If you find anything outdated or inaccurate, see the customer and farmer menus (as appropriate) at the top menu bar to submit updates and corrections and help me keep each current!
New! Pricing information - I am building a pricing guide to help you know what the typical prices are for each crop.
Remember to always check with the farm's own website or Facebook page before you go - or call or email them if they don't have a website or Facebook page. Conditions at the farms and crops can change literally overnight, so if you want to avoid a wasted trip out there - check with the farm directly before you go! And if you know of any farms I missed and want to add a farm, please let me know! I'm making updates for this year as fast as I can - if you find anything out-of-date, wrong or not working - please let me know! This website is supported by purchases you make through the links to products on Amazon. As an Amazon Associate I earn from qualifying purchases. This allows me to continue to maintain the website and make improvements!
What's in season in August 2020, and other timely information:
Notes for August 2020: Summer is almost here! Strawberry season is finished in all but the far northern ands cooler areas. Blueberries, blackberries are in season in most areas, also tomatoes, peaches and most vegetables . Check your area's copy calendar (see this page) and call your local farms for seasonal updates.
Now, more than ever, going to a farm, being outside, away from crowds, getting fresh, local produce, makes more sense than ever before! It's a fun, safe and educational to pick some fresh berries, fruit and veggies and more, then come back here to learn how to freeze, can, make jam, salsa and much more! Of course, check with the farm before you go, both to check on crop availability and hours. We also have a state-by-state guide to Farm COVID-19 requirements here.

See our comprehensive list of easy home canning, jam and jelly making, preserving, drying and freezing directions. You can access recipes and other resources from the drop down menus at the top of the page or the site search. If you have any questions or suggestions, feel free to write me! It is easy to make your own ice cream, even gelato, or low fat or low sugar ice cream - see this page. Also note, there are many copycat website listing U-pick farms now, using similar sounding names. They have all copied their information from here and usually do not ever update. Since 2002, I've been updating the information every day but Christmas; so if you see anything wrong or outdated, please write me!
Canners, both waterbath canners and pressure canners, are getting hard to find as people are doing more home canning than ever before. You can still get them online (see links at left) but prices are going up as the less expensive models are selling out. Food dehydration is becoming a popular and inexpensive alternative; see this page about drying your own fruits and vegetables and where to get a food dryer.
Children's Consignment Sales occur in both the Spring and Fall See our companion website to find a local community or church kid's consignment sale!
See these pages to find a local Strawberry Festival, or a Cherry or cherry blossom festival or a Blueberry festival. Some may still be held in 2020.
Augusta area of Georgia U-Pick Farms and Orchards in 2020, by county
Click on the resources drop-down above, if you need a county map. New: If you are looking for wineries in Georgia for a tour or tasting, see this page.
Burke County
Graystone Ranch Wildlife Education Center - UPDATE for 2018 permanently closed
1017 McManus Road, Hephzibah, GA 30815.
The Strawberry Patch - Strawberries
3095A Highway 25 North, Keysville, GA 30416. Phone: 706-554-6013
Columbia County
Glascock County
Hancock County
Jefferson County
Bugs Gourd Farm - gourds,
9845 Highway 88 East, Keysville, GA 30816. Phone: 706 547 2724. Alternate Phone: 706 547 3309. Email: petb3@bellsouth.net. Open: Monday to Friday, from 9 am to 5 pm Saturday 9 am to 2 pm Closed Sunday If for some reason you cannot make these times please call the farm and we can make arrangements for you to visit the farm. Click here for current open hours, days and dates. Directions: Farm is located 9 miles SouthEast of Wrens Georgia Approximately 25 miles South of Augusta Georgia. Payment: Cash, Check. We have many kinds, shapes and sizes of gourds. We also ship United States Parcel Service.
East Georgia Produce -

Uses natural growing practices

, corn (sweet), cucumbers, pumpkins, winter squash,
3446 Moxley Bartow Road, Bartow, GA 30413. Phone: 706-410-4570. Email: eastgeorgiaproduce@gmail.com. Open: UPDATE for 2019, Their website is gone; and their Facebook page hasn't been updated in years. Does anyone have current information, are they still offering pick your own or are even open? If so, please write me, their last reported hours were contact the farm for exact dates of availability, produce will be available weekly at the Sandersville and Louisville markets, as well as in Bartow. Directions: Click here for a map and directions. We use natural practices, but are not yet certified Organic. Payment: Cash, only. (UPDATED: September 26, 2019, JBS) (UPDATED: July 18, 2017, JBS)
Hickory Hill Vegetable Garden -

Minimizes chemical and pesticide use

, beans, broad beans, corn (sweet), cucumbers, melons, pears, peas, peppers, persimmons, summer squash, tomatoes, other vegetables,
1305 Roy Gay Rd, Matthews, GA 30818. Phone: 706-547-7390. Alternate Phone: 706-360-0948. Open: Our garden is just getting off the ground, we should have some beans ready in about six to eight weeks around the end of April first week of May Our hr's will be every day from 9am till dark; we are planting many varieties of vegetables; Mostly organic we use compost and Kricket Krap for our Gardens we will be using many different types of Flowers for pest control not chemical sprays; We should also have plenty of Tomatoes around the same time as the beans and peas; So come and see our Garden's just a few miles south of Augusta Ga; We are a small family with a big garden we just want to be able to supply some people with some fresh vegetables that aren't full of pesticides. Directions: We are off highway 1 at the Richmond Jefferson County line, just turn left onto Roy Gay Road (if southbound or right if northbound) just follow the double yellow lines, farm will be on the left about one-quarter to one-half mile. you will see a big White house on the left turn in drive just passed house. Click here for a map and directions. just call before you come and we'll let you know what we have that's ready to pick. We minimize use of pesticides and other chemicals. Payment: Cash, only.

KH Farms

-

UPDATE: July 14, 2017: The owner tells me they are now permanently closed


4559 Duhart Church Road, Stapleton, GA 30823. P.

Prescott Farm

- strawberries, (PYO and pre-picked)
2226 Gus Perdue Rd, Wrens, GA 30833. Phone: 706 547 3717. Email: prescottstrawberries@gmail.com. Open: Monday to Saturday 8 am to 8 pm April to June. Directions: From Wrens take highway 1 North 4 tenths mile past the intersection of highway 221, turn onto Farm Lane Road and follow the strawberry signs. Click here for a map and directions. Payment: Cash, only. Also, Strawberry Preserves, Strawberry Jelly, Strawberry Syrup, Strawberry Cider.
Sunny Day Farms - blackberries, blueberries, pumpkins, strawberries, Honey from hives on the farm, Fresh eggs, gift shop, concessions or refreshment stand, restrooms, picnic area, face painting, jumping pillow, ziplines, farm animals, birthday parties, school tours, group reservations
6353 Us highway 1 North, Louisville, GA 30434. Phone: (706) 360-5051. Email: sunnydayfarmsllc@gmail.com. Open: UPDATE for 2019: They are closed until the 2020 season;"We regret to announce that we will not be open for the 2019 Fall season. We will open in the Spring of 2020 for our strawberry season. We are now booking 2019 Spring field trip", next year, Monday - Saturday, from 9 am to 6 pm starting in mid - March with Strawberries, blueberries, blackberries and summer vegetable depending on the season; Our Fall store hours are Thursday, Friday and Saturday 9 am to 6 pm starting in August; Our corn maze and pm;kin patch begins late September to Early November on Saturday's from 9 am to 6 pm. Open: Click here for current open hours, days and dates. Picking updates: Click here for picking updates. Directions: Click here for a map and directions. Strawberries typically begin mid-March, Blueberries, blackberries start in June and all other produce will start May-July;. We use natural organic practices, and are subject to the NOP small quantity exemption. Payment: Cash, Debit cards, Visa/MasterCard, Discover, AmEx. (UPDATED: September 20, 2019, JBS) (ADDED: August 17, 2018)
Johnson County
Phillips Produce Farms - strawberries,
847 Calvary Church Road, Wrightsville, GA 31096. Phone: 478-697-6758. Email: tphillips775@gmail.com. Open: Pick your own strawberries Mid - April - late May Tuesdays and Thursdays 12 pm to 7 Saturdays 8 am to 7 Sundays 2 pm to 7 Call to be sure berries are not picked out especially on holidays and busy Saturdays. Directions: Click here for a map and directions. Strawberries: April 18 to late May. Payment: Cash, Check. (UPDATED: May 28, 2017, JBS) (ADDED: April 14, 2015)
Lincoln County
Double Branches Farm and Produce Market - Strawberries, Blackberries, Blueberries
4995 Double Branches Road, Lincolnton, GA 30817. Phone: (229) 392-1069. Email: visit@doublebranchesfarm.com. Open: The spring pick your own season for berries runs early April to early July, Be sure to see their OPEN HOURS page for more information. The farm features pick your own Strawberries, Blackberries, Blueberries and in season vegetables: yellow squash, zucchini squash, beans, sweet corn, peppers and tomatoes. Payment: cash and credit cards.
McDuffie County
Richmond County
Taliaferro County
Margaret's Grove Vineyard - muscadine grapes, Other fruit or veg, U-pick and already picked
2232 Jordan Place Road, Crawfordville, GA 30631. Phone: 706-456-2241. Alternate Phone: 706-318-1430. Email: vickeyrhodes@yahoo,com. Open: starting Saturday, September 3; Will be open Saturday, Sunday and Monday of Labor Day Weekend from 8 am to 6 pm; Following weekends we will be open Saturdays and Sundays only from 8 am to 6 pm; thru mid October (or until sold out). Directions: From Atlanta, take Interstate 20 East to Exit 148(Crawfordville). Go North on Highway 22 approximately one-half mile. Take the first paved road to the left (Bethany Church Road). Go west 3 miles until you reach the 4 way stop. Take a left on Margaret's Grove Road. After crossing Interstate 20, take the first dirt road to the right. The vineyard will be on your left. Click here for a map and directions. Payment: Cash, only. Scuppernong Grapes.
Warren County
Washington County
Manley Farms - blackberries, pears, pecans, muscadines, farm animals
1047 Jordan Mill Road, Sandersville, GA 31082. Phone: 478-552-7020. Email: myramwatkins@gmail.com. Open: Saturdays 9 am to 6 pm, Sundays 2 pm to 6 pm (appointment only). Payment: Cash, only. Muscadines available in late August and September. Directions: From Court House in Sandersville, drive towards Sparta GA highway 15. Turn right at red light onto by-pass. Drive about a mile. Turn right onto Jordan Mill Road When you pass an older home on right, turn into next drive way. Brick house in a pecan orchard. And for a map to our farm, click here. Crops are usually available in January, June, July, August, September, October, November, December. Here at Manley Farms we raise the Myotonic (fainting) goats, chickens, Great Pyrenees and horses. The farm began in 2004 with Boer goats and has grown to what it is today. From time to time, we have some of our animals and fresh farm eggs to sell. Our goats are CAE, Johnnes and CL tested and have consistently tested negative. Most of our breeding stock are registered with the Myotonic Goat Registry. For more information, contact us or come by for a visit. Click here for a link to our Facebook page.
Wilkes County
Post Oak Farms - blueberries,
5924 Lexington Road, Rayle, GA 30660. Phone: 706-274-3458. Fax: 706-274-3463. Email: postoak@postoakfarms.com. Directions: Retail site is on 5924 Lexington Road, Rayle, GA. Our U-pick blueberries are at Lexington Road (Highway 78) and Columbus Granade Road. Click here for a map and directions. Crops are usually available in July. Open: You pick from 7 am to 12 noon; We-pick berries are also available from 8 am to 5 pm. Payment: Cash, Check, Visa/MasterCard. (UPDATED: March 24, 2010, GAMB)
---
---