Pea Shellers - Photos, Features and Prices for English Pea Shelling Devices and Home Canning Supplies -
This month's notes: May 2020: Stored US apples are still available. See your state's crop availability calendar for more specific dates of upcoming crops.
Valentine's Day - February 14 - See this website for Valentines Day history, facts and top picks for fast, easy, inexpensive gifts for the man, woman or children in your life!
Easter will be April 16, 2017 - if you want to take your children to a free Easter egg hunt - see our companion website to find a local Easter Egg hunt!
And we have home canning, preserving, drying and freezing directions. You can access recipes and other resources from the drop down menus at the top of the page or the site search. If you have any questions or suggestions, feel free to write me! Also make your own ice cream; see How to make ice cream and ice cream making equipment and manuals. Have fun, eat healthier and better tasting, and save money by picking your own locally grown fruit and vegetables, and then using our easy directions
Please tell the farms you found them here - and ask them to update their information! As an Amazon Associate I earn from qualifying purchases.
Subscribe to our:
Email alerts
;
Follow us on Twitter
Add this page to your favorites!
-
Email this page to a friend, or to yourself
---
Pea Shellers
These devices have been around for generations; if your great grandparents lived on a farm, they may have used one very similar to these. The designs have been around for ages.mother may have used one very similar to this to speed preparation of green and yellow beans for canning.
Everything All can be shipped by a variety of methods, including overnight, if you have a canning emergency!
Note: In response to requests for canning products and books, I've added this page, and I've found a reliable shipper/supplier (Online stores) for the products here. I appreciate your business- buying the products here helps support the website!
If you are looking for bean slicers / frenchers, see this page!
Mr. Pea Sheller - Abour $26;
Features:
Shells a bushel of peas in about 30 minutes.
Upper shaft is adaptable to fit your hand mixer. Makes the job even faster.
Steel construction with tough nylon gears
Easy to clean
One year guarantee
I haven't tried this one yet. The reviiews online are polarized - people either seem ot love it or hate it.
This is a pretty sturdy almost commercial pea sheller. It has only two reviews online, but both are very positive. I did notice the photo shows green beans going in... and shelled peas coming out. I wouldn't worry about that I suspect the photographer simply didn't know what he was doing when he staged the photo.
See the seller's website for features, pricing and user reviews!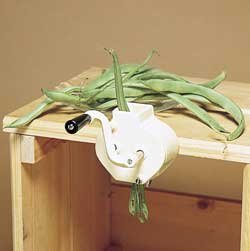 This one comes from Gurney's Seed, and is very similar; but in a white finish.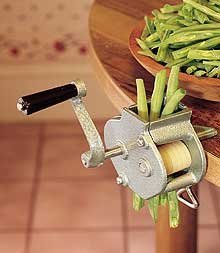 And here is one more, that is very similar to the first, just through a digfferent vendor!
---
This page was updated on
---
Picking Tips
[General picking tips and a guide to each fruit and vegetable] [How much do I need to pick? (Yields - how much raw makes how much cooked or frozen)] [Selecting the right varieties to pick] [All about apple varieties - which to pick and why!] [Picking tips for Vegetables] [ Strawberry picking tips] [ Blueberries picking tips]
Illustrated Canning, Freezing, Jam Instructions and Recipes
[ All About Home Canning, Freezing and Making Jams, Pickles, Sauces, etc. ] [FAQs - Answers to common questions and problems] [Recommended books about home canning, jam making, drying and preserving!] [Free canning publications to download and print]