Bean Frenchers, Green Bean Slicers - Photos, Features and Prices for Home Canning Supplies -
This month's notes: October 2016: Blueberries have a very brief season usually just 3 or 4 weeks (June in the South, July in the North and August in the far north). Similarly for peaches (July South or August in the North); so, don't miss them: See your state's crop availability calendar for more specific dates of upcoming crops. And see our guide to local fruit and vegetable festivals, such as tomato, corn, peach or blueberry festivals. Organic farms are identified in green! Also make your own ice cream - see How to make ice cream and ice cream making equipment and manuals. Have fun, eat healthier and better tasting, and save money by picking your own locally grown fruit and vegetables, and then using our easy canning and freezing directions
Organic farms
are identified in green! See our guide to local
fruit and vegetable festivals!
. Please tell the farms you found them here - and ask them to update their information!!
Subscribe to our:
Email alerts
;
Follow us on Twitter
Add this page to your favorites!
-
Email this page to a friend, or to yourself
---
Bean Frenchers and Green Bean Slicers
These devices have been around for decades; your great grandmother may have used one very similar to this to speed preparation of green and yellow beans for canning.
Everything All can be shipped by a variety of methods, including overnight, if you have a canning emergency!
Note: In response to requests for canning products and books, I've added this page, and I've found a reliable shipper/supplier (Amazon.com) for the products here. I appreciate your business- buying the products here helps support the website!
If you are looking for pea shellers, see this page.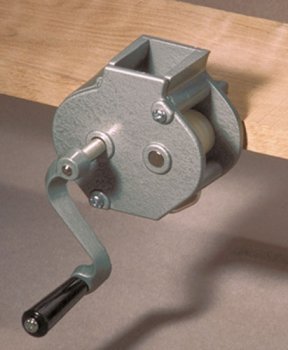 Features:
Cut down on tedious preparation time.
Easily slice fresh green beans in elegantly slender French-cut slices.
Simply feed beans into hopper while turning hand crank.
Clamp mounts onto edge of table (up to 1-1/4" thick).
Heavy-duty construction with stainless steel blades.
Here's an inexpensive design from Golda's Kitchen. It is the Norpro French bean slicer. This one is ok for making enough sliced beans for a meal, but would be pretty tedious if you were canning or freezing and substantial quantities .

Features:
Simultaneously slices and removes strings from string beans
Cross blade first tops and tails the beans
Spring-loaded funnel grasps bean firmly
Made of hard plastic, with stainless-steel blades
Hand wash in soapy water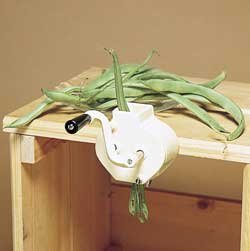 This one comes from Gurney's Seed, and is very similar; but in a white finish.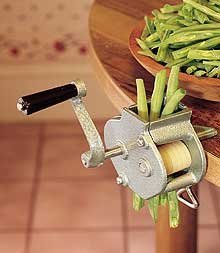 And here is one more, that is very similar to the first, just through a digfferent vendor!
---
This page was updated on
---
Picking Tips
[General picking tips and a guide to each fruit and vegetable] [How much do I need to pick? (Yields - how much raw makes how much cooked or frozen)] [Selecting the right varieties to pick] [All about apple varieties - which to pick and why!] [Picking tips for Vegetables] [ Strawberry picking tips] [ Blueberries picking tips]
Illustrated Canning, Freezing, Jam Instructions and Recipes
[ All About Home Canning, Freezing and Making Jams, Pickles, Sauces, etc. ] [FAQs - Answers to common questions and problems] [Recommended books about home canning, jam making, drying and preserving!] [Free canning publications to download and print]