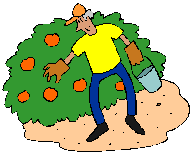 Looking for Web Site News and Changes in 2023? Scroll down this page and follow the links. And if you bring home some fruit or vegetables and want to can, freeze, make jam, salsa or pickles, see this page for simple, reliable, illustrated canning, freezing or preserving directions. There are plenty of other related resources, click on the resources dropdown above. If you are having a hard time finding canning lids, I've used these, and they're a great price & ship in 2 days.
If you have questions or feedback, please let me know! There are affiliate links on this page. Read our disclosure policy to learn more.
Web Site News and Changes
Web Site News
Coming soon

More canning directions and recipes: (how to can carrots) Tell us of any other recipes you want and we will add them!
Any suggestions you have, we are all ears! Use our Feedback form!
Distant past changes

March 2006 - We've started creating PDF print versions of the canning directions and recipes - this should result in nicer looking printouts that are easier to read and use less paper!
February 2006 - Added more directions: how to make grape, muscadine and scuppernong jelly, how to can cherries, make pickled beets and pickled beans.
August 2005 - We have started identifying farms that are certified as organic, or practicing organic. It looks like it will be slow work, as many farmers are slow to respond.
June 2005 - reorganised and updated the United Kingdom pages and listings
May 2005 - tightened the page code to reduce page sizes by 30%to reduce the time it takes pages to load.
January 2005 - Added directions about how to freeze corn.
November 2004 - Added orange marmalade directions
July 2004 - added spaghetti sauce, ketchup and salsa making instructions,
June 2004 - Added County maps for each state, added 212 more farms
May 2004 - Added South Africa. Added 323 new farms
March 2004 - Added local weather reports to each state page
February 2004 - Australia and New Zealand have been added!
January 2004 - Added New Mexico and Idaho. Hardly any pyo farms there!
November 2003 - I added Christmas tree farms
October 2003 - Site traffic has far exceeded even my expectations, so I found ways to make the pages slimmer and smaller so they will load faster in your browser and cost me less to host (this is free to site visitors, but I pay out of my own pocket to host this)
September 2003 - Content reached the 90% level - Information for approximately 40 U.S. states, Canada and the UK has been included. I'd guesstimate that we now covering 90% of the U.S. population within a 1 hr drive to a pyo farm. Beyond this , word-of-mouth and farms writing in is how we expect to add more. So if you know of anymore good pyo / u-pick farms
May 2003 - Web site was launched!

Remember to ALWAYS call the farm or orchard BEFORE you go - weather, heavy picking and business conditions can always affect their hours and crops!