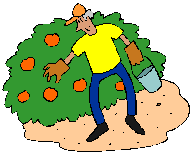 Apple And Pumpkin U-Pick Orchards in Southwest Colorado in 2023, by county
Below are the U-Pick orchards and farms for apples and pumpkins that we know of in this area. Not all areas of any state, nor even every state, have apples and pumpkins orchards that are open to the public. If you know of any others, please tell us using the add a farm form!
Remember to always check with the farm's own website or Facebook page before you go - or call or email them if they don't have a website or Facebook page. Conditions at the farms and crops can change literally overnight, so if you want to avoid a wasted trip out there - check with the farm directly before you go! If I cannot reach them, I DON'T GO!
PLEASE report closed farms, broken links and incorrect info using the "Report Corrections" form below.
Delta County
McClure Orchards - ORGANIC - ORGANIC, U-Pick apples, pumpkins, corn maze
4179 O Road, Paonia, CO 81428. Phone: 970-527-6241. Email: mccluresorchard@gmail.com. Open: Opportunities to pick your own apples are generally offered ONLY on Saturdays and Sundays during the fall months. Click here for a map and directions.
McClure Orchards - ORGANIC Facebook page. . Eggs, goats, goat milk, lamb and alfalfa hay. Certified Organic. McClure Orchards Facebook page. Apple picking season begins approximately mid-July and ends late October. We offer unique gifts for friends of all ages. Hard Cider & Wine Tastings available at the Cafe and Toll House during our hours of operation. They grow around seven thousand trees and approximately 150 varieties of apples. These numbers continue to increase as we plant new varieties and trees each spring. Once picked, our apples are sorted and stored in a large cooler until they are sold in our stores, squeezed into sweet cider or delivered to the kitchen for baking.The Pumpkin Patch is ONLY open on Saturdays & Sundays during the fall months.In 2020, they partnered with a local high school FFA member to offer their first Corn Maze. Presumably, they will do that again in 2021.
Orchard Valley Farms and Black Ridge Winery - ORGANIC, raspberries, pumpkins, apples, pears, peaches, blackberries, cherries, grapes, farm raised Beef, Weddings, Farm Market, Wine Tasting Room
15836 Black Bridge Road, Paonia, CO 81428. Phone: 970-527-6838. Email: kendal.butterfield@gmail.com. Open: 9 am to 6 pm, seven days a week, from Memorial Day to Halloween. Directions: . Click here for a map and directions.
Orchard Valley Farms and Black Ridge Winery Facebook page. . . We are open Map. We offer the finest organically grown apples, pears, peaches, cherries, blackberries, raspberries, grapes, and vegetables in season. Pick your own produce, wander the gardens and orchard, visit our market and wine tasting room. Then picnic along the beautiful Gunnison River. We also have a tempting variety of gourmet products and gifts - vinegars, oils, salsas, jams and jellies, syrups, butters, mustards, chutneys, and honey. Orchard Valley Farms and Market and Black Bridge Winery Facebook page. U-Pick produce - from raspberries in June to pumpkins in October: We sell fresh from the fields in our market. Want even fresher? Pick your own produce. Our fruit orchards, berry patches, vegetable gardens and pumpkin patch give visitors a true farm experience. In season, check our Facebook page or get our e-news to see what's ready for picking. We furnish U-pickers with a wagon to fill with produce (or kids!) and a map of the farm. Their wedding venue gives you access to a riverfront wedding and vineyard reception, complete with views of the West Elk Mountains, luscious green grass, duck pond, bountiful fruit trees, rustic bridge, and lovely farm scenery. Our unique location is available for your dream rehearsal, ceremony, and reception! Here you have the freedom to make your dreams come true for your special day! Contact us for dates and prices: Kendal at 530-205-5409, or Jessi at 970-640-4346, jmheinritz@live.com. Black Bridge Beef - Alongside our orchard and winery, we raise beef. Our cattle are raised with the upmost care and consideration. Enjoy our home-grown, farm-raised beef. Beef is locally raised and sourced here in the North Fork Valley. Complete your dinner tonight with beef! Frozen ground beef, steaks and roasts available. Farm market with Fresh and sustainably grown fruit and produce, plus local to global artisan crafted foods and gifts are available in our Paonia, Colorado farm market and online store. Black Bridge wines are crafted from our West Elks estate grown vineyards or from full-flavored fruit from our orchards. Taste the magic in a glass and discover your favorite wines! Our wines are made in limited quantities and sell out, so we encourage you to stock up when you visit or join our Wine Club for deliveries to your door.
Uncle Johnny's U-Pick Farm - Uses natural growing practices, apples, apricots, beans, beets, blackberries, cherries, cucumbers, currants (red and black), grapes, peaches, peppers, plums, pumpkins, raspberries (Autumn, red), summer squash, winter squash, strawberries, tomatoes, other vegetables, Cider mill fresh apple cider made on the premises, U-pick and already picked, picnic area, farm animals, weddings and wedding parties
18561 Surface Creek Road, Cedaredge, CO 81413. Phone: . Email: 22arniebclarke@gmail.com. Open: UPDATE for 2021, The now former owner says they sold the farm, and he expects the new owners will continue it as a U-Pick. Directions: from the stoplight in Cedaredge @main street and highway 65 turn east, travel 1 mile on east main to the rodeo grounds, turn north on surface creek road, go about 1-3/4 miles to 18561 surface creek road on the left hand side. . Click here for a map and directions. Payment: Cash, Check. Uncle Johnny's U-Pick Farm Email- . 7 days a week 8 amto8 pm (by appointment) during harvest season. We use natural practices, but are not seeking organic certification. Free range pork is grown on a pre-paid reserved basis by 1/4-1/2 or whole pig. Custom Processing, using your cutting and packaging instructions is extra and will be scheduled when pigs are at their prime.
Fremont County
Ferrara's Happy Apple Farm - Apples and Pumpkins
1190 1st Street, Penrose, CO . Phone: 719-372-6300. Email: atf@bresnan.net. Open: see their website for current hours. Directions: Located in Southern Colorado in the small town of Penrose. Click here for a map and directions. . . Southern Colorado's largest PYO! A family owned and run pick-your-own fruit farm . Please check our "Find Us" page for a map. Gooseberries ready early July. Main Season opens early August with blackberries, apples and pears. We will have Gooseberries ready in early July by appointment only. Our main season starts in August with the early apples like the Jonathan and Gala apples. Blackberries follow in mid August and than the sweeter apples like the Red and Golden Delicious in September. Raspberries and Pears should be ready by the end of August. Our final crop of pumpkins will start September 15th. They also have an annual Fall Festival one weekend in September. Pumpkin Patch Opens! Great food, B.B.Q., Turkey Legs, Hot Dog's, fresh pies and fresh pressed Apple Cider! Free hayrides to and from the pumpkin patch!...No admission!..Pet's Welcome! We offer free hayrides and there is no admission! On the weekends we serve our apple wood smoked brisket or pulled pork along with Turkey legs and hot dogs for the kids. We also serve Panini Sandwiches, Apple pie, Apple Cider Donuts and Blackberry cobbler along with other goodies in the Italian deli. In our Country Store we have a wonderful selection of Jams, Jellies, Marinades and great Apple Butter! We also roast Pueblo Chili's! Our fresh pressed Apple Cider should be ready by early September!! UPDATE for 2021: I don't see ANYTHING about them having Gooseberries, Blackberries, Raspberries, Pears to pick, on their website. AS of 2021 it ONLY says "apples" and the photos show pumpkins, so I assume they have discontinued the others (why else wouldn't they even mention them, right? If you hear otherwise, let me know! ,
Comments from a visitor on July 11, 2010: "Just visited to pick gooseberries today! Tony and Hope, the owners, are wonderful, kind people. Call ahead at least a week to give them time to get back to you. Gooseberry season is over early- to mid-July so pick early! We came from Denver and it's about 1 hour 45 minutes to their farm."
Jenkin's Farms and Western Skies Winery - apples, plums, pumpkins, U-pick and already picked, snacks and refreshment stand, winery, restrooms, picnic area, school tours
448 K St, Penrose, CO 81240. Phone: 719-372-6337. Email: applevalleyorchard@yahoo.com. Open: See our website for current hours. Directions: . Click here for a map and directions. Payment: Cash, Check, Debit cards, Visa, MasterCard, Discover.
Jenkin's Farms and Western Skies Winery Facebook page. . Picking updates: click here for picking updates. Opening date: late August. Facebook page. Specializing in Colorado apple wine.
Third Street Apples - apples, pumpkins, Honey from hives on the farm, Fresh eggs, U-pick and already picked, farm market, restrooms, picnic area
935 3rd Street, Penrose, CO 81240. Phone: 719-372-6283. Email: applelance@bresnan.net. Open: 9:30 to 5:00 Thursday - Monday Closed Tuesday and Wednesday Late August through Halloween. Directions: . Click here for a map and directions. Payment: Cash, Check, credit cards.
Third Street Apples Facebook page. . 28 miles south of Colorado Springs on Hwy. 115 to 3rd Street (watch for "Brush Hollow" sign), east on 3rd just past "I" Street. 25 miles west of Pueblo on Hwy 50 to "K" Street, north to 3rd, west 1 and 1/2 blocks on 3rd. Early apple varieties (McIntosh and Gala) starting Labor Day weekend, peak season for apples September 10 though mid October. 2012 prices: U-pick Apples any amount $1.39/lb. Penrose Apple Day will be on Saturday, October 6, 2012. This is a parade (at 10:30 am) and all day street fair in "downtown" Penrose on Broadway, with food and other vendors, free apple pie at noon. This event dates to 1935 when folks in Penrose held a softball tournament and residents baked apple pie for all the participants. 2020 prices were U-pick Apples any amount $1.99/lb, Honey from our bees, jams, jellies, syrup, soap (made by our neighbor), and other items as marked. Facebook page.
Apple picking tips:
Apples ripen from the outside of the tree towards the center, so the apples out the outside of the tree will ripen first. Once they are picked, they stop ripening. Picking apples directly from a tree is easy. Roll the apple upwards off the branch and give a little twist; don't pull straight away from the tree. If two apples are joined together at the top, both will come away at the same time. Don't shake the trees or branches. If the apple you are trying to pick drops, (or others on the tree) go ahead and pick it up. They're perfectly fine! But do wash them before you eat them! More info: How to tell when apples are ripe
Once picked, don't throw the apples into the baskets, place them in gently, or they will bruise and go bad more quickly.
Don't wash apples until just before using to prevent spoilage.
For an explanation of why apple slices turn brown and how to stop it, see this page!
Keep apples cool after picking to increase shelf life. A cool basement is ideal, but the fruit/vegetable drawer of a refrigerator will work, too. A refrigerator is fine for small quantities of apples. Boxed apples need to be kept in a cool, dark spot where they won't freeze. Freezing ruptures all of an apple's cells, turning it into one large bruise overnight. The usual solution is to store apples in a root cellar. But root cellars often have potatoes in them: apples and potatoes should never be stored in the same room because, as they age, potatoes release an otherwise ethylene gas, which makes apples spoil faster. If you can keep the gas away from your apples, they will keep just fine. Just don't store them right next to potatoes.
Prevent contact between apples stored for the winter by wrapping them individually in sheets of newspaper. The easiest way to do this is to unfold a section of newspaper all the way and tear it into quarters. Then stack the wrapped apples. See more here: How to store apples at home
Apples don't improve or "ripen" after being picked - this is an urban myth - see this page for the truth - with references!
Which apple variety is best?
There are tens of thousands of varieties of apples, developed over centuries. They vary in sugar, acoidity, flavors, storing, crispness and many other attributes. See our guides to apple varieties:
Canning apples - fully illustrated, with step-by-step instructions
Recipes, illustrated with step by step instructions
Using fresh apples and miscellaneous
Pumpkin recipes