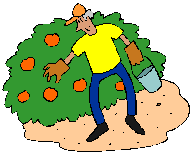 Hillcrest Orchards: PYO Apple Orchard, Pig Races, Cow Miliking, Hayrides and More in Ellijay, Georgia
Hillcrest Orchards
Great family entertainment for a low price and PYO apples!
Click here to return to the Main page for apple orchards in Ellijay.
(UPDATED: October 7, 2022)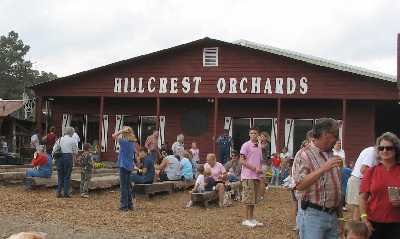 Hillcrest Orchards website
9696 Highway 52 East, Ellijay, GA 30540.
Phone: 706-273-3838. Alternate Phone: 706-273-9494. Fax: 706-273-3888. Email: applelan@ellijay.com.
Activities: pick-your-own apples on certain dates (see below) in September and October ONLY , wagon rides, prepicked produce, gift shop, snacks and refreshment stand, restrooms, picnic area, face painting, pony rides, petting zoo, farm animals, birthday parties, school tours, even try your hand at milking a cow
Open: PYO apples are available in September and October. U-PIC APPLES every day from September 2nd until they are all picked. Come early in the season for the best picking. U-Pick is not included in the farm activity admission price.
2023 HOURS: September & October- 9:00=6:00; November 9:00-5:00 See their website for updates due to weather conditions, availability, etc.
Two bag sizes are offered for u-pick- 1/2 peck and peck. Call for pricing.
Apple varieties: in the U-Pic Orchard:
Rome Beauty
Golden Delicious
Mutsu
Granny Smith
Goldrush
Arkansas Black
Yates
There are other varieties inside the market.
We have our jubilee see below every weekend in September and October
Directions: Exit onto Highway 52 East. Hillcrest Orchards is 9 miles east of Ellijay on Highway 52. Alternate route: Highway 400 North to Highway 53 toward Dawsonville, just past the Outlet Mall, go through Dawsonville, about 2 miles outside Dawsonville turn right onto Highway183, go about 10 miles, turn left onto Highway 52 West, Hillcrest if about 12 miles on left. Click here for a map and directions.
Produce: Apples, pies, doughnuts, ice cream, honey, crafts, bread, dried apples. Petting farm. PYO only during the Apple Pickin Jubilee festival - call for the current dates and times!
2021 prices: Admission includes entertainment ( wagon ride, music, pig races, cow milking) and PYO orchard (entry to the store to buy picked apples is free); Other fees for petting zoo and some other activities; ALWAYS click here for current pricing, dates and times..
September and October weekends, 9 am to 6 pm. You pick apples available on specified weekends only. Apple Pickin' Jubilee" begins early September and continues each Saturday and Sunday until the last weekend in October; Business hours are 9:00 until 6:00 daily. Payment: Cash, Debit cards, Visa, MasterCard. Festival activities include wagon rides, live entertainment such as Country Bands, Cloggers and Pig Races. You can milk a real live cow, ride pedal carts, visit the Moonshine Museum, Farmhouse Museum and Enchanted Forest Walk. We offer Pony Rides and Bull Rides. Lots of great food such as homemade fried apple pies, apple fritters, apple cider doughnuts, ice cream and fudge. Visit the grill for burgers, dogs, BBQ, and more. There are several tractors the kids can climb on. Great photo opportunities. Bluegrass bands and clogging groups perform each afternoon at the "Apple Pickin' Jubilee". Food is available outside in the food court or inside the ice cream parlor. Pick your fun at the annual "Apple Pickin' Jubilee" where you can pick your own apples, milk a cow, watch live pig races, visit the petting farm, take a wagon ride through the orchard, visit the Moonshine Museum and watch live bands and cloggers on the Hillcrest Stage. Visit our playground and ride our giant slide down the mountain. Come hungry because there's more food than you can hold. Visit our bakery and ice cream parlor for homemade fried apple pies, apple cider doughnuts, apple fritters, pizza, ice cream, fried oreos, funnel cakes and fudge. Wash it all down with some fresh cold apple cider. We will have the grill fired up outside in the festival area for hamburgers, hotdogs and barbecue and roasted corn. Be sure to try the chicken on a stick and grilled corn on the cob.
Review
Especially during their Apple Pickin' Jubilee weekends, is much more than an orchard or roadside stand, Hillcrest is an afternoon of family entertainment. Starting inside with the shop, you can watch north Georgia's famous fried apple pies being made and find all kinds of treats, like apple bread!
The pig races are always amazing, with their own race track and stadium!
And this is the only farm in Georgia where you can actually milk a real cow!
Then head outside to the stage area for a show, a petting zoo, a goat ramp and goat jump, playground, festivals, tours, hayrides, pig races,
milk a cow (even the children may try milking), often musical entertainment on their stage, haunted house and more.
Heck, it's worth the visit if only for the pig races! Everyone quickly gathers way they announce the next races! Place your bets and possibly win a prize, or lose your bacon! The new pig racing stadium has covered bleachers on both sides for a clear view and protection from sun or rain!
The folks are friendly, the apple trees are low and easy to pick from, and there is so much to do, this is my pick for the orchard to go to for a day of family fun and entertainment!
---
Apple Pickin' Jubilee at Hillcrest Orchards
.
Pick your own apples, wagon rides, playground, pig races, moonshine museum, en
tertainment, food, corn maze, petting farm and pony rides.
Hillcrest's Apple Varieties
Below is a listing of the apple varieties that they typically carry, in order that they typically start to be harvested in Ellijay. Be sure to call a couple weeks before they are due to start harvesting, as the actual date varies from year to year! Ellijay apple orchards usually have apples for sale from August to late December.
After a day at the orchard, the kids fall asleep as soon as they get in the car!
| | | | | |
| --- | --- | --- | --- | --- |
| Apple Variety | Photo | Usually start harvesting | Flavor | Best uses |
| Gala | | August 1 | Very sweet | Eating, applesauce, apple butter, pies |
| Ginger Gold | | Early | Sweet | Eating |
| Jonathon | | August 15 | Tart | Cooking |
| Red Delicious | | August 15 | Sweet | Eating, good to blend with other apples in applesauce and cooking |
| Golden Delicious | | August 15 | Sweet | Eating, good to blend with other apples in applesauce and cooking |
| Honey Crisp | | August 20 | Sweet, Crisp, Juicy | Eating, Applesauce, Apple Butter, Pies |
| Mutsu | | September 1 | Sweet / Tart | Cooking / Eating |
| Jonagold | | September 1 | Sweet / Tart | Cooking / Eating |
| Rome Beauty | | September 15 | Slightly Tart | Cooking / Eating |
| Stayman - Wine sap | | September 15 | Tart | Cooking / Eating |
| Fuji | | October 10 | Very sweet | Eating, applesauce, apple butter, pies, cooking |
| Granny Smith | | October 15 | Tart | Cooking / Eating |
| Yates | | October 20 | Sweet | Eating |
| Arkansas Black | | October 20 | Tart | Baking, Eating (very hard apple) |
| Pink Lady | | October 20 | Sweet | Eating |
Also, see our pages on tips for picking apples at a farm, easy illustrated directions to make applesauce, apple butter, apple jelly and apple pie; the guide to apple festivals and our guide to apple varieties! NEW! Please write me, if you know of any to add!
Feedback from visitors
Comment from Blake: I've been to this farm many times, including 2 weeks before the commenter above and again on October 16th. Yes, the mannequin displays are rustic, but my kids (2 and 5) really liked them. And yes, Ellijay is in the north Georgia mountains, so if you are looking for Disneyland-quality animatronics, you will be disappointed. Heck, you're going there to pick some apples, ride a wagon, listen to folk music, and watch pig races. Where else can you and your children actually milk a cow and hold a baby chick? This isn't an evening at the opera in Vienna. The displays are whimsical and comical in their simplicity, so the kids have fun. It can get crowded on some weekends, but that's more of a testament to the popularity of the place.