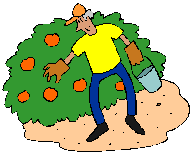 Looking for Canning Without Sugar in 2021? Scroll down this page and follow the links. And if you bring home some fruit or vegetables and want to can, freeze, make jam, salsa or pickles, see this page for simple, reliable, illustrated canning, freezing or preserving directions. There are plenty of other related resources, click on the resources dropdown above.
If you have questions or feedback, please let me know! There are affiliate links on this page. Read our disclosure policy to learn more.
Canning Without Sugar
Hone Canning Without Sugar
Most of the recipes Americans and Europeans have used to preserve at home , from making jam, pickles and canning fruit, often include a large amount of sugar. There are many reasons to want to reduce or eliminate the sugar, from diabetes, weight gain to seeking a natural diet. Here's how to can safely with less or no added sugar.
All fruits can safely be canned or frozen without sugar.
Sweet relish and pickle recipes do not adapt as well to sugar-free canning as do plain fruits.
Use recipes from reliable sources. Process all pickles by the boiling-water method using timetables adjusted for altitude.
Sugar is not essential for preventing spoilage in canned fruits, except for jams and jellies, and that can be overcome with the use of no-sugar pectin recipes and added lemon juice.
Jams and jellies can be made without added sugar but will resemble more of a fruited gelatin desert than a true jam or jelly.
Salt is not necessary for safe processing of canned or frozen fruits and vegetables. It is necessary for the preservation of most pickles and cured or smoked foods.
People who need to restrict their intake of sugar or salt often wonder if it is safe to preserve foods without these ingredients. Most often, the answer is yes.
What to know about sugar in canning
Sugar is rarely used in any appreciable amounts in canning vegetables, so we will focus on canning fruits.
General tips
While it is safe to can fruit without added sugar, the quality of the product may be compromised. Sugar helps fruits keep their bright color and firm texture. It is not needed to prevent spoilage.

When canning without sugar, use high quality fruit.
Overripe fruit will soften excessively.
Take special care to follow steps that prevent darkening of light-colored fruit.

Several treatments may be used to prevent or retard darkening. One is to coat the fruit as it is cut with a solution of 1 teaspoon (3 g) crystalline ascorbic acid or 3,000 mg crushed vitamin C tablets per cup of water. Another is to drop the cut pieces in a solution of water and ascorbic acid, citric acid or lemon juice. Use 1 teaspoon (3,000 mg) ascorbic acid, 1 teaspoon citric acid or 3/4 cup lemon juice to 1 gallon water.

An ascorbic acid/water solution serves as a desirable anti-darkening treatment, adds nutritive value in the form of vitamin C, and does not change the flavor of the fruit as lemon juice may do. Ascorbic acid is available in crystalline or tablet form in drug stores and supermarkets. Ascorbic acid mixtures, such as ascorbic acid combined with sugar or with citric acid and sugar, also are available. For these, follow the manufacturer's directions. In such mixtures, ascorbic acid usually is the important active ingredient. Because of its dilution with other materials, these forms may be more expensive than pure ascorbic acid.

If ascorbic acid products are not used in the pretreatment of cut fruit, they may be added to the canning juices or liquids before processing. This will help keep the fruit from darkening during storage. Use 1/4 to 1/2 teaspoon crystalline ascorbic acid or 750 to 1,500 mg crushed vitamin C tablets per quart of fruit. Commercial ascorbic and citric acid mixtures such as "Fruit Fresh" or "ACM" also may be used according to manufacturer's directions.
Specific guidelines
Reducing sugar

If you desire less sweetness or reduced calories, try using lighter syrup. Just reduce the amount of sugar in relation to the water. You may need to experiment to determine how much sugar you can eliminate and still find the product acceptable.

Natural sugar substitutes

Another alternative is to can the fruit in frozen or bottled unsweetened juice. Reconstituted frozen apple juice concentrate works well with peaches, pears, apricots, plums, and red or white sweet cherries. It can be diluted with extra water to reduce the apple flavor and reduce calories further. Frozen pineapple juice works well with pears or peaches. Frozen pineapple juice gives a fresher flavor than canned pineapple juice. White grape juice works well with pears, peaches, or apricots; and red grape juice compliments plums and red cherries. When canning peaches or pears in fruit juice, a stick of cinnamon can be added to each jar for added flavor.

Mild flavored honey can be used in canning syrups, but honey has more calories per tablespoon than sugar. Honey does taste sweeter than an equal amount of sugar. Honey or light-colored corn syrup may be substituted for up to half the sugar called for in a canning syrup recipe. However, these products do not reduce the calorie or carbohydrate content of the sugar syrup, and thus are not acceptable sugar replacements for people on diabetic diets. See this page for more detailed information about using honey as a substitute.

Eliminating sugars

For those on special diets that must avoid all added sugar, fruit can be canned in water without any added sugar. However, you may find the fruit is less firm than you are accustomed to. When canning fruit without sugar, use the hot pack method; i.e. cook the fruit in water until hot throughout before packing the hot fruit into hot jars and then add boiling water to cover, seal and process. Substituting plain water for the sugar syrup reduces the calorie content of canned fruit by approximately 205, 280 or 375 calories per pint, assuming 2/3 cup of thin, medium or thick syrup, respectively, is replaced with water.

Most artificial sweeteners should be added when the canned goods are served rather than using them in canning. Heat applied during processing may cause the loss of sweetening power or cause an unpleasant after taste or flavor change.

Sucralose (Stevia (in a prepared form like Truvia, it measures same as sugar; if you use another form, you'll need do your own conversion) - or Splenda, if you prefer, Ⓡ) is an exception and can be used in canning fruit. Sucralose will maintain its sweetness but will not promote the firmness of the fruit any better than canning in water.