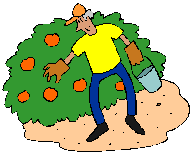 Looking for Apple Associations and Apple Websites in 2023? Scroll down this page and follow the links. And if you bring home some fruit or vegetables and want to can, freeze, make jam, salsa or pickles, see this page for simple, reliable, illustrated canning, freezing or preserving directions. There are plenty of other related resources, click on the resources dropdown above. If you are having a hard time finding canning lids, I've used these, and they're a great price & ship in 2 days.
If you have questions or feedback, please let me know! There are affiliate links on this page. Read our disclosure policy to learn more.
Apple Associations and Apple Websites
Apple Associations and Apple Websites
Also see the apple facts page and the guide to all apple varieties. Apples don't grow (commercially) in all states. They need cold in the winter, and while there are a few varieties that can tolerate year round warmth, most won't produce fruit without 800+ hours of weather below 40 F. Hence... there are no apple grower's associations in warm climate states like Florida, Louisiana and Hawaii...