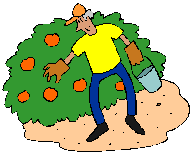 Apple U-Pick Orchards in Central Washington State in 2023, by county
Below are the U-Pick orchards and farms for apples that we know of in this area. Not all areas of any state, nor even every state, have apples orchards that are open to the public. If you know of any others, please tell us using the add a farm form!
Remember to always check with the farm's own website or Facebook page before you go - or call or email them if they don't have a website or Facebook page. Conditions at the farms and crops can change literally overnight, so if you want to avoid a wasted trip out there - check with the farm directly before you go! If I cannot reach them, I DON'T GO!
PLEASE report closed farms, broken links and incorrect info using the "Report Corrections" form below.
Benton County
Ray French Orchard - apples, cherries, peaches, Other fruit or veg, U-pick and already picked
955 Harvest Lane Pr. Ne., Richland, WA 99352. Phone: 509-627-3673. Email: rfrenchorchard@live.com. Open: Starting in June, Monday to Saturday, from 9 am to 6 pm; Closed Sundays. Directions: from Prosser, WA, Merge onto I-82 towards Richland, Take the Dallas Road exit (104), Turn left onto N. Dallas Rd., Turn Right onto Arena Rd., Turn Right onto Kennedy Rd., Turn Right onto N. Harvest lane . Payment: Cash, Check. . Click here for a map and directions. Payment: Cash, Check. . . Please bring your own boxes.
Yakima County
Bill's Berry Farm

- 2023 permanently closed

ORGANIC

, apples, blueberries, cherries, flowers, pumpkins, Other fruit or veg, U-pick and already picked, concessions or refreshment stand, restrooms, picnic area, pony rides, petting zoo, birthday parties, school tours
3674 N. County Line Road, Grandview, WA 98930. Open: UPDATE for 2023: They are permanently closed, according to Google
Krueger Pepper Gardens - ORGANIC, apples, beans, cucumbers, eggplant, grapes, peppers, summer squash, tomatoes, snacks and refreshment stand, restrooms, picnic area
462 Knight Lane, Wapato, WA 98951. Phone: 509-877-3677. Email: kruegerpeppergardens@gmail.com. Open: August 1st to October 15 (Or First Frost, usually 2nd weekend in October). Directions: . Click here for a map and directions. Payment: Cash, Check, WIC Vouchers, SFMNP Vouchers. . Alternate Phone: 509-728-0372. . . Picking updates: Click here for picking updates. We are certified organic for some crops. We offer an incredible variety of certified organic fruits and vegetables including over 100 varieties of hot and sweet peppers (Ghost pepper and other specialty extra hots), 15+ varieties of tomatoes (including heirloom) , 10+ varieties of melons/watermelon, 10+ varieties of winter squash, eggplant, green beans, juice grapes (Concord and Early Campbell), onions, garlic (we will not have our own garlic for the 2017 season)and much more. We also provide conventional onions, apples, potatoes, pears, peaches and nectarines throughout the season (call for availability).So if you are looking for a great family outing, great produce and fresh air, head out to the farm where we work hard to meet all of your fresh produce needs.
Comments from a visitor on May 09, 2011: "I went there for tomatoes for the first time last year. What a nice treat! The quality of their produce is excellent and they are such nice people! I bought peppers too and the owner spent some time helping me get the right peppers for me. I'm going again this year too."
McIlrath Family Farms - strawberries, cherries, peaches, plums, pluots, nectarines, pears, apples, Christmas trees
10 Old Naches Hwy, Yakima, WA 98908. Phone: (509) 480-2676. Email: info@mcilrathfarms.com. Open: Call or see their website or facebook page for hours. Directions: We are located at the stoplight at the intersection of Old Naches Highway and Highway 12. As you are traveling west on Highway 12, look for the intersection with Old Naches Highway and Old Powerhouse Road. We are the large white tent and greenhouse on the north side of Highway 12. . Click here for a map and directions.
McIlrath Family Farms Facebook page. . Typical harvest dates are: Strawberries in May and June, Cherry harvest: Estimated to be July, Peach / Pluot / Plum / Nectarine harvest: Estimated to be late July-Early August. Pear harvest: August. Apples: Late September through October. Christmas Trees: Fresh cut trees with free pictures with Santa on the weekends. (ADDED: June 27, 2018, JBS)
Thompson's Farm - apples, cherries, peaches, pumpkins, gift shop, restrooms, picnic area, farm animals, school tours, events at your location (call for info)
9535 Old Naches Highway, Naches, WA 98937. Phone: 509 949 2455. Email: tomfarm@wolfenet.com. Open: see our website for current information. Directions: Located on Highway 12 and is 12 miles west of Yakima, Washington. Click here for a map and directions. Payment: Cash, Visa, MasterCard. . Naches is . To get to the farm while traveling west turn right onto Schafer street. This is between a fruitstand, not ours, and a chevron station. Drive about two blocks and you will be at the farm. We are located on the northeast corner of Naches. Thompsons farm market is on Highway 12. When you get to Naches travel past Schafer and we are located on the south side of the highway across from Slims Market. In early June we will have asparagus at the market from the lower Yakima valley and mid June will begin bing cherries from the lower Yakima Valley; We will have our own cherries including u pick starting with bings and then rainiers in late June; We bring produce up from the lower valley all season such as beans, corn and whatever is looking good that day; Apricots will begin around late June; We will also bring Walla Walla onions in during June; In July we will continue with apricots and cherries and will have some peaches from the lower Yakima valley; We have a very large farm garden and supply the market with ripe heirloom tomatoes, summer squash, peppers, and cucumbers; In August we will start to harvest peaches, we have delp hale in mid August then suncrest and white peaches; We will have some pears at the end of August; In early September we have elberta and then in mid September we have ohenry; Mid September also has gala apples followed by golden delicious, red delicious and a few variety apples that continue into October; In October we are harvesting pumpkins; You May check the website for updates during the summer. Cherry Harvest at the Family Farm Late June through mid July.Peach Harvest at the Family Farm Mid August through mid September. (large variety of peaches with wagon rides to the trees on the weekends).Pumpkin Patch at the Family Farm every weekend in October with famous pumpkin cannon, hayrides, farm animals, u-pick and u-select apples, cornstalks, squash and gourds.
Comments from a visitor on April 18, 2010: "The farm is fantastic, friendly people, easy to find the produce"
West Valley U-Pick - Uses natural growing practices, apples, blueberries, pears, pumpkins, raspberries, and prepicked produce, restrooms
11901 Zier Road, Yakima, WA 98908. Phone: 509-945-5406. Email: yakimaberries@gmail.com. Open: Monday to Friday, 8 am to 7 pm, Saturday 8 am to 7 pm, and Sunday, 12 pm to 5 pm. Directions: We are located in the beautiful West Valley area of Yakima, WA. . Click here for a map and directions. Payment: Cash, Check.
West Valley U-Pick Facebook page. . Blueberries and Raspberries July, August and the first two weeks of September Pears Bartlett and Anjou August through early September Apples Gala and Red and Golden Delicious September through October Pumpkins October Garden veggies all summer. We use natural practices, but are not yet certified Organic. We have an area to park your motorhome and large field for camping, a hose for water, and a primitive bathroom, for those who would like to spend the night. Please call for availability. Crops are usually available in July, August, September, October. Raspberry Picking June 30 to July; Blueberry picking mid-July to October; Pears Bartlett Late August early September; Apples Gala and Red and Golden Delicious September through October. Pumpkins October. We use natural practices, but are not yet certified Organic. You may e-mail us for my phone number, current crops, and picking times. We look forward to seeing you on our farm. We Have Raspberries, Blueberries, Apples, Pears, Peaches, Apricots, Plums, Pluots and Other Fruits and Veggies. Typical dates: Blueberries.... July 15th - Oct 15th...Apples and Pears Through Oct 30th . Formerly called All Natural U Pick and Scenic Acres Orchard (UPDATED: June 27, 2018, JBS)
Apple Picking Tips, Recipes and Information
Apples ripen from the outside of the tree towards the center, so the apples out the outside of the tree will ripen first. Once they are picked, they stop ripening. Picking apples directly from a tree is easy. Roll the apple upwards off the branch and give a little twist; don't pull straight away from the tree. If two apples are joined together at the top, both will come away at the same time. Don't shake the trees or branches. If the apple you are trying to pick drops, (or others on the tree) go ahead and pick it up. They're perfectly fine! But do wash them before you eat them! More info: How to tell when apples are ripe
Once picked, don't throw the apples into the baskets, place them in gently, or they will bruise and go bad more quickly.
Don't wash apples until just before using to prevent spoilage.
For an explanation of why apple slices turn brown and how to stop it, see this page!
Keep apples cool after picking to increase shelf life. A cool basement is ideal, but the fruit/vegetable drawer of a refrigerator will work, too. A refrigerator is fine for small quantities of apples. Boxed apples need to be kept in a cool, dark spot where they won't freeze. Freezing ruptures all of an apple's cells, turning it into one large bruise overnight. The usual solution is to store apples in a root cellar. But root cellars often have potatoes in them: apples and potatoes should never be stored in the same room because, as they age, potatoes release an otherwise ethylene gas, which makes apples spoil faster. If you can keep the gas away from your apples, they will keep just fine. Just don't store them right next to potatoes.
Prevent contact between apples stored for the winter by wrapping them individually in sheets of newspaper. The easiest way to do this is to unfold a section of newspaper all the way and tear it into quarters. Then stack the wrapped apples . See more here: How to store apples at home
Apples don't improve or "ripen" after being picked - this is an urban myth - see this page for the truth - with references!
Which apple variety is best?
There are tens of thousands of varieties of apples, developed over centuries. They vary in sugar, acoidity, flavors, storing, crispness and many other attributes. See our guides to apple varieties:
Canning apples - fully illustrated, with step-by-step instructions
Recipes, illustrated with step by step instructions
Using fresh apples and miscellaneous