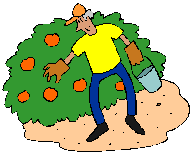 Apple U-Pick Orchards in Western Nevada in 2022, by county
Below are the U-Pick orchards and farms for apples that we know of in this area. Not all areas of any state, nor even every state, have apples orchards that are open to the public. If you know of any others, please tell us using the add a farm form!
Churchill County
Mackie Farms - apples, apricots, peaches, and prepicked produce, school tours
577 Mason Road, Hazen, NV 89408. Phone: 775-830-1854. Email:

[email protected]

. Open: By appointment only. Directions: We are located between Fernley and Fallon, Nevada. . Click here for a map and directions. Payment: Cash, only. . . Crops are usually available in July, August, September. We are a pesticide free facility.
Douglas County
Plant It Nursery - apples, asparagus, beans, beets, blackberries, broccoli, carrots, corn (sweet), cucumbers, eggplant, flowers, herbs or spices, lavender, melons, onions, rhubarb, summer squash, tomatoes, Fresh eggs, U-pick and already picked, gift shop, restrooms, picnic area, school tours
1346 Centerville Lane, Gardnerville, NV 89410. Phone: 775-781-1918. Email:

[email protected]

. Open: We are a Retail Nursery open to the public Wednesday thru Saturday 9 am to 5, Sunday 10 am to 4:30 and Monday 9 am to 5, CLOSED Tuesday; Please call for off season hours November thru February. Directions: Hwy. 395 to Gilamn, turn West for 1/2 Mile, we are on your West side, 1346 Centerville (Gilman) across from Street Gall Catholic Church (BIG Brick Church). . Click here for a map and directions. Payment: Cash, Check, Debit cards, Visa, MasterCard, Discover, AmEx.
Plant It Nursery Facebook page. .
Washoe County
Agape Organics / The Apple Basket - Certified Organic , apples
7425 Franktown Rd, Washoe Valley, NV . Phone: 775-885-1988. Email:

[email protected]

. Open: 8-5 on Saturdays til the end of October. Click here for a map and directions. . Organic dwarf apple trees. Come on out to the Apple Basket to pick your own fresh, crisp, delicious organic apples. It's an adventure the entire family can enjoy. We have four varieties to choose from: Braeburn, Gala, Cameo and Golden Delicious. We also have fresh hand-picked baskets ready for you to take and enjoy. Hurry these delicious apples are only $.50 per pound (unknown date of price - call to verify!). CALL FOR TIMES AND DIRECTIONS.
Apple picking tips:
Apples ripen from the outside of the tree towards the center, so the apples out the outside of the tree will ripen first. Once they are picked, they stop ripening. Picking apples directly from a tree is easy. Roll the apple upwards off the branch and give a little twist; don't pull straight away from the tree. If two apples are joined together at the top, both will come away at the same time. Don't shake the trees or branches. If the apple you are trying to pick drops, (or others on the tree) go ahead and pick it up. They're perfectly fine! But do wash them before you eat them! More info: How to tell when apples are ripe
Once picked, don't throw the apples into the baskets, place them in gently, or they will bruise and go bad more quickly.
Don't wash apples until just before using to prevent spoilage.
For an explanation of why apple slices turn brown and how to stop it, see this page!
Keep apples cool after picking to increase shelf life. A cool basement is ideal, but the fruit/vegetable drawer of a refrigerator will work, too. A refrigerator is fine for small quantities of apples. Boxed apples need to be kept in a cool, dark spot where they won't freeze. Freezing ruptures all of an apple's cells, turning it into one large bruise overnight. The usual solution is to store apples in a root cellar. But root cellars often have potatoes in them: apples and potatoes should never be stored in the same room because, as they age, potatoes release an otherwise ethylene gas, which makes apples spoil faster. If you can keep the gas away from your apples, they will keep just fine. Just don't store them right next to potatoes.
Prevent contact between apples stored for the winter by wrapping them individually in sheets of newspaper. The easiest way to do this is to unfold a section of newspaper all the way and tear it into quarters. Then stack the wrapped apples . See more here: How to store apples at home
Apples don't improve or "ripen" after being picked - this is an urban myth - see this page for the truth - with references!
Which apple variety is best?
There are tens of thousands of varieties of apples, developed over centuries. They vary in sugar, acoidity, flavors, storing, crispness and many other attributes. See our guides to apple varieties:
Canning apples - fully illustrated, with step-by-step instructions
Recipes, illustrated with step by step instructions
Using fresh apples and miscellaneous