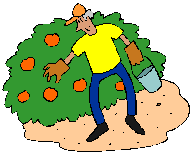 Apple U-Pick Orchards in Far Western North Carolina in 2023, by county
Below are the U-Pick orchards and farms for apples that we know of in this area. Not all areas of any state, nor even every state, have apples orchards that are open to the public. If you know of any others, please tell us using the add a farm form!
Remember to always check with the farm's own website or Facebook page before you go - or call or email them if they don't have a website or Facebook page. Conditions at the farms and crops can change literally overnight, so if you want to avoid a wasted trip out there - check with the farm directly before you go! If I cannot reach them, I DON'T GO!
PLEASE report closed farms, broken links and incorrect info using the "Report Corrections" form below.
Buncombe County
Long Branch Environmental Education Center - apples, blackberries, blueberries, chestnuts, other berries, pears, raspberries (red), raspberries (Spring, red), raspberries (Autumn, red), walnuts, Other fruit or veg, Honey from hives on the farm, Cider mill fresh apple cider made on the premises, restrooms, picnic area, birthday parties, school tours
278 Boyd Cove Road, Leicester, NC 28738. Phone: (828)-683-3662. Email: paul@longbrancheec.org. Open: Monday to Sunday, from 8 am to 7 pm; Please call or email to make appointments for picking. Directions: . Click here for a map and directions. Payment: Cash, Check.
Long Branch Environmental Education Center Facebook page. . Also wineberries.

Riverview Orchard

- Apples
793 Glenn Bridge Road, Arden, NC 28704. Phone: 828-687-1936. Click here for a map and directions. .
Graham County
Stoney Hollow Farm - Uses natural growing practices, apples, blackberries, blueberries, cherries, corn (sweet), flowers, grapes, melons, other berries, pears, peaches, peppers, persimmons, plums, pumpkins, raspberries, summer squash, winter squash, tomatoes, other vegetables, prepicked produce, farm market, gift shop, restrooms
941 Ollies Creek Road, Robbinsville, NC 28771. Phone: 828-735-2983. Email: stoneyhollowfarm@outlook.com. Open: 5 days a week, 8 am to 6 pm; Closed Wednesdays and Saturdays. Directions: From the center of Robbinsville (Hwy. 129/Hwy. 143) go North on highway 129 3 miles. Just before the Ted Jordan Bridge, turn right on E. Buffalo Circle. Go 1 mile and turn right on E. Buffalo Road Go .3 mile and turn left on Ollies Creek Road Go .9 mile and you will see the farm on the left. Parking, farm map, and picking buckets are available in the barn at the top of the hill. . Click here for a map and directions. Payment: Cash, Check.
Stoney Hollow Farm Facebook page. . . Crops are usually available in April through November. Jams and baked goods featuring products from the farm are available. Be sure to visit our website and sign up to receive a free e-letter with updates during the peak season. We use natural practices, but are not certified Organic. (UPDATED: June 11, 2014, from their Facebook page)
Haywood County
Yates Roadside Stand

- Apples
1460 Pigeon Road, Waynesville, NC 28786. Phone: (828) 452-0557. Open: 10 am to 5 pm. Directions: From Asheville take I-40 West, 20 miles; 19S/23S/74W 1.3 miles; 276S to Exit 102, 3.1 miles (through downtown) on right. . Click here for a map and directions. . Phone: (828) 456-3775 pick-your-own.
Henderson County
McDowell County
The Orchard At Altapass - Uses integrated pest management practices, apples, U-pick and already picked, gift shop, concessions \\/ refreshment stand, restrooms, picnic area, school tours
1025 Orchard Rd, Spruce Pine, NC 28777. Phone: 828-765-9531. Email: information@altapassorchard.org. Open: Pick your own available subject to apples being ready, generally beginning in August and extending thru October. Directions: We are located at mile marker 328 on the Blue Ridge Parkway approximately 3 miles north from the highway 226 / Blue Ridge Parkway intersection near Spruce Pine NC. GPS address: 1025 Orchard Road Spruce Pine NC. Apples are available for purchase or Pick Your Own, from August thru October. We use integrated pest management practices. Payment: Cash, Check, Debit cards, Visa, MasterCard. . Click here for a map and directions. Payment: Cash, Check, Debit cards, Visa, MasterCard.
The Orchard At Altapass Facebook page. . . We also offer free live music Wednesday thru Friday from 1:30PM to 3 Pm and on Saturdays and Sundays from 1 Pm to 4:00. We have story telling tractor pulled hayrides on weekends. In fall please call for reservations on hayrides. Also: Music, Food Treats, Handmade Crafts & Demonstrations, Jams, Apple Butter, Cider, Honey, Fudge, and Ice Cream. Herb & Butterfly Gardens. Storytelling Hayrides. Historic Plays. Tour Packages. IN SEASON, apples are available at the store or for U-Pick (a favorite for the kids). Just purchase a bag at the store and you're on your way. (We supply picking poles so you can reach the ones in the higher branches.) The available apple trees are marked. Take a walk on the trails, find a tree or two, and please, give them a taste before you choose. Apples are a staple at the Orchard. As are the music, the dancing, the exuberance of the people who come down the driveway. But the Orchard offers so much more: evening heritage plays and monthly historical discussions, lectures, and even book signings and book club meetings; in depth looks at parts of the magical puzzle that is the region's history. Please check the calendar of events for information, dates, and times of all the evening productions this coming season. (UPDATED: August 16, 2020 JBS)
Apple Picking Tips, Recipes and Information
Apples ripen from the outside of the tree towards the center, so the apples out the outside of the tree will ripen first. Once they are picked, they stop ripening. Picking apples directly from a tree is easy. Roll the apple upwards off the branch and give a little twist; don't pull straight away from the tree. If two apples are joined together at the top, both will come away at the same time. Don't shake the trees or branches. If the apple you are trying to pick drops, (or others on the tree) go ahead and pick it up. They're perfectly fine! But do wash them before you eat them! More info: How to tell when apples are ripe
Once picked, don't throw the apples into the baskets, place them in gently, or they will bruise and go bad more quickly.
Don't wash apples until just before using to prevent spoilage.
For an explanation of why apple slices turn brown and how to stop it, see this page!
Keep apples cool after picking to increase shelf life. A cool basement is ideal, but the fruit/vegetable drawer of a refrigerator will work, too. A refrigerator is fine for small quantities of apples. Boxed apples need to be kept in a cool, dark spot where they won't freeze. Freezing ruptures all of an apple's cells, turning it into one large bruise overnight. The usual solution is to store apples in a root cellar. But root cellars often have potatoes in them: apples and potatoes should never be stored in the same room because, as they age, potatoes release an otherwise ethylene gas, which makes apples spoil faster. If you can keep the gas away from your apples, they will keep just fine. Just don't store them right next to potatoes.
Prevent contact between apples stored for the winter by wrapping them individually in sheets of newspaper. The easiest way to do this is to unfold a section of newspaper all the way and tear it into quarters. Then stack the wrapped apples . See more here: How to store apples at home
Apples don't improve or "ripen" after being picked - this is an urban myth - see this page for the truth - with references!
Which apple variety is best?
There are tens of thousands of varieties of apples, developed over centuries. They vary in sugar, acoidity, flavors, storing, crispness and many other attributes. See our guides to apple varieties:
Canning apples - fully illustrated, with step-by-step instructions
Recipes, illustrated with step by step instructions
Using fresh apples and miscellaneous