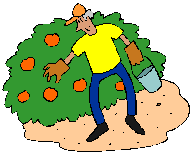 Looking for a local, pick-your-own farm in central Virginia, Charlottesville, etc.? Scroll down this page and you will see the U-Pick farms in central Virginia, Charlottesville, etc., sorted by county. Those that offer organic or sustainably grown produce are identified by the words "organic" and/or "sustainable" in Green, next to their name (see "What does Organic mean?"). The U-pick crops they offer follow the name of the farm. To search the page for a specific crop, use Ctrl-F (or on an ipad or Mac, use their "search on this page" function) If they have a website, the name will be in blue and underlined; click on it and it will open their website. If you find anything outdated or inaccurate, see the customer and farmer menus (as appropriate) at the top menu bar to submit updates and corrections and help me keep each current!
New! As inflation remains high, see this page for cost-saving measures for getting fruit and vegetables and home canning.
If you are having a hard time finding canning lids, I've used these, and they're a great price & ship in 2 days.
New! Road tripping and camping is a great way to have a fun, safe and inexpensive family trip. The national and state parks and monuments are open, and campgrounds usually cost between $10 and $40 per night. September to November is the best camping weather. See our new website Road Tripping and Camping.com for tips, tricks, guides, checklists and info about parks, monuments and other places to visit.
New! We just went live with our latest website, FunFactoryTours.com - As they name implies, you can find a fun factory tour, including chocolate, automobiles, historical forts and sites, famous buildings, Active Federal facilities even fun geology: like fossils and volcanic areas
Note: Beware the copycat websites like the one that stole our name and uses .farm extension: they copied my work and do NOT even update the info! I make updates EVERY day. They use tech tricks to get higher rankings, but have many more inaccuracies and out-dated info. Obviously, I cannot check every farm every day, but I do check as many as I can every day, and respond to all requests. They don't. Don't support the scammers!
Remember to always check with the farm's own website or Facebook page before you go - or call or email them if they don't have a website or Facebook page. Conditions at the farms and crops can change literally overnight, so if you want to avoid a wasted trip out there - check with the farm directly before you go! And if you know of any farms I missed and want to add a farm, please let me know! I'm making updates for this year as fast as I can - if you find anything out-of-date, wrong or not working - please let me know! This website is supported by purchases you make through the links to products on Amazon. As an Amazon Associate I earn from qualifying purchases. This allows me to continue to maintain the website and make improvements!
What's in season in December 2023, and other timely information:
Notes for December 2023: Summer is almost over and that means apples are here (see this new page for Apple Orchards in your area!), and except in northern areas, peaches and blueberries are finished. Some crops continue until frost, like raspberries, blackberries, figs, corn and tomatoes. Check your area's specific crop calendar (see this page) and call your local farms for seasonal updates.
See these pages to find a local Apple festival, and other festivals. We have a extensive guide to apple varieties and a guide to peach varieties. Also recipes, canning and freezing directions for apples, tomatoes, corn blueberries, peaches, etc.
And don't forget CORN MAZES are open now - find a local maze here.
See our comprehensive list of easy home canning, jam and jelly making, preserving, drying and freezing directions. You can access recipes and other resources from the drop down menus at the top of the page or the site search. If you have any questions or suggestions, feel free to write me! It is easy to make your own ice cream, even gelato, or low fat or low sugar ice cream - see this page. Also note, there are many copycat website listing U-pick farms now. The worst is the one that stole our name but ends with .farm. (Yes, I've got lawyers on it) They have all copied their information from here and usually do not ever update. Since 2002, I've been updating the information every day but Christmas; so if you see anything wrong or outdated, please write me!
Children's Consignment Sales are a great way to save money on clothes, toys, books, etc, They occur in both the Spring and Fall See our companion website to find a local community or church kid's consignment sale!
central Virginia, Charlottesville, etc. U-Pick Farms and Orchards in 2023, by county
Click on the resources drop-down above, if you need a county map
Albemarle County
The Berrypatch - blueberries, raspberries (red), honey from hives on the property
3035 Pevine Hollow, Free Union, VA 22932. Phone: 434-963-0659. Email: berrypatchva@gmail.com. Open: Monday, Wednesday, and Saturday, from 8 am to 12 noon; Thursday, from 5pm to 9pm. Directions: To get here from Charlottesville, follow Barracks Road west (which turns into Garth road) about 4 miles to Free Union Road at the Hunt Country store. Turn right and go about 3 miles to Free Union. Bear left on Millington road for 1/3 of a mile, then bear right on Wesley Chapel road, and follow the signs 3 miles to The BerryPatch. Click here for a map and directions.. Early June to early July. Payment: Cash, Check. We often sell out early in the day. Therefore, if you want to find a good selection of berries, please arrive as early as possible. Pick-your-own berry picking at The BerryPatch since 1991 . Now, The BerryPatch offers three acres of delicious blueberries to pick! Unlike blueberries found in supermarkets Hill Top Berry Farm and Winery Facebook page. BerryPatch berries are carefully selected the for best flavor and taste while maintaining low price! Also, pesticides are never used on the fruit. BerryPatch berries are fun to pick - especially with family and friends!
Amherst County
Morris Orchard - pumpkins, pick your own apples, apple cider, and Christmas Trees
226 Tobacco Row Lane, Monroe, VA 24574. Phone: 434-929-2401; Fax: 434-929-1419. Email: info@MorrisOrchard.com. Open: blueberry season is usually mid June to early July, Blackberries are early July into August; Fall season (after mid-September) 9 am to 5 pm, Monday to Saturday;from 1 pm to 5 pm Sunday. Directions: From Lynchburg, Route 29 north to Monroe. Left on South Five Forks Road (Route 671) almost 1 mile. Left on High Peak Road (Route 636) for 3.5 miles. Left on Ambrose Rucker Road (Route 653) one half mile. Right on Tobacco Road Lane to end -- one quarter mile. Relaxed country atmosphere, farm animals for the kids to watch, hay decorations in the fall. Select-your-own apples from mid-summer until Christmas. Pick-your-own pumpkins in the fall. Cut-your-own Christmas trees (limited). Call for season availability. We will be pressing our Fresh Apple Cider every week during the season. We will be making our famous Apple Doughnuts every weekend in October. We will have a great selection of apples available in the store through Christmas. Our varieties: Fuji, Golden Delicious, Red Delicious, Rome, Granny Smith, Razor Russet, York, Empire, Winesap, Stayman, Braeburn, Jonagold, Arkansas Black, Albemarle Pippin.
A visitor writes on September 19, 2010: "Had a very nice visit today. Highlights include apple cider slushies (delicious!) and feeding the goats and donkey. Donations for feed go to the local humane society, so it is fun AND a worthy cause. Only two varieties of apples were available to pick your own, but there were LOTS of apples. We took picnic blankets and had a lovely picnic. There is a hay bale maze. Home make doughnuts are available in October during pumpkin picking season.
Appomattox County
C and S Farm - strawberries
2082 Oakleigh Ave, Appomattox, VA 24522. Phone: 434 352-5971. Email: csfarmz@aol.com. Open: Sorry but we will not be having berries this year (2017) Look forward to seeing you with our other crops.; May, Monday - Friday, 7 am-7 pm. Saturday 7 am to 4 pm. We raise strawberries that you can pick in May. In September and October, we grow our own mums and pumpkins.

Kinder Berry Farm

- CLOSED in 2008
Appomattox, VA 24522.
Buckingham County
Fluvanna County
Greene County
Louisa County
Lynchburg City
Madison County
Graves Mountain Farm - apples, hayrides, Fall Festival
141 Apple Tree Lane Rt. 670, Syria, VA 22743. Phone: 540-923-4231. Email: info@gravesmountain.com.. Open: Our pick your own apple orchard opens the third Saturday in September and closes the 3rd Sunday of October. Open on weekends 9 am to 4 pm Pick your own Apples, . Click here for current open hours, days and dates. Picking updates: Click here for picking updates. Directions: Click here for a map and directions. Apple Harvest Festival 1st, 2nd, and 3rd weekends in October; Free admission, free parking, bluegrass music, cloggers, food, hay rides, pony rides, hay maze, hay mountain, apples, pumpkins, craft vendors and more. Payment: Cash, Check, Visa, MasterCard, Discover. Click here for our Facebook page. Pick your own Apples, weekends only September 16 - October 22.Graves Mountain Farm is an educational farm. We have goats, sheep, cows, pigs, chickens, peacocks, ducks, horses and more. Graves Mountain Farm has tours for school groups in April, May, September, and October. Apple Varieties available for picking - (Varieties ripen at different times, some are not available in September) Red Delicious, Golden Delicious, Stayman, York, Winesap, Mutsu, Fuji, Rome, Granny Smith, and Empire.Our orchards are open for apple picking or you may select your own from the apple bins at the picnic pavilion. On your way to the orchard, stop by an visit the farm and the animals. Enjoy a tractor pulled hayride through the orchards. Available Friday and Saturday evenings after dinner, weather permitting. Bring a blanket for colder nights and enjoy roasting marshmallows after the ride. Truly a fun time for everyone! Reservations required - $5.00 per person (15 person minimum). Please visit the front desk by 7 Pm for tickets to ride. Payment: Cash, Check, Visa, MasterCard.
Kipps Grapes - grapes,
6943 South Blue Ridge Turnpike, Rochelle, VA 22738. Phone: (540) 948-4171. Email: kippsgrapes@gmail.com. Open: when fruit ripens (varies due to weather each year), but usually August through the middle of September; Monday through Saturday, from 8am to 6pm. Directions: on Route 231, midway between Pratts and Rochelle (2.5 miles form each). GPS locates us well, but Google maps does not. Payment: Cash, Check. Kipps Grapes is a small family owned and operated pick-your-own fruit business. Grapes are our biggest crop, but we also have a few apples and peaches. In 2013, we began selling jams, jellies and sauces made from our fruit, so if you don't like to make your own, you can buy ours. Come pick while enjoying calming eye-fulls of surrounding pastures, croplands and the Blue Ridge mountains. Kipps Grapes is a comfortable day trip from Northern Virginia, Richmond and Charlottesville.

Sunrise Gardens

-

No pesticides are used

blackberries, blueberries, tomatoes,
1168 Spring Branch Road, Brightwood, VA 22715. Phone: (540) 407-1424. Email: marghut41@gmail.com. Open: Mid June to August. Directions: On Spring Branch Road between Thoroughfare and Lester Utz road. Across from a house with solar panels. Look for pavilion and park near it. Click here for a map and directions. We do not use pesticides on the crops. Payment: Cash, Check, PayPal. Blueberry season typically mid May to third week June; Blackberry season typically mid June through July; Tomatoes July through September. We strive to grow healthy produce to help you eat healthier. . (UPDATED: June 10, 2021)
A visitor writes on July 14, 2014: "We visited Sunrise Garden in Madison VA on 7/12/2014 and were very pleased by the blueberries (some were the size of quarters or larger). Very neat, well maintained farm. Saturday was honor system/self serve. We had no problems picking 4 quarts of great blueberries. Price on this date was $5.50 per pound. Blackberries were just coming into season- they were HUGE (thumb size) and delicious!! We would definitely go again. One note re directions: if you use a GPS, it will tell you to turn on Sunrise Lane- we missed the turn and stumbled on the patch- it is actually just beyond (East) this lane on the main road and has a large sign to grab your attention."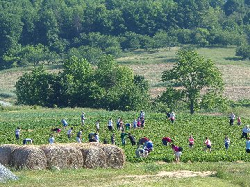 Nelson County
Orange County
---
---
---
Current weather - click for forecast, or enter a zip code for a different location: