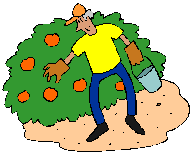 Looking for a local, pick-your-own farm in Dallas area of Texas? Scroll down this page and you will see the U-Pick farms in Dallas area of Texas, sorted by county. Those that offer organic or sustainably grown produce are identified by the words "organic" and/or "sustainable" in Green, next to their name (see "What does Organic mean?"). The U-pick crops they offer follow the name of the farm. To search the page for a specific crop, use Ctrl-F (or on an ipad or Mac, use their "search on this page" function) If they have a website, the name will be in blue and underlined; click on it and it will open their website. If you find anything outdated or inaccurate, see the customer and farmer menus (as appropriate) at the top menu bar to submit updates and corrections and help me keep each current!
New! As inflation remains high, see this page for cost-saving measures for getting fruit and vegetables and home canning.
If you are having a hard time finding canning lids, I've used these, and they're a great price & ship in 2 days.
New! Road tripping and camping is a great way to have a fun, safe and inexpensive family trip. The national and state parks and monuments are open, and campgrounds usually cost between $10 and $40 per night. September to November is the best camping weather. See our new website Road Tripping and Camping.com for tips, tricks, guides, checklists and info about parks, monuments and other places to visit.
New! We just went live with our latest website, FunFactoryTours.com - As they name implies, you can find a fun factory tour, including chocolate, automobiles, historical forts and sites, famous buildings, Active Federal facilities even fun geology: like fossils and volcanic areas
Note: Beware the copycat websites like the one that stole our name and uses .farm extension: they copied my work and do NOT even update the info! I make updates EVERY day. They use tech tricks to get higher rankings, but have many more inaccuracies and out-dated info. Obviously, I cannot check every farm every day, but I do check as many as I can every day, and respond to all requests. They don't. Don't support the scammers!
Remember to always check with the farm's own website or Facebook page before you go - or call or email them if they don't have a website or Facebook page. Conditions at the farms and crops can change literally overnight, so if you want to avoid a wasted trip out there - check with the farm directly before you go! And if you know of any farms I missed and want to add a farm, please let me know! I'm making updates for this year as fast as I can - if you find anything out-of-date, wrong or not working - please let me know! This website is supported by purchases you make through the links to products on Amazon. As an Amazon Associate I earn from qualifying purchases. This allows me to continue to maintain the website and make improvements!
What's in season in November 2023, and other timely information:
Notes for November 2023: Summer is almost over and that means apples are here (see this new page for Apple Orchards in your area!), and except in northern areas, peaches and blueberries are finished. Some crops continue until frost, like raspberries, blackberries, figs, corn and tomatoes. Check your area's specific crop calendar (see this page) and call your local farms for seasonal updates.
See these pages to find a local Apple festival, and other festivals. We have a extensive guide to apple varieties and a guide to peach varieties. Also recipes, canning and freezing directions for apples, tomatoes, corn blueberries, peaches, etc.
And don't forget CORN MAZES are open now - find a local maze here.
See our comprehensive list of easy home canning, jam and jelly making, preserving, drying and freezing directions. You can access recipes and other resources from the drop down menus at the top of the page or the site search. If you have any questions or suggestions, feel free to write me! It is easy to make your own ice cream, even gelato, or low fat or low sugar ice cream - see this page. Also note, there are many copycat website listing U-pick farms now. The worst is the one that stole our name but ends with .farm. (Yes, I've got lawyers on it) They have all copied their information from here and usually do not ever update. Since 2002, I've been updating the information every day but Christmas; so if you see anything wrong or outdated, please write me!
Children's Consignment Sales are a great way to save money on clothes, toys, books, etc, They occur in both the Spring and Fall See our companion website to find a local community or church kid's consignment sale!
Dallas area of Texas U-Pick Farms and Orchards in 2023, by county
Click on the resources drop-down above, if you need a county map
Bosque County
Collin County
Cooke County
Lavender Ridge Farms - lavender, zinnia, herbs, gift shop, restrooms, picnic area
2391 County Road 178, Gainesville, TX 76240. Phone: 940-665-6938. Email: info@lavenderridgefarms.com. Open: Friday, Saturday, Sunday 9am to 5pm Cafe Hours Friday, Saturday, Sunday 11am to 3pm. Click here for current open hours, days and dates. Directions: Click here for a map and directions. Payment: Cash, Check, Debit cards, Visa, MasterCard, Discover, AmEx. Click here for our Facebook page. Lavender, herbs and zinnias and other seasonal crops are all here for the picking seasonally at Lavender Ridge Farms. Fun for the family starts when the lavender blooms around then end of May and continues through early July and sometimes through mid July. Bring the kids for real family fun and adventure while learning more about agriculture and farming - get close to nature while you pick your own. Be sure to stop off at our Country Gift Shop or dine at the Lavender Cafe Have a lavender lunch in our cafe. Lavender Festival each Memorial Day weekend. Fall Festival November each year.
Dallas County
Denton County
Goober Bubs Orchard and Bakery - blackberries, strawberries, carving pumpkins, pie pumpkins, gift shop, bakery, Cell service cell phones work here, restrooms, picnic area, picnic area you may bring your own food, events at your location (call for info)
10534 Eakin Cemetery Road, Justin, TX 76247. Email: gooberbubs@outlook.com. Open: Saturday from 8 am to 12 pm. Picking updates: Click here for picking updates. Directions: Click here for a map and directions. Strawberries are available early April, blackberries are available mid-May, and pumpkins will be available in October and November;. Payment: Cash, Check, Debit cards, All credit cards, AndroidPay, ApplePay, Venmo.
Click here for our Facebook page.
Click here for our Instagram page.
On site bakery featuring seasonal fresh items.
(ADDED: June 25, 2023)

Windy Creek Vineyards

- UPDATE: July 30, 2020: The owner tells me they are now permanently closed
Sanger, TX 76266.
Wow U-Pick Farms,LLC -

No pesticides are used

, cucumbers, strawberries, tomatoes,
7271 Donald Rd, Krum, TX 76249. Phone: (940) 312-9889. Email: eva@4ugoodfood.com. Open: UPDATE for 2023: They are closed until the 2024 season; They were closed all 2023, expected to reopen in 2024; Call for current hours. Directions: From FM 156 in Krum, travel West on FM 1173 approximately 7 miles. Turn left on Donald Road Travel approximately 1.5 miles. Look for greenhouses on left side of Donald Road. Click here for a map and directions. We do not use pesticides on the crops. Payment: Cash, Check, Debit cards, Visa, MasterCard, Discover. Click here for our Facebook page. (ADDED: July 16, 2018)
Ellis County
Hidden Honey Farm -

Uses natural growing practices

, strawberries, pumpkins, Turkeys (organic, not-hormone-fed), Honey from hives on the farm, Fresh eggs, porta-potties are available, farm animals
7241 Fm1387, Waxahachie , TX 75167. Phone: 817-296-7003. Alternate phone: 214-770-9769. Email: Info@hiddenhoneyfarm.com. Open: Saturday's 9 am to 5 pm, from March 19 2016 to November 19, 2016. Directions: Click here for a map and directions. We use natural practices, but are not yet certified Organic. Payment: Cash, Check, Debit cards, Visa, MasterCard, Discover, AmEx. (UPDATED: April 14, 2018, JBS) (ADDED: March 31, 2016)
Larken Farms -

Uses natural growing practices

, beets, blackberries, pears, plums, pumpkins, other vegetables, Honey from hives on the farm, already-picked produce, farm animals
3653 Greathouse Road, Waxahachie, TX 75167. Phone: 972-230-7038. Alternate Phone: 214-882-1349. Fax: 972-274-1203. Email: Khalver439@aol.com. Open: Wednesday to Saturday 9am to 5pm; It best to call before you go to be sure the crop you want is available for pyo. Directions: Click here for a map and directions. Blackberries: May 21 June 15, Peaches June 15 to August 15, All other vegetables as per season, Pears August 10 to September 15. We use natural practices, but are not seeking organic certification. Payment: Cash, only. We provide baskets/sacks, but if you have something else you prefer to use, feel free to bring it. If you prefer to wear gloves, please bring your own. You will be walking through the orchard and in the garden, so we require wearing closed-toe shoes. If weather is an issue, please check out website before heading this way.(UPDATED: April 14, 2018, JBS)
Erath County
Fannin County
Jenkins Farms

- blackberries, peaches, plums, restrooms
269 Cr 1600, Ravenna, TX 75476. Phone: 903-583-2220. Email: patclaude@verizon.net. Open: around May 15 for picking; When we have fruit we are open 7days 8 to 5; Please call to verify on availability the message is updated nightly. Directions: North of Bonham on Hwy78 about 12 miles and left on FM274 go about 1 1/2 miles there will be a sign on the right. approximately 75 miles from the Dallas area. Click here for a map and directions. Payment: Cash, Check. If you want us to pick please call ahead. Typical Crop availability (but still CALL before you come): Blackberries, Plums in June, Peaches in June-July.
Walkers Blueberries -

No pesticides are used

blueberries, porta-potties are available
2933 FM 274, Ravenna, TX 75476. Phone: 915-204-1346. Email: ahwalker@outlook.com. Open: By appointment only on most Mondays, Wednesdays, and Fridays; Always call the evening before your appointment to confirm availability. Directions: From the Dallas area, take highway 121 to Bonham, TX, and stay on highway 121 until it intersects with highway 78 N. Follow highway 78 north about 8 miles until you see the green sign to Mulberry. Turn left (west) on FM 274 S and go about 3 1/2 miles until you see on the left the small white sign with blue letters at 2933 FM 274. Turn left and go about 1/4 mile down the dirt road where the blueberries will be on the left. Click here for a map and directions. We do not use pesticides on the crops. Payment: Cash, only. As of July 25, 2014, the blueberry season has ended. The patch should reopen around the second week of June 2015.
Grayson County
Hamilton County
Hill County
Hood County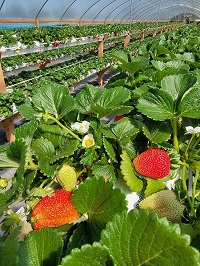 Hunt County
Johnson County
Kaufman County
Ham's Orchards - PYO blackberries and ALREADY PICKED peaches
11939 CR 309, Terrell, TX. Phone: 972-524-2028. Email: admin@hamorchard.com. Open: Daily from 9 am to 5 pm. Directions: Call for directions. Blackberries usually from Mid May to Mid June. We do have prepicked peaches and most all other vegetables and fruit until we close for the season on August 15th each year. Prepicked Blackberries are typically available from May to July (but in2012, as of 6/30/12, they are finished for the season). Our peaches are hand picked with the utmost care to ensure the quality you expect from Ham Orchards. For this reason, we do not allow the public to pick their own peaches. Pick-Your-Own Blackberry Patch is usually open from the end of May through June, the pick-your-own Blackberry Patch is located just behind Ham's Farm Market Store. Ham Orchards Facebook page. Bring tennis shoes; maybe a pair of rain boots; and an empty tummy, then grab a picking bucket from the store to get started.Our hand-picked blackberries are also available for sale in the store. (UPDATED: June 30, 2012, by a visitor)
Walls Family Farm - pick up your own Pecans, Choose-and cut Christmas trees, hayrides, picnic area, wreaths, food and drinks, campfire, gift quality pecans (shelled and in shell), firewood and landscape material, Free shake and bale.
11051 County Road 2312, Terrell, TX. Phone: 972-524-9000. Fax: 524-9000. Open: In June, every weekend: Fridays and Saturdays from 8AM to 5PM and Sundays from 1PM to 5PM. Directions: 45 miles East of Dallas, Call for directions; Hwy 80 to Terrell. Hwy 34 N 9 miles (between Terrell and Quinlan) Farm Road 2312 W one mile (end of road) - click here for a map.We will have picnic tables available if you wish to bring your lunches and spend some time. Come on out and let our farm be your farm for a day. A Family Farm offering cut-your-own Christmas trees, Pecans, Nursery Stock, and FUN! Gift Quality pecans in 1 lb sealed bags; These are in perfect halves and are ready for eating. In Shell, bagged in 5 and 10lb bags but will measure up any amount you desire. If you want pecans you have purchased from us cracked, we are happy to crack them for you for 25cents a pound. This year we have a new cracking/cleaning system. Many of you may remember the parts in the barn from last year. It is now set up! If you wish to bring your pecans to us, we will crack YOUR pecans for you for 40cents a pound. If you want to crack them cracked and also blown (which means they fall through a wind tunnel as well and your pecans come out 90+% clean with no loose shells and debris) it is 65cents a pound. Click here for a link to our Facebook page. (UPDATED: March 1, 2021 JBS)
Comments from a visitor on December 11, 2011: "Hi there! My family and I took a drive out to the Walls Family Farm outside of Terrell. Their website is a great resource. I found hours (accurate) and current crops (Christmas trees and pecans) at the site. We went out for pecans and found a great experience! Very country style, warm, inviting experience. They offered us a cup of free coffee or cider on arrival. In the main "store" they have "gift" quality pecans which are whole pecans fully shelled, no pecan pieces. Those are $7/lb. If you want in-shell pecans they are $2.25/lb for full shell and $2.50/lb for cracked pecans. We went with cracked since it was late in the day and we wouldn't have time to pick. Pick-your-own are $1/lb. There is no admission fee and you can stay all day. Also inside the store is a little snack bar. Cookies and pie (individual size) are $1 and hot dogs are $1.50. They have cut-your-own Christmas trees for $6/ft and will give you a free hay ride to either the pecan orchard or the Christmas tree orchard to pick your produce. The people are great - very nice. They also have a number of friendly dogs that roam the property and are totally kid friendly. They also have picnic tables out by the parking lot with fire pits so you can bring a picnic or eat some or your pick. They have blackberries as well in the late spring. Thanks for the tip! I hope this information helps for the site!"
Comments from a visitor on December 03, 2011: "We have been to this farm for the last four years and love it. Several fields of trees to search through. At $6 per foot they are a great value too."
Lamar County
South Howland Berry Farm - blackberries, U-pick and already picked
5979 Fm 1184, Paris, TX 75460. Phone: 903 782-9766. Email: donaamashburn73@gmail.com. Open: Monday to Saturday; closed Sunday; Be sure and call before you come to make sure that berries are available. Directions: From Paris, go about 8 miles south on highway 19/24. Turn right (west) on FM 1184. Go approximately 3 miles. Turn left at second white cattleguard. There will be signs posted. Go across the bridge to the berry patch. Click here for a map and directions. Payment: Cash, only. (UPDATED: April 1, 2018, JBS)
Leon County
Huebner Berry Patch and Fruit Farm - Blackberries, peaches, nectarines, Muscadines, grapes,
4302 PR 4010, Normangee, TX 77871. Phone: 903-344-1132. Phone: 979-255-3181. Email: huebners@hcecwildblue.com. Open: from 8am to 5pm or until picked out for the day. Start a new family tradition of picking your own fresh blackberries, tree ripened peaches and plums Also offering pre-picked berries, peaches and plums, as well as Carole's homemade jams & jellies. Directions: From Centerville: Take Hwy. 75 South to Leona. Turn right (West) on FM 977. Go 3 miles to FM 2485 North. Turn right and go 3 miles to PR 4010. Turn left, follow road 1/4 mile to farm. Season typically are: Peaches, typically ripe from May through July. Blackberry picking season normally goes from late May to late June or early July depending on weather. We have five varieties of blackberries. One variety is thorned (Kiowa) and four varieties of thornless. Our thornless varieties include Ouachita, Natchez, Osage and Caddo. Plums - Late May to late June; varieties are Methley, Morris, Ozark Premiere. Payment: cash, checks (in county), credit and debit cards.
Montague County
Navarro County
Palo Pinto County
Parker County
Rockwall County
Somervell County
Rhineland Farm - Uses natural growing practices,blackberries, figs, lavender, tomatoes, Turkeys (organic, not-hormone-fed), snacks and refreshment stand, farm animals
3157 County Road 411, Glen Rose, TX 76043. Phone: 254-897-4517. Alternate Phone: 254-396-5866. Email: rebstocks@hotmail.com. Open: June - August Tuesdays, Thursdays and Saturdays Call before you come to make sure we have crops to pick!. Directions: from the Glen Rose Square. Go South on highway 144 Turn left on highway 56 Turn left on CR 411 This road goes straight, then gets curvy - You will cross a low water crossing, and go up a hill. You will pass the entrance to Riverbend Retreat Center. Our gate is the 2nd gate on the left after you pass Riverbend. Click here for a map and directions. Blackberries: June-July Tuesdays and Thursdays 10 to 2 Other days and times might be available as the harvest is more abundant; Tomatoes: June-August Same as above; Figs: July. Payment: Cash, Check. Always ask for: Farm fresh eggs Pastured Chickens (whole, in freezer) Candles with true essential oil made right here at the farm. Lavender Mint Lemonade Tea Bags. We use natural practices, but are not yet certified Organic.
Tarrant County
Henrietta Creek Orchard - Pick your own apples (10 varieties), peaches (6 varieties), black-eyed peas, squash, and okra, Plums, tomatoes, Seasonal Vegetables, Pumpkin patch
14255 Old Denton Road, Roanoke, TX 76262. Phone: 817-439-3202. Email: ss.apple@juno.com. Open: See this page for picking updates. Directions: Henrietta Creek Orchard is located in North Tarrant County. We are East of the Alliance Airport and South of the Texas Motor Speedway. From I-35W exit #66. Turn East on Keller Haslet Road after .7 mile. Take a left (North) on Old Denton Road. After traveling North about 1.2 mile the road curves to the right. We are about .25 mile on the left after the curve. Please use the second entrance.A family owned orchard with Pick Your Own Apples in 6 varieties. Our orchard has over 500 hybrid dwarf apple trees & around 200 peach trees. We also have a pizza garden that includes tomatoes, peppers, garlic and other herbs. We also offer preserves, jellies, salsa, honey and fruit butters for sale in the Apple House (some of these items are sugar free.) (UPDATED: April 1, 2018, JBS)
Comments from a visitor on April 29, 2011: "Just an FYI - this farm is alive and well and growing healthy apple and peach trees. It is a great place for taking children to learn about sustainable gardening and farming. "
Storm Farms - strawberries, porta-potties are available, school tours
3010 Bowen Rd, Dalworthington Gardens, TX 76016. Phone: 817-602-0668. Email: info@storm.farm. Open: Closed in 2022; see them for the 2023 strawberry season; Tuesday, from 2 to 6 pm Thursday, from 2 to 6 pm Saturday, from 9 to 2 pm, from mid-April, Storm Farm Strawberries by RESERVATION ONLY in 2021. Directions: Take the Bowen exit on Interstate 20, go north for about 2 miles, Storm Farms is no the left. For a map to our farm, Click here. Strawberry season is typically March 1 to May 31. Payment: Cash, Check, Debit cards, Visa, MasterCard, Discover, AmEx. YOU WON'T WANT TO MISS THIS OPPORTUNITY TO PICK THE FRESHEST, SWEETEST BERRIES YOU HAVE EVER TASTED! KEEP AN EYE ON OUR FACEBOOK PAGE TO LEARN MORE ABOUT THE ACTIVITIES WE HAVE PLANNED FOR OUR SECOND ANNUAL STRAWBERRY SEASON (UPDATED: April 29, 2022) (ADDED: February 19, 2017)
Wise County
Aunt Sue's Barn LLC - blackberries, raspberries (Autumn, red), U-pick and already picked, birthday parties, weddings and wedding parties, school tours, group reservations
13700 N County Line Road, Ponder, TX 76259. Phone: (214) 546-7416. Email: Auntsue@auntsuesbarn.com. Email: auntsuesbarnllc@yahoo.com. Open: Blackberries - June weekends and some evenings but CALL for times or check Facebook Raspberries - September through Christmas but CALL for times or check Facebook. Directions: Head Wes on Highway 380 from Denton about 14 miles. Turn Right onto County Line Road , The big red Barn on the left is our farm. Click here for a map and directions. We have Spring (June) and fall (September/October) blackberries and fall raspberries only so call. Payment: Cash, Debit cards, Visa, MasterCard. Click here for our Facebook page. (ADDED: April 23, 2017)
L'cajn Farm - beans, broccoli, cucumbers, eggplant, melons, peas, peppers, summer squash, winter squash, tomatoes, Other fruit or veg,
266 Old Chisholm Trail, Rhome, TX 76078. Phone: 817-636-2644. Alternate Phone: 817-902-8776. Email: okraman32@yahoo.com. Open: Call before you go; they may be a members only CSA now; Monday to Sunday, from 8 am to 6:30 pm, June 1 to March 30. Directions: We're just off of Farm Road 407, 1 street east of the New Fairview Airport. Turn down Old Chisholm Trail, go 3/10 of a mile and we're on the right. Click here for a map and directions. Payment: Cash, Check. Click here for our Facebook page. We. We grow creole okra that the seeds have been past down from year to year. We grow different kinds of cabbage, cauliflower and greens during the fall and winter. (UPDATED: April 28, 2015, JBS)
Rose Creek Farms - Note: The farm has been closed for public pick-your-own and only produces for their CSA members. According to their website, they are hoping to expand and begin pick-your-own production again in the next season or two. Uses natural growing practices, beans, beets, broccoli, carrots, corn (sweet), cucumbers, flowers, tulips, lavender, herbs or spices, melons, onions, peas, peppers, summer squash, winter squash, strawberries, tomatoes, other vegetables, and prepicked produce, snacks and refreshment stand, restrooms, picnic area, farm animals, weddings and wedding parties
418 County Road 2788, Sunset, TX 76270. Phone: 940-427-2609. Fax: 940-427-2609. Email: info@rosecreekfarms.com. Directions: From Fort Worth - North on I-35W to Hwy 287 Exit. Continue North on 287 to the Alvord Exit (Business Hwy 287). First blinking light is F.M. 1655. Turn right at blinking light and continue due east for 3 miles to County Road 2788. Turn left on County Road 2788 and continue for 2.5 miles. Farm is on the left. Click here for a map and directions. Crops are usually available in October. Open: Closed until September 15 then open until October, weekends only: Saturdays 9 am to 6 pm and Sundays 12:30 pm to 6 pm; Call for availability. We use natural practices, but are not yet certified Organic. Payment: Cash, Visa, MasterCard. Cut Flowers - Tulips and Lavender in Spring. Zinnias in Summer and Fall.
---