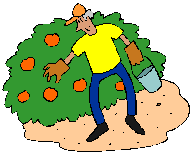 Looking for a local, pick-your-own farm in Middle Tennessee, Including Nashville? Farms are open and safe! Scroll down this page and you will see the U-Pick farms in Middle Tennessee, Including Nashville, sorted by county. Those that offer organic or sustainably grown produce are identified by the words "organic" and/or "sustainable" in Green, next to their name (see "What does Organic mean?"). The U-pick crops they offer follow the name of the farm. To search the page for a specific crop, use Ctrl-F (or on an ipad or Mac, use their "search on this page" function) If they have a website, the name will be in blue and underlined; click on it and it will open their website. If you find anything outdated or inaccurate, see the customer and farmer menus (as appropriate) at the top menu bar to submit updates and corrections and help me keep each current!
New! Pricing information - I am building a pricing guide to help you know what the typical prices are for each crop. Let me know when you see price changes!
If you are having a hard time finding canning lids, I've used these, and they're a great price & ship in 2 days.
New! Road tripping and camping is a great way to have a fun, safe and inexpensive family trip. The national and state parks and monuments are open, and campgrounds usually cost between $10 and $40 per night. September to November is the best camping weather. See our new website Road Tripping and Camping.com for tips, tricks, guides, checklists and info about parks, monuments and other places to visit.
Remember to always check with the farm's own website or Facebook page before you go - or call or email them if they don't have a website or Facebook page. Conditions at the farms and crops can change literally overnight, so if you want to avoid a wasted trip out there - check with the farm directly before you go! And if you know of any farms I missed and want to add a farm, please let me know! I'm making updates for this year as fast as I can - if you find anything out-of-date, wrong or not working - please let me know! This website is supported by purchases you make through the links to products on Amazon. As an Amazon Associate I earn from qualifying purchases. This allows me to continue to maintain the website and make improvements!
What's in season in December 2021, and other timely information:
Notes for December 2021: Autumn is upon us and that means you'd better hurry to get blueberries and peaches; apples are already in full swing. Some crops continue until frost, like raspberries, blackberries, figs, corn and tomatoes. Check your area's crop calendar (see this page) and call your local farms for seasonal specific updates.
See these pages to find a local Apple festival, and other festivals. We have a guide to apple varieties and a guide to peach varieties. Also recipes, canning and freezing directions for apples, blueberries, peaches, tomatoes, corn etc.
See our comprehensive list of easy home canning, jam and jelly making, preserving, drying and freezing directions. You can access recipes and other resources from the drop down menus at the top of the page or the site search. If you have any questions or suggestions, feel free to write me! It is easy to make your own ice cream, even gelato, or low fat or low sugar ice cream - see this page. Also note, there are many copycat website listing U-pick farms now. They have all copied their information from here and usually do not ever update. Since 2002, I've been updating the information every day but Christmas; so if you see anything wrong or outdated, please write me!
Middle Tennessee, Including Nashville U-Pick Farms and Orchards in 2021, by county
Click on the resources drop-down above, if you need a county map
Cheatham County
No. 9 Farms - blueberries, CSA, farm stand
1403 Little Marrowbone Rd., Ashland City, TN 37015. Phone: 615-545-0925. Email:

[email protected]

. Open: Blueberries, in season; The timing of blueberry season depends on the weather, but you can usually plan on it happening in June. No. 9 Farms is a non-certified organic, regenerative farm just 20 minutes outside of Nashville, TN. We grow seasonal produce, berries, culinary & medicinal herbs, and edible & ornamental flowers. Our laying hens feast on what we grow and lay beautiful eggs. We sell to 40 of the absolute best restaurants in Nashville. Why non-certified? The standards for what used to be organic is well, not that anymore. Unfortunately misplaced progress and commerce has muddied the waters here (see Wendell Berry). We believe that absolutely nothing unnatural should be in our food. Back to its roots.
T & T Strawberry Patch - Strawberries
1060 Woodard Perry Road, Ashland City, TN, 37015. Phone: (615) 792-5988. Email:

[email protected]

. Directions: Call for directions.
The Little Family Farm - blackberries, Blueberries
1247 Charlie Reed Road, Chapmansboro, TN 37035. Phone: (615) 307-3559. Email:

[email protected]

. Open: cal or email for hours and availability. Directions: BLACKBERRY FARM ... APPRX. 8 MILES FROM I-24 EXIT 24 OR 2 MILES FROM HWY 12 IN CHAPMANSBORO. (ADDED: June 26, 2018, JBS)
Davidson County
Green Door Gourmet - strawberries
7011 River Road Pike, Nashville, TN 37209. Phone: (615) 942-7169. Email:

[email protected]

. Open: call for availability. They are primarily a CSA, but they offer pick your own strawberries. There is a $10 per person charge for both that includes a quart of "you pick" strawberries and entertainment. You can pick more berries if you want (for an extra charge). If you wish to pick berries, please arrive as close to 5:00 pm as possible to pick before sunset! Can't make it to one of our Pickin' Parties? U-Pick Strawberries are open on Saturday mornings from 9am to 1pm throughout May! (UPDATED: May 08, 2019, JBS) (ADDED: May 09, 2015, JBS)
Robertson County
Rutherford County
Andrews Berry Farm - blackberries
6363 Cooks Lane, Smyrna, TN 37167. Phone: (615) 459-3343. Open: Call for hours of operation.Our Blackberries are thornless. (ADDED: June 26, 2018, JBS)
Batey's Berries - strawberries
3250 Wilkinson Pike, Murfreesboro, TN 37129. Phone: (615) 848-4178. ALternate phone: (615) 890-1608. Open: Season is generally late April (started April 20th in 2019) to June for Pick-your-own strawberries with limited prepicked berries available on a first come, first serve basis; Regular hours are Tuesday-Friday 8-6pm Saturday 8-4pm and Sunday 1-5pm. Times are ALWAYS dependent upon weather and berry availability. Berries are sold by the pound. Please call before you come to assure strawberry availability and operating hours. (UPDATED: May 08, 2019, JBS) (ADDED: May 09, 2015, JBS)
Blueberry Patch - no pesticides used, Blueberries, playground, picnic tables, restrooms,
5942 West Gum Road, Murfreesboro, TN, 37127. Phone: 615-893-7940. Email:

[email protected]

. Open: Be sure to call before you go - typically late June through early July, check with their Facebook page from 7am to 7pm on Tuesdays, Thursdays, Fridays, and Saturdays 2015 prices were $5/lb for U-Pick and $6.25 for pre-picked. They have 7 acres of around 4,000 blueberry bushes in four varieties. There's also water and bucket sizes for all ages. You can read a news story about them here.
Comments from a visitor on January 02, 2012: "My 4 y.o. son and I had a wonderful time at the Blueberry Patch this past summer. The blueberries were organic (although not certified - they don't spray pesticides)so it was safe for my son to eat a blueberry or two as we picked. There was also a lovely shaded playground, picnic table and restroom on the property. The blueberries were the best I've ever tasted. The workers there (not sure if they were the owners or not) were welcoming and friendly. We will be back! "
Comments from a visitor on July 14, 2009: "I visited this farm with my daughter on July 11th and absolutely loved it! It's a great place to take children and the owner's couldn't have been nicer to my 4 year old. I liked the fact that the playground was near the blueberry crops, so when my daughter got tired of picking she could play while I continued and was still able to keep a good eye on her. The only thing I would suggest to do if you go there is to put on bug spray!"
A visitor suggested this one and adds: "This farm is not certified organic, but they do not spray at all. They have a restroom, water fountain, picnic area, and playground for the kids. Although it is a bit rustic, my kids LOVE this farm! They look forward to going blueberry-picking every year! My little ones might last 20 minutes, but they enjoy chilling out at the playground area while I finish up."
Double Duece Produce - beans, cucumbers, onions, peppers, raspberries (Autumn, red), tomatoes, gift shop, concessions / refreshment stand
119 Yukon Ct., Murfreesboro, TN 37129. Phone: 615-678-9242. Email:

[email protected]

. Open: Monday to Saturday, from 8 am to 7 pm Closed on Sundays. Directions: Click here for a map and directions. Payment: Cash, only.
P and P Farms - strawberries
2841 East Jefferson Pike, Lascassas, TN 37085. Phone: 615-812-8788. Email:

[email protected]

. Open: Picking Season Starts May 1st. thru the 2nd week of June; call for hours and availability. Our Strawberries are $11.00 per gallon. .
A visitor reports on May 17, 2008: "They provide baskets to keep. If your basket is level with strawberries, the price is $10 per basket. If you pile them up the basket costs you $13. I got three baskets today and the berries were amazing and ripe!" (ADDED May 10, 2008)

Vaughn's Farm

- apples, strawberries, pumpkins, pumpkin patch, tractor rides
7340 Lebanon Road, Walter Hill, TN, Phone: 615-893-2189. Payment: cash only. No restrooms. Not organic. Crop availability: Strawberries in May ( u-pick or they pick). Also pre-picked sweet corn, watermelons, tomatoes, cantaloupes.
Sumner County
Bottom View Farm - apples, blackberries, blueberries, cherries, corn (sweet), grapes, pumpkins, strawberries, gift shop, snacks and refreshment stand, restrooms, petting zoo, farm animals, weddings and wedding parties, events at your location (call for info)
185 Wilkerson Lane., Portland, TN 37148. Phone: (615)-325-7017. Email:

[email protected]

. Open: UPDATE for 2021: Their website says no strawberries in 2021;and apparently no other berries ; the note simply says "see you in the Fall"; (Months shown are approximate, Please call first to insure we still have the fruit or berries you want,) We normally have strawberries in April, May and June, Blueberries and Blackberries during July, Apples in July and August, Gala Apples in August, Pick-your-own (on most items) or we-pick-for-you; We entertain school children during the week and are open to the general public on Saturdays and Sundays. Pumpkins: July 15 to October 31 Blackberries, Blueberries, Apples, Grapes, And Cherries: July Fall Fest: the whole month of October. Directions: from Portland 1. From the intersection of TN 52 and TN 109, go south on TN 109 for 2 miles. 2. Turn right at the traffic light onto TN 76. 3. Go 2 miles to Wilkinson Lane. 4. Turn right on Wilkinson Lane. 5. Go 0.7 miles. 6. Bottom View Farm is at the end of the road. And for a map to our farm, click here. Crops are usually available in June, July, August, September, October. Payment: Cash, only. We are an actually farm, so other crops would include wheat, corn (sweet and field), alfalfa hay, grain, and other crops used to feed our cattle. We also have a cow that is being hand milked for customers and guests to be witnesses to. Bottom View Farm Facebook page. Typical harvest dates are: (Months shown are approximate. Please call first to insure we still have the fruit or berries you want.) Strawberries in April, May and June. Blueberries and Blackberries during July. Apples in July and August. Gala Apples in August. Pick-your-own (on most items) or we-pick-for-you!
Comments from a visitor on July 17, 2010: "We visited Bottom View Farm on 7/17/10 with our 7 month old daughter and it was great! The blueberries were amazing. So ripe and plump and delicious. They also had "pick your own" blackberries, but we just did blueberries. The "pick your own blueberries" were $14 for a basket (4 quarts, which is 8 pints) full, which is about 3 times less than the $5/pint we would have to pay for blueberries through our CSA. If you don't want to pick your own it's only $16 for a basket. We also went to the Ice Cream store & restaurant where we got super yummy cheeseburgers (with chips included) for $3.50. You can add bacon for $0.25, which we did. Very tasty. We really look forward to going back to pick apples and also to pick pumpkins and to enjoy the fall festivities (hay ride, train, etc) in October."
Brad's Produce - strawberries
156 Opossum Road, Portland, TN 37148. Phone: (615) 888-2837. Directions: From the intersection of TN 52 and TN 109, go east on TN52. Cross over the railroad bridge. Turn right at the traffic light (South Russell St.) Take an immediate left onto Fowler Ford Road. Go about 6 miles on Fowler Ford Road. Turn right on Opossum Road. We also raise sweet corn, and tomatoes (not PYO). The sweet corn crop comes in around the middle of July and the tomatoes around the same time.
Bradley Kountry Acres - Blackberries, Strawberries, Pumpkins, Tomatoes.
650 Jake Link Road, Cottontown, TN 37048. Phone: (615) 325-2836. Alternate phone: (615) 335-9309. Alternate phone: (615) 335 - 9310. Email:

[email protected]

?. Open: Mid April-Oct 31, call for hours. Directions: I-65 N Exit 112 (Highway 25). Turn right off Exit onto Hwy 25 to intersection of Hwy 25 and 31W (4-way stop). left of 31 W and approximately 2 mi, then Right on Clearview Road 1.5milesto Clearview Ch of Christ, right fork at church. Farm and school tours available. Bradley Kountry Acres & Greenhouse offers strawberries, Pick Your Own Blackberries, peaches, greenhouse tomatoes, field tomatoes, summer vegetables, pumpkins, ornamental gourds, bedding plants, ferns, & fall mums. Bradley Farms is open from mid-March through the end of October. Our farm also welcomes groups, as well as individual customers. Please call in advance to schedule group farm outings. During strawberry season, we also offer pre-picked berries by order for those who are unable to pick their own. Call or check out our web site for more information, produce availability, & additional updates.
Cooper Creek Farm - permanently closed
345 Gibbs Lane, Gallatin, TN 3706.Phone: 615-604-8442. Email:

[email protected]

. UPDATE for 2021, Their website says they are permanently closed. Cooper Creek Strawberries is sad to announce that we are officially closed. Carl and Sue have retired and are going traveling. Heading to the Grand Canton area in May. Other trips to follow. We will miss our many strawberry friends. Sue will continue to sell jam from the house. Just call 615-604-8442. Also look for us at Squarefest on April24 to see Carl's latest project.
Crafton Farms - Cantaloupes, Strawberries, Corn, Squash, Tomatoes, Weddings, Parties And Other Events
209 Crafton Road, Portland, TN, 37148. Phone: (615) 969-6264 Evening Phone: (615) 325-6406. Email:

[email protected]

. Open: see their Facebook page. Directions: Crafton Farms offers Tennessee grown PYO strawberries, sweet corn, tomatoes, cantaloupes, and squash fresh from the farm. Call us for directions and availability..They also host Weddings, Parties And Other Events. (ADDED: June 26, 2018, JBS)
Ditney Ridge Farms - Apples, Blackberries, Blueberries, Cantaloupes, Cherries, Pears, Strawberries, Beans, Beets, Corn, Cucumbers, Okra, Onions, Peppers, Pumpkins, Squash, Tomatoes, Turnip Greens.
2049 Liebengood Road, Goodlettsville, TN 37072. Phone: (615) 299-5783. Alternate phone: 615-512-6787. Email:

[email protected]

. Visit our truck patch at 2049 Liebengood Road on Wednesday through Saturday. We will have products picked in addition to you picking your own products right out of the garden. Farm wedding and wedding picture sites available. We will be open after Memorial Day and closed on all holidays until Halloween. Any special events will be advertised. (ADDED: June 26, 2018, JBS)
Doug Williams Farm - strawberries
584 Corinth Road, Portland, TN 37148. Phone: (615) 325-2685. Their pick-your-own starts near the end of the strawberry harvest season, so be sure to call before you go.
England's Strawberry Farm - strawberries, restrooms
720 Scattersville Road, Portland, TN 37148. Phone: 615-426-3068. Email:

[email protected]

. Open: after opening open daily 7:00 am to 7:00 pm. Please call before coming due to bad weather, etc. Directions: We are about 30 miles North of Nashville, TN just off of Interstate 65. Travel I-65 North and exit off at Exit # 117 and bear to the right (east) toward Portland. Go to the 4 way stop and turn left (North) onto U.S. 31W. Go approx. 1.6 miles and turn right onto Old Hwy. 31W #3. Go past white church and bear to the right, this will be Scattersville Road. Go to 2nd house on the left. (signs posted) Click here for a map to our farm. Crops are usually available in May. Strawberries: CALL - it varies! Payment: Cash preferred; Will accept checks with id. Click here for a link to our Facebook page.
Madison Creek Farms - Uses natural growing practices, flowers, pumpkins, Honey from hives on the farm, farm market, snacks and refreshment stand, restrooms, picnic area, petting zoo, farm animals, birthday parties, weddings and wedding parties, school tours, events at your location (call for info)
1228 Willis Branch Road, Goodlettsville, TN 37072. Phone: 615-448-6207. Fax: 615-855-0066. Email:

[email protected]

. Directions: And for a map to our farm, click here. Crops are usually available in April through October. Open: Weekends 9 to 2pm May through October. Farm opens April through October Weekends 9 to 2pm. We use natural practices, but are not seeking organic certification. Payment: Cash, Check, Visa/MasterCard, Discover.
Comments from a visitor on May 25, 2009: "The farm is beautiful and the farmers are welcoming to families, and not far off of I-65, highly recommended!"
Mary K's Garden - blackberries
141 Bushs Lane, Gallatin, TN 37066. Phone: (615) 806-0653. Open: Call for directions & crop availability. We offer pick your own or pre-picked blackberries starting in July. In addition, we offer a wide variety of garden vegetables. (ADDED: May 09, 2015, JBS)
Williamson County
Blue Honey Farms -

Uses natural growing practices

, blueberries, Maple Syrup from trees on the farm
8501 Taliafero Road, Eagleville, TN 37060. Phone: 615-878-9937. Email:

[email protected]

. Open: Monday to Friday from 5pm to 9pm; Saturday 9am to 5 pm; Sunday 2pm till 5 pm start picking First week of July through second to third week of August; Call for availibility before coming. Directions: we are located just south of Triune in the Kirkland community. turn left off of Horton Highway, we are 9 tenths of a mile down Taliaferro RD. on your right gravel drive. We use natural practices, but are not seeking organic certification. Payment: Cash, Debit cards, Visa/MasterCard, Discover, AmEx. We also sell Hand woven baskets that are made right here on our farm. We have standard sizes but also can custom design a basket to fit your needs. (ADDED: February 07, 2016)
Boyd Mill Farm -

Uses natural growing practices

, blackberries, U-pick and already picked, porta-potties are available, picnic area
3395 Blazer Road, Franklin, TN 37064. Phone: 615-794-3867. Email:

[email protected]

. Open: July 1 through August 31; See our website or facebook page for current hours and days open. Directions: Click here for a map and directions. We use natural practices, but are not yet certified Organic. Payment: Cash, Check. Click here for our Facebook page. The Blackberry Jam Music Festival is the fourth weekend in June each year. For more details see our website.
Delvin Farms -

Certified Organic

, strawberries
6361 Cox Road, College Grove, TN 37046. Phone: (615) 538-5538. Open: Mid- April and May; limited days and hours, always check with their Facebook page first: Friday 1 pm to 5 pm; Saturday from 9 am to 5 pm. U-pick organic strawberries opening. Aside from the limited U-pick, their produce is sold through CSA's, six farmers markets in the Nashville area, restaurants, Whole Foods, Turnip Truck and Produce Place. Click here for a link to our Facebook page.
Golden Bell Farm (formerly "Cedar Brae Berry Farm") - Blueberries
4084 Clovercroft Road, Franklin, TN 37067. Phone: (615) 794-3758. Directions: I-65, exit 65 east towards Murfreesboro (96), 2/3 mile turn left at light on Clovercroft Road. Go 1 one half miles on left."
Stoney Creek Farm -

No pesticides are used

, beans, blackberries, blueberries, broccoli, corn (sweet), cucumbers, eggplant, flowers, herbs or spices, muscadine grapes, onions, peas, peppers, summer squash, winter squash, tomatoes, other vegetables, porta-potties are available, picnic area (bring your own food), farm animals, school tours
4700 Coe Lane, Franklin, TN 37064. Phone: 615-591-0015. Email:

[email protected]

. Open: See our website for current hours. Click here for current open hours, days and dates. Directions: Click here for a map and directions. Pick Your Own Vegetables: Mid-June through August, Blackberries and Blueberries: end of June through July. We do not use pesticides on the crops. Payment: Cash, Debit cards, Visa/MasterCard, AmEx. Click here for our Facebook page. ( ADDED: June 29, 2011)
Wilson County
---