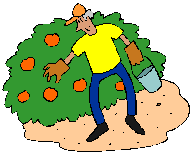 Looking for a local, pick-your-own farm in Chattanooga and Southeast Tennessee? Farms are open and safe! Scroll down this page and you will see the U-Pick farms in Chattanooga and Southeast Tennessee, sorted by county. Those that offer organic or sustainably grown produce are identified by the words "organic" and/or "sustainable" in Green, next to their name (see "What does Organic mean?"). The U-pick crops they offer follow the name of the farm. To search the page for a specific crop, use Ctrl-F (or on an ipad or Mac, use their "search on this page" function) If they have a website, the name will be in blue and underlined; click on it and it will open their website. If you find anything outdated or inaccurate, see the customer and farmer menus (as appropriate) at the top menu bar to submit updates and corrections and help me keep each current!
New! Pricing information - I am building a pricing guide to help you know what the typical prices are for each crop.
Remember to always check with the farm's own website or Facebook page before you go - or call or email them if they don't have a website or Facebook page. Conditions at the farms and crops can change literally overnight, so if you want to avoid a wasted trip out there - check with the farm directly before you go! And if you know of any farms I missed and want to add a farm, please let me know! I'm making updates for this year as fast as I can - if you find anything out-of-date, wrong or not working - please let me know! This website is supported by purchases you make through the links to products on Amazon. As an Amazon Associate I earn from qualifying purchases. This allows me to continue to maintain the website and make improvements!
What's in season in April 2021, and other timely information:
Notes for April 2021: Spring is here and that means Strawberry season is upon us! It started in February in Florida, Texas, southern California; then March along the Gulf coast, April in the Deep South and west coast, May through much of the country, and June in northern areas. Cherries and Blueberries are next, about a month later. Of course, cool weather crops, like Rhubarb, asparagus and greens should be available almost everywhere. Check your area's copy calendar (see this page) and call your local farms for seasonal updates.
See these pages to find a local Strawberry Festival, or a Cherry or cherry blossom festival or a Blueberry festival.
We also have easy home canning, jam and jelly making, preserving, drying and freezing directions. You can access recipes and other resources from the drop down menus at the top of the page or the site search. If you have any questions or suggestions, feel free to write me! It is easy to make your own ice cream, even gelato, or low fat or low sugar ice cream - see this page. Also note, there are many copycat website listing U-pick farms now. They have all copied their information from here and usually do not ever update. Since 2002, I've been updating the information every day but Christmas; so if you see anything wrong or outdated, please write me!
Children's Consignment Sales occur in both the Spring and Fall See our companion website to find a local community or church kid's consignment sale!
Chattanooga and Southeast Tennessee U-Pick Farms and Orchards in 2021, by county
Click on the resources drop-down above, if you need a county map
Bledsoe County
Bradley County
Hiwassee Herb Farm - Local sales at our farm, Local delivery, Regional delivery (see below for details), some produce is grown using IPM (integrated pest management), all produce is sustainably grown, Preserves, jams, jellies, Crafts, artistic products, etc, herbs or spices, lavender, other vegetables, Other fruit or veg, gift shop
3180 Railroad Street N.e>, Charleston, TN 37310. Phone: (423) 241-1880. Email:

[email protected]

. Open: Monday to Friday 11am to 6pm; Saturday 8am 7pm, April 1 to October 31; Wholesale Order are placed on Tuesday and Thursday from 2pm to 6pm. Directions: click here for a map and directions. Payment: Cash, Debit cards, Visa/MasterCard. garlic, ginger, seasoning rubs, cilantro, chives, mushrooms, peppers, fennel, thyme, lavendar, basil and sage. Our herbs are grown right on our small family-owned and operated spin farm. We have been producing and growing herbs for the past five years. Hiwassee Herb Farm produces herbs and spices for the local foodie, restuarantuer, grocers including our local and surrounding communities. Primarily, we sell our herbs and products in our store-front right on the farm, local farmer's markets and festivals. (ADDED: November 06, 2017)
Morris Vineyard & Tennessee Mountainview Winery,LLC - blackberries, blueberries, grapes, muscadine grapes, raspberries (red), restrooms
346 Union Grove Road, Charleston, TN 37310. Phone: 423-479-7311. Alternate Phone: 423-618-2173. Open: Monday to Saturday from 11 am to 7 pm; Sunday from 12 pm to 7 pm; seasonal picking hours Tuesday to Saturday from 9 am to 8 pm; Sunday from 12 pm to 8 pm; No picking on Mondays. Directions: from interstate 75 take exit 27 head east on Paul Huff Parkway take left on Michigan Avenue road take right at 3 way stop left on Chatata Valley Road right on Cates Lane, Cates Lane runs into Union Grove Road vineyard is on the right. Click here for a map and directions. Raspberries June 1 to June 30; Blackberries June 15 to July 10; Blueberries June 15 to August 1; Grapes August; Muscadines August 15 to October; call for availability Payment: Cash, Debit cards, Visa/MasterCard, Discover.
Comments from a visitor on June 02, 2012: "The kids and I took a road trip to the Morris Vineyard & Mountainview Winery today to pick blueberries. The bushes were full with many more berries to come. It was a very relaxing experience. I would have loved to have been out there all day. The view of the mountains is just beautiful!"
Hamilton County
Flat Top Farm Market - blackberries, strawberries, tomatoes, Honey from hives on the farm
13100 Jones Gap Rd, Soddy Daisy, TN 37379. Phone: 423-332-0678. Open: Monday to Saturday, from 8 am to 6 pm: on Sunday we are at the Chattanooga Market from 11 am to 4. Directions: From Chattanooga take 27 North for 21 miles, continue onto TN-111 N highway , take the Jones Gap Road Exit. Turn Right at Jones Gap Road then take the 2nd road on the right. From Dunlap take TN-111 South, take the Jones Gap Road Exit, Turn Left at Jones Gap Road then take the 2nd road on the right. Click here for a map and directions. Payment: Cash, Check. Click here for our Facebook page.
Comments from a visitor on July 16, 2011: "Not a place to go to. they advertised U-pick strawberries this spring. never answereed the phone. we called multiple times. when i went to their store they said "no U-pick". today 7/16/2011 we looked in the Sequatchie valey shopper there was an add for their farm with a blackberry U-pick add. my wife called and the answer was " by the time the add came out. they decided thet did not have enough berries for U-pick." berries at the store are $4.00 per Qt. $14.00 per Gal. in my opinion these people are good at bait and swith. we will never go there."
Smith-Perry Berries - corn (sweet), pumpkins, strawberries, watermelons, Other fruit or veg, porta-potties
9626 Ooltewah Georgetown Road, Ooltewah, TN 37363. Phone: 423-228-0774. Email:

[email protected]

. Open: Late April until Middle of June for Strawberries Usually first or second week through the third week of July for Sunflowers. Directions: Click here for a map and directions. Strawberries Typically third week in April until Middle of June Sunflowers usually First three weeks of July. Payment: Cash, Check. (UPDATED: May 22, 2019) (ADDED: July 23, 2018)
Marion County
The Willis Farm Kayak and Canoe Rental - vegetables, sunglowers, pumpkins
701 Inman Road, Whitwell, TN 37397. Phone: (423) 827-8765. Email:

[email protected]

. We are a working farm and have a seasonal kayak rental. You can enjoy a 4 mile float on the Big Sequatchie River while visiting our farm. New for 2018 is U-Pick sunflowers and U-Pick vegetable garden. In the gardens you will find beautiful sunflowers, zinnias, and cosmos. Great for weddings and parties. Our vegetable garden we are growing corn, okra, blue lake beans, squash, cucumbers, hot peppers, and zucchini. We will also be growing a pumpkin patch with a variety of pie pumpkins and carving. (ADDED: June 26, 2018, JBS)
McMinn County
Carr's Vineyard - blueberries
944 Highway 163, Calhoun, TN 3730. Phone: (423) 336-5377. Email:

[email protected]

. Open: Fresh blueberries from mid-June to mid-August on Tuesday, Thursday and Saturday from 8am to 12 pm and 4pm to 8:30 pm; Sunday hours are 4:00 to 8:30pm. Blueberry plants are available from September to May. In 2018, they are $5.00 each and are in 1 gallon containers. (ADDED: June 26, 2018, JBS)
Ford's Blueberry Farm - blueberries, picnic area (bring your own food)
186 County Road 184, Athens, TN 37303. Phone: 423-506-9700. Open: Please call for hours. Directions: Please call for directions. For a map to our farm, click here. Blueberries available July 1 through August 15. Payment: Cash, only. (ADDED: May 13, 2016)
Ridge Line Farms - Blueberries
139 County Road 100, Decatur, TN 37322. Phone: (423) 507-8002. Alternate phone: (423) 506-3058. Email:

[email protected]

. In addition to the U-Pick blueberries, are you looking for local, farm raised beef with no antibiotics, preservatives or added hormones? If so then look no further! Ridge Line Farms has been raising Angus sired beef cattle since our grandfather began farming in 1965. In 1998, we began marketing our steers for purchase as freezer beef. We now offer freezer beef by the retail package, or a 1/2 or whole live animal. We would love to earn your business and provide high quality beef for you and your family! Feel free to come visit us at the farm! (ADDED: May 09, 2015, JBS)
Wade and Cecileia Shultz's Blackberries - blackberries (MAY NOT BE PICK YOUR OWN - CALL!!!)
Athens, TN. Phone: 423-745-4723. Call for directions, hours and availability.
Meigs County
Monroe County
Polk County
Sandy's Pick-Your-Own Blueberry Patch - Blueberries
195 Poplar Street, Benton, TN 37307. Phone: (423) 715-5915. Alternate phone: 423-338-5049. Email:

[email protected]

. Open: usualy starts in early July, then for 6 weeks; Monday to Saturday from 7:30 am until dark, closed on Sunday. We have 250 blueberry bushes of the Rabbiteye variety. (UPDATED: June 26, 2018, JBS) (ADDED: May 09, 2015, JBS)
Rhea County
Gary Swafford Farm - tomatoes, pumpkins
Summer City Rd, Pikeville, TN 37367. Phone: (423) 447-7480. Open: Looks like from 7:30 AM to 7 PM but check to be sure. Directions: Call for directions. Payment: Cash, Visa/MasterCard .
Comments from a visitor on October 06, 2012: "You can drive up and get alot or a little of produce at wholesale prices....We picked a 5 gallon bucket of tomatoes in the field for 6 dollars!! I am going back for large boxes of sweet potatoes to can at home for 15 dollars each...GREAT prices in this bad economy!!!"
Hastings Farm - Blueberries, Muscadines
450 Hastings Drive, Dayton, TN 37321. Phone: (423) 645-4186. Fax: (423) 775-5707. Email:

[email protected]

. We have seasonal blueberries. Give us a call and come pick your own. (ADDED: June 26, 2018, JBS)
Thedford's Blueberry Patch -

No pesticides are used

, blueberries, U-pick and already picked, restrooms, picnic area (bring your own food)
100 John Deere Dr., Spring City, TN 37381. Phone: (423) 365-5764. Alternate Phone: (423) 847-7510. Email:

[email protected]

. Open: Tuesdays, Thursdays, Fridays and Saturdays from 8:00 am till 1:00 pm. Directions: From Spring City; take New Lake Road about two miles, then follow signs. From highway 27; turn onto highway 68, turn left on 302 North, look for signs. Click here for a map and directions. Payment: Cash, Check, Visa/MasterCard. Click here for our Facebook page. Blueberries: Typically mid-June through July. We do not use pesticides on the crops. 2020 price is $12 / gallon for u-pick. (UPDATED: August 28, 2020 JBS) (UPDATED: June 23, 2019)
Sequatchie County
Wheeler's Orchard - Apples, Grapes, blueberries
HCR 65, Box 78, Dunlap, TN 37327. Phone: (423) 949-4255 or toll free (877) 478-5029. Fax: (423) 949-6350. Email:

[email protected]

Directions: From U.S. 127 N in Dunlap, see our sign at Fredonia Road. Follow sign up the mountain approx. 5 miles. See our sign. Take a right. Come on to orchard. Feel free to call if you need additional directions. Click here for a link to our Facebook page. (UPDATED: June 26, 2018, JBS)
---