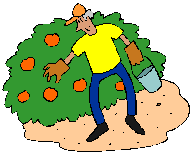 Looking for a local, pick-your-own farm in Columbia Area of Tennessee? Scroll down this page and you will see the U-Pick farms in Columbia Area of Tennessee, sorted by county. Those that offer organic or sustainably grown produce are identified by the words "organic" and/or "sustainable" in Green, next to their name (see "What does Organic mean?"). The U-pick crops they offer follow the name of the farm. To search the page for a specific crop, use Ctrl-F (or on an ipad or Mac, use their "search on this page" function) If they have a website, the name will be in blue and underlined; click on it and it will open their website. If you find anything outdated or inaccurate, see the customer and farmer menus (as appropriate) at the top menu bar to submit updates and corrections and help me keep each current!
New! As inflation remains high, see this page for cost-saving measures for getting fruit and vegetables and home canning.
If you are having a hard time finding canning lids, I've used these, and they're a great price & ship in 2 days.
New! Road tripping and camping is a great way to have a fun, safe and inexpensive family trip. The national and state parks and monuments are open, and campgrounds usually cost between $10 and $40 per night. September to November is the best camping weather. See our new website Road Tripping and Camping.com for tips, tricks, guides, checklists and info about parks, monuments and other places to visit.
New! We just went live with our latest website, FunFactoryTours.com - As they name implies, you can find a fun factory tour, including chocolate, automobiles, historical forts and sites, famous buildings, Active Federal facilities even fun geology: like fossils and volcanic areas
Note: Beware the copycat websites like the one that stole our name and uses .farm extension: they copied my work and do NOT even update the info! I make updates EVERY day. They use tech tricks to get higher rankings, but have many more inaccuracies and out-dated info. Obviously, I cannot check every farm every day, but I do check as many as I can every day, and respond to all requests. They don't. Don't support the scammers!
Remember to always check with the farm's own website or Facebook page before you go - or call or email them if they don't have a website or Facebook page. Conditions at the farms and crops can change literally overnight, so if you want to avoid a wasted trip out there - check with the farm directly before you go! And if you know of any farms I missed and want to add a farm, please let me know! I'm making updates for this year as fast as I can - if you find anything out-of-date, wrong or not working - please let me know! This website is supported by purchases you make through the links to products on Amazon. As an Amazon Associate I earn from qualifying purchases. This allows me to continue to maintain the website and make improvements!
What's in season in December 2023, and other timely information:
Notes for December 2023: Summer is almost over and that means apples are here (see this new page for Apple Orchards in your area!), and except in northern areas, peaches and blueberries are finished. Some crops continue until frost, like raspberries, blackberries, figs, corn and tomatoes. Check your area's specific crop calendar (see this page) and call your local farms for seasonal updates.
See these pages to find a local Apple festival, and other festivals. We have a extensive guide to apple varieties and a guide to peach varieties. Also recipes, canning and freezing directions for apples, tomatoes, corn blueberries, peaches, etc.
And don't forget CORN MAZES are open now - find a local maze here.
See our comprehensive list of easy home canning, jam and jelly making, preserving, drying and freezing directions. You can access recipes and other resources from the drop down menus at the top of the page or the site search. If you have any questions or suggestions, feel free to write me! It is easy to make your own ice cream, even gelato, or low fat or low sugar ice cream - see this page. Also note, there are many copycat website listing U-pick farms now. The worst is the one that stole our name but ends with .farm. (Yes, I've got lawyers on it) They have all copied their information from here and usually do not ever update. Since 2002, I've been updating the information every day but Christmas; so if you see anything wrong or outdated, please write me!
Children's Consignment Sales are a great way to save money on clothes, toys, books, etc, They occur in both the Spring and Fall See our companion website to find a local community or church kid's consignment sale!
Columbia Area of Tennessee U-Pick Farms and Orchards in 2023, by county
Click on the resources drop-down above, if you need a county map
Bedford County
Coffee County
Franklin County
Giles County
Limoland - Strawberries, pumpkins
8076 Columbia Highway, Pulaski, TN 38478. Phone: 931-363-5744. Email: limoland@bellsouth.net. Open: strawberries in April, 8:30 to 5:30 Monday thru Saturday, and 1:00 til 4:00 on Sunday, then again in the Fall: Monday to Saturday from 9 am to 6 pm, Sunday from 1 pm to 5 pm. for Fall activities. Starting late September through the end of October, you can find us at the Pumpkin Patch activity area. In the fall Limoland is open for school tours, hayrides, and a pick-your-own pumpkin patch. Also find mums, gourds and farm animals for children. We have available for purchase pumpkins in all sizes and mums. You and your family can come and enjoy our family fun area, with a big slide, haystacks, corn maze, farm animals, and more. We have available on the weekend hayrides and train rides. A greenhouse is also open April and May with homegrown flowers and plants for sale. No admission for tours, pumpkin patch or greenhouse. PYO strawberries were $2.50 per lb. in 2019, and all berries are PICK YOUR OWN..Also Available: Corn and Hay Mazes, Farm Animals for petting, Hay Rides, Pumpkin Patches, School Tours, Annual Grower, Mums, Perennial Grower, Retail Nursery Grower, Vegetable Plants, Strawberries, Herbs, Pumpkins, Corn Stalks, Indian Corn, Straw Bales. Click here for our Facebook page. (ADDED: February 13, 2020, JBS)
Smith's Orchard - blackberries, blueberries, peaches,
5940 Campbellsville Road, Pulaski, TN 38478. Phone: (931) 363-4332. Email: DonnaSinkCopeland@gmail.com. Open: See Facebook page for current days and hours. Directions: Payment: Cash, only. Click here for our Facebook page. (ADDED: May 01, 2020)
Grundy County
Lawrence County
Lewis County
Lincoln County
Lincoln County 4-H Honor Club Blueberry Patch - blueberries
1209 Ardmore Highway, Taft, TN. Phone: 615-433-1582. Open: starting in late June, 7 days a week during daylight hours, goes until the blueberries run out. Proceeds from the sale of blueberries go to Lincoln County 4-H to assist in raising funds for the many trips, teams and programs that Lincoln County 4-H offers to youth, grades fourth through 12th. Most recently reported prices (2017) were $4 per quart or $15 per gallon, or berries picked by 4-H members will be $7 per quart and $25 per gallon. If you would like to order blueberries, please call Lincoln County Extension.
Marshall County
Bee Sweet Berry Farm - blackberries, blueberries, Honey from hives on the farm, restrooms, picnic area
1442 Globe Road, Lewisburg, TN 37091. Phone: 931-359-2157. Alternate Phone: 615-423-4240. Email: beesweetberryfarm@yahoo.com. Open: See our website for current hours. Directions: From Nashville: Take I-65 south to exit #32. After exiting, turn left at the stop sign onto Mooresville Highway - then make an immediate right at the first road after you go under the interstate (Globe Road). Drive approximately 1.8 miles, Bee Sweet Berry Farm's entrance will be on the left at Globe Road. Click here for a map and directions. Payment: Cash, Check. Click here for our Facebook page. We have added a covered pavilion, with picnic table and chairs! Pack a picnic lunch and enjoy the view. Blueberries are usually ready to harvest at the end of June through August. Blackberries are usually ready to harvest in mid-June through August. Raspberries (already picked only, no PYO ) are usually ready to harvest at the end of May and throughout the summer.
Forgie's Fruit Farm - permanently closed
Lewisburg, TN 37091.

UPDATE: September 15, 2021: The owner tells me they are now permanently closed

Red Cedar Farms -

Certified Organic

, pumpkins, strawberries, Fresh eggs, gift shop, concessions or refreshment stand, porta-potties, restrooms, picnic area, picnic area you may bring your own food, face painting, inflatables or bounce houses, carnival rides, petting zoo, birthday parties, weddings and wedding parties, school tours, group reservations
2041 highway 99, Chapel Hill, TN 37034. Phone: (931) 364-2440. Fax: 800-806-4340. Email: redcedarfarmstn@gmail.com. Open: Winter Hours (November 1 to March 15) Monday to Friday from 9 am to 4 pm Spring/Summer Hours (March 16 to October 31) Monday to Friday from 9 am to 4 pm and Saturday from 10 am to 2 pm. Click here for current open hours, days and dates. Directions: We are certified organic for all crops! Payment: Cash, Venmo, Debit cards, Visa, MasterCard, Discover, AmEx. Click here for our Facebook page. (UPDATED: December 17, 2021)
Maury County
APleasant Vineyard

-

Uses natural growing practices

, Seedless table grapes, wine grapes, Muscadines, grapes, porta-potties, picnic area, picnic area you may bring your own food
2018 Les Robinson Rd, Columbia, TN 38401. Phone: (615) 403-7043. Email: hongxiasbamboo@gmail.com. Open: End August to End October Saturday and Sunday: 9 am - - 6 pm Central Time. Directions: We use natural practices, but are not yet certified Organic. Payment: Cash, only. (ADDED: January 11, 2019)
Highland Berries & Produce -

Uses natural growing practices

, blueberries, U-pick and already picked
4411 Hampshire Pike, Hampshire, TN 38461. Phone: 931-285-2543. Alternate Phone: 931 215-8197. Email: highlandrealm1@gmail.com. Open: Tuesday, Thursday, Saturday 10 am to 4 pm. Directions: 12 miles west of Columbia, TN on Highway 412. Click here for a map and directions. Blueberries June thru mid July. We use natural practices, but are not yet certified Organic. Payment: Cash, Check. Click here for our Facebook page. In 2010 we laid the foundation of our new blueberry farm, by planting two acres of blueberries, 2,800 plants, 16 varieties in all. The berry farm features six varieties of Early blueberries, 10 Mid-Season varieties and two Late-Season types. We also have blackberries and strawberries. Berries are available at Highland Realm's farm stand, our refurbished barn. There are lots of ripe blueberries come on out and pick some! Or you can purchase some that are picked. (UPDATED: June 26, 2018, JBS)
Muscadine Grapes 4U -

No pesticides are used

, wine grapes, Muscadines, grapes,
1249 Buckthorn Lane, Columbia, TN 38401. Phone: (931) 334-6749. Alternate Phone: (931) 698-4048. Email: muscadinegrapes4U@gmail.com. Open: Harvest is typically the end of September or first part of October when the grapes are ripe (measured 16% sugar); U - pick hours will be from 7 am to dark Monday through Saturday; Contact us with your email address and we will send you a notice at harvest time. Directions: I-65 exit 46, proceed west towards Columbia (apx 8-9 miles) to Tom J Hitch, turn left (south), drive apx 1 1/2-2 miles to stop light at Iron Bridge Road, turn left (east) drive 2.6 miles to Buckthorn Lane (right turn only on gravel road). At the mailbox (1249) take left fork. You will see the vineyard on your left and a sign for parking. End of September or first part of October when grapes have ripened;. We do not use pesticides on the crops. Payment: Cash, Debit cards, Visa, MasterCard, Discover, AmEx, Venmo, PayPal.The ONLY pyo crops offered are Muscadine Grapes. Also called Muletown Muscadine Vineyard

.


(UPDATED: September 08, 2023) (ADDED: August 11, 2023)
Trace View Farm -

Uses natural growing practices

, blueberries, U-pick and already picked
5985 Fly Hollow Road, Santa Fe, TN 38482. Phone: 931/682-2864. Email: tracevu@gmail.com. Open: by appointment only. Directions: Call 931/682-2864 for directions and to schedule a picking appointment. Click here for a map and directions. We use natural practices, but are not seeking organic certification. Payment: Cash, Check.
Uncle Al's Berry Farm - they no longer offer Pick-your-own
2044 Hays Denton Road, Columbia, TN 38401. Phone: (931) 446-6545. Phone: (931) 381 - 6939 (After Hours). Open: UPDATE for 2021, A visitors tells me they no longer offer Pick-your-own A visitor tells me "Berry farm has turned into a catfish farm. No more berries :" (
Wagner Berry Farm - strawberries, blueberries, raspberries, blackberries, pumpkins
4923 Ollie Chunn Road, Spring Hill, TN 37174. Phone: 931-486-0337. Email: mjwagner57@yahoo.com. In 2019, the strawberries were $3.50 a pound U-Pick, and $4.50 a pound for Pre-picked. Blueberries are the same price.
Additional Information: Call before you stop by to make sure the berry field is open. In their farm market, they also have Jams Jellies and Spreads, Blackberries, Blueberries, Raspberries, Strawberries, Honey
Moore County
---