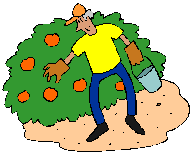 Looking for a local, pick-your-own farm in Pittsburgh and Southwestern Pennsylvania? Scroll down this page and you will see the U-Pick farms in Pittsburgh and Southwestern Pennsylvania, sorted by county. Those that offer organic or sustainably grown produce are identified by the words "organic" and/or "sustainable" in Green, next to their name (see "What does Organic mean?"). The U-pick crops they offer follow the name of the farm. To search the page for a specific crop, use Ctrl-F (or on an ipad or Mac, use their "search on this page" function) If they have a website, the name will be in blue and underlined; click on it and it will open their website. If you find anything outdated or inaccurate, see the customer and farmer menus (as appropriate) at the top menu bar to submit updates and corrections and help me keep each current!
New! As inflation remains high, see this page for cost-saving measures for getting fruit and vegetables and home canning.
If you are having a hard time finding canning lids, I've used these, and they're a great price & ship in 2 days.
New! Road tripping and camping is a great way to have a fun, safe and inexpensive family trip. The national and state parks and monuments are open, and campgrounds usually cost between $10 and $40 per night. September to November is the best camping weather. See our new website Road Tripping and Camping.com for tips, tricks, guides, checklists and info about parks, monuments and other places to visit.
New! We just went live with our latest website, FunFactoryTours.com - As they name implies, you can find a fun factory tour, including chocolate, automobiles, historical forts and sites, famous buildings, Active Federal facilities even fun geology: like fossils and volcanic areas
Note: Beware the copycat websites like the one that stole our name and uses .farm extension: they copied my work and do NOT even update the info! I make updates EVERY day. They use tech tricks to get higher rankings, but have many more inaccuracies and out-dated info. Obviously, I cannot check every farm every day, but I do check as many as I can every day, and respond to all requests. They don't. Don't support the scammers!
Remember to always check with the farm's own website or Facebook page before you go - or call or email them if they don't have a website or Facebook page. Conditions at the farms and crops can change literally overnight, so if you want to avoid a wasted trip out there - check with the farm directly before you go! And if you know of any farms I missed and want to add a farm, please let me know! I'm making updates for this year as fast as I can - if you find anything out-of-date, wrong or not working - please let me know! This website is supported by purchases you make through the links to products on Amazon. As an Amazon Associate I earn from qualifying purchases. This allows me to continue to maintain the website and make improvements!
What's in season in December 2023, and other timely information:
Notes for December 2023: Summer is almost over and that means apples are here (see this new page for Apple Orchards in your area!), and except in northern areas, peaches and blueberries are finished. Some crops continue until frost, like raspberries, blackberries, figs, corn and tomatoes. Check your area's specific crop calendar (see this page) and call your local farms for seasonal updates.
See these pages to find a local Apple festival, and other festivals. We have a extensive guide to apple varieties and a guide to peach varieties. Also recipes, canning and freezing directions for apples, tomatoes, corn blueberries, peaches, etc.
And don't forget CORN MAZES are open now - find a local maze here.
See our comprehensive list of easy home canning, jam and jelly making, preserving, drying and freezing directions. You can access recipes and other resources from the drop down menus at the top of the page or the site search. If you have any questions or suggestions, feel free to write me! It is easy to make your own ice cream, even gelato, or low fat or low sugar ice cream - see this page. Also note, there are many copycat website listing U-pick farms now. The worst is the one that stole our name but ends with .farm. (Yes, I've got lawyers on it) They have all copied their information from here and usually do not ever update. Since 2002, I've been updating the information every day but Christmas; so if you see anything wrong or outdated, please write me!
Children's Consignment Sales are a great way to save money on clothes, toys, books, etc, They occur in both the Spring and Fall See our companion website to find a local community or church kid's consignment sale!
Pittsburgh and Southwestern Pennsylvania U-Pick Farms and Orchards in 2023, by county
Click on the resources drop-down above, if you need a county map
This page is southwestern PA. Click here for Northwestern Pennsylvania
Allegheny County
Armstrong County
Beaver County
Sturges Orchards and Farm Market - farm market on the farm, Wide variety of seasonal, locally grown fruits and vegetables,
868 Route 288, Fombell, PA 16123. Phone: (724) 624-0383. Email: sturgesorchards@gmail.com. Open: NO PYO in 2021; See their Facebook page. A 65 acre fruit and vegetable first generation family farm since 1989. Specializing in apples, peaches, plums, pluots, and cherries. Processing their own jams and apple cider. Also raising turkeys for Thanksgiving.
Butler County
Ambrose Farms - Canning Tomatoes, Roma Tomatoes, Hot Peppers, Bell Peppers, picnic area
991 Bear Creek Road, Cabot, PA 16023. Phone: (724) 360-5055. Open: Early July to late October hours vary based on the crops but generally 9am to 8pm every day. Call for specific hours when you plan to visit. Directions: Call for directions. Payment: Cash, Check.(UPDATED: June 11, 2014, from their Facebook page) (ADDED: October 05, 2010, suggested by a visitor)
Comments from a visitor on October 05, 2010: "Everything sold at Ambrose Farm Market is grown on their farm. They also offer pick your own during the season."
Bowser's Blueberries - blueberries,
143 McCalmont Road, Renfrew, PA 16053. Phone: 724-482-2373. Email: bowsersblueberries@zoominternet.net. Open: Tuesday to Saturday from 8 am to 6 pm. Click here for current open hours, days and dates. Directions: We are located 6 miles West of Butler PA. Click here for a map and directions. We are a family owned "u-pick" blueberry farm; We have 11 different varieties of blueberries which ripen at different times so our season generally runs from July through August; We do not spray pesticides on our plants so we encourage you to come out and taste the difference for yourself!. Payment: Cash, Debit cards, Visa, MasterCard, AmEx, SFMNP Vouchers. Click here for our Facebook page. Bags are provided to take your pickings home so there is no need to bring containers. Restroom available. Visit us and make some fun, family traditions!.
Snyder's Farm - strawberries, raspberries, blackberries
Route 68 East, Chicora, PA. Phone: 724-445-3116. Open: Monday through Friday 4pm to 8 pm, Saturday 10 am to 5 pm and Sunday 10 am to 3 pm; Call ahead for availability. Directions: Approx. 6 miles N.E. of Butler on Rt 68E. Operates approximately 10 acres of small fruits. Our operation offers - "Farm Fresh" pick your own or already picked berries. Wholesale fruit orders available. We start around June 8th and end lst Week of Nov. Along with small fruit we do offer fresh sweet corn. Please call ahead to make sure crop is ready.
Strawberries June 8 - July 7th,
Black raspberries - June 30 to July 23rd.
Red Raspberries - July 6th to Aug. 2nd.
Blackberries - Aug 1st to mid Sept. (please call)
Fall rasp. - Yellow and Red - Aug 15th till frost
Already picked apples and plums - First week of Sept-mid October .
Cambria County
Pat Leiden Farm - Blueberry, Strawberry
227 Leiden Lane, Patton, PA 16668. Phone: (814) 674-8464. Open: UPDATE for 2021, Their website is gone and there's nothing else about them that is current on the internet - I presume they have closed. Does anyone have current information, are they still offering pick your own or are even open? If so, please write me. Tuesday and Saturday from 8 am to 4 pm; closed on Sunday and the other days. Strawberries Mid-June to late June; Blueberries in August. We are located in the village of St Lawrence in Northern Cambria County. We have been around since 1860. we are a pick your own small berries such as strawberries and blueberries. Call for price and when we are actually picking; we can say the price is around $1.00 a pounds. (ADDED: August 01, 2013X)
A visitor writes on August 06, 2013: "I was at this farm today- they have a bumper crop of blueberries! They said they'd have blueberries until the end of August. They don't have a phone number right now but they ARE open for picking, Tues. and Sat., 8 - 4. No restroom facilities, but a really nice blueberry farm! "
Clearfield County
Fayette County
Greene County
Indiana County
Ben's Strawberries - strawberries
1565 Campground Rd, Indiana, PA 15701. Phone: none. Email: none. Open: unknown, most likely starting in June; see their Facebook page. There is extremely little descriptive information available on their Facebook page; I'm afraid you just have keep checking their Facebook page for updates.
Elbel's Produce Farm - strawberries
Routes 119 and 210, south of Punxsutawney, PA. Phone: 814-938-5878. Hours: 7 am to 8 pm, daily.
Cameron's Blueberries - blueberries
Bonner Road, Rossiter, PA. Phone: (814) 938-3957. Open: In season (July) on Tuesday and Thursday from 7am to 7pm and Saturday's 7am to 12 pm. Directions: on Bonner Road in Rossiter, PA (near Steffy Church). In 2020, You pick was only $1.50 per pound. (ADDED: April 19, 2021, JBS)

Ishman's Blueberries

-

Uses natural growing practices

, blueberries, U-pick and already picked
812 Route 210 Highway, Punxsutawney, PA 15767. Phone: 814 938 5930. Alternate Phone: 814 590 1205. Open: Monday, Wednesday, Friday 8am to 4pm; Saturday 8am to noon, July 1 to August 10. Directions: Click here for a map and directions. We use natural practices, but are not seeking organic certification. Payment: Cash, Check.
Pollock and Yarnick Strawberries -
155 Thomas Covered Bridge Road, Indiana, PA 15701. Phone: 7243493904. Email strawberri1@comcast.net. Open: PYO is typically open on week days including Saturday from 8:30 am until 4:30 pm. Sunday's from noon to 4:30 pm. Please call the market or sign up for our lists to confirm when we are open for PYO. Pollock Strawberries have partnered with Yarnick's Farm, LLC and planted fields of strawberries. We have pick your own, wholesale as well as berries in the market. If you would like to be added to our strawberry email list, send an email to us. We will provide weekly updates during the month of June. If you would like to know about all the produce available throughout the season at Yarnick's Farm go to our website and sign up for their newsletter and like them on Facebook. Hope to see you at the farm!
Pome Ridge Orchard - Sour cherries, blueberries and raspberries.
1715 Luciusboro Road, Blairsville, PA 15717. Phone: 724-479-0534. Open: Monday - Friday: 9am - 4 pm; Saturday: 9am - 2:30 pm; closed on Sunday; from the first week of July - Late November early December; Exceptions: Only if there is not enough fruit or season was bad. Directions: See their website for directions. Payment: Cash, only. Pome Ridge Orchards Facebook page. Pome Ridge Orchard is a family owned business that sells plums, blueberries, peaches (many different kinds), nectarines, apples (many different kinds), tart cherries, and some vegetables. Our tart cherries and blueberries are 'You Pick' and we pick the peaches, apples, nectarines and plums. Pome Ridge Orchard has been around for a long time and is now owned by a new family, who bought the orchard about 4 years ago. Remember only, the cherries and blueberries are PYO, the following are ALREADY picked (not pyo) apples plums, peaches, nectarines, tart cherries. Typical harvest start dates are:
Sour Cherries - End of June
Blueberries - July
Peaches - (NOT PYO) End of July - First week of September; varieties: Garnet Beauty, Red Haven, Harmony, Sunhigh, Sweet and Ups, Cresthaven)
Nectarines - (NOT PYO) Mid-August - First week September (Sunglo, Red Gold, Fantasia)
Cider - September - October
A visitor writes on June 21, 2014: "Nice small farm/orchard. Friendly owners."
Stutzman Farms -

Minimizes chemical and pesticide use

, blueberries, U-pick and already picked, porta-potties are available, restrooms, picnic area you may bring your own food
8690 Highway 422 East, Penn Run, PA 15765. Phone: 724-463-7915. Open: Monday to Saturday from 8 am to 6 pm; Tuesdays 8 am to 8 pm; closed Sundays. Click here for current open hours, days and dates. Directions: Click here for a map and directions. We minimize use of pesticides and other chemicals. Payment: Cash, Check. Stutzman Farms Facebook page. There are more than 5,000 five-foot blueberry bushes on Berry Hill (and 8 different varieties!), so no scouting or crouching is required on your part.
Price is per pound that you pick. They provide the buckets Also known as "Berry Hill of Stutzman Farms".
A visitor writes: "This is a pretty simple set up. There are no picnic tables, or activities. You can pick your own. They are not an organic farm. They are mainly a blueberry operation and have several acres of blueberries. I am not sure how much of the farm is dedicated to raspberries. "
White Swan Acres - UPDATE: May 28, 2016: The owner tells me they are now permanently closed
2854 Saltsburg Road, Clarksburg, PA 15725.

Jefferson County
Blueberry Hill Farm

- blueberries,
10160 Route 322, Reynoldsville, PA 15851. Phone: (814) 328-5073. Alternate Phone: (814) 771-2417. Email: blueberryhillfarm@yahoo.com. Open: Daily July thru mid August from daylight To dusk. Directions: Located 2 miles west of Reynoldsville on Route 322 or 8.5 miles east of Brookville on Route 322. Click here for a map and directions. Payment: Cash, Check. (UPDATED: July 08, 2019)
Lawrence County
Gary's Berries - blueberries,
412 George Washington Rd, Volant, PA 16156. Phone: 724-674-2136. Alternate Phone: 724-674-0696. Email: gldewitt@gmail.com. Open: Monday to Saturday, from 8am to 8 pm; Closed Wednesday and Sunday, July - August. Directions: Blueberries come in around July 15 until August 15; Before or after these dates one should call for availability. Payment: Cash, only. The farm has 1,000+ blueberry plants. Come pick your own blueberries or purchase a quart already picked.
Somerset County
Skyview Lab Blueberry Farm -

No pesticides are used

, blueberries,
480 Willison Road, Boswell, PA 15531. Phone: 814-629-9742. Email: skyviewlabblueberryfarm480@gmail.com. Open: Click here for current open hours, days and dates Days and hours of operation are subject to change.. Directions: Click here for a map and directions. Payment: Cash, Check. Come pick blueberries that taste best right off the bushes. Skyview Lab Blueberry Farm Facebook page. Bring a picnic lunch, and enjoy the day. Take pictures of the children you will treasure forever. There are varieties coming ripe all summer to eat, freeze, make pies and all sorts of nutritious dishes. We have picnic tables located between the North/South Fields for your enjoyment! Come pick blueberries that taste best right off the bushes. All of our berries are grown right on the mountain. None of the berries are sprayed with any harmful pesticides or anything of the sort. We invite you to bring a picnic lunch, take pictures of the children that you will treasure forever, and just enjoy your day entirely. This summer there will be different varieties that can be eaten, frozen, made into pies, and all sorts of delicious, nutritious dishes! All Mountain Grown and Unsprayed. Pick Your Own Blueberries 2018 price was $ 3.50 per pound, and Fresh Picked Blueberries to Order 2018 price was $ 5.00 per pint. All mountain grown and unsprayed. Please bring your own containers.
Washington County
Bedner's Farm and Greenhouse - apples, asparagus, broccoli, corn (sweet), eggplant, herbs or spices, peppers, pumpkins, summer squash, Tayberries, tomatoes, other vegetables, concessions or refreshment stand, restrooms, face painting
315 Coleman Road, McDonald, PA 15057. Phone: (724) 926-2541. Email: holly@bednersgreenhouse.com. Open: Select weekends, July - October. Click here for current open hours, days and dates. Directions: Click here for a map and directions. Payment: Cash, Check, Debit cards, Visa, MasterCard, Discover, AmEx. Click here for our Facebook page. Take a hayride out to our produce fields to pick-your-own fresh vegetables. The vegetables to be picked each day will depend on crop conditions. Reservations are recommended, as space is limited. Check back in July to register!
Simmons Farm - apples, flowers, peaches, pumpkins, strawberries, Honey from hives on the farm, U-pick and already picked, farm market, concessions or refreshment stand, porta-potties are available, restrooms, picnic area, petting zoo, farm animals, birthday parties, weddings and wedding parties, school tours
17170 Simmons Rd, McMurray, PA 15317. Phone: 724-941-1490. Email: market@simmonsfarm.com. Open: Picking usually ends one hour before market closes. Click here for current open hours, days and dates. Picking updates: Click here for picking updates. Directions: Click here for a map and directions. Strawberries Late May Early June Flowers Early Summer to Mid Fall Peaches Summer Apples Summer to Fall Pumpkins Begins September 21st. Payment: Cash, Check, Debit cards, Visa, MasterCard, Discover, SFMNP Vouchers. Click here for our Facebook page. Christmas Trees in Winter.
Trax Farms - strawberries, blueberries, or pumpkins
528 ax Road, Finleyville, PA 15332. Phone: 412-835-3246. Email: sales@traxfarms.com. Directions: 12 miles south of Pittsburgh on Route 88. Open: Monday through Saturday - 8AM to 8PM, Sunday - 8AM to 6PM, Starting November 1st, we start our Winter Hours: Monday through Saturday - 9AM to 7PM, Sunday - 9AM to 6PM. Trax Farms Facebook page. Our Strawberry crop covers 8 acres. Our sweet corn covers 85 acres, and is our largest crop on the farm. We offer Pick-Your-Own Crops. These crops start with strawberries in June, blueberries in July, and pumpkins during our Harvest Festival in October. With the Pick-Your-Own crops, you drive out to the field and "pick your own" strawberries, blueberries, or pumpkins. This is a great time to spend with your family! There are also fresh picked crops: We have 2250 apple trees and have 17 different varieties of apples. Our peach orchard covers 12 acres.
Westmoreland County
Hillside Orchards - strawberries, U-pick and already picked, farm market
7217 Route 819, Mount Pleasant, PA 15666. Phone: (724) 547-2693. Open: Thursday thru Monday from 10am to 6pm; Please arrive for pick your own by 5pm as we close at 6pm. Directions: Click here for a map and directions. Payment: Cash, Visa, MasterCard, Discover, WIC Vouchers.
Morris Farm -

ORGANIC

, beans, beets, broccoli, cucumbers, eggplant, herbs or spices, melons, peppers, pumpkins, summer squash, winter squash, tomatoes, other vegetables,
110 Slebodnik Road, Irwin, PA 15642. Phone: 412-370-3206. Fax: 412-856-4373. Email: randy@morrisorganic.com. Open: In the growing season June through October; Monday, Wednesday, Friday - 6pm to Dark; Saturday Afternoon 2 Pm to 5 Pm; Or By Appointment; Seasons: Spring to Autumn, Based on Weather, Call for More Details. Directions: Between Sutersville and Rillton on Mars Hill Road near Herminie. Click here for a map and directions. Crops are usually available in July, August, September. We are certified organic for all crops! Payment: Cash, only. Morris Organic Farm Facebook page. Lettuce and greens always available. Call for availability of vegetables before you visit. See the updated list of vegetables with vegetable pricing. We also have local milk products, eggs, cheese , water kefir, wheat flour, corn meal, and sometimes organic grass fed meats. Please call me for an appointment to pick vegetables if you cannot visit during our regular hours.. Cell # 412-370-3206 You may send me your e-mail address for a weekly news e-mail about what winter milk, cheese, eggs and meats are available.
Sarver Hill Farm -

certified organic

, Farm market, PYO strawberries (by appointment), CSA, farm fresh eggs,
438 Old State Rte. 66, Greensburg, PA 15601. Phone: 724-834-2334. The U-pick strawberries is by appointment only. The CSA has beets, peppers, radishes, Chinese greens, melons, pumpkins, eggs and meats and other veggies. Theirr Farmers Markets is now at:
All Saints Brewery just up 119 from Lynchfield Park: Saturday Mornings will reopen April 29th, 9am, then April 29th to November 19th
Thursday Market on Rt 66 3-6pm, will begin June 1st & moves to our barn in November for Thanksgiving.
CSA distributions : 24 week shares Begin May 18th , 20 week shares begin June 1st 2023.
Our Free Range Eggs & other products are available year round in the barn. (ADDED: April 25, 2023, JBS)
Schramm Farms - permanently closed
1002 Blank Road, Jeannette, PA 15644. Open: UPDATE for 2022: They are permanently closed Schramm Farms and Orchards closed on December 31, 2021. Thank you for your patronage over the years and a very special thank you to all of our employees who have worked here over the past 40 years! **Grandma's Country Oven Bake Shoppe will remain open as it is a separate business!. Schramm Farms and Orchards Facebook page.

Stone Church Berry Farm

- permanently closed. .
297 Stone Church Rd, Hunker, PA 15639. . Open: UPDATE for 2022, Google says they are permanently closed. J
---