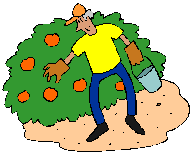 Looking for a local, pick-your-own farm in Southern Minneapolis and southern suburbs, Minnesota? Scroll down this page and you will see the U-Pick farms in Southern Minneapolis and southern suburbs, Minnesota, sorted by county. Those that offer organic or sustainably grown produce are identified by the words "organic" and/or "sustainable" in Green, next to their name (see "What does Organic mean?"). The U-pick crops they offer follow the name of the farm. To search the page for a specific crop, use Ctrl-F (or on an ipad or Mac, use their "search on this page" function) If they have a website, the name will be in blue and underlined; click on it and it will open their website. If you find anything outdated or inaccurate, see the customer and farmer menus (as appropriate) at the top menu bar to submit updates and corrections and help me keep each current!
New! As inflation remains high, see this page for cost-saving measures for getting fruit and vegetables and home canning.
If you are having a hard time finding canning lids, I've used these, and they're a great price & ship in 2 days.
New! Road tripping and camping is a great way to have a fun, safe and inexpensive family trip. The national and state parks and monuments are open, and campgrounds usually cost between $10 and $40 per night. September to November is the best camping weather. See our new website Road Tripping and Camping.com for tips, tricks, guides, checklists and info about parks, monuments and other places to visit.
Note: Beware the copycat websites like the one that stole our name and uses .farm extension: they copied my work and do NOT even update the info! I make updates EVERY day. They use tech tricks to get higher rankings, but have many more inaccuracies and out-dated info. Obviously, I cannot check every farm every day, but I do check as many as I can every day, and respond to all requests. They don't. Don't support the scammers!
Remember to always check with the farm's own website or Facebook page before you go - or call or email them if they don't have a website or Facebook page. Conditions at the farms and crops can change literally overnight, so if you want to avoid a wasted trip out there - check with the farm directly before you go! And if you know of any farms I missed and want to add a farm, please let me know! I'm making updates for this year as fast as I can - if you find anything out-of-date, wrong or not working - please let me know! This website is supported by purchases you make through the links to products on Amazon. As an Amazon Associate I earn from qualifying purchases. This allows me to continue to maintain the website and make improvements!
What's in season in October 2023, and other timely information:
Notes for October 2023: Summer is almost over and that means apples are here (see this new page for Apple Orchards in your area!), and except in northern areas, peaches and blueberries are finished. Some crops continue until frost, like raspberries, blackberries, figs, corn and tomatoes. Check your area's specific crop calendar (see this page) and call your local farms for seasonal updates.
See these pages to find a local Apple festival, and other festivals. We have a extensive guide to apple varieties and a guide to peach varieties. Also recipes, canning and freezing directions for apples, tomatoes, corn blueberries, peaches, etc.
And don't forget CORN MAZES are open now - find a local maze here.
See our comprehensive list of easy home canning, jam and jelly making, preserving, drying and freezing directions. You can access recipes and other resources from the drop down menus at the top of the page or the site search. If you have any questions or suggestions, feel free to write me! It is easy to make your own ice cream, even gelato, or low fat or low sugar ice cream - see this page. Also note, there are many copycat website listing U-pick farms now. The worst is the one that stole our name but ends with .farm. (Yes, I've got lawyers on it) They have all copied their information from here and usually do not ever update. Since 2002, I've been updating the information every day but Christmas; so if you see anything wrong or outdated, please write me!
Children's Consignment Sales are a great way to save money on clothes, toys, books, etc, They occur in both the Spring and Fall See our companion website to find a local community or church kid's consignment sale!
Southern Minneapolis and southern suburbs, Minnesota U-Pick Farms and Orchards in 2023, by county
Click on the resources drop-down above, if you need a county map
Carver County
Deardorff Orchards - 2023 presumed permanently closed
8350 Parley Lake Road, Waconia, MN 55387. Phone: (952) 442-1885. Open: 2023 presumed permanently closed UPDATE for 2023, Their website and/or Facebook page are gone, so I assume they have closed permanently. If you know anything for sure, please write me, their last reported hours were Tuesday to Sunday from 10 am to 6 pm. Email: deardorfforch@aol.com. (UPDATED: September 22, 2023, JBS)

Fall Harvest Orchard - apples, pumpkins
345 County Road 30 SE, Delano, MN. Phone: 763-972-3894. Email: fallharvest@frontiernet.net. Open: from late August, Thursday to Sunday (and Labor Day Monday) 10 am - 6 pm, August 27th to October 30th. Family-oriented orchard on a working farm; 18 apple varieties, pre-picked or pick your own. In season: squash, brown eggs, pumpkins, gourds, calico corn, popcorn & corn bundles. Children will enjoy the farm animals (cows with calves, goats with kids, chickens, turkeys and pigs) in an actual farm setting. Apple House features snacks, gifts and crafts. Free wagon rides. Picnicking welcome. Located 5 miles west of Delano on County Road 30. April 27, 2015: Fall Harvest Orchard is about to get new owners who intend to keep the orchard going. Watch this space for more information!
Dakota County
Le Sueur County
Montgomery Orchard - apples, corn maze, restrooms, gift shop, concessions or refreshment stand, picnic area, birthday parties
15953 State Highway 99 (140th St. W) , Montgomery, MN 56069. Phone: 952-221-1051. Email: barb@montgomeryorchard.com. Open: See their website for for hours and availability. Directions: See their website for directions. Payment: Cash, Check, Debit cards, Visa, MasterCard . Our mission is to provide a refreshing and memorable outdoor experience for families, friends and organizations. We hope you will enjoy the peace that comes with the fresh air of a crisp fall day. Montgomery Orchard bloomed in the mind of owner, Scott Wardell, and transcended into reality when the first section of apple orchard, Orchard A, was planted in 1999. Since then, thanks to the help of many, Scott and his family have now expanded the orchard nearly six-fold, adding on a new segment designated by another letter every year. Aside from Orchard, the rest of Scott and Barb's farm land is dedicated to the Conservation Reserve Program (CRP) including the growth of various hardwood and evergreen trees and prairie restoration. It is now the mission of Scott and his family to deliver the joy and experience of taking part in the most beautiful parts of nature to their guests. When the summer comes to a close, our arms are open to all that will come.
McLeod County
Apple Shack - apples
23701 Highway 15 N, Hutchinson, MN 55350. Phone: (320) 587-2127. Directions: just north of Hutchinson, 40 acres of many varieties of apples. (ADDED: June 11, 2015, JBS)
Nicollet County
Inspired Acres - Le Sueur -

UPDATE: June 22, 2016: The owner tells me they are now permanently closed


34876 Us highway 169 South, Le Sueur, MN 56058.
Ramsey County
Rice County
Scott County
Sibley County
Washington County
Aamodt's Apple Farm, Inc. - apples, hayrides, pumpkins, cow train rides, pony rides, petting zoo, winery
6428 Manning Avenue, Stillwater, MN 55082. Phone: (651) 439-3127. Open: Daily, From 10AM to 6PM, Seasonal hours, August to December . Throughout the season Aamodt's takes on a festive atmosphere. Our turn-of-the century farm village comes alive with children's laughter rising from the pony rides & petting farm as fiddlers stroll the grounds. Take a hay ride, or sit back and relax in the pantry with homemade bakery goods & fresh pressed cider. Take a ride in Aamodt's hot air balloons. We added a winery, with apple & grape wines. Enjoy a walk through the orchard & pick your own apples. Visit our website full of info & coupons.

Afton Raspberry Company

- raspberries,
1421 Neal Avenue South, Afton, MN 55001. Phone: 651-436-7631. Email: John J. Arco @msn. Directions: From St. Paul 94 east to manning avenue. Take a right. Go 200 feet and take a left onto the frontage road. Go to 1st stop sign and take a right. Go 1.4 miles. We are located on the left side of the road. address is 1421 neal ave. so. Click here for a map and directions. Crops are usually available in August, September. Open: 7 days a week from 8am till dark. Mid august thru September Fall Raspberries Only Starting mid august thru September Payment: Cash, Check.
The Berry Patch - strawberries, raspberries & blueberries
10456 192nd St N, Forest Lake, MN 55110. Phone: 651-433-3448. Open: daily, June to August, weather & crop permitting. Pick-your-own & pre-picked strawberries in June and pick-your-own & pre-picked raspberries & blueberries in July; typically in the third or fourth week of June for strawberry picking, followed in July by raspberry and blueberry harvest. Orders for tree-ripened Michigan peaches and sweet cherries also taken. Forest Lake, MN 55110. Five miles east of Forest Lake on Hwy 97. Turn south on County Road 15 (Manning Trail) for 1 three quarters of a miles, then turn right onto County Road 50. Supervised children welcome. Containers provided. . Click here for a link to our Facebook page. (UPDATED: June 13, 2020 JBS)
Blueberry Fields of Stillwater LLC -

Certified Organic

, blueberries, porta-potties, picnic area you may bring your own food
9450 Mendel Road North, Stillwater, MN 55082. Phone: (651) 351-0492. Email: bev@blueberryfieldsofstillwater.com. Open: See our website for current hours. Click here for current open hours, days and dates. Directions: Click here for a map and directions. We are certified organic for all crops! Payment: Cash, Check, Visa, MasterCard, Discover, AmEx. Click here for our Facebook page. Pick your own delicious, Certified Organic blueberries in family friendly, peaceful setting. Please check website/phone line for updates before driving to farm. Hope to see you in July. . Pick your own blueberries in our family friendly setting with picnic areas. Our blueberries are not officially organic this season, but we are following the exact same practices as when we were organically certified. The blueberries are being grown "naturally", and no chemical pesticides or insecticides are ever used at Blueberry Fields of Stillwater. We use composted poultry manure, fish hydrolysates, and mulch, which feed our bushes, soil, and create our delicious blueberries!. (UPDATED: July 02, 2020, JBS)
Covered Bridge Farm - apples, Christmas trees
18655 Forest Blvd., Forest Lake, MN 55025. Phone: 651-464-0735. Email: coveredbridgefarm.mn@gmail.com. Open: Note, There will be no apple or pear crop in 2017 due to the June 11 hailstorm; We will open for "cut your own" Christmas trees the day after Thanksgiving.Pick your own apples and Pre-cut as well as choose and cut Christmas tres- (Balsam Fir, Colorado Spruce, Scotch Pine, Norway Spruce Replica covered bridge over creek in picturesque rural setting. Located 16 miles north of St. Paul on US Highway 61. 20 acres dedicated to cut your own Christmas trees in season.
Croix Farm Orchard - Apples, pumpkins, raspberries, corn maze, pumpkin patch
County Road 21, Hastings, MN. Phone: 651-437-7126. Email: kjleadholm@aol.com. Open: UPDATE for 2023, Their page page is out of date and they have not been open since COVID started so I assume they have permanently closed; If you have any current information, please write me, daily, September to Nov 9:30 am to 6 pm. Call for harvest dates, weekend activities, directions or to schedule group tours. Apples, pumpkins, raspberries, corn maze and more. Located on the scenic Lower St. Croix River, 1 mile north of US Hwy 10 on Wash County Road 21 just 25 minutes south of St. Paul. Over 20 varieties of apples pre-picked or pick-your-own available. PYO fall raspberries, cider, honey, maple syrup, PYO pumpkins and other fall vegetables available. September through October 31 corn maze, weekend hayrides, petting animals and picnic facilities. Enjoy our fall gardens and a stroll through the orchard. Click here for a link to our Facebook page.
Live Flowers, LLC -

No pesticides are used

, flowers, U-pick and already picked
15677 May Avenue, Marine On St. Croix, MN 55047. Phone: 651-433-5075. Email: Renee.LiveFlowers@gmail.com. Open: by appointment only, Monday to Saturday, from 8 am to 7 pm, July 1 to September 30 or frost. Directions: From Stillwater and Highway 36, drive north on Manning (County Road 15) for 8 miles. Turn right on 155th Street and left on May Avenue. We are 10 miles north of downtown Stillwater. Click here for a map and directions. The month of August is peak flowering time!. We do not use pesticides on the crops. Payment: Cash, Check. Click here for our Facebook page. Riotous, colorful, abundant blooms all summer long can be picked at my Live Flowers, LLC local, sustainable, flower farm. You may pick your own or request a bouquet be ready when you get here. Flowers by the pail for outdoor & indoor weddings, green receptions, special events & every day. Cosmos, celosia, callas, zinnias, rudbeckias, & many more varieties. I am happy to pick flowers & arrange for you if you wish. Please call ahead. You may also find me at Marine on St. Croix Farmers' Market Saturday mornings July thru September.
McDougall's Apple Junction - 2023 permanently closed Apples, pumpkins, hayrides,
14325 110th St S, Hastings, MN 55033. Phone: 651-437-6794. Alternate phone: (651) 480-4701. Open: UPDATE for 2023, Their website and Facebook page are gone, so I assume they have closed permanently. If you know anything for sure, please write me, their last reported hours were 10 am to 6 pm daily, September - December. Orchard located just 20 minutes south of St. Paul. Four miles S of Afton Alps or 2 miles N of Carpenter's Nature Center on Cty 21 & Cty 78. Apples, honey, pick-your-own pumpkins, jams and jellies, fall vegetables, chrysanthemums, dried flowers, crafts & more. Straw mountain play area, goat mountain, petting zoo, weekend hayrides and a real farm windmill. Make a drive along the beautiful lower St. Croix River Valley an autumn tradition, and be sure to include a visit to McDougall's Apple Junction. Gary and Alice McDougall. (UPDATED: October 1, 2018, JBS)
Natura Farms (formerly North Star Gardens) - Strawberries, raspberries, blueberries, apples, currants, grapes, melons, tomatoes, sweet corn, peppers, other vegetables, herbs and flowers.
19060 Manning Trail North, Marine on the St. Croix, MN 55047. Phone: 651-433-5850. Email: pmo@chof.net. U-pick, pre-pick and wholesale. Clean, indoor rest rooms. Children welcome! We steward our soil and grow our produce with natural, sustainable, environmentally safe practices. Open: June-Sept, Tues-Sat; 10-7 and by appointment. Pick-Your-Own Strawberries, Raspberries, Currants, And More. See this page for a harvest schedule / crop calendar.
Comments from a visitor on September 02, 2008: "I thought it was great. Everything is organic and fresh. The people that work there are kind and helpful. Not to mention, many of them are volunteers that work towards a local church. The entire organization is just fantastic."
Pine Tree Apple Orchard - Strawberries, corn maze, bakery
450 Apple Orchard Road, White Bear Lake, MN 55110. Phone: 651-429-7202. Strawberry Season - Mid-June through Mid-July, PYO Berry Line, 651-429-8026. Pre-picked and Strawberry Bakery. Apple Season is August through February, Weekends in March, Seasonal Hours. See the website for Tours or Schedule of Events or Maps and Directions. During the fall we offer weekend entertainment, pony rides, wagon rides, and a corn maze; pick your own pumpkins, a large variety of apples, homemade bakery products, caramel apples, fresh cider, gifts and more!
Whistling Well Farm - pumpkins, fall raspberries and apples.
8973 St Croix Trail S, Hastings, MN 55033. Phone: 651-998-0301. Email: charlie@whistlingwellfarm.com. Open: daily from 9 am to 6 pm; Pick your own apples start Saturday in early September. Directions: 2 miles south of Afton Alps/Afton State Park on County Rd 21 (St. Croix Trail) and County Rd 76 (90th St). A variety of apples are now available in our market for sale. We grow over 20 of our regions finest varieties of apples.
---
---