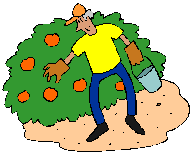 Looking for Facts about 'Low Acid' Tomatoes in 2023? Scroll down this page and follow the links. And if you bring home some fruit or vegetables and want to can, freeze, make jam, salsa or pickles, see this page for simple, reliable, illustrated canning, freezing or preserving directions. There are plenty of other related resources, click on the resources dropdown above. If you are having a hard time finding canning lids, I've used these, and they're a great price & ship in 2 days.
If you have questions or feedback, please let me know! There are affiliate links on this page. Read our disclosure policy to learn more.
Facts about 'Low Acid' Tomatoes
Facts about "Low Acid" Tomatoes and Home Canning
In home canning, we are constantly warned that some tomato varieties, particularly yellow types are low acid and so we need to acid 1/4 cup of lemon juice to each batch. While I have no problem adding the lemon juice for added safety, it now appears that these tomatoes are not actually low acid after all.
There are two U.S. Department of Agriculture studies of the pH in tomato varieties published in HortScience Journal, one from June of 1977 and another from April of 1978.
They tested 58 varieties (cultivars) of tomatoes, including red, yellow, and orange, hybrids and heirlooms, and both older and new varieties. They also examined data from studies from 23 state agricultural experiment stations and multiple USDA laboratories for another 350 cultivars . They were specifically looking at the acid levels in tomatoes for the purposes of home canning. The danger threshold for botulism is 4.6.
Here are some of their key findings:
Lighter colored and smaller tomato varieties were more acidic than standard red tomato varieties.
Newer varieties of tomatoes are not less acidic
The average pH stayed within a small range, between 4.14 (for the most acidic) to 4.68 (for the least acidic varieties tested).
The growing location or and ripeness can affect pH of tomatoes (over ripe are less acidic)
Yellow and orange tomato varieties taste sweeter due to a higher sugar content, but this is unrelated to the pH. In other words, the higher sugar masks the acidity.
Here is a table from directly from the USDA study:
pH by variety:
Conclusion:
In this USDA study, the researchers bluntly state
"... the risk (of botulism) to consumers in home canned tomatoes is very small."
Since all tomatoes are at the higher (less acidic) end of the pH spectrum for acidic foods for home canning, adding 1/4 of lemon juice to each batch does still make sense. But if you forget to add it for a batch, there is no need for panic, and if you did everything else properly, they will be fine.
The range of pH variation is actually very small and the data says that there really are no "low acid" varieties of tomatoes. The sweeter ones simply taste less acidic.
List of Tomato Varieties claimed to be "Low Acid" (but really
aren't

):
ARKANSAS TRAVELER
ARKANSAS TRAVELER AZOYCHKA
AZOYCHKA BANANA LEGS
BANANA LEGS BIG RAINBOW
BIG RAINBOW BRANDYWINE YELLOW PLATFOOT STRAIN
BRANDYWINE YELLOW PLATFOOT STRAIN BROWN BERRY
BROWN BERRY
CAROLINA GOLD VFF HYBRID
CAROLINA GOLD VFF HYBRID CHUCK
CHUCK'S YELLOW BEEFSTEAK DR. CAROLINE
DR. CAROLINE DR. WYCHE
DR. WYCHE'S YELLOW GARDEN PEACH
GARDEN PEACH GEORGIA STREAK
GEORGIA STREAK
GIANT BELGIUM
GIANT BELGIUM GOLD MEDAL
GOLD MEDAL GOLDEN BOY HYBRID
GOLDEN BOY HYBRID GOLDEN QUEEN, USDA STRAIN
GOLDEN QUEEN, USDA STRAIN GREAT WHITE
GREAT WHITE HILLBILLY POTATO LEAF
HILLBILLY POTATO LEAF
HUGH
HUGH'S IVORY EGG
IVORY EGG JET STAR VF HYBRID
JET STAR VF HYBRID JUBILEE
JUBILEE LEMON BOY VFN HYBRID
LEMON BOY VFN HYBRID LILLIAN
LILLIAN'S YELLOW HEIRLOOM
MR. STRIPEY
MR. STRIPEY PERSIMMON
PERSIMMON
PONDEROSA PINK POWER
POWER'S HEIRLOOM ROMAN CANDLE
ROMAN CANDLE SAN MARZANO
SAN MARZANO
SAN MARZANO REDORTA
SAN MARZANO REDORTA SUN GOLD HYBRID
SUN GOLD HYBRID SUPER MARZANO VFNT HYBRID
SUPER MARZANO VFNT HYBRID SUPER SNOW WHITE
SUPER SNOW WHITE SWEET 100 HYBRID
SWEET 100 HYBRID WHITE BEAUTY
WHITE BEAUTY
WHITE QUEEN
WHITE QUEEN YELLOW PEAR
YELLOW PEAR YELLOW STUFFER
YELLOW STUFFER
Botulism
The CDC
The ability of C. botulinum to cause food poisoning in humans is directly related to the production of heat-resistant spores that survive preservation methods that kill nonsporulating organisms.(5) The heat resistance of spores varies from type to type and even from strain to strain within each type; although some strains will not survive at 80EC, spores of many strains require temperatures above boiling to ensure destruction.(6,7) The thermal resistance of spores also increases with higher pH and lower salt content of the medium in which the spores are suspended.(8). ... The minimum pH range for growth of proteolytic strains is 4.6-4.8; the limit is pH 5.0 for nonproteolytic strains.
The USDA's National Center for Home Food Preservation at UGa says (September 4, 2013):

The bacteria that cause botulism poisoning can grow and produce toxin in sealed jars of moist food at room temperature if the pH (measure of acidity) is above 4.6. Vegetables, meat, fish, etc. are naturally fairly high above pH 4.6 (close to 6.0) and so pressure processes were developed for those to kill the heat-resistant spores of C. botulinum bacteria that are likely to be contaminating them.

Tomatoes also can have a natural pH above 4.6 (at least up to 4.8).