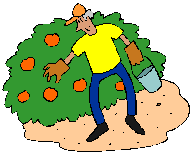 Looking for a local, pick-your-own farm in Central Illinois? Scroll down this page and you will see the U-Pick farms in Central Illinois, sorted by county. Those that offer organic or sustainably grown produce are identified by the words "organic" and/or "sustainable" in Green, next to their name (see "What does Organic mean?"). The U-pick crops they offer follow the name of the farm. To search the page for a specific crop, use Ctrl-F (or on an ipad or Mac, use their "search on this page" function) If they have a website, the name will be in blue and underlined; click on it and it will open their website. If you find anything outdated or inaccurate, see the customer and farmer menus (as appropriate) at the top menu bar to submit updates and corrections and help me keep each current!
New! As inflation remains high, see this page for cost-saving measures for getting fruit and vegetables and home canning.
If you are having a hard time finding canning lids, I've used these, and they're a great price & ship in 2 days.
New! Road tripping and camping is a great way to have a fun, safe and inexpensive family trip. The national and state parks and monuments are open, and campgrounds usually cost between $10 and $40 per night. September to November is the best camping weather. See our new website Road Tripping and Camping.com for tips, tricks, guides, checklists and info about parks, monuments and other places to visit.
Note: Beware the copycat websites like the one that stole our name and uses .farm extension: they copied my work and do NOT even update the info! I make updates EVERY day. They use tech tricks to get higher rankings, but have many more inaccuracies and out-dated info. Obviously, I cannot check every farm every day, but I do check as many as I can every day, and respond to all requests. They don't. Don't support the scammers!
Remember to always check with the farm's own website or Facebook page before you go - or call or email them if they don't have a website or Facebook page. Conditions at the farms and crops can change literally overnight, so if you want to avoid a wasted trip out there - check with the farm directly before you go! And if you know of any farms I missed and want to add a farm, please let me know! I'm making updates for this year as fast as I can - if you find anything out-of-date, wrong or not working - please let me know! This website is supported by purchases you make through the links to products on Amazon. As an Amazon Associate I earn from qualifying purchases. This allows me to continue to maintain the website and make improvements!
What's in season in September 2023, and other timely information:
Notes for September 2023: Summer is almost over and that means apples are here (see this new page for Apple Orchards in your area!), and except in northern areas, peaches and blueberries are finished. Some crops continue until frost, like raspberries, blackberries, figs, corn and tomatoes. Check your area's specific crop calendar (see this page) and call your local farms for seasonal updates.
See these pages to find a local Apple festival, and other festivals. We have a extensive guide to apple varieties and a guide to peach varieties. Also recipes, canning and freezing directions for apples, tomatoes, corn blueberries, peaches, etc.
And don't forget CORN MAZES are open now - find a local maze here.
See our comprehensive list of easy home canning, jam and jelly making, preserving, drying and freezing directions. You can access recipes and other resources from the drop down menus at the top of the page or the site search. If you have any questions or suggestions, feel free to write me! It is easy to make your own ice cream, even gelato, or low fat or low sugar ice cream - see this page. Also note, there are many copycat website listing U-pick farms now. The worst is the one that stole our name but ends with .farm. (Yes, I've got lawyers on it) They have all copied their information from here and usually do not ever update. Since 2002, I've been updating the information every day but Christmas; so if you see anything wrong or outdated, please write me!
Children's Consignment Sales are a great way to save money on clothes, toys, books, etc, They occur in both the Spring and Fall See our companion website to find a local community or church kid's consignment sale!
Central Illinois U-Pick Farms and Orchards in 2023, by county
Click on the resources drop-down above, if you need a county map
Adams County
Mill Creek Farm - pumpkins, strawberries, and prepicked produce, restrooms
2833 S. 48th Street, Quincy, IL 62305. Phone: 217-222-8430. Email: roegge@adams.net. Open: Strawberries- open Monday to Saturday, Pumpkins open daily Strawberries available (usually) mid May thru early June. Directions: 2.5 miles south of Broadway (Route 104) on 48th Street in Quincy. Click here for a map and directions. Picking Updates: click here for picking updates. Crops are usually available in May, June, October.June 2014, We've started strawberry season at Mill Creek Farm. Mill Creek Farm Facebook page.Payment: Cash, Check. They also have fresh-picked asparagus. They pick asparagus fresh every day as weather conditions allow, usually from mid April through early June. Please call our answering machine to check availability. .
Brown County
Calhoun County
Cass County
Champaign County
Curtis Orchard & Pumpkin Patch - apples, pumpkins, Honey from hives on the farm, Cider mill fresh apple cider made on the premises, U-pick and already picked, gift shop, snacks and refreshment stand, restrooms, picnic area, face painting, pony rides, petting zoo, birthday parties, school tours
3902 S Duncan Rd, Champaign, IL 61822. Phone: 217-359-5565. Email: info@curtisorchard.com. Open: THRU October - Monday to Saturday 9 am to 6 pm, Sunday 11 am to 6 pm / AFTER October - Monday to Saturday 9 am to 5:30 pm, Sunday 11 am to 5 pm. Directions: Click here for a map and directions. Store apples: late July to mid December / U-PICK Apples: late July to late October (depending on the year) Click our link for which apples are ready when. / Store peaches: late July thru October / U-Pick and already picked pumpkins: mid-September to mid-November. Payment: Cash, Debit cards, Visa, MasterCard, Discover. Spend a little time in the country! Visit Curtis Orchard for a fun, inexpensive & educational farm experience for the whole family. We have apples, pumpkins, kids' activities, a bakery, and a country store. Rain or shine, we're open July 20 - December 20. The Flying Monkey Cafe is open for lunch every day from August 17 - November 27. This 80-acre entertainment farm features the Flying Monkey Cafe, which serves cookout-style lunch. We also bake pies & donuts every day we're open. No admission fee. Sorry - no pets.
Christian County (Springfield area)
Big M Berry Patch - Strawberries, Black Raspberries, Blackberries,
928 E 1090 North Road, Taylorville, IL 62568. Phone: (217) 824-6625. Directions: Route 48W, right on County Road 900E, first turn right on CR 1090, first place on right. click here for a map. Open: Call first: 8 am to 5 pm. Big "M" Berry Patch also has hay mazes, and pumpkin picking in the Fall.
Coles County
Dewitt County
Wagon Wheel Pumpkin Farm - apples, pumpkins, summer squash,
7 Miles East Of Clinton, Clinton, IL 61727. Phone: 217-736-2470. Email: rbmartin@dishmail.net. Directions: From Clinton take Route # 10 East approximately 7 miles. You will turn right on 17000 (there is a pumpkin sign) go 1 mile then turn right again on airport road (another pumpkin sign) first house on your left (big sign in front yard). Click here for a map and directions. Crops are usually available in September, October. Open: Daily 10 am to 6 pm. We have a variety of pumpkins, gourds, squash, broom corn and Indian corn; Straw maze, corn maze; Open September12th to October31; Hours 10 to 6pm daily; Pumpkin Fun Day - Sunday, October 4th from 1 pm to 5pm; Free pony rides, hayrack rides, face painting and many games; Groups Welcome!!Payment: Cash, only. click here for a link to our Facebook page.
Douglas County
Edgar County
Bess Berries

- strawberries, U-pick and already picked
175 Illinois Highway 1 (Oliver), Marshall, IL 62441. Phone: 217/466-0740. Email: mjbess2@yahoo.com. Open: Monday to Saturday, from 8 am to 6 pm; Sunday 9 am to 6 pm. Directions: on I-70 Marshall/Paris Exit; turn north; 4 miles on Highway 1 to Oliver; left hand side. Sign along Highway and a Big wooden Strawberry!. Click here for a map and directions. Strawberries: May 15 to June 6 You pick or We pick. Payment: Cash, Check.
Fulton County
Greene County
Greene Fields Farm - apples, pumpkins,
311 Daum Station Road, Greenfield, IL 62044. Phone: 217-416-0839. Email: christie@greenefieldsfarm.com. Open: September 9 - October 22, 2023; U-PICK PUMPKIN PATCH & FARM IS OPEN WEEKENDS ONLY; Friday Noon-5:00pm, Saturday 10am-5:00pm, Sunday Noon-5:00pm; Columbus Day, Oct 9, Noon-4:00pm. For the safety of our animals and yours, PLEASE NO PETS. Payment: Cash, Check, Credit card, Debit Card. Directions: Located halfway between Greenfield and Carrollton just north of State Route 108. Watch for our strawberry signs!. Greene Fields Berry Farm Facebook page. Greene Fields Farm is a working farm, with pigs, chickens and our family dairy cow and her calf. You are welcome to go into the barn and meet them for yourself. We also pride ourselves on creating an exploration into our Pumpkin Patch, complete with a Milo Maze, a rainbow field of cut flowers, U-Pick Indian Corn, our Giant Bench for photos, our Hay Bale couple in the Land of the Giants and the Lookout Tower. We also have a kids area in our hoop barn that changes year to year. Come and see for yourself. To the best of our knowledge, no child has left disappointed. We have a concession stand with snacks from our farm: (prices from March 2023) Kettle Corn $6, Sliced Caramel Apples $6, Apple Cider Slushies $4, Drinks $1
Apple Varieties:
Gala - September
Ruby Mac- Early September
Pixie Crunch- Mid September
Crimson Crisp- Mid September
Golden Delicious- Mid September
SunCrisp- Early October
Fuji - . Early October
Crimson Topaz- Early October
Crunch-A-Bunch- Mid October
LudaCrisp- Mid-October
Galarina- Mid-October
WineCrisp- Mid October
Evercrisp- LLate October
Select Heirlooms- Selection of eight classic heritage apples. Maturity varies
(UPDATED: March 9, 2023, JBS)
​
Iroquois County
Jersey County
Eckert's Grafton Farm - apples, pumpkins, peaches.
20995 Eckert Orchard Road, Grafton, IL 62037. Phone: (618) 786-3445. Open: 9 am to 5 pm, daily. Directions: click here for farm directions.. Grafton has an expanded entertainment area for both "little" and "big" kids! Watch the goats climb to amazing heights, search for eggs in the real hen house, play a round of miniature golf, bottle feed a calf, swing on an old-fashion tire swing, jump in one of our three inflatable jumping attractions or just relax and enjoy a funnel cake. There is no admission to the entertainment site. Tickets for rides may be purchased.
Joe Ringhausen Orchard & Apple House (II) - apples, apricots, blackberries, grapes, melons, peaches, pears, plums, tomatoes, beans, cucumbers & gherkins, eggplants, onions, peppers, potatoes, sweet corn, sweet potatoes, turnips,
Rte 67 South, Jerseyville, IL 62052.Phone: 618-498-6951. Alternate Phone: 618-376-6772. Illinois Products gift baskets available. Open: July5 - Christmas, 9 am to 5 pm. Also cider, honey sorghum, jams, jellies, preserves, marmalades, popcorn & pecans.
Knox County
Nyman's Harvest Corner - strawberries.
390 Knox Hwy. 8, Maquon, IL 61458. Phone: 309-342-5059. Alternate phone: 309-462-5242. Email: cnyman4@insightbb.com Open: They may have closed - the owner passed away in 2020, can anyone confirm ? May 1. Hours: 8 am to 5 pm, Monday to Saturday, 8 am to 3 pm Sunday. Call first. Roadside Market: fresh blueberries, strawberries, asparagus, honey and popcorn. Farm is one mile North of Herman Illinois on Knox County Route 8.
Logan County
Clark's Greenhouse & Herbal Country - herbs, scented geraniums & edible flowers, fresh flowers and bouquets.
2580 100th Avenue, San Jose, IL 62682. Phone: 309-247-3679. Email: wclark@mtco.com. Other: sells vegetables, display garden, classes year round, newsletter, open year round.
Macon County
Macoupin County
Backwoods Berry Farm - strawberries, blueberries, blackberries, peaches
227244 Hettick & Scottsville Road, Hettick, IL 62649.Phone: (217) 436-2510. Email: info@backwoodsberryfarm.com. Open: U-Pick hours vary by season, call or check Facebook for more information., Closed Sundays; Strawberries - Mid to Late May; we start taking orders May 1st; Blueberries - Late June; we take orders in May & June; Blackberries -Mid to Late July; we take orders in May & June on a "first come/ first served" basis; Peaches - Early August. U-Pick hours vary by season, call or check Facebook for more information. Always closed on Sundays. *Peaches - Early August;
A visitor writes: "The owners are SO nice and helpful. They sell some related items, such as cookbooks too..."
Broom Orchard - apples, pumpkins, restrooms, picnic area, school tours, events at your location (call for info)
112803 Broom Road, Carlinville, IL 62626. Phone: 217-854-3514. Email: info@broomorchard.com. Open: See our website for current hours or call. Click here for current open hours, days and dates. Directions: Broom Orchard is located 2 1/2 miles southwest of Carlinville. Click here for a map and directions. Red Haven peaches start the 3rd week in July (usually) . REMINDER: WE DO NOT HAVE STRAWBERRIES ANYMORE; ONLY PYO apples and pumpkins. Visit our website for current approximate ripening dates of our locally grown seasonal fruit or "like" us on Facebook; Broom Orchard has an annual Apple Festival in September and a Pumpkin Festival in October with various entertainment and activities. Broom Orchard Facebook page. Payment: Cash, Check, Debit cards, Visa, MasterCard, Discover. Our Farm Market is open July thru December. This is where we sell our fresh peaches, apples, blackberries, nectarines, plums, pears and pumpkins when in season. The market is also stocked with Amish-made apple butter, Illinois honey, popcorn, preserves, butters and all fruit spreads. Don't forget our award winning sweet cider, too!

Peaches are freestone. Early Gold Apples and Bi-Color Sweet Corn are also available. White Lady Peaches, Nectarines, and Blackberries
Mason County
Windmill Farm Berries - raspberries.
29961 E. County Road, Manito, IL 61546. Phone: (309) 968-7722.
McDonough County
McLean County
Braffet Berry Farm - strawberries,
9010 E 2250 N Rd, Carlock, IL 61725. Phone: 309-376-2012. Email: brafberi@gmail.com. Open: Monday to Sunday (seven days a week) from7 am to 6 pm; call for picking conditions. Directions: 5 miles west of Interstate 39 at Hudson, IL (mile marker 5) on county road 2250. Off 74 at the Carlock exit (exit 120) east on 150 follow U-pick signs. Click here for a map and directions. Strawberries usually begin on Memorial Day. Payment: Cash, Check. Braffet Berry Farm Facebook page. Strawberry season tends to start around Memorial Day weekend, and continue for 3-4 weeks depending again on Mother Nature. We sell them by the pound, and provide buckets which our customers can pick in.
Menard County
Frank Farms, Inc - asparagus, sweet corn when in season,
16717 State Rt 29, Athens, IL 62613. Phone: 217-636-85903. Alternate Phone: 217-636-8112. Email: kfrank54@aol.com. Wagon ride fall through winter, Christmas trees day after Thanksgiving, can tag own tree.
Montgomery County
Kern Family Orchard

- apples, blackberries, blueberries, peaches, raspberries (red), raspberries (Spring, red), raspberries (Autumn, red), raspberries (yellow), raspberries (Spring, yellow), raspberries (black), raspberries (Spring, black), strawberries, Honey from hives on the farm, Fresh eggs
7375 Mackay Avenue, Raymond, IL 62560. Phone: (217) 820-1266. Open: Call the farm for hours and crop availability. Directions: Click here for a map and directions. Be sure to confirm crop availability and dates with the farm before you go there; we no longer receive updates from the farm.
(ADDED: August 27, 2015)
Morgan County
Moultrie County
Okay Valley Orchard - Peaches, apples, plums, pears, cider, jellies, apple cider donuts, baked goods, restrooms, gift shop, concessions or refreshment stand, Fresh eggs, Cider mill (fresh apple cider made on the premises), U-pick and already picked, farm market, picnic area, school tours
724 county road 1750 north, Sullivan, IL 61951. Phone: (217) 728-8269. Email: Jennifer@okawvalleyorchard.net. Open: Monday to Saturday from 9 am to 6 pm; Sunday from 12 pm to 5 pm, during summer and fall. Directions: See their website for directions. Click here for a map and directions. Payment: Cash, Visa, MasterCard . Playground Click here for our Facebook page.. prepicked apples, peaches, plums, pasteurized fresh cider, apple doughnuts, jams & jellies, fresh pies, dumplings, peach bread, gift & kitchen items. We also have a large playground and picnic area with restrooms for families to enjoy. Ask about our educational group tours. Our 1500 apple trees grow 27 different varieties of apples, peaches, plums, and pears. Come and eat in our covered picnic area, play in our playground, browse through our Country Store full of in-season Illinois fruit, fresh apple cider, honey, jellies, gifts, apple cider donuts, and other fresh baked goodies. We also have a u-pick area, dependent on what is seasonally available.
Prairie Hill Blueberry Farm - blueberries, picnic area
424 County Road 1400 North, Bethany, IL 61914. Phone: 217-665-3935. Email: prairiehillblueberryfarm@gmail.com. Open: Tuesday, Thursday and Saturday, 7am to 7pm; Other days or evenings, call first; Closed Sundays. Directions: GPS Coordinates: 39.36'.34" West Latitude; 88.43'.54". North Longitude From Bethany, take Saint John Street straight south 3 miles to County Road 1400 North. Left (east) one half mile to 424. Farm is on the left. Open from June 22 until July 31. Click here for a map and directions. Payment: Cash, Check. One thousand bushes bearing 6 varieties priced at $3 a pound. Prairie Hill Blueberry Farm Facebook page. Pick from 7 varieties of blueberries in a tranquil beautifully landscaped farm setting. Prepicked blueberries are also available. Picnic area is perfect for small group lunches. Children and grandchildren are most welcome. Every child is given a special pail for picking. Enjoy free berry samples to your heart's content!.
Peoria County
Piatt County
Pike County
Sangamon County
Jefferies Orchard - blueberries, cherries, strawberries, Cider mill (fresh apple cider made on the premises)
1016 Jefferies Road, Springfield, IL 62625. Phone: 217/487-7845. Email: apples@jefferiesorchard.com. Open: Daily, from 7 am to 6 pm. Directions: Five miles north of Springfield, Illinois at intersection of Route 29 and Jefferies Road. Strawberries: late May to early June Cherries: June Blueberries: early July. Payment: Cash, Check. Jefferies Orchard Facebook page.
The Lazy T - peas, pumpkins, Turkeys (organic, not-hormone-fed), prepicked produce, farm market, gift shop, snacks and refreshment stand, farm animals
103 Clear Creek, Dawson, IL 62520. Phone: 217-415-6846. Email: littlefarmer@thelazyt.com. Open: UPDATE for 2021, Their website is gone and there's nothing else about them that is current on the internet - I presume they have closed. Does anyone have current information, are they still offering pick your own or are even open? If so, please write me.See our website for current hours. Directions: Click here for a map and directions. Crops are usually available in September, October. We minimize use of pesticides and other chemicals. Payment: Cash, only. Fall Festival the third weekend of September every year with apple butter cooking, straw mazes and build a scarecrow.
Schuyler County
Scott County
Shelby County
Just Berries - blackberries, blueberries, strawberries, U-pick and already picked, picnic area, school tours
233 N 2900 East Rd, Stewardson, IL 62463. Phone: 217-682-5588. Alternate Phone: 217-343-8348. Email: justberries1@gmail.com. Open: Strawberries open during May to June, Blueberries open June to July and Blackberries open July to August; All information is posted on Facebook or our website. Click here for current open hours, days and dates. Picking updates: Click here for picking updates. Directions: From Effingham: Take Route 33 to 32 going to Stewardson. Turn right (east) at County Road 300. Go to the first intersection and turn right onto Cnty Road 2900. Go 1/2 mile and on the right side of the road is our farm. Please park in our circle driveway or alongside the road. To start picking, head to the tent . See the website for more detailed directions. Click here for a map and directions. Strawberries open during May to June, Blueberries open June to July and Blackberries open July to August; All information is posted on Facebook or our website. Payment: Cash, Check. Click here for our Facebook page. No pets of any kind allowed on the farm. (UPDATED: July 30, 2016)
Tazewell County
Schaer's Country Market - strawberries
1118 Spring Bay Road, East Peoria, IL 61611. Phone: (309) 698-2234.Open: June, 10 am to 6 pm on Monday thru Friday, 10 am to 5 pm on Saturday and 12 pm to 5 pm on Sunday; Call 309-369-8034 after 8 am to make appointments.. Directions: 1 and 1/2 miles off Rte. 116 on Rte. 26 (Spring Bay Road). We are a farm market specializing in U pick strawberries, fresh picked homegrown sweet corn, cantaloupe, watermelon, tomatoes and more. Fall takes us into pumpkins, gourds, corn stalks etc. Christmas trees, wreaths, garland, grave blankets begins day after Thanksgiving.
(ADDED: December 05, 2020, JBS)
Vermilion County
Warren County
Monmouth College Educational Farm and Garden - blueberries, raspberries, strawberries, vegetables, eggs
N. 12th Street, Monmouth, IL 61462. Email: craigw@monmouthcollege.edu. Open: see their Facebook page for updates. The Garden is where we have an orchard, grape arbor, a herb garden, and other vegetables where we mostly eat from and allow faculty and staff from Monmouth College and close friends to pick from. The Farm has Blueberry and Raspberry fields are producing gallons of fruits! Watch our Facebook page for U-pick times and check out the Farm page for more information. If I Stop By, What Can I Do? Our summer gardeners are availableon the weekdays for tours and questions. As always, if you would like to learn to garden, we are happy to assist! But don't even think about asking for asparagus! Click here for a link to our Facebook page. (ADDED: June 28, 2020, JBS)
Woodford County
---
---