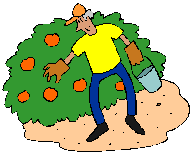 Looking for How to start a home-based Cake Business - With detailed, step by step guideance. in 2023? Scroll down this page and follow the links. And if you bring home some fruit or vegetables and want to can, freeze, make jam, salsa or pickles, see this page for simple, reliable, illustrated canning, freezing or preserving directions. There are plenty of other related resources, click on the resources dropdown above. If you are having a hard time finding canning lids, I've used these, and they're a great price & ship in 2 days.
If you have questions or feedback, please let me know! There are affiliate links on this page. Read our disclosure policy to learn more.
How to start a home-based Cake Business - With detailed, step by step guideance.
How to start a Home-Based Cake Business!
There must dozens of websites claiming to tell you "how to start a cake business from home", all offering vague, general advice. We will lead you through the process and provide links to detailed further information. The reason the other pages are so vague is because every state has different requirements and regulations; and even local zoning and health ordinances vary. So, we will lead you through the process and take you to the state and local resources.
First, the overview
1. State and local laws and rules
Each state has different regulations and allowances for home-based food business, usually called "cottage foods businesses"). Fortunately, baked goods that do not require refrigeration, like many cakes, are generally included in most state's cottage foods definitions. See the page for your state below to find out what types of cakes are allowed. Verify that the cakes that you want to make are acceptable for home-based production and sales in your state.
Most states prohibit cream, custard or meringue pies and cakes or pastries with cream cheese icing or fillings. Those usually do not meet the definition of a "cottage food business" in most states.
States with Cottage Food Laws

The vast majority of us now live in states that either have cottage food laws or exemptions. So, unless you live in KS, ND, MT or RI, click on the link below:

See this page for specific information for your state (EXCEPT for Kansas, North Dakota, Montana and Rhode Island)

States without Cottage food laws or exemptions:

Click here if you live in Kansas, North Dakota, Montana and Rhode Island
2. Check local zoning and business license requirements.
You probably do not need to get a lawyer for this. Usually, you can just go to your local city hall and ask! Your local Chamber of Commerce can also advise you if any other business permits are required. This SBA article has much more detail.
Here are some of the more common licenses and permits:
Business license is is required of most types of home businesses, no matter how large or small.
The following MAY be required - every state and locality is different, so you will need to investigate:
Home occupation permit: Required IF your community regulates Home-based businesses
Food permit: if you state's cottage food laws don't exempt cakes, you will need one..
Seller's permit: All businesses that sell taxable products in states with sales tax, that are NOT exempted as a cottage food law, will need one of these.
Federal export licenses: If you want to ship the cakes to another country, your business will be subject to all kinds of federal regulation. Get more information on this from the Department of Commerce. A number of optional certifications can help in some situations: You may want to look into being certified as a small business, minority-owned, woman-owned, or a disabled-veteran-owned enterprise.
Select your state from the list to discover which licenses or permits you will need, together with information and links to the application process.
3. Set up the business
Even a home-based business needs to have
a name, (verify on your state's Secretary of State's website that the name is not already in use) and
a web presence. Really. If you are over 60, you probably don't "get it", but you must accept that EVERYTHING is done via the internet these days. You can't grow as a business without a web presence. Weebly, Wix, GoDaddy and even a dedicated BUSINESS Facebook page (not a personal page) are all viable options. You can add a business page to your personal Facebook page (in fact, that's the only way to do it). Hiring a professional designer to create your first cake website is an idiotic idea that you will see on other websites. It is ridiculously expensive; stay with something simply and cheap, until you know you're going to be profitable. Find a geek friend with a sweet tooth. The combination of free cakes and flattery will get you a decent free website.
Apply for local permits and licenses. Most cities/towns require a business permit or license even for home based businesses. You should check with your local health department to see if you need any other permits and if you need to collect sales tax tax. See step 2.
Get a dedicated separate phone to use for your business. Google voice or just a second number for your existing phone are very inexpensive options. Check with your cell phone provider.
The next most important steps are:
a separate business bank account,
to register the business ((typically as an LLC, which protects your personal assets much more than a sole proprietorship; you can do this yourself or through NOLO.com ) with your state's Secretary of State, done on their website; and to protect your home and other assets,
an umbrella insurance policy from the insurance company that insures your home (these usually cost $100 to $200 per year). You don't want to lose your home because someone claims they got sick from one of your cakes.
And if your business takes off, you will definitely need to get an accountant and consult a business attorney.
4. Think through the details of your business
Business professionals will say you need to write "a business and marketing plan". That's great if you are planning to quickly become the next Apple Corp... but really for a soccer mom who's planning to sell cakes from home, is overkill, and nonsensical. You simply need to think through and understand what you're planning to sell, what makes it different from the competition, and how you plan to make, store, sell and ship the cakes. How will you find and reach new customers?.
5. Finding customers
Word of mouth is good; but that's usually a very slow process. Social media, a Facebook page, Instagram, Pinterest and media exposure will help. Maybe donating cakes to local bake sales with a stack of postcards with phoitos and how / where to buy the cakes? Think outside the cake box in getting the word out.
6. Where to sell the cakes
To a big extent, that de[ends upon the cottage food laws in your state. IF you are trying to stay within the cottage food / home-based business regulations in your state, then there are usually limitations on where you can sell. Typically, that means direct sales, no cross-state lines, or mail order. Most states allow you to deliver the cakes to the customer; some do not. Perhaps conisder a stall at a local farmer's market? Check with local cafes and stores to see if they will sell your cakes. But maybe your state will allow you to sell them through the internet and mail them. Again, gotta check this out first (see step 1)
7. Payment
How will you accept payments from your customers? A PayPal account can be used for online payments. In person, you will probably need to add a Square credit card device to your phone. Again, you should have a separate checking account (usually a free add-on to your existing bank account) for your business.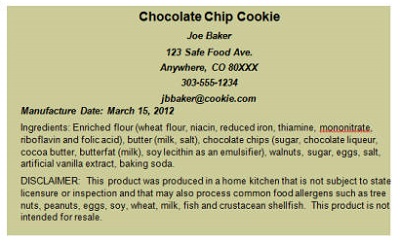 8. Packaging and labels
How will you package the cakes so they don't become a bag of cake crumbs by the time your customers open them? Look at cake packages in stores, then Google "cake packaging" You can find them online, or often at your local Sam's Club or Costco. Labels? You can design and print then on your home computer, and a color printer. Office supply stores, like Staples, sell many types of label stock. Most states have very specific requirements as to what must appear on a food product label. And example from Colorado is shown at right. Again, see your state page for specific requirements.
9. Delivery and Shipping
If you are selling selling to local stores and at a farmer's market, you will probably transport them in your own car. Be sure they are secure and meet any health department requirements.
If you are fulfilling orders that you take online or over the phone, you will likely be shipping them by DHS, FedEx or the USPS. Check out each of them, find out which offers the best service at the best price. And close; you don't want to have to fight traffic every day to ship cakes!
10. Understand what it takes to make a profit
Before you make your first cake, you need to understand how many you will need to sell at what price in order to at least break even and then make a profit. What price do you need to get for that to happen. It's basic math. The simplest way is to make a spreadsheet in Excel to identify all of your costs (one-time costs, like purchase of a KitchenAid mixer, recurring costs, lice annual licenses; and ongoing costs, like flour, postage, raw materials, hiring additional helpers, etc.)
11. Accounting
At the end of the day, as much as you enjoying making cakes, remember, it is a business. If you are not covering your cost and earning a reasonable wage in the process, is it worth doing? So keep up with the accounting, and be sure to include ALL costs, including your TIME! Save all business related receipts!
12. Trial runs and working out the kinks - in advance
Making cakes to sell as a business is different than making them for your child's class at school. You need to have consistency, so customers can count on the quality, taste and appearance. You will want to make some trial runs, and in the process look for any points of failure, things that can go wrong, things that would slow you down or undermine quality and consistency. Work out your methodology and routine for baking and delivering your cakes. You may want a routine like baking in the morning after the kids go to school, then delivering those fresh cakes to your local customers. Then spending the afternoons, cleaning up and developing new customers, doing marketing and accounting.
And take photos to use in marketing and on your website.
Finally, continue to innovate and improve
Expect to make mistakakes and have setbacks from time to time, but especially in the beginning. Learn from each mistake, and improve. Don't just fix the mistake; fix the cause of the mistake. Continually evolve and learn from the competition. Try new flavors and combinations. ANd when you become the next Mrs. Fields or Famous Amos, tell people you started with this checklist! :)