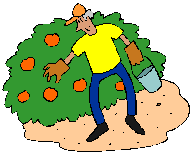 Looking for a local, pick-your-own farm in Québec? Farms are open and safe! Scroll down this page and you will see the U-Pick farms in Québec, sorted by county. Those that offer organic or sustainably grown produce are identified by the words "organic" and/or "sustainable" in Green, next to their name (see "What does Organic mean?"). The U-pick crops they offer follow the name of the farm. To search the page for a specific crop, use Ctrl-F (or on an ipad or Mac, use their "search on this page" function) If they have a website, the name will be in blue and underlined; click on it and it will open their website. If you find anything outdated or inaccurate, see the customer and farmer menus (as appropriate) at the top menu bar to submit updates and corrections and help me keep each current!
New! Pricing information - I am building a pricing guide to help you know what the typical prices are for each crop. Let me know when you see price changes!
If you are having a hard time finding canning lids, I've used these, and they're a great price & ship in 2 days.
New! Road tripping and camping is a great way to have a fun, safe and inexpensive family trip. The national and state parks and monuments are open, and campgrounds usually cost between $10 and $40 per night. September to November is the best camping weather. See our new website Road Tripping and Camping.com for tips, tricks, guides, checklists and info about parks, monuments and other places to visit.
Remember to always check with the farm's own website or Facebook page before you go - or call or email them if they don't have a website or Facebook page. Conditions at the farms and crops can change literally overnight, so if you want to avoid a wasted trip out there - check with the farm directly before you go! And if you know of any farms I missed and want to add a farm, please let me know! I'm making updates for this year as fast as I can - if you find anything out-of-date, wrong or not working - please let me know! This website is supported by purchases you make through the links to products on Amazon. As an Amazon Associate I earn from qualifying purchases. This allows me to continue to maintain the website and make improvements!
What's in season in May 2022, and other timely information:
Notes for May 2022: Spring is here and that means Strawberry season is upon us! It started in February in Florida, Texas, southern California; then March along the Gulf coast, April in the Deep South and west coast, May through much of the country, and June in northern areas. Cherries and Blueberries are next, about a month later. Of course, cool weather crops, like Rhubarb, asparagus and greens should be available almost everywhere. Check your area's copy calendar (see this page) and call your local farms for seasonal updates.
See these pages to find a local Strawberry Festival, or a Cherry or cherry blossom festival or a Blueberry festival.
We also have easy home canning, jam and jelly making, preserving, drying and freezing directions. You can access recipes and other resources from the drop down menus at the top of the page or the site search. If you have any questions or suggestions, feel free to write me! It is easy to make your own ice cream, even gelato, or low fat or low sugar ice cream - see this page. Also note, there are many copycat website listing U-pick farms now. They have all copied their information from here and usually do not ever update. Since 2002, I've been updating the information every day but Christmas; so if you see anything wrong or outdated, please write me!
Children's Consignment Sales occur in both the Spring and Fall See our companion website to find a local community or church kid's consignment sale!
Québec U-Pick Farms and Orchards in 2022, by county
Click on the resources drop-down above, if you need a county map
Abitibi-Temiscamingue
Nordvie - strawberries, raspberries, certified organic by Ecocert Canada.
1049 ch. des 2e et 3e Rangs, Saint-Bruno-de-Guigues, QC J0Z 2G0. Phone: 819 728-2225. Open: fields will be open to pick-your-own with reservation only. Customers who come to our fields without reservations will not be able to pick. Also, only one row of strawberries per reservation will be allocated, whether it is sufficient for the customer's desired picking or not. The strawberry season varies depending on the temperature, but is usually between the end of June and the third week of July. The raspberry season follows the strawberry season around mid-July to mid-August. Our fields are not open according to a fixed schedule. The changing temperatures, the ripening time of our fruits as well as the variability of the traffic force us to temporarily close the U-pick at certain times. It is therefore very important to check our Facebook status , to subscribe to the U-pick newsletter or to call just before going to the strawberry or raspberry plantation to confirm the opening hours.
Bas-Saint-Laurent
Ferme Cybèle - strawberries, raspberries, on-site dairy bar, bakery,
506 av. de la Grande-Anse, La Pocatière, QC G0R 1Z0. Phone: 418 856-4515. Phone: 855 856-3627. Open: See their website, From the beginning of July depending on the climate. homemade pie with ice cream, Homemade shortcake with strawberries in season, Cybele health juice, Homemade strawberry sorbet, Strawberry smoothie from the farm.3 hectares in strawberry production. Environmentally friendly practices. 5,000 m 2 of raspberries. 5,000 m 2 of beans, tomatoes, cucumbers, onions, potatoes
Capitale-Nationale
Centre-du-Québec
Ferme Germain Desmarais - pyo blueberries, strawberries, farm market, restrooms, picnic area
190 Rang Du Chenal Tardif, Pierreville, QC J0G 1J0. Phone: 450-568-5200. Email:

[email protected]

. Open: Click here for current open hours, days and dates. Directions: Click here for a map and directions. Payment: Cash, only. Ferme Germain Desmarais is a family business founded 60 years ago that specializes in the cultivation of fruits, vegetables and garden plants. We offer potatoes, tomatoes, pumpkins,etc. We also provide our customers the opportunity to pick their own strawberries and blueberries.
Le Verger Nicolet - blueberries, apples
5760 rte Principale, Grand-Saint-Esprit, QC J0G 1B0. Phone: 819 289-2101. Email:

[email protected]

. Open: 7 days a week from mid-July until the third weekend of October for your pick-your-own from 8 am to 5 pm; U-pick giant highbush blueberries from mid-July until September 15. Apple varieties: Red: Lobo, Blue: MacIntosh, Orange: Cortland, Yellow: Spartan, Approximate availability by date: Beginning of September: Lobo; Mid-September: McIntosh; End of September: Honeycrisp; Beginning of October: Cortland; Beginning of October: Spartan and other varieties.

Chaudière-Appalaches
Bleuetière Ferme Pérignon - blueberries, black currants
1540 Rte 143, Hatley, Quebec, Quebec J0B 4B0. Phone: 819-993-4278.
Bleuetière Lapointe - blueberries cherries, raspberries
165 rang 1 E. St-Gervais, Saint-Gervais, QC G0R 3C0. Phone: 418 887-3501. Email:

[email protected]

. Open: Raspberries around mid July and more plentiful in late July; Morello cherries around July 25; Blueberries around August 1. Bleuetière Lapointe facebook page. At our kiosk and grown on the farm, you will find our freshly picked sweet corn, too.
Ferme Jarold - strawberries, raspberries and blueberries.
9195+ rte 279, Saint-Charles-de-Bellechasse , QC G0R 2T0. Phone: 418 887-3427. A wide assortment of fresh vegetables, honey and baked goods are also available.
Les Potagers Brie - strawberries, raspberries and blueberries
443 chemin des Érables Est Cap-Saint-Ignace, QC, Canada G0R 1H0. Phone: 418 246-3558. Email:

[email protected]

. Open: see their Facebook page.
Côte-Nord
Eastern Townships
Aux Champs Mère-Terre - haskaps, Aronia berries,
35 ch. Fontaine, Potton, QC J0E 1X0. Phone: 450 292-3546. Email:

[email protected]

. Open: Visitors can pick their own honeysuckles in June and July and aroniaberries (aka chokeberries )in September. Frozen fruit, jams, salad dressings and more are on sale at the boutique. Aux Champs Mère-Terre Facebook page.
Aux p'tits fruits - blueberries, raspberries,
33 rue Barré, Granby, QC J2H 2E8. Phone: 450 378-6646. Email:

[email protected]

. Open: see their website.
Les bleuets BIO du Marquis -

no pesticides are used

, blueberries
236 ch. West Hill, Potton , QC J0E 1X0. Phone: (514) 951-9164. Phone: 450 292-5204. Open: mid-July to the end of August; call before your visit to find out about fruit availability, Reservations required for groups This blueberry farm is located in one of the most bucolic regions of the Eastern Townships, opposite the Montagnes-Vertes Nature Reserve and near Mount Owl's Head. We grow 2,500 highbush blueberry plants without pesticides or herbicides.
Les petits fruits du clocher - haskaps (aka, honeysuckle berry), Raspberries and blueberries
307 rue Principale, Sainte-Cécile-de-Milton , QC J0E 2C0. Phone: 450 991-0898. Open: 8 am to 6 pm, 7 days a week in season. Follow us on facebook to know the dates and the progress of the picking. Les Petits Fruits du Clocher Facebook page. The Small Fruits du Clocher haskap is generally ripe around June 20! Come and make your annual reserves! For a berry-picking experience in a welcoming atmosphere, come see us this summer!
Les Vergers Tougas - blueberries, apples, tart cherries
4679 ch. Godbout , Dunham, QC J0E 1M0. Phone: 450 295-2083. Open: Weekdays 8 am to 7 pm, Saturday and Sunday 9 am to 5 pm. At Vergers Tougas, you will find a magnificent orchard, as well as a mature blueberry field, Our blueberries are grown without pesticides and sheltered from birds, In 2017, a novelty! come and harvest your morello cherries or get them at the kiosk in an enchanting site a stone's throw from the wine route (route 202).
Estrie
Gaspesie-Îles-de-la-Madeleine
Lanaudière
Laurentides (western Montreal suburbs)
Laval
Mauricie
La Ferme de Bullion - berries
1555 Coteau des Hetres, St-Andre-d'Argenteui, Quebec J0V 1X0. Phone: 450-562-0104. Email:

[email protected]

. Offers Open-pollinated seeds, Heritage varieties, Bedding plants, Farm Kiosk, Greenhouse vegetables, U-Pick berries, eggs, honey, jams, conserves and fresh bread, CSA Baskets, Workshops, Garlic festival.
Montérégie (eastern Montreal suburbs)
Montreal
Nord-du-Quebec
Outaouais
Ferme au Soleil Levant - blueberries, haskaps cherries
5 chemin de l'Entrée sud, Messines, QC, J0X 2J0. Phone: 819-441-4877. Email:

[email protected]

. Open: July to mid-August. This farm first planted berries in 2009. It boasts seven varieties of haskaps, five types of drawf cherries and 10 types of blueberries. These berries rich in antioxidants can be picked and consumed fresh and can be easily processed. (ADDED: August 31, 2020, JBS)
Ferme aux saveurs des monts - strawberries
443 montée Dalton, Gatineau, QC J8R 3C3. Phone: 819 643-4363. Open: see their website. Directions: click here for a map and directions.
Les Fruits de la Terre -

No pesticides are used

, blueberries, raspberries
51, montée Meunier, Ripon, Québec, Canada, J0V 1V0. Phone: 819-743-1541. Email:

[email protected]

. No insecticide or herbicide is used. The concept is to blend imagination and quality into a single local product, while demonstrating full respect for nature. Raspberry and blueberry picking in summer. Click here for a link to our Facebook page. (ADDED: August 31, 2020, JBS)


Québec City
Ferme François Bélanger - Pick your own cherries and grapes
6110, av. Royale, L'Ange-Gardien, Québec, Canada, G0A 2K0. Phone: 418 822-0742. Phone: 418-455-2763. Email:

[email protected]

. Open: see their website. Ferme François Bélanger Facebook page.
Ferme Laval Gagnon - Strawberries, raspberries and apples, petting zoo,
2208 ch. Royal, Sainte-Famille-de-l'Île-d'Orléans, QC G0A 3P0. Phone: 418 829-2495. Email:

[email protected]

. Open: see their website, We also grow tomatoes, squash and pumpkins as well as gladioli and some vegetables. Since 2012, we have integrated a new crop, that of cherries. The first production took place in the summer of 2015. Plus, fresh picked strawberries, raspberries cherries, apples, pumpkins and corn at their farmstand where you can buy local vegetables and artisanal products.
Ferme Mario Turcotte- strawberries, raspberries and apples
1025 rte du Mitan , Sainte-Famille-de-l'Île-d'Orléans, QC G0A 3P0. Phone: 418 829-3406.
Fraisière Faucher - strawberries
516 rte Grand-Capsa, Pont-Rouge , QC G0A 3G0. Phone: 418 873-2354. They have a 5-hectare property, planted in matted rows and using plasticulture. They also have sheep, goats, chickens, etc., inflatable games, swinging chairs, small swing sets, a picnic area, a farmstand kiosk with local produce, drinks, bathrooms, and changing tables.
Saguenay-Lac-Saint-Jean
01= Bas-Saint-Laurent
02= Saguenay-Lac-Saint-Jean
03= Capitale-Nationale
04= Mauricie
05= Estrie
06= Montréal
07= Outaouais
08= Abitibi-Témiscamingue
09= Côte-Nord
10= Nord-du-Québec
11= Gaspésie-Îles-de-la-Madeleine
12= Chaudière-Appalaches
13= Laval
14= Lanaudière
15= Laurentides
16= Montérégie
17= Centre-du-Québec
---
---
---