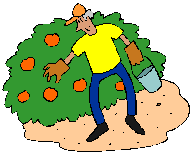 Looking for a local, pick-your-own farm in Western Manitoba, Canada? Scroll down this page and you will see the U-Pick farms in Western Manitoba, Canada, sorted by county. Those that offer organic or sustainably grown produce are identified by the words "organic" and/or "sustainable" in Green, next to their name (see "What does Organic mean?"). The U-pick crops they offer follow the name of the farm. To search the page for a specific crop, use Ctrl-F (or on an ipad or Mac, use their "search on this page" function) If they have a website, the name will be in blue and underlined; click on it and it will open their website. If you find anything outdated or inaccurate, see the customer and farmer menus (as appropriate) at the top menu bar to submit updates and corrections and help me keep each current!
New! As inflation remains high, see this page for cost-saving measures for getting fruit and vegetables and home canning.
If you are having a hard time finding canning lids, I've used these, and they're a great price & ship in 2 days.
New! Road tripping and camping is a great way to have a fun, safe and inexpensive family trip. The national and state parks and monuments are open, and campgrounds usually cost between $10 and $40 per night. September to November is the best camping weather. See our new website Road Tripping and Camping.com for tips, tricks, guides, checklists and info about parks, monuments and other places to visit.
New! We just went live with our latest website, FunFactoryTours.com - As they name implies, you can find a fun factory tour, including chocolate, automobiles, historical forts and sites, famous buildings, Active Federal facilities even fun geology: like fossils and volcanic areas
Note: Beware the copycat websites like the one that stole our name and uses .farm extension: they copied my work and do NOT even update the info! I make updates EVERY day. They use tech tricks to get higher rankings, but have many more inaccuracies and out-dated info. Obviously, I cannot check every farm every day, but I do check as many as I can every day, and respond to all requests. They don't. Don't support the scammers!
Remember to always check with the farm's own website or Facebook page before you go - or call or email them if they don't have a website or Facebook page. Conditions at the farms and crops can change literally overnight, so if you want to avoid a wasted trip out there - check with the farm directly before you go! And if you know of any farms I missed and want to add a farm, please let me know! I'm making updates for this year as fast as I can - if you find anything out-of-date, wrong or not working - please let me know! This website is supported by purchases you make through the links to products on Amazon. As an Amazon Associate I earn from qualifying purchases. This allows me to continue to maintain the website and make improvements!
What's in season in December 2023, and other timely information:
Notes for December 2023: Summer is almost over and that means apples are here (see this new page for Apple Orchards in your area!), and except in northern areas, peaches and blueberries are finished. Some crops continue until frost, like raspberries, blackberries, figs, corn and tomatoes. Check your area's specific crop calendar (see this page) and call your local farms for seasonal updates.
See these pages to find a local Apple festival, and other festivals. We have a extensive guide to apple varieties and a guide to peach varieties. Also recipes, canning and freezing directions for apples, tomatoes, corn blueberries, peaches, etc.
And don't forget CORN MAZES are open now - find a local maze here.
See our comprehensive list of easy home canning, jam and jelly making, preserving, drying and freezing directions. You can access recipes and other resources from the drop down menus at the top of the page or the site search. If you have any questions or suggestions, feel free to write me! It is easy to make your own ice cream, even gelato, or low fat or low sugar ice cream - see this page. Also note, there are many copycat website listing U-pick farms now. The worst is the one that stole our name but ends with .farm. (Yes, I've got lawyers on it) They have all copied their information from here and usually do not ever update. Since 2002, I've been updating the information every day but Christmas; so if you see anything wrong or outdated, please write me!
Children's Consignment Sales are a great way to save money on clothes, toys, books, etc, They occur in both the Spring and Fall See our companion website to find a local community or church kid's consignment sale!
Western Manitoba, Canada U-Pick Farms and Orchards in 2023, by county
Click on the resources drop-down above, if you need a county map
Western
Alice Erling Orchard - saskatoons, porta-potties are available
108071 Road 54n, Brandon, MB R7A 5Y1. Phone: 204-727-3601. Email: AliceErlingOrchard@gmail.com. Open: Every day (Monday through Sunday) from 8 am to 8 pm, July 15 to July 30. Click here for current open hours, days and dates. Picking updates: Click here for picking updates. Directions: One mile south of Brandon on Highway #10; Turn east onto Road 54N and travel 1.5 miles. Please watch for signs!. Click here for a map and directions. As conditions are constantly changing, please phone, e-mail or check our twitter feed/website before you come to avoid disappointment; Follow us on Twitter: https://twitter.com/AliceErling. Payment: Cash, Debit cards, Visa, MasterCard, AmEx.
Beautiful Lake Farm & Church Caffee - Strawberry, saskatoon and black currants
P.O. Box 15, Shellmouth, MB, ROJ 1YO. Phone: 204-564-2626. Toll free: 1-866-498-2626. Fax: 204-564-2626. Email: mneuhof@mts.net Strawberry, saskatoon and black currants - U-Pick. Fine dining and events in Austrian restaurant.
Directions: On farm site. SW 34-22-29. 3 km south of Lake of the Prairies on PTH #483. Margaret and Martin moved two empty churches to their farm and converted them into a very unique licensed fine dining establishment. Afternoon: Coffee and Cake (Kaffee und Kuchen) from 4:30 on: dining (by reservation only). Winner of the "Taste of Rural Manitoba" award. The U-Pick is open from mid-June to approximately end of September. Old world charm and hospitality at its best.

Big Rock Saskatoons

- saskatoons, and prepicked produce
NW20 10 17W, Douglas, MB R7A 5Y5. Phone: 204-763-4776. Email: bigrockr@goinet.ca. Directions: 9 Miles East of Brandon on Veterans Way Road (Hwy #457) Turn South at Big Rock or 1 Mile West of Junction 340 (Douglas/Shilo) & Hwy #457. Watch for signage. Open: Phone ahead or email for picking times and pre-orders. Saskatoons: Picking times early to mid/end July - depending on season. Payment: Cash, Check.
Clayton U-Pick Orchard - apples, cherries, plums, raspberries, hascaps, saskatoons, cranberries, chokecherries, gooseberries, grapes
169109 Road 63N, Elkhorn, MB ROM 0N0 . Phone: 204-845-2584. Phone: 204-851-0116. Email: cotn49@yahoo.ca. Directions: 5km south of Elkhorn on hwy 256, turn west on road 63N and 7.5 Km to Clayton orchard) Elkhorn, MB, Canada ROM 0N0 in RM of Wallace-Woodworth, MB. We will have organically grown apples and cherries available on a U-Pick basis this summer. Watch our Facebook Page this summer for dates these will be ready. We are growing over 40 varieties of apples developed by the University of Saskatchewan as well as 8 varieties of cherries. We also have plums, raspberries, hascap, saskatoon, cranberry, chokecherry, gooseberry, grapes, and a pear tree. We have a U-Pick operation and also attend Virden Farmers Market, and occasionally. The farm is for sale: Globel Market in Brandon. Individual or group tours of our orchard can be arranged by telephone, email or messaging on FB. Acreage with fruit trees in SW Manitoba- Clayton-u-Pick Orchard. $320,000.00. Hobby farm/ acreage on 21 acres, 7.5 miles from town of Elkhorn, MB. 1/2 hour from Virden MB & 1 hour from Brandon, MB Beautiful yard site lined by lilacs on 1 side. Shelter belt to the west & northwest, barnyard to the east. Large garden with potential for more garden space. Lots of raspberries, gooseberries, grapes, cherry trees and a two hundred tree apple orchard,
Country Land Farms - U-Pick / We Pick Berry Farm - Saskatoons, pincherries and wild black cherries
PR #355, Minnedosa, MB. Phone (204) 874-2338. Email: bhudon@mts.net. Also homemade jam, jellies and syrup and homemade saskatoon pie. 10 minute drive west of Minnedosa on PR #355, through the Little Saskatchewan River Valley. Keep your eyes open...bald eagles, bears and deer have been seen on this road. Pick saskatoons and gather honey at our farm the last two weeks of July, morning or evening. If you miss picking fresh berries you can get fresh frozen berries the rest of the year.
Crystal Creek Berry Farm - strawberries
Crystal City, MB. Open: See their Facebook page; there seems to be very little information available. We operate a u-pick/we-pick strawberry farm outside of Crystal City in Southern Manitoba. We planted our first crop of strawberries this spring and are anticipating our first harvest in the summer of 2022!
Grand Valley Strawberries - Strawberries,
Brandon, MB. Phone: 204-728-8453 or Toll Free 1-877-727-8453. Directions: 2 km east of Brandon on Hwy 457 (low road to Shilo).
Hicks Berry Farm - strawberries, asparagus, black currants and raspberries
Box 232, Souris, MB R0K 2C0. Phone: 204-483-3203, Fax: 204-483-2168. U-Pick strawberries, asparagus, black currants and raspberries.
Robinson's U-Pick Berry Farm - strawberries
Box 870, Carberry, Manitoba, R0K 0H0. Phone: (204) 834-3297. We're located 6.4 kms west of Carberry on Hwy #1 and 1.4 kms north (NW10-11-15W). Picking starts around July 10th and goes until early August. Home-based business. Call for appointment.
---
---