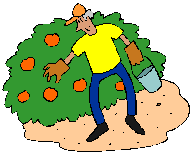 Click here to translate this page to any language.
Looking for a local, pick-your-own farm in Brazil (Brasil)? Scroll down this page and you will see the U-Pick farms in Brazil (Brasil), sorted by county. Those that offer organic or sustainably grown produce are identified by the words "organic" and/or "sustainable" in Green, next to their name (see "What does Organic mean?"). The U-pick crops they offer follow the name of the farm. To search the page for a specific crop, use Ctrl-F (or on an ipad or Mac, use their "search on this page" function) If they have a website, the name will be in blue and underlined; click on it and it will open their website.
This is a new page, so please let me know of any pick-your-own farms I missed and want to add them or correct the information, please let me know!
What's in season in October 2022, and other timely information:
Notes for October 2022: See your area's crop availability calendar for more specific dates of upcoming crops. And see our guide to local fruit and vegetable festivals, such as tomato, corn, and more!
You may noticed the new appearance to the website! Simpler, cleaner and mobile-friendly! I'm rolling it out, page by page over the next 2 months. Everything is still here; such as home canning and freezing directions. You can access it from the drop down menus at the top of the page or the site search. If you have any questions or suggestions, feel free to write me!
Brazil (Brasil) U-Pick Farms and Orchards, by region
Click on the resources drop-down above, if you need a map of Brazil and it's regions and states
Amazonas
Acre (AC) Rio Branco
Alagoas (AL) Maceió
Amapá (AP) Macapá
Amazonas (AM) Manaus
Bahia (BA) Salvador
Ceará (CE) Fortaleza
Distrito Federal (DF) Brasília
Espírito Santo (ES) Vitória
Goiás (GO) Goiânia
Maranhão (MA) São Luís
Mato Grosso (MT) Cuiabá
Mato Grosso do Sul (MS) Campo Grande
Minas Gerais (MG) Belo Horizonte
Pará (PA) Belem
Paraíba (PB) João Pessoa
Paraná (PR) Curitiba
Pernambuco (PE) Recife
Piauí (PI) Teresina
Rio de Janeiro (RJ) Rio de Janeiro
Rio Grande do Norte (RN) Natal
Rio Grande do Sul RS Porto Alegre
Rondônia (RO) Porto Velho
Roraima (RR) Boa Vista
Santa Catarina (SC) Florianópolis
São Paulo (SP) São Paulo
Sergipe (SE) Aracaju
Tocantins (TO) Palmas
---
---