Looking for a local, pick-your-own farm in Fredericksburg, Northern Neck and Middle Peninsula? Scroll down this page and you will see the U-Pick farms in Fredericksburg, Northern Neck and Middle Peninsula, sorted by county. Those that offer organic or sustainably grown produce are identified by the words "organic" and/or "sustainable" in Green, next to their name (see "What does Organic mean?"). The U-pick crops they offer follow the name of the farm. To search the page for a specific crop, use Ctrl-F (or on an ipad or Mac, use their "search on this page" function) If they have a website, the name will be in blue and underlined; click on it and it will open their website. If you find anything outdated or inaccurate, see the customer and farmer menus (as appropriate) at the top menu bar to submit updates and corrections and help me keep each current!
Remember to always check with the farm's own website or facebook page before you go - or call or email them if they don't have a website or Facebook page. Conditions at the farms and crops can change literally overnight, so if you want to avoid a wasted trip out there - check with the farm directly before you go! And if you know of any farms I missed and want to add a farm, please let me know! I'm making updates for this year as fast as I can - if you find anything out-of-date, wrong or not working - please let me know!
What's in season in March 2019, and other timely information:
Notes for March 2019: Not much growing outside at this time of year, unless you live in southern California, southern Texas, Florida or along the Gulf coast where citrus are ripe, and believe it or not, the blueberry and strawberry season in those areas is about to start. See your state harvest calendar . And this is a good time to learn how to preserve foods ahead of the season, like making applesauce or jam. See our comprehensive list of easy home canning, jam and jelly making, preserving, drying and freezing directions. You can access recipes and other resources from the drop down menus at the top of the page or the site search. It is also a great time of year and easy to make your own ice cream, even gelato, or low fat or low sugar ice cream - see this page. If you have any questions or suggestions, feel free to write me!
Valentine's Day - February 14 - See this website for Valentines Day history, facts and Amazon's top picks for fast, easy, inexpensive gifts for the man, woman or children in your life!
Easter will be April 21, 2019 - if you want to take your children to a free Easter egg hunt - see our companion website to find a local Easter Egg hunt!
Children's Consignment Sales occur in both the Spring and Fall See our companion website to find a local community or church kid's consignment sale!
Fredericksburg, Northern Neck and Middle Peninsula U-Pick Farms and Orchards in 2019, by county
Click on the resources drop-down above, if you need a county map
Caroline County
Mount Olympus Berry Farm - Strawberries, blueberries, blackberries, melons, tomatoes, peppers, pumpkins and gourds
23298 Jefferson Davis Highway, Ruther Glen, VA 22546. Phone: (804) 448-0395; FAX (804) 448-2913, FAX (804) 448-2913. Email:

[email protected]

. Directions: Located at U.S. 1 in Carmel Church. I-95 exit 104 (Bowling Green/Carmel Church). Go west on Route 207 to U.S. Route 1. Turn right (north) on U.S. 1. Go approximately one mile. Farm in on the left. Open: 9 am to 6 pm, daily, April-October 31. Call for current in-season hours.Mount Olympus Farm is a family owned farm located between Richmond and Fredericksburg, VA. You can pick-your-own (PYO) strawberries, blueberries and blackberries. We also take pride in offering a large variety of high quality fresh vegetables including many heirloom varieties. Our garden center has many perennials, herbs, annuals, shrubs, etc. Can't make it to our farm? Look for the Mt. Olympus truck bringing fresh produce to several Northern Virginia producer-only farmer's markets. Farm stand and garden center/nursery with locally-grown fruit and veggies. Jams, jellies, and local honey available. Convenient to Richmond or Northern Virginia areas. Customers welcome to picnic by the lake. Arrange for your daycare or school group to come pick their own pumpkin. Please call for current hours and picking conditions. They also have bulk / wholesale pumpkins. (UPDATED: May 18, 2017, JBS)
Comments from a visitor on July 12, 2011: "Excellent. First visit this weekend & would highly recommend it.

We went for U-pick blueberries & blackberries, both of which were available this past weekend. Also have nice farm market., restrooms, picnic area. Not organic, but sustainable. I think they do holiday themed events. A lot of detail on their web page & on Facebook

"
Essex County
Fredericksburg (City of)
Braehead Farm - strawberries, beans, blackberries, cucumbers, peas, peppers, pumpkins, raspberries (red), summer squash, tomatoes, other vegetables, Honey from hives on the farm, Fresh eggs, picnic area, farm animals, birthday parties, weddings and wedding parties
1130 Tyler Street, Fredericksburg, VA 22401. Phone: 540-899-9848. Fax: 540-899-9847. Email:

[email protected]

. Open: 7 days a week 10:00 am to 6:00 pm; Open until 6:30 pm on Saturdays during the Harvest Festival from September 28 to November 3. Directions: Interstate 95 to Route 3 East, go approximately 2 miles to right on Belman Road, right on Tyler Street, farm on the left. Click here for a map and directions. Payment: Cash, Check, Visa/MasterCard, Discover. Click here for our Facebook page. If you need to come before 10:00 AM to beat the heat, just give us a call in advance and we will try to accommodate you! Availability of Pyo: APRIL: Strawberries and could possibly be ready by the end of April! Also pre-picked asparagus in the Market! Asparagus is the only crop we grow that is NOT pick-your-own.
MAY: strawberries,
JUNE: some strawberries, vegetables
JULY THROUGH SEPTEMBER: Blackberries, Raspberries, tomatoes, vegetables
OCTOBER and NOVEMBER: Pumpkins, vegetables, and a few blackberries and raspberries.
(UPDATED: May 18, 2017, JBS) (UPDATED: November 30, 2015, JBS)
Gloucester County
King and Queen County
King William County
Bell Acres Blackberry Farm -Blackberries, Day Lilies, sweet corn
906 Roane Oak Road, King William, VA, 23086. Phone: 804-769-3449. Cash and carry. No restrooms or picnic area. Directions: Take Route 360 east of Mechanicsville. Travel to intersection of Route 360 and Route 30. Turn right on Route 30. Go approximately 4 miles to Route 650 (beside VDOT headquarters). Turn left on Route 650. Farm is 1 mile on right. Located off VA Hyw 30 at VDOT Maintenance garage and communications tower. Open: 8 am to 6 pm, Monday to Friday; 8 am to 12 noon, Saturday; closed Sunday. Please bring your own containers to take berries home. (UPDATED: May 18, 2017, JBS) (UPDATED: June 11, 2014, from their Facebook page)
Pleasant Fields Farm - blackberries, blueberries, pumpkins, raspberries, strawberries, Honey from hives on the farm, prepicked produce, restrooms
1765 Nelsons Bridge Road, Hanover, VA 23069. Phone: 804-994-2791. Email:

[email protected]

. Open: Pick - your - own is available from daylight to dark and Hayrides and Haunted Forest is open Thursdays and Fridays 5pm to 10pm and Saturdays and Sundays 1pm to 10pm. We open in May with pick-your-own Strawberries and our Self-Serve Stand; Then we have Blueberries ,Blackberries and Raspberries; In the fall starting October2 pm to November 1st We have our hayrides and Haunted Forest along with pumpkins and Mums. Directions: Route 30 to Dabneys Mill Road; go about 1 mile; Turn right onto Nelsons Bridge Road; Farm will be about a 1 on the right. Click here for a map and directions. Crops are usually available in April through October. Payment: Cash, Check, Visa/MasterCard. (UPDATED: May 04, 2018, JBS)
Comments from a visitor on August 02, 2009: "My husband and I went picking at Pleasant Fields Farm this morning. Blackberries were plentiful, and raspberries were just beginning to come into season. Blueberries were advertised, but were picked clean. The farm is open from daylight to dark. Today (a Sunday) it was operating on the honor system, and cash or checks could be left for payment. There was a nice farm stand with lots of produce pre=picked: watermelons, corn, butternut squash, zucchini, acorn squash, eggplant, apples, oranges, peaches, cucumbers, onion, tomatoes, a variety of potatoes, lemons, limes, and fresh honey. I don't know how much of it was local (the tomatoes and honey definitely were). No fresh cut flowers available, but we weren't looking for them anyway. There is a restroom available."
Lancaster County
Mathews County
Middlesex County
Lew Bristow's Blackberry Farm - blackberries,
9607 General Puller Highway, Hartfield, VA 23071. Phone: 804-776-7785. Open: Monday through Saturday 9 am to 5 pm Mother Nature permitting; Feel free to phone for availability and leave message; We'll phone you back when they're ready. Directions: Approximately 1/2 mile from Hartfieldost Office.Post Office. Click here for a map and directions. Payment: Cash, only.
Merryvale Farm - beans, flowers, peas, strawberries,
15873 General Puller Hwy, Deltaville, Virginia, VA 23043. Phone: 804-776-7554. Email:

[email protected]

. Open: Monday through Wednesday, from 10 am to 5 pm; Thursday and Friday from 8:30 am to 5:30 pm; Saturday from 8:30 am to 4 pm. Directions: Click here for a map and directions. Payment: Cash, Check, Debit cards, Visa/MasterCard. (UPDATED: May 19, 2017, JBS)
Northumberland County
Spotsylvania County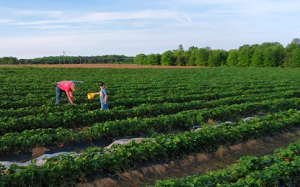 Miller Farms Market - Uses natural growing practices, blackberries, pumpkins, strawberries, Honey from hives on the farm, Fresh eggs, gift shop, picnic area
12101 Orange Plank Road, Locust Grove, VA 22508. Phone: (540) 850-5009. Email:

[email protected]

. Open: Monday-Saturday: 8am-5pm; closed on: Sundays. Directions: From Orange use route 20 north for 12 miles. Turn right on route 621. Drive 8 miles and we are on the left. From Fredericksburg use route 3 west for 9 miles. Turn left on route 621. Drive 5 miles and we are on the right. Strawberries: Starting May 10 , Blackberries: starting July 1, Pumpkins starting September 15. Payment: Cash, Check, Debit cards, Visa/MasterCard. We also have natural milk products (milk in glass bottles, yogurt, cheese, ice cream), and natural meat products(beef, pork, chicken, lamb, bison). . Click here for a link to our Facebook page.(UPDATED: May 18, 2017, JBS) UPDATED: October 19, 2013X)
Comments from a visitor on July 12, 2011: "We pick strawberries here every year, including this year (we went twice!). That's an excellent farm. Late in the strawberry season, they reduce their prices as the picking gets more scarce. As your listing already says, they do u-pick strawberries & blackberries. They have an outstanding farm market with fresh produce, local meat, dairy, honey, preserves, gifts, plants, etc. They have a picnic & play area, and they're a super nice farm family. Their only down side is that they aren't open on Sundays, which is frequently the only day I have free for a u-pick adventure. That's how we ended up going to Mt. Olympus instead. Both are great places, I would easily recommend either one.".. (
Comments from a visitor on May 26, 2010: "Miller Farms Markets is still up and running, and we'll be picking strawberries there this weekend. I'll report back!"
Stafford County
Westmoreland County
Westmoreland Berry Farm - Strawberries; blackberries; blueberries; black, red and purple raspberries
1235 Berry Farm Lane, Oak Grove, VA, 22443. Phone: (804) 224-9171, Phone: (804) 224.9171. Email:

[email protected]

. .Open: Hours vary by season; open daily, mid April - mid December, Wednesday- Sunday 10 am to 5 pm. Directions: In Oak Grove; from Fredericksburg, east on Route 3, seven miles past U.S. 301 to Claymont Road (Route 634), follow signs. 32 miles east of Fredericksburg and 2 miles west of Oak Grove. From Fredericksburg, take Route 3 east; go 7 miles east of U.S. 301. Just in Westmoreland County, turn right on Claymont Road (Route 634), then Rappahannock Road (Route 637), then Berry Farm Lane. Spectacular river site adjoins Voornees Nature Preserve. Food available, drink, fruit shortcakes and sundaes a specialty. Play area. Large, shady overlook with rocking chairs. Barnyard "outside the box;" goat walk overhead; hayrides and straw maze (in fall). Near State Park, winery, Washington's Birthplace, Stratford Hall, and other historic sites. Follow the harvest - Fresh-picked (all berries also pick-your-own) asparagus, sugar peas, strawberries, black raspberries, red raspberries (June and September), purple raspberries, blueberries, blackberries, peaches, apples, pumpkins, preserves, honey, peanuts, and seasonal specialty items. Herbs, hanging baskets, and perennials. (UPDATED: May 18, 2017, JBS)
Comments from a visitor on June 26, 2011: "Lots of raspberries, great berries, also has cherries and other fruit, but its not u-pick. Small sandwich/diner shop right there and indoor bathrooms."
Comments from a visitor on September 08, 2008: "This farm no longer is offering PYO apples. They did last year but this year they have stopped. Its been updated on their website but not yours. I'm a little bummed because this is a FABULOUS farm and we're currently in the search for the perfect farm for my 2 year old to pick apples at this year! We'll keep you updated on all the ones that we get information about. "
---
---
Current weather - click for forecast, or enter a zip code for a different location: