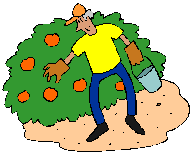 Apple And Pumpkin U-Pick Orchards in Western New York State in 2022, by county
Below are the U-Pick orchards and farms for apples and pumpkins that we know of in this area. Not all areas of any state, nor even every state, have apples and pumpkins orchards that are open to the public. If you know of any others, please tell us using the add a farm form!
Chautauqua County
Meadows Farm

- apples, U-pick apples, grapes, pumpkins, and already picked,
10459 Prospect Road, Forestville, NY 14062. Phone: 716-965-2674. Click here for a map and directions. . Also apple cider, and picked pumpkins, squash, broccoli, cauliflower. September-November, 9 a.m.-6 p.m.
Niagara County
Baker Farm - apples, pumpkins, winter squash, tomatoes, other vegetables, snacks and refreshment stand, restrooms, Bouncy castle or moon bounce, school tours
2100 Youngstown - Lockport Road, Ransomville, NY 14131. Phone: 716-7913440. Email:

[email protected]

. Open: Friday to Saturday to Sunday Monday 10am to 5pm September 1st to November 1St. Directions: five miles west of Ransomville on route 93 just past Dickersonville Road Ten miles east of Robert Moses Parkway on Route 93 between Porter Center Road and Dickersonville Road. . Click here for a map and directions. Payment: Cash, only. Baker Farm Fax: 716-791-8870. .
Becker Farms - Apples, asparagus, blueberries, cherries, peas, pumpkins, raspberries, rhubarb, strawberries, tomatoes, Precut Christmas trees, Santa appearances, Christmas decorations, trees tied, pumpkin patch-pick in the field, pumpkin patch- already gathered from the field, corn maze, haunted corn maze, and prepicked produce, gift shop, snacks and refreshment stand, restrooms, picnic area, tractor-pulled hay rides, wagon rides, pony rides, petting zoo
3724 Quaker Road, Gasport, NY 14067. Phone: 716-772-2211. Email:

[email protected]

. Open: U-Pick Runs daily from 10 am to 5 pm; Picking Times and Dates are subject to change due to weather and availability of fruit. Directions: from Buffalo NY Take NYS 290 to NYS 990 to Millersport Highway. Take Millersport to Transit Road in Lockport. Follow Transit straight through Lockport until you hit Route 31. Take a right onto Route 31 and follow it about 7 miles to Gasport. Once in Gasport take a left onto east ave (Gasport Road or Hartland Road They are considered the same road.). go over the drawbridge in Gasport and take your first right onto Slayton Settlement Road Follow Slayton Settlement for one mile and take a left onto Quaker Road. Follow Quaker Road one mile. We are on the left hand side of the road. . Click here for a map and directions. Payment: Cash, Check, Visa/MasterCard, Discover. . Fax: 716-772-7429. . Or email us via our form on our website. Please call for the most up to date picking conditions; Fall hours: 11 am to 6p.m. Winter hours: Weekends, noon to 5p.m. Spring hours: 11a.m-6p.m. Call ahead for exact picking dates. Click here for a map to our farm. Crops are usually available in June, July, August, September, October, December. We also offer homemade fruit pies made from our own fruit, homemade fudge, gourmet cookies, ice cream, drinks and gift items. There are also several weekend festivals in June, July, September, and October. We offer several options for tour groups. also has a winery with over 15 different fruit and grape wines! Rest room facilities and a wheelchair ramp are available in our farm market. Reservations are required for the pie and coffee or hay ride activities. Reservations are not necessary to stop and shop, however if we know you are bringing a group, we can be sure to have extra help on hand to provide fast service. We are open every day from the second weekend in May through Christmas. We are always having special events. Check our Calendar for the latest! Remember to plan for autumn and evening hayrides and bonfires. invites you to experience Vizcarra Vineyards. Stop by and enjoy as we uncork our home-made wine. Relax in our Mediterranean-style tasting room, open seven days a week. (UPDATED: July 18, 2019, JBS)
Blackman Homestead Farm - apples, pears, winter squash, pumpkins, grapes
4472 Thrall Road, Lockport, NY 14094. Phone: 716-434-7116. Email:

[email protected]

. Open: Farm Stand Hours: September 1 through December 31, 9am to 6pm. Directions: Located at the scenic Niagara Escarpment. Click here for a map and directions. . Fax:. . . U-pick and other produce, all offered by the pound. The fruit-harvesting season runs from mid-September through early November. Enjoy picking Bosc pears and Concord grapes from our 100-year-old orchards and vineyards. In addition to offering more than fifteen varieties of apples to pick, we have fresh pressed cider, pumpkins, squash, grape juice, specialty fruit butters, applesauces, and other locally produced agricultural products. Barnyard animals and a straw climbing area are also available for children to enjoy. We also offer apple cider, beef and turkey. Tours of the farm, including the farm animals are available. UPDATE for 2020: U-Pick season: Friday, September 11 thru Sunday, October 25 Online reservations are required for Saturdays and Sundays, and Monday, October 12, to ensure parking and social distancing safety for our customers and employees. There is no fee for the reservation. Children under 5 do not require a reservation. Reservation slots are available for 1.5 hour increments starting at 9 am.
Apple picking tips:
Apples ripen from the outside of the tree towards the center, so the apples out the outside of the tree will ripen first. Once they are picked, they stop ripening. Picking apples directly from a tree is easy. Roll the apple upwards off the branch and give a little twist; don't pull straight away from the tree. If two apples are joined together at the top, both will come away at the same time. Don't shake the trees or branches. If the apple you are trying to pick drops, (or others on the tree) go ahead and pick it up. They're perfectly fine! But do wash them before you eat them! More info: How to tell when apples are ripe
Once picked, don't throw the apples into the baskets, place them in gently, or they will bruise and go bad more quickly.
Don't wash apples until just before using to prevent spoilage.
For an explanation of why apple slices turn brown and how to stop it, see this page!
Keep apples cool after picking to increase shelf life. A cool basement is ideal, but the fruit/vegetable drawer of a refrigerator will work, too. A refrigerator is fine for small quantities of apples. Boxed apples need to be kept in a cool, dark spot where they won't freeze. Freezing ruptures all of an apple's cells, turning it into one large bruise overnight. The usual solution is to store apples in a root cellar. But root cellars often have potatoes in them: apples and potatoes should never be stored in the same room because, as they age, potatoes release an otherwise ethylene gas, which makes apples spoil faster. If you can keep the gas away from your apples, they will keep just fine. Just don't store them right next to potatoes.
Prevent contact between apples stored for the winter by wrapping them individually in sheets of newspaper. The easiest way to do this is to unfold a section of newspaper all the way and tear it into quarters. Then stack the wrapped apples. See more here: How to store apples at home
Apples don't improve or "ripen" after being picked - this is an urban myth - see this page for the truth - with references!
Which apple variety is best?
There are tens of thousands of varieties of apples, developed over centuries. They vary in sugar, acoidity, flavors, storing, crispness and many other attributes. See our guides to apple varieties:
Canning apples - fully illustrated, with step-by-step instructions
Recipes, illustrated with step by step instructions
Using fresh apples and miscellaneous
Pumpkin recipes