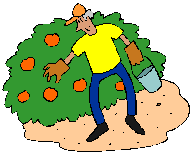 Apple And Pumpkin U-Pick Orchards in Milwaukee area of Wisconsin in 2022, by county
Below are the U-Pick orchards and farms for apples and pumpkins that we know of in this area. Not all areas of any state, nor even every state, have apples and pumpkins orchards that are open to the public. If you know of any others, please tell us using the add a farm form!
Dodge County
Pieper's Fruit Farm - apples, pears, pumpkins, corn maze
W2423 Hwy 49, Brownsville, WI 53006. Phone: (920) 583-3056. Email:

[email protected]

. Open: If you have driven by our place recently, you may have noticed that we have a for sale by owner message posted on our road sign. Click here for a map and directions. Pieper's Fruit Farm . We have decided to sell the orchard and after about 85 years as a family business, it was a hard decision, but it is time. If you would like more information or are interested please call our number at . Serious inquiries only please. Providing that the orchard isn't sold yet, we will still be open this fall with our regular operations. has been a family business since 1934. We have about 23 acres of pears and apples, which include over 40 varieties. A prepicked bushel for most apples is $52. Pick your own apples is sold by a 10 lb. Bag, which is $15/bag. Free wagon rides are available on the weekends from 9am-3pm if you pick your own apples or pumpkins. (ADDED: May 10, 2019, JBS)
Kenosha County
Harvest Time Orchards - apples, cherries, pumpkins, Cider mill (fresh apple cider made on the premises), prepicked produce, snacks and refreshment stand, picnic area, farm animals, school tours
36116 128th St, Twin Lakes, WI 53181. Phone: 262-877-4831. Email:

[email protected]

. Open: click here for current open hours, days and dates. Directions: From Chicago, go North on the Tri-State Tollway (I-94) to the highway 173 exit. Take highway 173 West, through Antioch, to Zarnstorff Road. Turn Right (North) on Zarnstorff Road, go 1 mile to the Stop sign and turn Left. This is 128th Street or State Line Road. Harvest Time is about 1/2 mile to the West. . Click here for a map and directions. Payment: Cash, Visa/MasterCard, Discover. . and click here for picking updates. Apple Barn, Brat Shop, Donut Shop, Country Smoke House with Gourmet Ham and Bacon and select Wisconsin cheeses. Cider is made most weekends in September and October. School tours are offered for grades K through 4.
Comments from a visitor on July 11, 2011: "Great sour cherry picking on the first day. They also have fabulous homemade donuts."
Comments from a visitor on September 23, 2009: "If you need a hot dog or donut, go west about a 1/2 mile on 128th st from Oriole Springs to in Twin Lakes. I've never picked apples there but have been there many times for the petting zoo, hay stacks, donuts hot dogs alfresco..etc. They are very tolerant of noisy-hyper kids, but keep them out of the parking area, visitors are not very careful, I almost got hit. Porta-lets are available, clean. in the picnic area, but there are usually honey bees around them, I've never been stung, but the kids are fearful. Prices reasonable. There is also a municipal playground west of both orchards on 128th street, where you can take the kids for a break. During the summer they usually have a porta-let available no hand washing facilities."
Ozaukee County
Appleland - apples, pumpkins, strawberries, Honey from hives on the farm, U-pick and already picked, farm market, gift shop, concessions \\/ refreshment stand, restrooms, picnic area (bring your own food)
4177 State Highway 57, Fredonia, WI 53021. Phone: (262) 692-2560. Email:

[email protected]

. Open: Monday to Sunday, from 8 am to 6 pm, June to mid July during Strawberry Season; Monday to Sunday, from 9 am to 6 pm, mid September to late October during Apple Season. Directions: From Milwaukee or Southern Ozaukee County, take I-43 North to Exit 97 (Highway 57 Exit) and follow Highway 57 for 3 Miles. Appleland Farm Market will be on your lefthand side. Look for the red building with the green roof and iconic silo with a big, red apple. . Click here for a map and directions. Payment: Cash, Check, Debit cards, Visa/MasterCard, AmEx.
Appleland Facebook page. . Alternate Phone: (262) 285-3222. . Strawberry season is typically June 15 to July 15; Fall Harvest runs late August through October; Pumpkin picking is open from September 20th through October 31st;. At Farm Market we have pre-picked apples (first quality, seconds and thirds). Starting in the middle of September we have pick-your-own McIntosh, Cortland, Empire, Golden Delicious and Red Delicious. Pre-picked apple varieties include: Honeycrisp, Zestar, McIntosh, Cortland, Gala, Ida Red, Paula Red, Empire, Ginger Gold, Jonagold, Fuji, Snowsweet, Golden Delicious and Red Delicious. We also have our own peaches, plums, pears and cherries as well as many varieties of squash and our own Honey. (UPDATED: June 13, 2020 JBS)
Barthel Fruit Farm - strawberries, apples, peas, pears, plums, pumpkins
12246 N Farmdale Road, Mequon, WI . Phone: 262-242-2737. Email:

[email protected]

. Open: strawberry hours are as follows: Monday to Friday from 9 am to 6 pm and Saturday and Sunday from 9 am to 5 pm, weather and berries permitting. Click here for a map and directions. . Closing time varies daily; we close when we run out of ripe berries for the day or at closing time, whichever comes first. ALWAYS CALL FOR A PICKING UPDATE BEFORE DRIVING OUT. 242-2737 or 242-2774 (PYO hotline). Also picking sugar snap peas and snow peas, supply permitting. Fall hours are 9 am to 6 pm Mon through Saturday and 10 to 5 pm Sunday, mid August through New Year or depending on crop. Pick your own as available. Cider, baked goods, pears, plums etc. (UPDATED: June 13, 2020 JBS)
Comments from a visitor on July 02, 2010: "We just went there today, July 2nd 2010, and the strawberries we got are great! I was worried it was too late in the season, but I personally picked 18lbs myself and they weren't all tiny berries! Plenty of good reg. and big size if you are willing to dig around a little! Extremely friendly & helpful staff, prices are awesome, and a HUGE variety of things to choose from - strawberries, sugar snap peas (picked a whole bag of those too), tomato plants, beautiful flowers, several kinds of apples in fall, on and on!!!! GO - it's worth the trip! We drove an hour and it was well worth the trip! Kids welcome as well! :o) 2 THUMBS UP!"
Roesch Farm (Frank Roesch) - Apples, pears, raspberries, strawberries, grapes, corn, zucchini, yellow squash, red, yellow, green, purple and white bell peppers, hot peppers, tomatillos, all kinds of tomatoes, potatoes, onions, cucumbers, acorn squash, spaghetti squash, butternut squash, pumpkins, dill, parsley, basil, chives, mint. , restrooms, pumpkin patch in the field, pumpkins (brought in from the field), farm animals, tours of the operation
12422 Farmdale Road, Mequon, WI 53097. Phone: (262) 242-0669. Open: They are usually open daily. Click here for a map and directions. Payment: Cash, Check. Roesch Farm (Frank Roesch) Frank allows local schools to bring children there on field trips and organizes tractor rides and farm tours for them.
Comments from a visitor on October 05, 2012: "This was a very nice farm, had all the vegetables. It was well organized, and they had kids play area which helped the kids take some time off the field. The prices were much cheaper compared to the grocerry stores. Apple pickign was not allowed this year due to bad weather casuing the Apples to go bad."
Comments from a visitor on August 02, 2012: "I have been going to this farm for almost 15 years and it is one of my favorite tranquil places to go. I have picked a large variety of fruits, veggies and herbs at "R" Apples. Frank has been farming his entire life. He really takes pride in his work and loves to show customers around the farm. He also has an little antique store inside the barn and raises chickens, turkeys and other farm animals. Frank grows a large variety of fruits, vegetables and herbs. I can get all the produce I need there for a fraction of the cost of a grocery store. The farm is well maintained and their produce is delicious. Its a family owned business and Frank is one of the nicest people I've ever met. "
Racine County
Apple Holler - apples, pears, peaches, pumpkins, U-pick and already picked, gift shop, concessions \\/ refreshment stand, porta-potties, restrooms, inflatables\\/bounce house, jumping pillow, pedal kart track, mining for gems, pony rides, birthday parties, weddings and wedding parties, school tours, group reservations, events at your location (call for info)
5006 S Sylvania Avenue, Sturtevant, WI 53177. Phone: (262) 884-7100. Email:

[email protected]

. Open: Everyday 10 am to 5 pm (in season). Directions: . Click here for a map and directions. Payment: Cash, Debit cards, Visa/MasterCard, Discover. . . Peaches: July - August Apples: August - Early November Pears: September. located between Racine and Kenosha, off I-94 on west frontage road. is a farm to table restaurant, bakery, gift shop, orchard and family farm, including pyo, peaches, pears & pumpkins. Visitors will enjoy 4 seasons of family fun and activities including; orchard and farm tours, children's shows, school field trips, hay rides, sleigh rides, barnyard animals and outdoor play areas. A perfect indoor/outdoor wedding venue and Agritourism destination. (UPDATED: June 13, 2018)
Rock County
Apple Hut - apples, pumpkins, gourds and raspberries
1718 W Walters Road, Beloit, WI . Phone: 608-362-1961. Open: 7 days a week late August to Thanksgiving 8 to 5 pm. Click here for a map and directions. . Apples, taffy apples, apple butter, apple pies and doughnuts, cider and apple dumplings. Craft shop. Also pick-your-own apples and raspberries. Honey, jams and jellies, pumpkins, gourds.

Happy Acres

- Uses natural growing practices, apples, beans, blackberries, corn (sweet), cucumbers, flowers, melons, pumpkins, raspberries, summer squash, winter squash, strawberries, tomatoes, farm animals
4028 South Afton Road, Beloit, WI 53511. Phone: 608-365-5451. Email:

[email protected]

. Open: 8am to 12 noon or call for availability. Directions: . Click here for a map and directions. Payment: Cash, only. . Crops are usually available in May through September. We use natural practices, but are not yet certified Organic.
Walworth County
Bower's Produce - Apples, strawberries and pumpkins
W490 St Rd 20, East Troy, WI . Phone: 262-642-5244. Open: 9 to 6 pm seven days a week July to Nov 1. Click here for a map and directions. . Seasonal beginning in April. Stand open Apples, cider, caramel apples, asparagus, honey, maple syrup, bi-color sweet corn, 19 kinds of peppers, 15 of squash ,complete line of vegetables. Also , gourds, bird houses, etc.
The Apple Barn Orchard and Winery - apples, strawberries, pumpkins, winery
W6384 Sugar Creek Road, Elkhorn, WI 53121. Phone: 262-728-3266. Open: Strawberries usually available in June only. Directions: . Click here for a map and directions. . For picking conditions please call. The apple pick your own season starts 3rd week of September. Call farm to confirm picking schedule or click here for Harvest Schedule. PLEASE LEAVE YOUR DOGS AT HOME...WE DO NOT ALLOW PETS to ROAM IN THE ORCHARD OR ON OUR PROPERTY. PLEASE BRING YOUR OWN WAGON. (to carry the apples )
Washington County
Basse's Taste of Country - pyo apples, strawberries, raspberries, blackberries, peas, pumpkins.
3190 County Road Q, Colgate, WI 53017. Phone: (262) 628-2626. Directions: . Click here for a map and directions.
Basse's Taste of Country Facebook page. . U-Pick: 7-5 Daily Until Done Store: 9-5 Daily (Strawberry Season Only) They have restrooms/wash stations/petting zoo/kid activities/corn maze/hay rides/school tours They do accept credit cards and also have a store with crafts, pre made jams/jellies/, ice cream stand, homemade items, apple cider, and prepicked fruits and veggies. Strawberries: Available mid-June until season end. Peas: Sugar, Garden and Snow Peas. Available mid-June until season end. UPICK hours: 7am-5pm Daily (weather permitting). UPICK Store hours: 9 am to 5pm Daily. UPICK seasons are approximate. Please call Produce Hotline at 262-628-3866 to confirm crop status. Basse's will offer a U-Pick Apple Orchard in 2016. UPDATE: June 11, 2010 - A visitor tells me that the farm's phone sometimes get's overwhelmed. You have to try a few times to get through"
Waukesha County
Elegant Farmer - pick your own apples, pumpkins, and squash
1545 Main Street , Mukwonago, WI 53149. Phone: 262-363-6770. Email:

[email protected]

. Click here for a map and directions. . . Directions. Crops are usually available in September and October. On County Highway ES between Mukwonago and East Troy, you'll find a huge, rustic yellow barn (fresh prepicked produce market) surrounded by orchards and fields of fresh fruits and vegetables. During the fall, you can Pick Your Own fresh produce right from our fields and enjoy tons of special events and celebrations. Make your own caramel apples in September and October. Each new season, all year long, there are bushels of fun, farm-related activities at The. Railroad buffs won't want to miss a visit to the nearby East Troy Electric Railroad and Trolley Museum, featuring public and charter rides on functional Electric Trolleys.
Apple picking tips:
Apples ripen from the outside of the tree towards the center, so the apples out the outside of the tree will ripen first. Once they are picked, they stop ripening. Picking apples directly from a tree is easy. Roll the apple upwards off the branch and give a little twist; don't pull straight away from the tree. If two apples are joined together at the top, both will come away at the same time. Don't shake the trees or branches. If the apple you are trying to pick drops, (or others on the tree) go ahead and pick it up. They're perfectly fine! But do wash them before you eat them! More info: How to tell when apples are ripe
Once picked, don't throw the apples into the baskets, place them in gently, or they will bruise and go bad more quickly.
Don't wash apples until just before using to prevent spoilage.
For an explanation of why apple slices turn brown and how to stop it, see this page!
Keep apples cool after picking to increase shelf life. A cool basement is ideal, but the fruit/vegetable drawer of a refrigerator will work, too. A refrigerator is fine for small quantities of apples. Boxed apples need to be kept in a cool, dark spot where they won't freeze. Freezing ruptures all of an apple's cells, turning it into one large bruise overnight. The usual solution is to store apples in a root cellar. But root cellars often have potatoes in them: apples and potatoes should never be stored in the same room because, as they age, potatoes release an otherwise ethylene gas, which makes apples spoil faster. If you can keep the gas away from your apples, they will keep just fine. Just don't store them right next to potatoes.
Prevent contact between apples stored for the winter by wrapping them individually in sheets of newspaper. The easiest way to do this is to unfold a section of newspaper all the way and tear it into quarters. Then stack the wrapped apples. See more here: How to store apples at home
Apples don't improve or "ripen" after being picked - this is an urban myth - see this page for the truth - with references!
Which apple variety is best?
There are tens of thousands of varieties of apples, developed over centuries. They vary in sugar, acoidity, flavors, storing, crispness and many other attributes. See our guides to apple varieties:
Canning apples - fully illustrated, with step-by-step instructions
Recipes, illustrated with step by step instructions
Using fresh apples and miscellaneous
Pumpkin recipes