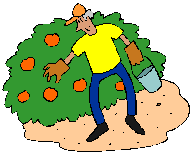 Apple And Pumpkin U-Pick Orchards in Southwest Michigan in 2023, by county
Below are the U-Pick orchards and farms for apples and pumpkins that we know of in this area. Not all areas of any state, nor even every state, have apples and pumpkins orchards that are open to the public. If you know of any others, please tell us using the add a farm form!
Remember to always check with the farm's own website or Facebook page before you go - or call or email them if they don't have a website or Facebook page. Conditions at the farms and crops can change literally overnight, so if you want to avoid a wasted trip out there - check with the farm directly before you go! If I cannot reach them, I DON'T GO!
PLEASE report closed farms, broken links and incorrect info using the "Report Corrections" form below.
Allegan County
Crane Orchards Upick - apples, peaches, plums, nectarines, pumpkins, hayrides, corn maze
6054 124th (M-89), Fennville, MI . Phone: 616-561-8651. Open: in early September depending on the season, call for dates. Directions: Located in west Michigan between South Haven and Saugatuck. Click here for a map and directions. . U-Pick has 15 varieties of apples to pick in season. Hayrides on weekends in Oct. and a corn maze. 10 am to 6 pm, seven days a week. Close in late Oct. . Take I-196 Exit 34, go E 4 miles on S side of the road, located with Crane's Pie Pantry Restaurant at 6054 124th (M-89), Fennville. PIE PANTRY, FRESH FRUIT AND ORCHARDS, BAKERY & RESTAURANT, WINERY, TASTING BAR, WEDDINGS, EVENTS (UPDATED: September 18, 2019, JBS) (UPDATED: July 12, 2011, by a visitor)
Barry County
Cotants Farm Market - Strawberries, blueberries, apples, pumpkins, restrooms, corn maze, pumpkin patch in the field, pumpkins brought in from the field, Bouncy castle or moon bounce, tours of the operation
2500 S M 37 Hwy, Hastings Charter Township, MI 49058. Phone: (269) 945-4180. Email: cotantsfarmmarket@gmail.com. Open: June to October 31st, See their website for for hours and availability. Click here for a map and directions. Payment: Cash, Debit cards, Visa, MasterCard. . . See their website for directions. By June, Cotant's is busy harvesting their strawberries and offers U-Pick berries to the public. Summer follows with Cotant's harvest of homegrown produce including sweet corn, tomatoes, squash, peppers, cucumbers and more while also offering U-Pick blueberries. Fall is an especially fun time at Cotant's where one can pick their own apples and enjoy Cotant's cider which is pressed on location using a special blend of apples to assure the best tasting cider around. Fall also offers activities for the entire family, including: Mini tractor (battery operated) race track, Straw Mountain, pumpkin picking, wagon rides and more. U-pick strawberries also blueberries and apples. Select items are available in large quantities for freezing and canning.
Berrien County
Cass County
Sprague's Family Fun Farm - apples, raspberries (red), raspberries (Spring, red), pumpkins, restrooms, school tours
33120 Middle Crossing Road, Dowagiac, MI 49047. Phone: (269) 782-8578. Email: spraguesfamilyfunfarm@gmail.com. Open: Visit our website for hours and availability. Directions: Take Indian lake Road South from Sister Lakes until you see our sign on the right at Middle Crossing Road Just down a ways on Middle Crossing. . Click here for a map and directions. Payment: Cash, Visa, MasterCard, Discover. . This is a fruit farm and market located in Southwestern Michigan near the Sister Lakes area. They offer seasonal fruits and vegetables as well as U-Pick apples and hayrides in the fall. There is a playground for the kids, and fun activities for the whole family. Check out the gem mining and Geo - Trax Train room. Enjoy a hayride before going out to the field to pick your perfect pumpkin.
Comments from a visitor on March 20, 2010: "Great farm in Dowagiac, MI. close to Sister Lakes. Fresh produce all summer long with U-pick raspberries. Get your blueberries, peaches, nectarines, Sweet cherries, Plums, Tomatoes, and Sweet corn from. There are restroom facilities available. Come see the six and a half acre corn maze! Hay rides and Pumpkins in the fall. Choose from a wide selection of apples including Honeycrisp apples. Kids playground completes the ensemble for some great family fun. "
Eaton County
Appleschram Organic Orchard & Cider Mill - ORGANIC, apples, pumpkins
1300 Mount Hope Highway, Charlotte, MI 48813. Phone: (517) 649-8957. Open: UPDATE for 2019, Their website is gone; Does anyone have current information, are they still offering pick your own or are even open? If so, please write me, their last reported hours were mid-August thru Thanksgiving, Wednesday to Sunday, from 10 am to 7 pm. Click here for a map and directions. Appleschram Organic Orchard & Cider Mill 6-1/4 mile W of M-100 on Mt. Hope Hwy., Charlotte. Seasonal farm market offering fresh apple cider, apple butter and applesauce made from our own apples. We also offer pumpkins, gourds, squash, u-pick apples, fresh baked goods and a 1-1/5 mile self-guided, informative nature walk. (They may also be certified organic. I'm still checking on that! Blake) (UPDATED: August 31, 2010, by a visitor)
The Country Mill - apples, winery, blueberries, cider mill, pumpkins, Haunted Attractions, farm market
4648 Otto Road, Charlotte, MI 48813. Phone: 517- 543-1019. Email: mail@countrymill.com. Open: See their website for days and hours, close from Thanksgiving day until late July and always closed on Monday. Click here for a map and directions.
The Country Mill Facebook page. . . Picnic areas, a juice bar with food and fresh doughnuts, a bakery, a food cart out in the fall where you can get bbq and ribs, all kinds of canned produce, fresh apples, cherry juice concentrate, a barn for functions, a haunted barn , a petting zoo, a huge gift shop! Family fun on the farm" for all ages at our cider mill, orchard, winery and farm market. Pick your own apples, blueberries and pumpkins. Discover special unique gifts, homemade baked goods, and fresh apple cider in our farm market. Now offering organic apples and cider. . Pick your own apples and pumpkins anytime that we are open. Apple varieties include Gala, McIntosh, Paula Red and Organic apples! Already picked Honeycrisp are inside the market with Organic Macs. We are now making PUMPKIN, APPLE and Buttermilk donuts along with fresh cider, pies and caramel apples. Family fun on the farm for all ages at our cider mill, orchard, winery and farm market. Pick your own apples, blueberries, peaches and pumpkins at our 158 acre farm. Relax on a wagon ride before enjoying fresh donuts, caramel apples, and pies in our bakery. Take a stroll in our farm market to discover unique gifts, hard cider, wine and fresh apple cider. We grow and produce organic apples, cider, applesauce, apple butter and vinegar. (UPDATED: September 18, 2019, JBS)
Kalamazoo County
Gull Meadow Farms - apples, pumpkins, gift shop, snacks and refreshment stand, restrooms, picnic area, school tours
8854 Gull Road, Richland, MI 49083. Phone: 269-629-4214. Email: gullmeadowfarms@gmail.com. Open: See our website for current hours; Our U-Pick orchard opens in early September each fall and begins with McIntosh and Honey Gold. Directions: We are located 3/4 of a mile west of Richland on M-43. Click here for a map and directions. Payment: Cash, Check, Visa, MasterCard.
Gull Meadow Farms Facebook page. . . Other varieties are available for U-Pick throughout the season as they ripen. Crops are usually available in September, October. Pumpkins, apples, wagon rides, corn maze, and all kids activities open from early September until Halloween. Apple Ripening Schedule - Please note that these are approximate ripening times for each variety and weather can affect these times.Apple Variety - Approximate Ripening - Start U-Pick AvailablityJonagold Early September Early SeptemberEmpire Mid September Mid SeptemberGolden Delicious Mid September Mid September Jonathan Mid September Mid SeptemberRed Delicious Late September Late SeptemberRome Late September Late SeptemberMutsu Late September/Early October Mid OctoberFuji Mid October Mid October Granny Smith Mid October Mid October(UPDATED: September 18, 2019, JBS)
Husted's Farm Market and Cider Mill - apples, cherries, flowers, pumpkins, Cider mill fresh apple cider made on the premises, and prepicked produce, snacks and refreshment stand, restrooms, picnic area
9191 West Main, Kalamazoo, MI 49009. Phone: 269-372-2605. Email: scotthusted@charter.net. Open: 9-6 Daily June through October; 10-5 Daily in November. Directions: Kalamazoo exit 38-b off of us 131 go 3.5 miles west to farm market 9191 west main Kalamazoo Mi. 49009. . Click here for a map and directions. Payment: Cash, Check.
Husted's Farm Market and Cider Mill Facebook page. . . Click here for picking updates. Crops are usually available in May, June, July, August, September, October, November. We have 23 apple varieties including Honeycrisp and Sweetango ,Sweet and Tart cherries. U-PICK apples start around September 1st.
Verhage Farms - apples, cherries, peaches, hayrides, pumpkins
8619 W M L Avenue, Kalamazoo, MI 49065. Phone: 616-375-0153. Open: for approximately 8 weeks, September 5-Nov. Click here for a map and directions. . We have: u-pick apples, already picked apples, homemade cider (non-pasteurized), homemade donuts (12 varieties), homemade caramel apples (5 varieties), Country Store - homemade jams, hayrides, pumpkin jump, animal barn, school tours and picnic area. We are open 5, 10 am to 6 pm. In Kalamazoo, go W on Stadium Dr. to 6th Street (turn right). Go to the end of 6th and turn left on "ML", go over railroad tracks, 1/2 mile on left to 8619 West "ML" Avenue.
Apple picking tips:
Apples ripen from the outside of the tree towards the center, so the apples out the outside of the tree will ripen first. Once they are picked, they stop ripening. Picking apples directly from a tree is easy. Roll the apple upwards off the branch and give a little twist; don't pull straight away from the tree. If two apples are joined together at the top, both will come away at the same time. Don't shake the trees or branches. If the apple you are trying to pick drops, (or others on the tree) go ahead and pick it up. They're perfectly fine! But do wash them before you eat them! More info: How to tell when apples are ripe
Once picked, don't throw the apples into the baskets, place them in gently, or they will bruise and go bad more quickly.
Don't wash apples until just before using to prevent spoilage.
For an explanation of why apple slices turn brown and how to stop it, see this page!
Keep apples cool after picking to increase shelf life. A cool basement is ideal, but the fruit/vegetable drawer of a refrigerator will work, too. A refrigerator is fine for small quantities of apples. Boxed apples need to be kept in a cool, dark spot where they won't freeze. Freezing ruptures all of an apple's cells, turning it into one large bruise overnight. The usual solution is to store apples in a root cellar. But root cellars often have potatoes in them: apples and potatoes should never be stored in the same room because, as they age, potatoes release an otherwise ethylene gas, which makes apples spoil faster. If you can keep the gas away from your apples, they will keep just fine. Just don't store them right next to potatoes.
Prevent contact between apples stored for the winter by wrapping them individually in sheets of newspaper. The easiest way to do this is to unfold a section of newspaper all the way and tear it into quarters. Then stack the wrapped apples. See more here: How to store apples at home
Apples don't improve or "ripen" after being picked - this is an urban myth - see this page for the truth - with references!
Which apple variety is best?
There are tens of thousands of varieties of apples, developed over centuries. They vary in sugar, acoidity, flavors, storing, crispness and many other attributes. See our guides to apple varieties:
Canning apples - fully illustrated, with step-by-step instructions
Recipes, illustrated with step by step instructions
Using fresh apples and miscellaneous
Pumpkin recipes