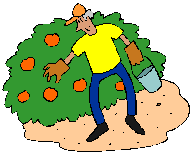 Apple And Pumpkin U-Pick Orchards in East-Central Michigan in 2023, by county
Below are the U-Pick orchards and farms for apples and pumpkins that we know of in this area. Not all areas of any state, nor even every state, have apples and pumpkins orchards that are open to the public. If you know of any others, please tell us using the add a farm form!
Remember to always check with the farm's own website or Facebook page before you go - or call or email them if they don't have a website or Facebook page. Conditions at the farms and crops can change literally overnight, so if you want to avoid a wasted trip out there - check with the farm directly before you go! If I cannot reach them, I DON'T GO!
PLEASE report closed farms, broken links and incorrect info using the "Report Corrections" form below.
Clinton County
Becks Cider Mill

- Apples, tomatoes, pumpkins, squash, hayride
Maple Rapids Road, Saint Johns, MI . Phone: 517-224-4309. Open: Sept. Click here for a map and directions. . Apples, cider, donuts, tomatoes, pumpkins, squash, u-pick farm, farm bakery, picnic area, group hayride rides and bonfire, wagon rides, farm animal and custom car show. -October, seven days a week, 9 am to 7 p.m. Nov. and December ., seven days a week, 9 am to 6 pm. 7 miles N of St. Johns on US-27, 1/4 mile E of US-27 on Maple Rapids Road 25 miles N of Lansing, follow US-27 toward Clare, turn right on Maple Rapids Road.
Genesee County
Apple Lane Orchard - apples, pumpkins
4460 N. Center Road, Flint, MI . Phone: 810-736-7622. Open: be sure to call before you go; U-pick September 12 until October 25; weekends only; Hours 10 am to 6 p. Click here for a map and directions. . m. Sun. 1-6 p.m. Closed Sun. after Thanksgiving. . Sales room September 12 until Jan. or Feb, every day. U-pick and ready-picked apples including many old varieties such as Northern Spy, Tolman Sweet, Grimes Golden and Snow. Also, cider, pumpkins, squash and deer apples. From I-475, Exit 11 (Carpenter Rd.) Go E on Carpenter Road 2 miles to Center Road; turn right 200 yards.
Porters Orchard - pumpkins, apples, hayrides, corn maze, farm animals, zombie paintball, paintball
12060 Hegel Road, Goodrich, MI 48438. Phone: 810636-7156. Email: XP1007BR@CS.com. Open: Aug- December , Monday to Saturday 9 am to 6pm, Sun noon-6pm. Click here for a map and directions. . 1-1/2 mi. E of M-15 on Hegel Road in Goodrich, which is 7 mi. S of I-69. We are a family owned Orchard and Farm Market. We press our own cider, bake our own donuts, and make fresh caramel apples. We offer hayrides to the U-pick apples and pumpkins. We have a petting farm and inflatable rides on weekends in Sep and Oct. Corn Maze, Bakery, Special Events, School Field Trips, Groups/Parties, Paintball at the Orchard, Zombie Paintball available during October! Our farm is fun-filled and full of action in the Fall. We have our Cornfield Maze for you to get lost in, and a Very Sincere Pumpkin Patch to for pickin'! Take a hayride around the farm. Visit our petting farm and see what ; 'er who ; is new! Come back later in the summer to see what else we will be offering this Fall.
Spicer Orchards - Apples, raspberries, blueberries, strawberries, cherries, plums, pumpkins, corn maze, winery
10411 Clyde, Fenton, MI 48430. Phone: 810-632-7692. Email: spicerorchard@comcast.net. Open: just the summer and fall months. Click here for a map and directions. . Usually open Free hayrides on the weekends. You can drive your car right up to the apple trees and pick right there. There is a shop that sells fruit, cider and pies and other desserts as well as little knick-knacks like candles, toys and figurines. There are goats, pigs and other farm animals on the premises. Restrooms are on-site. The facility also gives tours to school groups, and other groups like Boy Scouts, etc.
Lapeer County
Brookwood Fruit Farm - apples, cherries, pears, peaches, pumpkins, raspberries (red), raspberries (Autumn, red), Honey from hives on the farm, U-pick and already picked, farm market, restrooms, school tours
7845 Bordman Road, Almont, MI 48003. Phone: 810-798-8312. Email: will_bristol@hotmail.com. Open: In season everyday 9am to 5pm; Check online for exact dates. Directions: 1/2 mile east of M-53 on Bordman Road, 6 miles of Romeo (2 miles south of Almont). . Click here for a map and directions. Payment: Cash, Check. . . Picking updates: Click here for picking updates. Apples: Late July to March, Tart Cherries: July, Peaches: August to September, Cider: September to March, Raspberries: Summer and Fall, Pumpkins: September to October, Honey: Year-Round. is a 5th generation family fruit farm that grows over 40 varieties of apples, as well as peaches, tart cherries, and raspberries. We also make fresh unpasteurized apple cider weekly with our own special blend of hand-picked apples. We are a family farm that takes pride in offering our guests quality fruit and a memorable experience. Come and join us and see what has made unique for over 100 years.
Sanilac County
Speaker Lone Oak Orchard - apples, pumpkins, gift shop, snacks and refreshment stand, restrooms, picnic area, birthday parties, school tours, events at your location (call for info)
7353 Brockway Road (m-19), Melvin, MI 48454. Phone: 810 387-2121. Email: speakerorchard@hughes.net. Directions: We are located on M-19 (Brockway Road) 5 miles north of Yale, MI and 4 miles south of Peck, MI. Approximately 30 miles NW of Port Huron, MI. Click here for a map and directions. Pick your own apples begin in late September to early October; Orchard events begin in late September to early October as well. Payment: Cash, Check, Debit cards, Visa, MasterCard, Discover. . Click here for a map and directions. Payment: Cash, Check, Debit cards, Visa, MasterCard, Discover. . Monday through Saturday 9am to 6pm Sunday's 10am to 5pm. (UPDATED: September 19, 2019, JBS)
Apple picking tips:
Apples ripen from the outside of the tree towards the center, so the apples out the outside of the tree will ripen first. Once they are picked, they stop ripening. Picking apples directly from a tree is easy. Roll the apple upwards off the branch and give a little twist; don't pull straight away from the tree. If two apples are joined together at the top, both will come away at the same time. Don't shake the trees or branches. If the apple you are trying to pick drops, (or others on the tree) go ahead and pick it up. They're perfectly fine! But do wash them before you eat them! More info: How to tell when apples are ripe
Once picked, don't throw the apples into the baskets, place them in gently, or they will bruise and go bad more quickly.
Don't wash apples until just before using to prevent spoilage.
For an explanation of why apple slices turn brown and how to stop it, see this page!
Keep apples cool after picking to increase shelf life. A cool basement is ideal, but the fruit/vegetable drawer of a refrigerator will work, too. A refrigerator is fine for small quantities of apples. Boxed apples need to be kept in a cool, dark spot where they won't freeze. Freezing ruptures all of an apple's cells, turning it into one large bruise overnight. The usual solution is to store apples in a root cellar. But root cellars often have potatoes in them: apples and potatoes should never be stored in the same room because, as they age, potatoes release an otherwise ethylene gas, which makes apples spoil faster. If you can keep the gas away from your apples, they will keep just fine. Just don't store them right next to potatoes.
Prevent contact between apples stored for the winter by wrapping them individually in sheets of newspaper. The easiest way to do this is to unfold a section of newspaper all the way and tear it into quarters. Then stack the wrapped apples. See more here: How to store apples at home
Apples don't improve or "ripen" after being picked - this is an urban myth - see this page for the truth - with references!
Which apple variety is best?
There are tens of thousands of varieties of apples, developed over centuries. They vary in sugar, acoidity, flavors, storing, crispness and many other attributes. See our guides to apple varieties:
Canning apples - fully illustrated, with step-by-step instructions
Recipes, illustrated with step by step instructions
Using fresh apples and miscellaneous
Pumpkin recipes