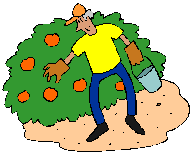 Apple And Pumpkin U-Pick Orchards in Northwestern Illinois in 2022, by county
Below are the U-Pick orchards and farms for apples and pumpkins that we know of in this area. Not all areas of any state, nor even every state, have apples and pumpkins orchards that are open to the public. If you know of any others, please tell us using the add a farm form!
Bureau County
Bureau Creek Orchard

- Apples, red raspberries, pumpkins
14180 1800 East St, Princeton, IL 61356. Phone: (815)875-6137. Open: 9 am to 6:30 pm daily from August 25 to November. Click here for a map and directions. . Restrooms on site. Just opened this year in August.
Marshall County
Schneider Orchard

- fresh apples, pumpkins
1036 County Road, 1150 North; Henry, IL 61537. Phone: . Click here for a map and directions.
Tanner's Orchard - Pick your own apples, Apples, cider, grapes, pumpkins, cider, Christmas decorations, gourmet foods, candles, jams and apple butter, bakery, deli, School tours, restrooms, picnic areas, kids petting zoo and play area,
740 State Route 40, Speer, IL 61749. Phone: 309-493-5442. Email:

[email protected]

. Open: July & August, M-Sa 8:00 am to 5:00 pm, closed on Sunday; then in September & October: daily 8:00 am to 8:00 pm (U-Pick open 10:00 am to 5:00 pm Daily). Click here for a map and directions. Payment: Cash and credit cards welcome.
Tanner's Orchard Facebook page. . and in November: M-Sa 8:00 am to 5:00 pm, and closed on Sunday. Tanners Orchard Facebook page. Tanners also has hayrack rides and a corn maze in the Fall! The orchard sports over 11,000 trees and 17 varieties of apples. We grow over 20 acres of pumpkins along with various other fruits and vegetables. Find a large assortment of gifts and delicious food offerings in our Farm Market and Apple Bin Bakery. Our Back 40 Fun Acres will keep the entire family busy for the day.
Comments from a visitor on September 16, 2012: "I have been going to Tanner's since I was a little girl and now take time out to drive my family a fair distance to visit them every year. We absolutely love the variety of activities, food choices, market items and fun we have when there. I have also taken my girl scouts to do their tour for kids, however they are strict in scheduling these only during their designated time. The tour is a great option and provides a lot. Covered wagon rides out to the orchard and pumpkin patch, samples of donuts and cider (1 donut per person and Gallon(s) of cider, color books, behind scene tour of packing, storing, cider making areas, etc. plus access to the back 40 activity/playground area is included in the price. "
Comments from a visitor on September 13, 2010: "The has been around for decades as a U-Pick apple farm. They have a great playground and petting zoo for the kids along with corn mazes. They are best known for their apple cider donuts and apple cider, but also have a large bakery/market too. Love the orchard and have been going since I was a kid. Now taking my kids too it, and they keep adding more activities."
Comments from a visitor on November 18, 2009: "Tanners Orchard has become a family destination with fresh apples and pumpkins, a bakery, a large county farm market, wagon rides to the orchard for pick your own fruit, a corn maze and a children's playground with farm animals. I have a blast every time I visit Tanners Orchard. The people are friendly, the food is good, and the price is right. And it's fun! My husband and I are addicted and visit frequently every year."
Putnam County
Boggios Orchard and Produce - Pick Your Own apples and pumpkins, petting zoo, fresh apple cider, Indian corn, variety of squash, Corn Maze, popcorn, and gourds, pony rides, petting zoo, farm animals, group tours
12087 Illinois Hwy 71, Granville, IL 61326. Phone: 815-339-2245. Email:

[email protected]

. Open: SUMMER HOURS Monday to Saturday 9am - 6pm Sunday 9am - 5pm. Directions: From the intersection of SR (State Route) 26 and I 80 in Princeton, go east on I 80 for 4.3 miles to Exit 61/I 180. Go south on I 180 for 13.4 miles. At the Connecting Road exit, take the ramp for SR 71 and go east 4.9 miles to the market on the right. Daily, July through mid November. . Click here for a map and directions.
Boggios Orchard and Produce Facebook page. . Alternate Phone: 815/339-2460. . Boggio's Orchard and Produc Facebook page. Handicap Accessible; Restrooms; Hiking; Picnic area, Fresh picked vegetables and bake items. Peddle cars, jumping pillow, bunny bounce, animal feeding and climbing tunnels.
Comments from a visitor on October 20, 2012: "I had a blast petting the animals and they have a delicious bakery! "
Comments from a visitor on October 08, 2010: "I'm originally from that area so I've been there several times. It's a nice time with the family, but not as big as Tanner's Orchard in Speer, IL "
Winnebago County
Curran's Orchard - Tart Cherries (on dwarf trees) Apples (on dwarf trees), raspberries, straw maze, hayrides and pumpkins.
6385 Kilburn Ave. (Route 70), Rockford, IL 61101. Phone: 815-963-7848. Email:

[email protected]

. Open: for Cherry picking in summer and for Apples in Fall. Click here for a map and directions.
Curran's Orchard Facebook page. . . Raspberries: pick your own in August - October. Tart Cherries, pick your own in late June - early July. Pumpkins, enjoy picking that perfect pumpkin from our pumpkin patch, or chose from our pre-picked pumpkins. Complimentary hay wagon rides through the orchard on weekends. Evening wagon rides for groups (by reservation only). Mini straw bales maze! School Tours! A petting corral with farm animals for the kids to enjoy. A glass observation bee hive in the sales barn with live bees (don't worry, the bees are enclosed in the glass hive). Great tasting jams, apple butter, salad dressings, and real maple syrup. Facebook page. Restrooms & picnic area available. September thru November: 9:00am - 6:00pm, six days a week (closed Mondays). November thru December: 9:00am - 5:00pm, six days a week (closed Mondays).
Edwards Apple Orchards - apples, raspberries, pumpkins
8218 Cemetry Road, Winnebago, IL 61088. Phone: (815) 963-2261. Open: see their website for current crops and hours. Click here for a map and directions.
Edwards Apple Orchards Facebook page. . For a fun family outing enjoy the experience of picking your own apples, pumpkins and raspberries. Visit the play area featuring our wooden bus and train, the corn cribs, the wagon slide and our animals in the "Petting Farm."
Valley Orchard - apples, beans, blackberries, blueberries, corn (sweet), pumpkins, raspberries (red), raspberries (Spring, red), raspberries (Autumn, red), raspberries (yellow), raspberries (Spring, yellow), raspberries (Autumn, yellow), rhubarb, winter squash, Cider mill (fresh apple cider made on the premises), U-pick and already picked, farm market, gift shop, picnic area, school tours
911 East State Street, Cherry Valley, IL 61016. Phone: 815-332-9696. Email:

[email protected]

. Open: See our website for current hours. Directions: . Click here for a map and directions. Payment: Cash, Check, Debit cards, Visa/MasterCard, Discover. . These are some of the apples that we offer; if you do not see your favorite apple listed, please call, we have over 28 varieties. (This is only an estimate of when the apples will be ready, please call for U-Pick availability.) facebook page. Early Season (August ~ September) has Early Gold, Paula Red, Royal Gala, Honeycrisp, McIntosh, Jonamac, Snow Sweet, Haralson, Sept. Wonder Fugi, Wolf River. Mid Season (September ~ October) offers Ozark Gold, Senshu, Cortland, Jonathan, Jonagold, Empire, MaCoun, Red Delicious, Yellow Delicious, Golden Russet, Crimson Crisp, Autumn Blush, Autumn Gala, Ida Red. Late Season (October ~ November) is Shizuka, Blushing Gold, Rome, Fuji, Winesap, Suncrisp, Candy Crisp, Braeburn, New Town Pippin, Cameo, See comments about this farm here! Click here for farms in South and Central Illinois Current weather - click for forecast, or enter a zip code for a different location: Chicago Springfield
Apple picking tips:
Apples ripen from the outside of the tree towards the center, so the apples out the outside of the tree will ripen first. Once they are picked, they stop ripening. Picking apples directly from a tree is easy. Roll the apple upwards off the branch and give a little twist; don't pull straight away from the tree. If two apples are joined together at the top, both will come away at the same time. Don't shake the trees or branches. If the apple you are trying to pick drops, (or others on the tree) go ahead and pick it up. They're perfectly fine! But do wash them before you eat them! More info: How to tell when apples are ripe
Once picked, don't throw the apples into the baskets, place them in gently, or they will bruise and go bad more quickly.
Don't wash apples until just before using to prevent spoilage.
For an explanation of why apple slices turn brown and how to stop it, see this page!
Keep apples cool after picking to increase shelf life. A cool basement is ideal, but the fruit/vegetable drawer of a refrigerator will work, too. A refrigerator is fine for small quantities of apples. Boxed apples need to be kept in a cool, dark spot where they won't freeze. Freezing ruptures all of an apple's cells, turning it into one large bruise overnight. The usual solution is to store apples in a root cellar. But root cellars often have potatoes in them: apples and potatoes should never be stored in the same room because, as they age, potatoes release an otherwise ethylene gas, which makes apples spoil faster. If you can keep the gas away from your apples, they will keep just fine. Just don't store them right next to potatoes.
Prevent contact between apples stored for the winter by wrapping them individually in sheets of newspaper. The easiest way to do this is to unfold a section of newspaper all the way and tear it into quarters. Then stack the wrapped apples. See more here: How to store apples at home
Apples don't improve or "ripen" after being picked - this is an urban myth - see this page for the truth - with references!
Which apple variety is best?
There are tens of thousands of varieties of apples, developed over centuries. They vary in sugar, acoidity, flavors, storing, crispness and many other attributes. See our guides to apple varieties:
Canning apples - fully illustrated, with step-by-step instructions
Recipes, illustrated with step by step instructions
Using fresh apples and miscellaneous
Pumpkin recipes