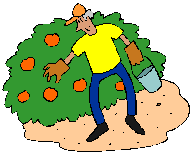 Apple And Pumpkin U-Pick Orchards in Chicago and Northeastern Illinois in 2022, by county
Below are the U-Pick orchards and farms for apples and pumpkins that we know of in this area. Not all areas of any state, nor even every state, have apples and pumpkins orchards that are open to the public. If you know of any others, please tell us using the add a farm form!
Boone County
Edwards Apple Orchard - apples, raspberries, pumpkins, horse-drawn hay rides, hay maze, petting zoo, restrooms, gift shop, pony rides
7601 Centerville Road, Poplar Grove, IL 61065. Phone: 815-765-2234. Open: daily from 9 am to 6 pm in September and October, and in November daily from 9 am - 5 pm. Click here for a map and directions.
Edwards Apple Orchard Facebook page. . Bluegrass music (presumably only on weekends), apple cider and apple cider donuts. lease join us for warm cider donuts, a fresh cup of cider, and the time together that we've all been craving. See comments about this farm here! Some visitors on Yelp and Google report high prices and a commercialized feel, but the reviews I've received have been positive. Facebook page.
DeKalb County
Honey Hill Orchard - apples, raspberries, pumpkins.
11747 Waterman Road, Waterman, IL 60556. Phone: 815-264-3337. Email:

[email protected]

. Open: usually starts in late August, PLEASE CHECK BACK CLOSER TO THAT TIME FOR EXACT OPENING DATE AND RIPENING SCHEDULE; Call or email for their dates and hours, and please ask them to update PickYourOwn. Click here for a map and directions. . ORG - Early Season Hours: Labor Day weekend 9 am to 1 pm; Regular Season Hours: open daily from 9 am to 5:30 pm from Tuesday after Labor Day thru October 31st. is a family-owned and operated orchard that was started as a hobby in 1965. Today, the original orchard location has 2,100 apple trees, with an additional 500 trees at a second farm location. What started out as a simple farm stand has grown to include pick your own apples, raspberries and pumpkins, a bakery, the Apple Barn Country Store and family activities.
Comments from a visitor on October 17, 2009: "We went to the last week (10/10/2009) and had a wonderful time! There were plenty of apples still available and even some raspberries! There was a 10 pound minimum to pick (per group, not per person) for $15 for apples. There were also hay rides out to the pumpkin patch and a bakery that sells delicious pies and donuts as well as a cute store. All of the employees were so friendly there! We decided this is the best orchard we have been to in this area and will be back next year!"
Jonamac Orchard, Inc. - - Pumpkins, apples, hayrides, pick-your-own pumpkin patch, kiddie barn
19412 Shabbona Road, Malta, IL 60150. Phone: 815-825-2158. Open: 7 days a week. Directions: three quarters of a mile south of Malta on Shabbona Road (19412 Shabbona Rd.) . Click here for a map and directions. The apple orchard opens for picking on Labor Day weekend till Thanksgiving 9am - 5:30 daily. Also, prepicked sweet corn, pumpkins, squash, apples, cider, preserves, honey, popcorn, Indian corn, weekend hayride to the pick-your-own pumpkin patch. Get lost in our 10 acre Corn Maze with 3 miles of pathways and 2 bridges. The kids will love our Barnyard activity area with a huge bale pile, peddle tractors, sand pile, corn bin, play barn, bunny barn, mazes, tube slides and other fun activities. On weekends the Apple Train will be running and you can try your marksmanship skills at our Apple Launcher. We will also have festivals, live music, horse drawn wagon rides and more. Corn Maze is open from September 5th through November 1st on Friday and Saturday 10:00 AM to 9:30 PM and Sunday 10:00 AM to 6:00 PM. Click Here for information about our Haunted Corn Maze. (UPDATED: October 10, 2020 JBS) A visitor writes on September 02, 2013: "We visited Jonamac Orchard in DeKalb County for the first time and were amazed how nice it was. Everyone was so friendly and they have a ton of different types of apples for you to pick. They even let you sample the different available apples so you know how they are before you pick them. The store is very nice with apple donuts, fudge, cider, apples and other little things. It is a very family friendly place to visit as there are activities for the kids. We would definitely return. "
Comments from a visitor on September 09, 2010: "We've been taking the kids for about 5 years now. Its getting to be a habit."
Kane County
Kuipers Family Farm - apples, pumpkins, Honey from hives on the farm, Cider mill (fresh apple cider made on the premises), gift shop, concessions \\/ refreshment stand, porta-potties are available, Jumping pillow, pony rides, petting zoo, farm animals, birthday parties, school tours
1n318 Watson Road, Maple Park, IL 60151. Phone: 815-827-5200. Open: 7 days a week, Monday through Saturday 9:00 to 6:00. Directions: I88 West to Sugar Grove and Route 47 exit. Route 47 North 10 miles to Keslinger Road. 5 miles West on Keslinger to Watson Road. North on Watson to Entrance. I90 West to Randall Road exit. Randall Road South to Route 38. West on Route 38 five miles past Route 47 to Watson Road. South on Watson Road to farm. . Click here for a map and directions. Payment: Cash, Check, Debit cards, Visa/MasterCard.
Kuipers Family Farm Facebook page. . Fax: 815-827-4100. Sunday 10 am to 6 pm; September 19 through Halloween; then November - December dail from 10am - 5pm. Apple Orchard, Gift Shop and Bakery. Christmas Trees from Thanksgiving thru Sunday before Christmas; Pumpkin Farm Festivities, Corn Maze and Barn Store Approximate Ripening Dates:Please call for daily updates to the apple picking schedule. Variety Ripens: Variety Ripens Paulared mid-August Red Delicious October 4 Prima August 30 Golden Delicious October 4 Jonamac, Gala September 6 Mutsu, Idared October 18 Cortland, McIntosh September 13 Rome, Winesap October 18 Spartan, Ozark Gold September 13 Blushing Golden October 25 Empire, Jonathan September 20 Granny Smith Nov or later Turn your fall pumpkin picking into a family event. Kuipers offers u-pick pumpkins right from the patch! We also have pre-picked pumpkins in many sizes. When the fall season is over don't forget to come back to Kuipers for your Christmas Season. We offer fresh u-cut and pre-cut Christmas trees and wreaths. We'll even have hot cider, home baked pies and our famous apple cider doughnuts to warm you up! For holiday decorating visit our Gift Shop for beautiful Christmas decorations and crafts. (UPDATED: April 29, 2015, JBS) See comments about this farm here!
McHenry County
Will County
Bronkberry Farms - blueberries, apples, pumpkins, farm market, porta-potties are available, hayrides
18108 S. Bronk Road, Plainfield, IL 60586. Phone: 815-436-6967. Email:

[email protected]

. Open: Directions: Click here for a map and directions. Directions: . Click here for a map and directions. Payment: Cash, Check. . . spring flowers, fresh vegetables, sweetcorn, pumpkins, tractor pulled hayrack rides. we are just starting up this year so please call or visit our website for availability and hours.
Apple picking tips:
Apples ripen from the outside of the tree towards the center, so the apples out the outside of the tree will ripen first. Once they are picked, they stop ripening. Picking apples directly from a tree is easy. Roll the apple upwards off the branch and give a little twist; don't pull straight away from the tree. If two apples are joined together at the top, both will come away at the same time. Don't shake the trees or branches. If the apple you are trying to pick drops, (or others on the tree) go ahead and pick it up. They're perfectly fine! But do wash them before you eat them! More info: How to tell when apples are ripe
Once picked, don't throw the apples into the baskets, place them in gently, or they will bruise and go bad more quickly.
Don't wash apples until just before using to prevent spoilage.
For an explanation of why apple slices turn brown and how to stop it, see this page!
Keep apples cool after picking to increase shelf life. A cool basement is ideal, but the fruit/vegetable drawer of a refrigerator will work, too. A refrigerator is fine for small quantities of apples. Boxed apples need to be kept in a cool, dark spot where they won't freeze. Freezing ruptures all of an apple's cells, turning it into one large bruise overnight. The usual solution is to store apples in a root cellar. But root cellars often have potatoes in them: apples and potatoes should never be stored in the same room because, as they age, potatoes release an otherwise ethylene gas, which makes apples spoil faster. If you can keep the gas away from your apples, they will keep just fine. Just don't store them right next to potatoes.
Prevent contact between apples stored for the winter by wrapping them individually in sheets of newspaper. The easiest way to do this is to unfold a section of newspaper all the way and tear it into quarters. Then stack the wrapped apples. See more here: How to store apples at home
Apples don't improve or "ripen" after being picked - this is an urban myth - see this page for the truth - with references!
Which apple variety is best?
There are tens of thousands of varieties of apples, developed over centuries. They vary in sugar, acoidity, flavors, storing, crispness and many other attributes. See our guides to apple varieties:
Canning apples - fully illustrated, with step-by-step instructions
Recipes, illustrated with step by step instructions
Using fresh apples and miscellaneous
Pumpkin recipes